Which Leafs prospect is most likely to become a fan favourite?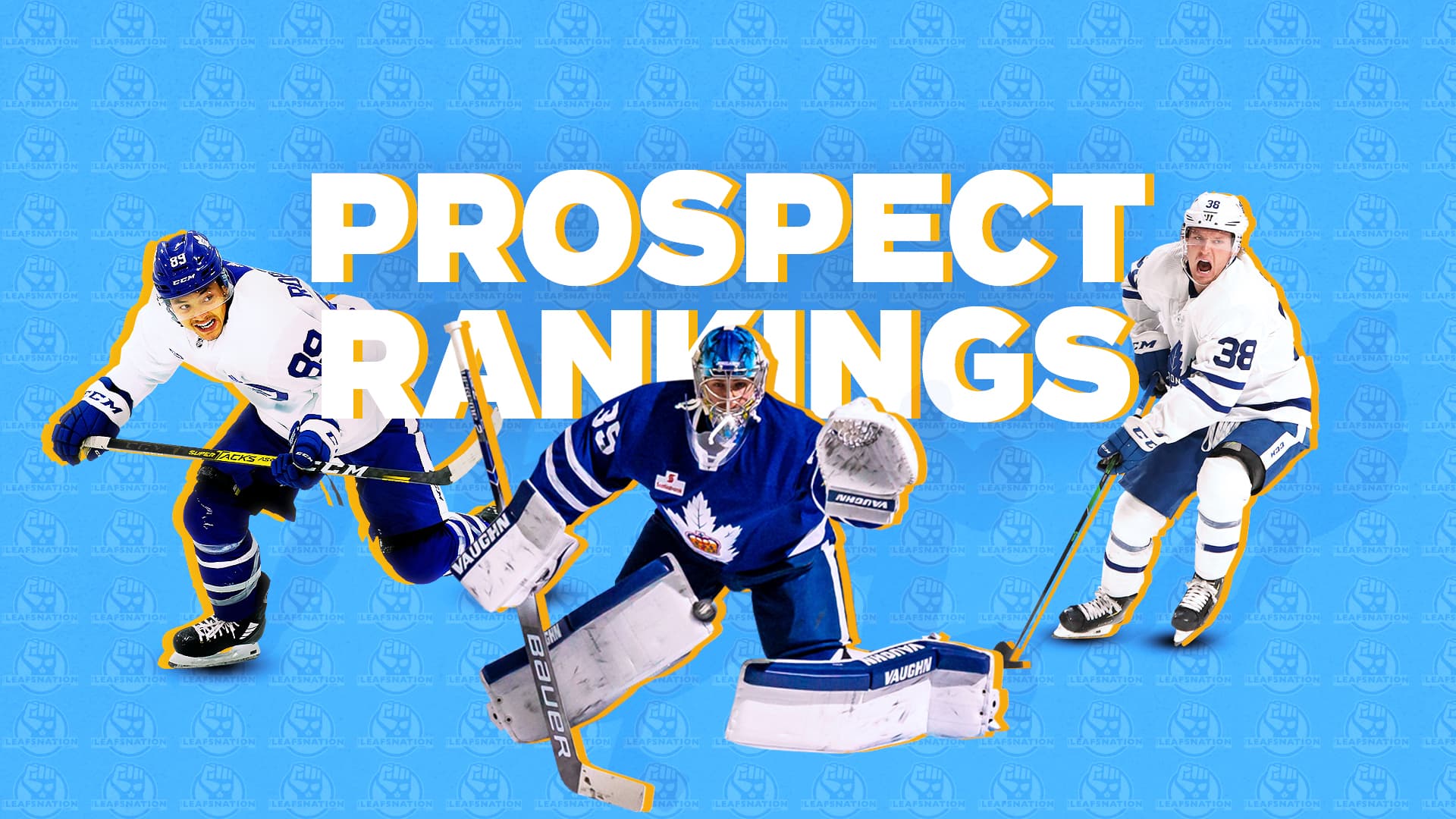 Back in December, we ranked the Leafs best prospects in terms of which is most likely to have an impact on the NHL. While it's exciting to wonder which player might become the next superstar wearing blue and white, there's one more question that needs to be answered.
Who will be the next fan favourite?
Fan favourites across sports are always fascinating as they are almost never one of the star players. The fan favourite athlete is like the cult classic film of the cinema world, for reasons that can't quite be explained, a large group of people have latched on and refuse to let go. It's something that can't easily be predicted and doesn't seem to be based around any sort of logic yet today we're going to attempt the impossible and try to objectively quantify which Maple Leaf prospect will be the next great fan favourite.
The first question we must ask ourselves is simple. What makes a fan favourite?
The answer, however, is not nearly as simple. Fan favourites have come in all sorts of shapes, sizes, positions and skill levels. From Tim Horton, Eddie Shack and Tiger Williams to Clark and Gilmour onto Potvin and Tucker. The one commonality of course seems to be snarl, all these guys (yes,
even the goalie
) were known to drop the gloves and fight on a moment's notice. 
But the willingness to throw down is not solely what makes a player a fan favourite, plenty of tough guys have suited up for the blue and white without entering the pantheon of beloved buds. There's a complicated formula behind who will become a local favourite that has never been revealed until now.
My Local Entertainment And Favourites Scale (LEAFS for short) is sure to help us figure out which budding prospect we should expect to see on the back of every jersey in Scotiabank Arena a few years down the line. The system gives each player a score out of 100 determined by the following attributes.
Snarl 0/20
As established, Toronto has historically loved a tough guy. Gone are the days of players who rack up over 300 penalty minutes, but Toronto's next fan favourite should still be capable of providing grit, toughness, and be willing to drop the gloves occasionally.
Skill 0/15
For an athlete to be beloved, being good at what they do is extremely important. There's a reason all the most adored tough guys in Leafs history were also capable of scoring goals. Sure, Tiger Williams and Darcy Tucker were best known for their time spent in the penalty box, but they were also each good for at least 20 goals every season.
Clutch 0/20
Across all of Toronto sports lore, there are few athletes more beloved than Joe Carter – and for good reason! Hitting a World Series winning home run will do that. If a player can show up when it matters most, they're sure to win over some hearts.
Leadership 0/10
Every fanbase loves an outspoken player, if they've shown they can lead and command the respect of the team, then they'll surely command the respect of the fans.
Local 0/10
What city doesn't love a local guy? Tavares, Spezza, Thornton, Simmonds, Marner, Hyman, some of the most beloved players on the current team grew up around the city. Torontonians score full points here, though connections to the city, Country, or anything else of the sort can get anyone on the scoresheet.
Look 0/10
All fan favourites have that
look
to them. It's a bad-boy hockey player smirk that oozes both confidence and insanity. Having cool hair, whether it's sweet flow or some badass facial hair, is also a requirement for full points.
Also, interestingly enough, despite many Leafs fans of older generations lamenting that the team needs size, many of the most popular Leafs of all time were under 6 foot tall. Gilmour, Clark, Tucker, and Tiger are all 5'11 or shorter suggesting this city says it wants size but what it really wants is someone scrappy.
Position 0/5
Let's be honest here, the vast majority of the most beloved players in Leafs history are forwards and Toronto has had a strenuous relationship at best with its defencemen over the years. To reflect these trends all forwards will get 5 points, goalies will get 3, and defencemen get nothing but booed out of town when they make a single mistake.
Fun Nickname 0/5
Whether it's TIger, Killer, or even Stumpy, having a fun nickname is a sure way to have fans who love cheering you on. Since our prospects may be too early in their career to have earned any sort of nickname, the potential for nicknames can score them partial points here. (And no, sticking "y" or "er" to the end of your name doesn't count as a good nickname.)
Luck & Chaos – 0/5
Sports are all about luck and chaos so why should this be any different? For this factor, I'm just going to roll a die and give a score between 0-5 based on what comes up. If that doesn't sound fair then the unfairness of sports will devastate you.
With these parameters in place, we can finally begin our analysis of which of the Leafs top 20 prospects is most likely to be beloved by all.
Nick Robertson
Snarl 15/20

Skill 14/15

Clutch 12/20
Leadership 7/10

Local 5/10

Look 8/10

Position 5/5

Fun Nickname 3/5

Luck & Chaos 2/5
It's hard to find a scouting report for Nick Robertson without seeing the word "pest" somewhere in there. He likes to go to the corners, and even has a couple of fights on his resume so the snarl is there but the skill is where he really shines scoring near perfect on that metric. He scored 10 game-winning goals in 46 games during his final OHL season while serving as an alternate-captain and put up 5 points in 5 games during WJC-play a year ago, so the clutch factor exists but a lack of playoff success at any level holds him back from scoring too high.
Despite being undersized, he has that pesky smirk down and the Peterborough connection gives this California boy some partial points in the local score. No fun nickname as of yet, but former teammate Liam Kirk did refer to him as Trickolas Nickolas on Instagram, which we should all immediately start using anytime he does something cool
Rasmus Sandin
Snarl 9/20

Skill 13/15

Clutch 20/20

Leadership 8/10

Local 3/10

Look 6/10

Position 0/5

Fun Nickname 5/5

Luck & Chaos 0/5
Despite having an AHL fight on his record, Rasmus Sandin isn't exactly known for his toughness, though his two-way skill more than makes up for that. The clutch gene runs through this man's blood as he regularly puts up around a point per game in international play and had 10 assists in 13 career playoff games for the Marlies. To top it all off, his only career NHL goal to date was the game-winner. The young defenceman's International-Junior career has also seen him wear both the C and A while leading an increasingly strong team Sweden. 
His time with the Marlies is his only connection to Toronto, and his flow is just a bit too short to score any higher for having the right look. That being said, Rasmus "Sandman" Sandin has just about as fun a nickname as you could ask for, especially if the Leafs start allowing custom goal horns and throw Metallica on his name.
Rodion Amirov
Snarl 8/20

Skill 13/15

Clutch 13/20

Leadership 7/10

Local 0/10

Look 4/10

Position 5/5

Fun Nickname 3/5

Luck & Chaos 1/5
The Leafs' most recent first-round pick joins the franchise with a ton of skill but not much bite, although that doesn't prevent him from fighting his way into high-danger scoring areas. He's still young but has shown flashes of excellence in international play and at various levels in the KHL system. With no connection to the city, he misses out on local points but his 6'0, 170lb frame has plenty of time to fill out and give him the sort of size Leafs fans love.
He's served as part of the leadership group on several teams including Russia's squad at the most recent World Junior Championships. Thanks to an inability to read Russian, I was unable to find any sort of nickname for the young forward though I'd like to take this opportunity to suggest Rodo-Cop.
Timothy Liljegren
Snarl 8/20

Skill 12/15

Clutch 13/20

Leadership 7/10

Local 3/10

Look 10/10
Position 0/5
Fun Nickname 4/5

Luck & Chaos 2/5
Similar to Sandin, Liljegren is another Swedish defenseman who lets his play do the talking more than his mouth or fists. He's performed well in international play and has consistently been improving for the Marlies over the past few seasons. Liljegren's play remains consistent come playoff time and he has the kind of facial hair/hockey flow combo that this fanbase dreams of.
He's served as an alternate captain at both the club and international levels and while it's not quite as intimidating as Tiger or Killer, the Lillypad nickname is about as fun to say as any out there.
Filip Hallander
Snarl 10/20

Skill 12/15

Clutch 6/20

Leadership 6/10

Local 0/10

Look 8/10

Position 5/5

Fun Nickname 2/5

Luck & Chaos 0/5
At 20 years old, Filip Hallander has already found success playing against veterans in the Swedish Hockey League and spends just about no time in the penalty box. Don't let the fact he took only 3 penalties the past two seasons combined trick you into believing he plays soft. Hallander can effectively use his 6'1 frame to win physical puck battles in corners or in front of the net.
Unfortunately, Hallander has recently struggled in international play and playoff action. The downside of playing above his age means it's also been quite some time since he's been part of the leadership group of any team. That being said though, even at only 20 years old he's begun to grow out his beard and has the potential to be the next Peter Forsberg (of Swedish facial hair). No fun nickname to speak of yet, but Hallander seems like it's built for a Hall & Oates mashup.
Mikhail Abramov
Snarl 12/20

Skill 12/15

Clutch 18/20

Leadership 9/10

Local 3/10

Look 8/10

Position 5/5

Fun Nickname 1/5

Luck & Chaos 5/5
The Leafs 2019 fourth-round pick is already showing he may have been a bit of a steal. He's flashed moments of brilliance in both goalscoring as well as playmaking and despite not being one to drop the mitts, showcased that a sinister side exists to the young forward after getting suspended during the 2020 World Junior Championships. 
He's a creative playmaker that shows up when it matters most whether it be playoffs or international play. Averaging nearly a point per game while wearing his nation's flag he's also put up 7 points in 8 games during QMJHL playoff action. Despite being mostly a passer he has also made a habit for potting game-winning goals and has earned the respect of his Victoriaville coaches enough to be named team captain this season. At 6'0, 185 pounds he already has both the frame and shit-eating grin that matches Leafs fan favourites of yesteryear. He gets partial local points from the CHL connection, however, the potential of a fun nickname seems disappointingly low.
Joey Anderson
Snarl 13/20

Skill 10/15
Clutch 13/20

Leadership 8/10

Local 0/10

Look 7/10

Position 5/5

Fun Nickname 3/5

Luck & Chaos 3/5
Joey Anderson has already made a name for himself in New Jersey as an aggressive forechecker and backchecker who can also put up a respectable amount of points playing out of the bottom six. As a former Team USA captain at the World Juniors, he knows what it takes to lead and has consistently stepped it up when it matters most. He's the perfect size for a resident pest and his playstyle fits the mold too, not afraid to lay down a big hit and will even drop the gloves on rare occasions. 
While he's a bit older than most of the Leafs prospect pool and already has a fair amount of NHL experience, many Devils fans were sad to see him go in the Andreas Johnsson trade so he seems to already have experience winning fanbases over.
Mikko Kokkonen
Snarl 11/20

Skill 11/15

Clutch 17/20

Leadership 10/10

Local 0/10

Look 7/10

Position 0/5

Fun Nickname 5/5

Luck & Chaos 4/5
Mikko Kokkonen recently jumped on the radar recently after his performance at the World Juniors helped Finland capture a silver medal. The defensively responsible blueliner eats up a ton of minutes, kills penalties and puts up points when they matter most. His game seems to improve in high-pressure situations whether it be international play, playoffs, or shutting down the opposition while holding a lead.
At 20 years old, he's already wearing the A for Jukurit in the Finnish league showing that he can step up in the dressing room as much as he does on the ice. While he hasn't earned a nickname in Leafsland quite yet, his surname is just begging for something fun to come along.
Topi Niemela 
Snarl 8/20

Skill 12/15

Clutch 20/20

Leadership 3/10

Local 0/10

Look 10/10

Position 0/5

Fun Nickname 5/5

Luck & Chaos 5/5
Topi Niemela is another Finn who Leafs had their eyes on following the WJC, perhaps even more so than Kokkonen because of his 8-point performance. Another defensively sound blueliner, Niemela showed that he's more of a two-way player than just another stay at home defenseman after scoring over a point a game during the international tournament.
He's another player who's made a habit of stepping up when it matters most, and while he isn't part of the leadership team on any of his squads, he has the kind of hockey flow that you only see on hockey cards from the 1980's.
Nick Abruzzese
Snarl 6/20

Skill 12/15

Clutch 14/20

Leadership 8/10

Local 0/10

Look 5/10

Position 5/5

Fun Nickname 5/5

Luck & Chaos 4/5
Although small in size, Nick Abruzzese's point total is as big as they come. The centreman led the USHL in scoring during his draft year and then followed it up by being a top-5 scorer in the NCAA as a freshman at Harvard. He wore the A during his final year with the Chicago Steel, and if he keeps producing at nearly a point and a half per game pace, it won't be long before he's wearing a letter for Harvard too.
He's a driven player and while he won't be seen dropping the gloves any time soon, his work ethic on the ice is clear as he plays hard and consistent. Come playoff time, he can be counted to put up points and there's no doubt the Italian population of Toronto already has a few nicknames in waiting for Abruzzese.
Joseph Woll
Snarl 13/20

Skill 12/15

Clutch 15/20

Leadership 6/10

Local 3/10

Look 9/10

Position 3/5

Fun Nickname 5/5

Luck & Chaos 5/5
Joseph Woll is a big goalie who knows how to use his size to intimidate shooters. While his time with the Marlies was inconsistent, he's shown that he can handle big pressure situations time and time again. The American netminder has had some great performances on the international stage and at the 2019 Hockey East Tournament semifinals with Boston College. When he did eventually go pro, he earned a shutout in his first-ever start showing that nerves will never be a problem here.
Toronto has fallen in love with plenty of goalies in the past, and having a goalie named Woll is just about as perfect a nickname as you can get. 
Roni Hirvonen
Snarl 9/20

Skill 12/15
Clutch 18/20

Leadership 6/10

Local 0/10

Look 5/10

Position 5/5

Fun Nickname 3/5

Luck & Chaos 1/5
Apologies if you've heard this already, but Roni Hirvonen is another skilled Finn who showcased what he is capable of at the recent WJC. He's small but skilled and has a reputation for stepping up when it matters most whether that be international play or the playoffs. At sixteen years old, he put up three points in two games during a brief stint for his U20 team, and then nearly a point per game while playing with the U18 squad.
Long story short, this kid can punch above his weight class, which is a good thing for someone who barely cracks 170lbs.
Mac Hollowell
Snarl 16/20

Skill 12/15

Clutch 13/20

Leadership 7/10

Local 9/10

Look 9/10

Position 0/5

Fun Nickname 5/5

Luck & Chaos 4/5
Mac Hollowell may only be 5'10 but he plays like someone 6'5. He lays down big hits, can score big goals, and will even drop the gloves when necessary. He put up over a point per game during his final season in the OHL while wearing the A for the Greyhounds. The transition out of junior was a smooth one as he continued to put up impressive numbers during his first pro season split between the Marlies and Growlers. Now on loan in the second division of the Finnish league, he's once again back to his point per game pace
A local product of Niagara falls, Mac Hollowell has a mop of hair, and a cheeky smirk that lets you know he's going to be one of those blueline pests that opposing teams hate. The possibilities for great nicknames are endless from the Holl-monitor to Hollo-back Mac.
Semyon Der-Arguchintsev
Snarl 11/20

Skill 11/15

Clutch 8/20

Leadership 2/10

Local 5/10

Look 5/10

Position 5/5

Fun Nickname 1/5

Luck & Chaos 3/5
Semyon Der-Arguchintsev's playmaking ability has left many Leafs fans excited about his potential, especially after putting up 75 points in 55 games during his final OHL season. He's put on size since being drafted and even got a fight under his belt but is still known more for his passes than anything else. Unfortunately, since he lacks much of a shot at all, he can't be relied on to score any game-winning goals and has recently made an unfortunate trend of disappearing come playoff time. 
His KHL loan is off to a good start which is promising for his potential development, although unfortunately, his "SDA" nickname is as uninspired as it gets.
Ian Scott
Snarl 12/20

Skill 11/15

Clutch 8/20

Leadership 4/10

Local 7/10

Look 8/10

Position 3/5

Fun Nickname 1/5

Luck & Chaos 4/5
Ian Scott is hard to judge as injuries and COVID means it's been over a year since he's played competitive hockey. He's another big goalie that uses his size effectively and has shown flashes of brilliance in net. His biggest knock however, is that his numbers regularly go down during big-game situations whether that be playoffs or international play.
With a name like Ian Scott, we shouldn't hold our breath for any nickname at all as that's the kind of name that you say in full every time you refer to him without exception.
Artur Akhtyamov
Snarl 15/20

Skill 12/15

Clutch 18/20

Leadership 5/10

Local 0/10

Look 9/10

Position 3/5

Fun Nickname 4/5

Luck & Chaos 4/5
The last of the big goalie trilogy, Artur Akhtyamov is the smallest of the three but at 6'1, still has plenty of size. He uses this size to play aggressive in the crease, challenging shooters and attacking the puck. He's put up fantastic numbers playing in Russia's MHL, and seems to have another gear he can go to when needed as he showcased during his single start at the World Juniors this past year. He recently had a short stint in the KHL where he played well, especially for someone who only turned 19 just a few months ago. 
It's a shame the goalie mask covers so much because he has an icy cold stare, but the biggest tragedy may be his jersey number of 35 as it's the only thing standing between us and an AK47 nickname. 
Filip Kral
Snarl 10/020

Skill 10/15

Clutch 5/20

Leadership 7/10

Local 0/10

Look 6/10

Position 0/5

Fun Nickname 2/5

Luck & Chaos 0/5
A former fifth-round pick, Filip Kral has become a bit of a forgotten prospect. After being part of Spokane's leadership group during his final WHL season, he went to play in the Czech Republic where he's continued to put up solid numbers. Unfortunately, his high scoring efforts seem to be limited to regular season play as he's put up a measly 2 points in 17 WHL playoff games, despite often flirting with point per game paces during the season.
He's represented his home country twice at the World Juniors, once again struggling on a big stage and putting up only 2 goals and no assists in 13 WJC games. That being said, he has decent size and has already shown he can play with adults so time spent in Europe may be exactly what he needs.
Kristians Rubins
Snarl 14/20

Skill 9/15

Clutch 12/20

Leadership 4/10

Local 3/10

Look 9/10

Position 0/5

Fun Nickname 3/5

Luck & Chaos 5/5
Rubins is a big defender who plays a shutdown game and can also put up a few points when needed. He doesn't fight often, but has answered the bell in the past and is learning to better use his size. As a player who left his home in Latvia to pursue hockey first in Sweden and then in Canada, it's hard to root against him. He went undrafted before signing with the Growlers and he performed admirably during the season and playoffs for his first pro team, earning him a fulltime job with the Marlies the next season where he continued to succeed. 
His 6'4 frame is made even more intimidating by the glare he can give from behind the visor. Currently, he's playing in Denmark although someone with his size and skillset may actually be far better suited to the North American ice where his underdog story can continue.
Pontus Holmberg
Snarl 10/20

Skill 8/15

Clutch 8/20

Leadership 3/10

Local 0/10

Look 5/10

Position 5/5

Fun Nickname 5/5

Luck & Chaos 1/5
Playing in Sweden, Pontus Holmberg has steadily improved since the Leafs drafted him in 2018. With every season that passes, he's put up more points in the SHL, although he's still yet to really dominate the league in any way. He completely disappeared during his last visit to the playoffs as well as the World Juniors putting up 0 points in a combined 12 games leaving lots of questions around his big game ability.
That being said, I hope he finds success and eventually plays for the Leafs so we can all scream "TAKE ME HOLM!" anytime he scores.
William Villeneuve
Snarl 12/20

Skill 10/15

Clutch 12/20

Leadership 8/10

Local 6/10

Look 8/10

Position 0/5

Fun Nickname 5/5

Luck & Chaos 4/5
The top-scoring dman in the QMJHL a year ago has had a subdued start to the current season but still provides plenty of talent from the blueline. He's an all offence player and can't be relied on to actually play defence, which can often be a problem for a defenceman. That being said, he can score big goals, make excellent passes, and has shown up in the playoffs when needed.
Villeneuve has some decent size and can use it when necessary. Now in his second year wearing an A for the Saint John Sea Dogs, we can only hope for another excellent year from Big Willy Villy.
Results
With a score of 75, Mac Hollowell is the Toronto Maple Leafs prospect most likely to become a fan favourite! 
At 5'10, 170lbs he's the exact same size as former fan favourite Darcy Tucker and showcases the exact same feisty scrappiness that the fanbase adored. In fact, not only did Mac Hollowell grow up cheering for the Toronto Maple Leafs, but Darcy Tucker was even his favourite player so the playstyle similarities might by no coincidence at all.
Hollowell has fought more than any other Leaf prospect while showing he can put up big points in big situations time and time again. He's an Ontario kid who grew up cheering for the team and knows how important it is to represent the blue and white with pride. Let me take this moment to officially welcome everyone reading this to the Mac Hollowell fanclub.
Honourable mentions to Abramov, Robertson, Woll, and Akhtyamov who all scored over 70 points. Luckily for them, Leafs fans have a lot of love to give.
(…Unless you ever make a single error that leads to a goal against in which case we will boo you out of town.)