Which Leafs roster would have been the greatest of all time if every player were in their prime?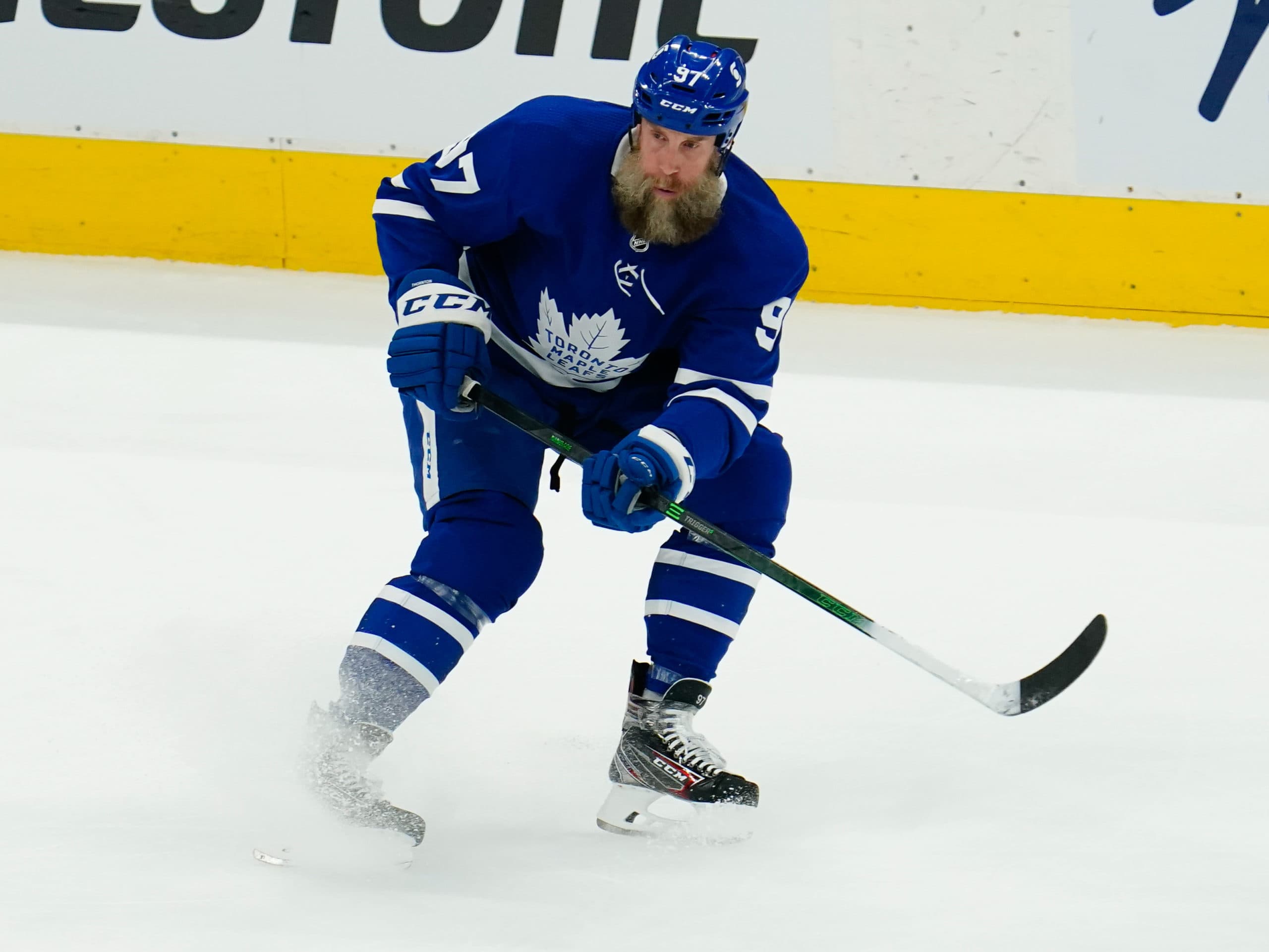 Photo credit:John E. Sokolowski-USA TODAY Sports
The Toronto Maple Leafs are one of the most historic franchises in all of sports. While team success may have eluded them for the past half-century, it hasn't always been due to a lack of talent. Some of the NHL's all-time greatest players have donned the blue and white, and currently, 58 members of the Hockey Hall of Fame have at one point called themselves Maple Leafs, with a number of others (Joe Thornton, Alex Mogilny) expected to be inducted in the coming years.
However, anyone who has followed this team closely knows that many of those Hall of Famers aren't exactly known for their career as Maple Leafs. While some of the greatest players in NHL history such as Eric Lindros, Joe Thornton, and Pierre Pilote may have played for the blue and white, it was often near the end of their careers, with their best years long behind them.
That said, it's time to ask a very important question. What if the Toronto Maple Leafs acquired these players in their prime? In fact, what if everyone who ever played for Toronto was in their prime, including the guys who were great for a season or two before disappearing? If we were to take a look back at every Leafs lineup throughout the franchise's 100+ year history, which team would have been the most dominant had everyone involved been at their peak.
Let's take a look at some Maple Leafs rosters throughout history that would have dominated the NHL had every player been in their prime.
What better place to start than a roster than a roster from earlier this year? The 2021 Toronto Maple Leafs are young enough that most players are still in their prime so there's little work to be done (and for the sake of this exercise, we won't be trying to project future improvement from youngsters). 
That said, the roster that night still features a ton of players who were downright dominant earlier in their career. While they were relegated to mostly bottom-six duties for the Maple Leafs, Joe Thornton and Jason Spezza were once two of the NHL's most dominant centres. April 22nd also happens to be the first time Nick Foligno played for the Maple Leafs after being acquired at the deadline, while he never scored a goal for Toronto, he had a 31 goal and 73 point season earlier in his career while also being known for his leadership, and strong two-way play.
Even players such as John Tavares, Jake Muzzin, and TJ Brodie who are some of Toronto's best skaters even to this day look a lot better if you rewind the clock a couple years. Send Wayne Simmonds and Alex Galchenyuk back to 2016 and that's another two 30 goal scorers on the roster.
The emergence of Jack Campbell and a prime Frederik Andersen would also give the Leafs one of the league's best goalie tandems.
Stars:
Joe Thornton, John Tavares, Auston Matthews, Jason Spezza
Notable Supporting Cast:
Mitch Marner, William Nylander, Wayne Simmonds, Jake Muzzin, Morgan Rielly, TJ Brodie, Nick Foligno, Jack Campbell, Frederik Andersen
This team would instantly become a lot better, and would almost certainly avoid the first round collapse that happened in our much less fun timeline of reality. However, with how chaotic the modern NHL is, even though this team would be the odds-on cup favourites, a championship wouldn't be guaranteed, especially when you consider that Tampa Bay was doing some trickery of their own.
What's significant about this random game in February? It marks the only time that Olli Jokinen, Joffrey Lupul, and David Clarkson were all in the lineup together. While each of those players has a Maple Leafs career that ranges from 'he was a Leaf?' to 'what an absolute nightmare' it's hard to deny that each of them was at one point a fantastic player. Jokinen and Lupul each had seasons putting up over a point per game and Clarkson was a former 30 goal scorer and at one point one of the NHL's most feared power forwards.
Of course that roster also featured Phil Kessel and James van Riemsdyk, two players capable of scoring 35+ in very different ways. However, what makes this team special would have been the sheer amount of physicality all the way across the roster. Joining David Clarkson would be prime Dion Phaneuf, Nazem Kadri, Stephane Robidas, and Roman Polak each one with multiple fights under their belt and enough big hits to fill up a highlight reel.
On the blueline both Morgan Rielly and Jake Gardiner could lead breakouts, with each player responsible for 50+ point seasons and in net would be a choice of James Reimer and Jonathan Bernier, both having seasons with impressive .920+ save percentages.
Stars:
Dion Phaneuf, Olli Jokinen, Phil Kessel
Notable Supporting Cast:
David Clarkson, Nazem Kadri, James van Riemsdyk, Joffrey Lupul, David Booth, Stephane Robidas, Morgan Rielly, Jake Gardiner, James Reimer, Jonathan Bernier
Despite the low score, this team may be a 99/100 on the "fun to watch" scale. It would be an absolute goon squad that would be a nightmare to play against with several players who are just as likely to score on you as they are to knock you out. That said, even with every single player on the roster in their prime, this team probably wouldn't even be the Stanley Cup favourite that year, which really shows just how bad the early-mid 2010's era Leafs were.
Coming out of the lockout, the 2005/2006 Toronto Maple Leafs looked downright scary to start the season, having three players who were considered to be sure thing Hall of Famers in Mats Sundin, Ed Belfour, and Eric Lindros alongside a supporting cast that included Jeff O'Neill, Mariusz Czerkawski, and Jason Allison who had each surpassed the 30 goal mark in previous years with O-dog himself hitting 40.
Add that onto some longtime Maple Leaf stars in Bryan McCabe, Tomas Kaberle, and Darcy Tucker plus the emerging talents of Alex Steen, Alexei Pokikarovsky and Nik Antropov who would each become 20+ goal scorers in the coming year and this team seemed like a real contender.
Unfortunately, in reality the story ends with Eric Lindros suffering an injury that caused him to miss most of the season, Czerkawski being lost on waivers after putting up only 5 points through 19 games and an .892 save percentage from Ed Belfour that caused the Leafs to finish in ninth place, two points out of a playoff spot.
Had every player been in their prime though? That .892 from Belfour turns into a .922 which alone would have been enough to put the Leafs into the playoffs. Add in 40+ goal seasons from each of Sundin, Lindros, and O'Neil plus a very strong middle six and suddenly this team goes from missing the playoffs to a real contender.
Stars:
Mats Sundin, Eric Lindros, Ed Belfour
Notable Supporting Cast:
Jeff O'Neill, Mariusz Czerkawski, Jason Allison, Bryan McCabe, Tomas Kaberle, Darcy Tucker, Alex Steen, Alexei Ponikarovsky, Nik Antropov
Having Eric Lindros, who if not for injuries may have gone down as one of the top 5 players in NHL history alongside a prime Mats Sundin and two-time Vezina winner Ed Belfour is a recipe for success. The forward group has nine players capable of scoring between 20-40 so the opposing defence would never get a single shift off.
However, Toronto's defence would inevitably be its biggest weakness (why does that sound so familiar?) Beyond Kaberle and McCabe, there's a steep drop-off on the blueline, with a total of 0 right handed shots on defence already limiting any threats. What's worse is the second pairing would consist of Carlo Coliacovo, who is most famous for smashing his face into the glass, and Alexander Khavanov whose greatest moment came at the expense of the Leafs, scoring twice for the St. Louis Blues, including the game-tying goal, during their historic 6-5 OT comeback win after being down 5-0 in the third period.
That said, the absolute domination of the forward group, plus one of the greatest goalies in NHL history may be more than enough to make up for the weak defence, causing this team to be our most dominant yet.
Upon reading the title of this piece, this is probably the team that many fans thought of and for very good reason. In late 2004, the Toronto Maple Leafs decided to go for it as the trade deadline approached in a way that few teams ever have. Future first ballot Hall of Famers Ron Francis and Brian Leetch were brought in alongside veteran offensive defenceman Calle Johansson to join a team that was already loaded with talent.
In total, this roster would go on to have five Hall of Famers, with Alexander Mogilny expected to bring that number up to six in the coming years. Unfortunately, the problem with a team of future Hall of Famers is often that many of them are growing in age which means they're well past their prime and more susceptible to injuries.
Nolan, Johanssen, Sundin, and Nieuwendyk would all miss significant time during the playoffs as the Leafs got knocked out in the second round by Philadelphia after a hard fought seven game series against the rival Senators that to this day remains the last Toronto Maple Leafs playoff series win.
Stars:
Mats Sundin, Ron Francis, Brian Leetch, Joe Nieuwendyk, Alex Mogilny, Ed Belfour
Notable Supporting Cast:
Gary Roberts, Owen Nolan, Tomas Kaberle, Bryan McCabe, Calle Johansson, Alexei Ponikarovsky, Tom Fitzgeralnd, Nik Antropov, Robert Reichel, Matt Stajan, Tie Domi
Having five (soon to be six) Hall of Famers is hard to beat. Especially since these are not just any Hall of Famers. Sundin, Francis, Belfour, and Leetch were all first ballot entries. Currently, Francis sits fifth all-time in points across NHL history, with Sundin at 29th. Brian Leetch sits eighth all time for points by a defenceman, and may have the most talented prime of anyone on the team having put up Bobby Orr-esque numbers earlier in his career once scoring 102 points during the 1991/1992 season and scoring 34 points in 23 games during the 1994 playoffs winning both the Stanley Cup and the Conn Smyth with the New York Rangers.
Having a Hall of Fame goalie always helps too, especially when they've already shown they're capable of winning the Stanley Cup. In total, this Leafs roster had four players with seasons scoring over 100 points and a goaltender with two Vezinas to his name. With Leetch and McCabe manning the first defensive pair, and Kaberle and Johansson being a fantastic second pairing, even the defence on this team would be able to compete with the best of them.
This roster would be sure Stanley Cup favourites and no one would be surprised to see them sweep a couple rounds along the way. At this point, we're crossing over into Vegas may not even take bets on their games territory since this team has the kind of top to bottom firepower not seen since the 80's Oilers but with an even better netminder.
Who's your favourite Leafs Captain from the last few decades? Sundin? Gilmour? Clark? What if you didn't have to choose from those three at all? The three fan favourites had a short-lived crossover for two half seasons as the Maple Leafs reacquired Wendel Clark in 1996 before trading away Doug Gilmour the following year.
There was already a ton of talent on the roster with Mike Gartner and Larry Murphy being future Hall of Famers that sat behind only Sundin and Gilmour in scoring that season. Unfortunately, another Hall of Famer in Dave Andreychuk was traded away the same day the Leafs acquired Clark so despite playing for Toronto that same season, he isn't allowed to be a part of this roster.
Stars:
Mats Sundin, Doug Gilmour, Larry Murphy, Mike Gartner, Wendel Clark
Notable Supporting Cast:
Felix Potvin, Dave Ellett, Kirk Muller, Mathieu Schneider, Dave Gagner
This may not be the most dominant team but they would definitely be one of the most fun. With Sundin primarily playing wing at the time, this means that a Captain's Line of Clark, Gilmour, Sundin is entirely possible, and is in fact something the Leafs did quite often during that season to plenty of success before getting knocked out in the first round by Gretzky's St. Louis Blues.
Unfortunately, even with other fantastic players like Mike Gartner, Kirk Muller, and Dave Gagner on the second line, the team lacked any sort of competent bottom six, with the defensive depth being just as much of a problem. While Larry Murphy and Mathieu Schneider make up a solid top pair, there was a steep drop off to a second unit led by Dave Ellett.
With a path to the Cup finals that would involve having to go through Gretzky, even if the Leafs won they would have to then defeat the 90's Red Wings followed by the 90's Avalanche, two of the generation's greatest franchises. Even with several Hall of Famers, there's no guarantee that this Toronto roster gets past any of those teams.
The 1980's were so rough for the Maple Leafs that even while framing teams in the best possible light it's best to skip over it. Despite that, the mid 1970's Leafs looked like a tough team to beat, thanks to a wealth of star players that would go on to become Hall of Famers, many of which were just getting started on their NHL careers. 
While players like Norm Ullman, Paul Henderson, and Dave Keon were already well established stars, the Maple Leafs were getting a boost from some fresh young faces as well in Darryl Sittler, Borje Salming, and Lanny McDonald. Unfortunately for Toronto, these two groups just missed out on perfectly syncing their primes and by the time the youngsters were ready to take over the NHL, many of the veterans had already aged out of their talent, leaving Toronto to trade away their newfound stars by the end of the decade as we entered the dark ages of the 1980's.
Stars:
Darryl Sittler, Borje Salming, Lanny McDonald, Dave Keon, Norm Ullman
Notable Supporting Cast:
Paul Henderson, Errol Thompson, Rick Kehoe, Ian Turnbull, Mike Pelyk
As mentioned earlier, it's hard to stop a team with five Hall of Famers on the roster. Sittler still holds the record for most points scored in an NHL game with his six goal, four assist performance so if we're allowed to consider a player's prime to be their best ever single game performance then this rating may need to be bumped up a few notches. 
Add in Keon's two way play with a handful of forty goal scorers in McDonald, Ullman, Kehoe, and Thompson alongside a dash of Paul Henderson's clutch gene and suddenly this roster is looking much scarier than the one that got swept in the first round of playoffs.
Nevertheless, as has been so common throughout this exercise and Leafs history, the team's problems would start on the blueline. Despite being lead by Borje Salming and supported by two solid second pairing guys in Turnbull and Pelyk, there's plenty of holes on the backend. In net is Eddie Johnston who even in his best ever season wasn't in the conversation of the league's best goalies.
With both the Broad Street Bullies and the 70's Canadiens standing between this team and a cup, it would be a hard fought battle for even a team as talented as this one.
The 1970/1971 NHL season was a special one for the Toronto Maple Leafs, not only was it former captain George Armstrong's last season, but it was also the beginning of what may be the best goalie tandem in NHL history with the Maple Leafs acquiring both Jacques Plante and Bernie Parent that year.
While Parent's Vezina winning years wouldn't come until he rejoined the Flyers a few years later, Plante was arguably the best he's ever been, posting a career-best .944 save percentage that season and finishing fifth in MVP voting along the way despite starting only 40 games.
As if having two future Hall of Fame goalies wasn't enough, there was just as much star power up front with Armstrong, Sittler, Keon, and Ullman all being future Hall inductees as well. This March 28th date also marks Errol Thompson's NHL debut (and his only game of the season), adding a future 43 goal scorer to the roster.
Stars
: George Armstrong, Darryl Sittler, Dave Keon, Norm Ullman, Jacques Plante, Bernie Parent
Notable Supporting Cast:
Errol Thompson, Paul Henderson, Ron Ellis, Jim Dorey, Mike Pelyk
Six Hall of Famers on the roster including two of the greatest goalies of all time. Not only is this team dominant, but they have an insurance plan for the dreaded case of your number one goalie getting injured or going on a cold streak during the playoffs. 
Plenty has already been said about most of the best skaters on this roster, and adding Armstrong into the mix only makes that lineup even more deadly. However, despite the team's strength, the glaring hole is of course once again on defence where Borje Salming has yet to join the team.
While Plante and Parent are two of the best guys possible for the job of bailing out the defence, having one of them always on the bench means that this six Hall of Famer team is effectively always going to only ever have five in the lineup.
Was six Hall of Famers not good enough for you? Then how about eight?
The 1969 Toronto Maple Leafs are one of the most legendary teams of all time, with eight future members of the Hockey Hall of Fame on the roster. 
(Actually, technically, it would be nine future members but since Pat Quinn was inducted due to his merits as a coach, we won't count him for this exercise.)
Fresh off their 60's dynasty, the Blue and White still had many of their core pieces including Keon, Armstrong, Bob Pulford, and some guy named Tim Horton who was always sipping on coffee. As if that wasn't enough, the team had also gone out and acquired three-time Norris winner Pierre Pilote to join another Hall of Fame Quebecois defenceman in Marcel Pronovost on the blueline.
The dominance didn't end with the skaters with the net being occupied by arguably the Greatest Leafs goalie of all time in Johnny Bower with the very capable Bruce Gamble serving as backup.
Even outside of the Hall guys, Toronto had plenty of depth with players such as Mike Walton, Ron Ellis, Gerry Meehan, and Paul Henderson, each of whom was capable of potting 30 goals as a third liner on this stacked roster.
Stars:
Tim Horton, George Armstrong, Johnny Bower, Norm Ullman, Dave Keon, Marcel Pronovost, Pierre Pilote, Bob Pulford
Notable Supporting Cast:
Paul Henderson, Mike Walton, Ron Ellis, Gerry Meehan, Bruce Gamble
What's there to say about this roster that hasn't already been etched into a plaque somewhere? Nearly half of the entire lineup is in the Hall of Fame, and many of those who aren't were still exceptionally talented players during the peak of their careers.
With three of the greatest defencemen of all time on the blueline, alongside a superstar goalie as the last line of defence, and a forward core that is fresh off one of the league's greatest dynasty's, this could be one of the most legendary rosters of all time. If each of these players were to be put into the prime of their careers, it would be difficult to see them doing anything but cakewalking their way to a dominant Stanley Cup win.
On December 11, 1965 the Toronto Maple Leafs iced a roster that would have an unbelievable ten future members of the Hockey Hall of Fame.
(Hilariously enough, once again that number is technically one higher as Al Arbour would eventually be inducted much like Pat Quinn was, but since it wasn't for his merits as a player, we won't count him for this exercise.)
Having recently won three cups in a row, the Maple Leafs were just over a year away from adding yet another ring to their 1960's dynasty. While many of the stars who helped them win their previous three such as Red Kelly and Allan Stanley were quickly entering their twilight years and become less effective to the club, none of that matters for this journey of everyone being in their prime.
Leading scorer Frank Mahovlich was already in his prime as were Pulford and Keon who rounded out the team's top three point getters. With Red Kelly recently converted into a forward him and captain George Armstrong provide some fantastic secondary scoring for this star-studded roster with Horton, Pronovost, and Stanley giving us three of the most elite defencemen in league history.
As if having eight Hall of Fame skaters on the roster wasn't enough, the goalie tandem adds two of the greatest to ever do it. Johnny Bower and Terry Sawchuk man the pipes for the Maple Leafs, giving them a tandem that shared the Vezina the previous season.
Stars:
Tim Horton, Dave Keon, Frank Mahovlich, George Armstrong, Bob Pulford, Red Kelly, Allan Stanley, Marcel Pronovost, Johnny Bower, Terry Sawchuk
Notable Supporting Cast:
Eddie Shack, Pete Stemkowski, Ron Ellis, Orland Kurtenbach
Dominance Rating:
100/100
When more than half your roster is not only Hall of Famers, but considered great even by Hall of Fame standards, you know the team is about to destroy the competition.
There's a reason that the 1960's Maple Leafs were as dominant as they were, and it's because many of these players spent much of the decade in their primes, so adjusting the knob a little bit more in the right direction to make them even better is only going to turn what was already a dynasty into something chaotic.
This would be the kind of team that would become a spectacle on par with Usain Bolt literally charging ahead of his competition or anytime Brazil plays a small island nation in soccer. People would tune in just to see how ridiculous it can get.
With two elite goalies, three elite defencemen, and five elite forwards plus a very capable supporting cast, there isn't a single weak point on the entire roster.
This could very well be the greatest roster the Toronto Maple Leafs ever assembled, if every player had been in their prime. With ten Hall of Famers no other team really stood a chance. Unless…
One year earlier, the Maple Leafs unbelievably iced a roster that would have eleven players go on to be inducted into the Hall of Fame. While much of the lineup was exactly the same, the most notable changes include not having Marcel Pronovost on defence and the addition of Dickie Moore and Andy Bathgate up front.
Future 40 goal scorer Jim Pappin was also part of this lineup, as was two time Norris nominee Carl Brewer and defenceman Bobby Baun who help fill some of the void of losing Provonost on the blueline.
This team was just a few months removed from winning their third straight cup, and with a lineup like this it's a miracle to the rest of the league that they didn't keep that streak going. Even outside of the long list of Hall of Famers, even the supporting cast is filled with skaters who were capable of scoring 30 themselves.
Stars:
Tim Horton, Dave Keon, Frank Mahovlich, George Armstrong, Bob Pulford, Red Kelly, Allan Stanley, Andy Bathgate, Dickie Moore, Johnny Bower, Terry Sawchuk
Notable Supporting Cast:
Bobby Baun, Carl Brewer, Jim Pappin, Ron Ellis, Billy Harris, Don McKenney
Dominance Rating:
100/100
Much like the last roster, this lineup shows why the 1960's Maple Leafs were so dominant. Back when the league was only six teams deep, becoming a dynasty was much easier than it is nowadays where the talent pool is spread across the continent in the name of parity.
There's no doubt at all that this team would dominate the league because it's already what happened. The Maple Leafs were the team to beat for most of the front half of the decade and only needed to make a couple of roster tweaks to win it all again a few years later. By being able to turn the clock back (or forward in some cases) so that every player involved was in their prime, and there's a real chance that those '65 and '66 cups stay in Toronto as well.
It's hard to differentiate whether this roster or the one that came a year later would be better as they're so similar. Then there's an argument to be made that the 2004 Maple Leafs would blow the dominance of both these teams out of the water as the increased parity during the turn of the century means that even though that lineup had less Hall of Fame level superstars on it, every other team in the league was also much more diluted of talent.
Hockey, and sports in general, are a long exercise of what ifs and what could have beens, so whether it was 1964, 1965, 2004, or somewhere else entirely it's exciting to look back on how good it once was, how much better it could have been, and if the greatest Leafs team of all time is still yet to arrive.