Why holding onto Alex Kerfoot might benefit the Maple Leafs down the stretch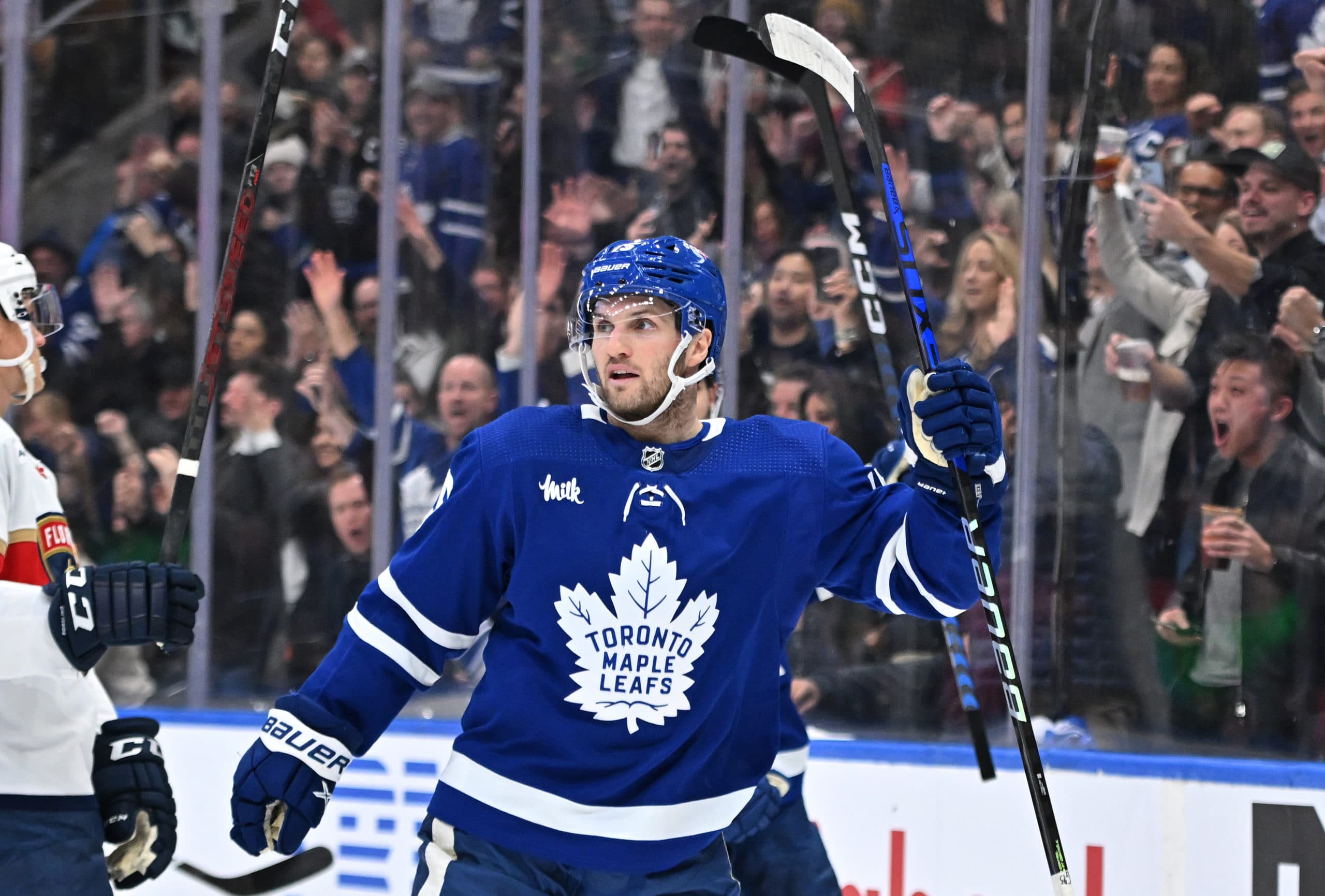 Photo credit:Dan Hamilton-USA TODAY Sports
Alex Kerfoot is the Maple Leafs' utility man, quite literally. Wherever Toronto needs him, he's there to play the part, and that makes him an important player.
As we inch closer and closer to the NHL trade deadline, it feels as though the 28-year-old's name just keeps coming up. From fans, insiders — a lot of people within the hockey world are interested to see if he'll be moved.
And it makes sense.
Kerfoot has struggled mightily with finding the back of the net this season, only scoring seven times through 59 games. But this is the player he's been since arriving from Colorado in 2019, aside from last season where he put up 51 points in 82 games.
The 28-year-old has scored more than 10 goals only once since the trade from the Avalanche.
His $3.5 million cap hit, if moved, would open up a lot of room for Maple Leafs GM Kyle Dubas at the trade deadline. Though the thing is, if he is moved, you're betting on one of the players within the organization already to fill his role, which might be difficult.
Although the 28-year-old doesn't score, Toronto values him in other ways, like in the defensive end. After the Ryan O'Reilly and Noel Acciari trade, Kerfoot was moved to the fourth line to play alongside Acciari and Zach Aston-Reese.
And ever since the move, Maple Leafs head coach Sheldon Keefe has been raving about how good their fourth line has been. To the account of Acciari and Aston-Reese, but too, to the account of Kerfoot.
"He's a guy, when we made the trade (for O'Reilly and Acciari), I spoke with directly because it came at a time where he was playing up in the top-six and I thought he had done a nice job there and you could see his game really starting to come.
"I know the puck hasn't gone in the net nearly as much as he would like, but he's still making contributions to our team throughout, whether it's driving play or getting on the forecheck, or defensive utility, penalty killing, all of these things."
When watching Kerfoot play, you might see a lot that you don't like offensively, whether it be losing the puck in the offensive zone, over or under-passing it, or just not being able to find the back of the net with a 'Grade A' scoring chance.
Where the 28-year-old plays his best hockey, though, is in the defensive and neutral zones.
Matter of fact, when Kerfoot is on the ice, Toronto is actually getting more chances than they allow. At five-on-five this season, the 28-year-old has created 347 scoring chances while only giving up 274, a 55.88 SCF%, according to NaturalStatTrick.
And every other advanced statistic along with that, whether it be CF% (53.74), GF% (55.77), xGF% (56.29), or HDCF% (58.21), is incredibly strong.
His ability to kill penalties, play solid defensively, and also move the puck up the ice is an asset for Toronto, especially on their fourth line. It might not be pretty seeing a $3.5 million player that far down the lineup, but Toronto could very well roll with it.
There's a lot worse out there, and with having Kerfoot already, Keefe knows what he's going to get on any given night.
Having the 28-year-old playing against fourth lines won't make him a liability as it did with him in the Maple Leafs' top-six. Plus, he's playing against lesser competition, and with that could come some offensive output once that line finds each other's tendencies up ice.
After all, his shooting percentage this season has been quite low at 6.9%, compared to his career average which has hovered around the 10-12% mark. Maybe there's a bit of goal scoring in his future?
What's surprised me most, though, in the last couple of games with Kerfoot is his physicality. There was a moment in Friday's game vs. Minnesota where the 28-year-old through a big hit on Matt Dumba after dumping the puck into the Wild's zone.
That's definitely something you don't see much from him. Maybe with the way Acciari and Aston-Reese throw their body around, Kerfoot wants to do the same.
Bottom line is, Kerfoot is an effective player that just needs to be put in the right situation to succeed. Playing with someone like Acciari might help with that, but that will take a bit more time to evaluate.
The clock is ticking, though. We're less than a week away from the NHL trade deadline and decision time is looming. Will Dubas keep Kerfoot and find room to add a defenceman elsewhere? Or is the 28-year-old the main player heading to another team in a trade?
Kerfoot's future with the Maple Leafs hangs in the balance, and one week from now, we'll know if he's staying or if he's already gone.
---
THE DAILY FACEOFF TRADE DEADLINE SHOW
Join us on March 3rd for the Daily Faceoff Live: Trade Deadline edition as Frank Seravalli and the panel break down all of the latest rumours, news, and rumblings from around the NHL. The show will be live on 
YouTube
, 
Facebook
, and 
Twitter
 from 12 PM – 4 PM ET to keep you up to date on all things trade deadline no matter where you're watching from.