Why the experimental 11 forward, 7 defencemen lineup continues to make sense for the Maple Leafs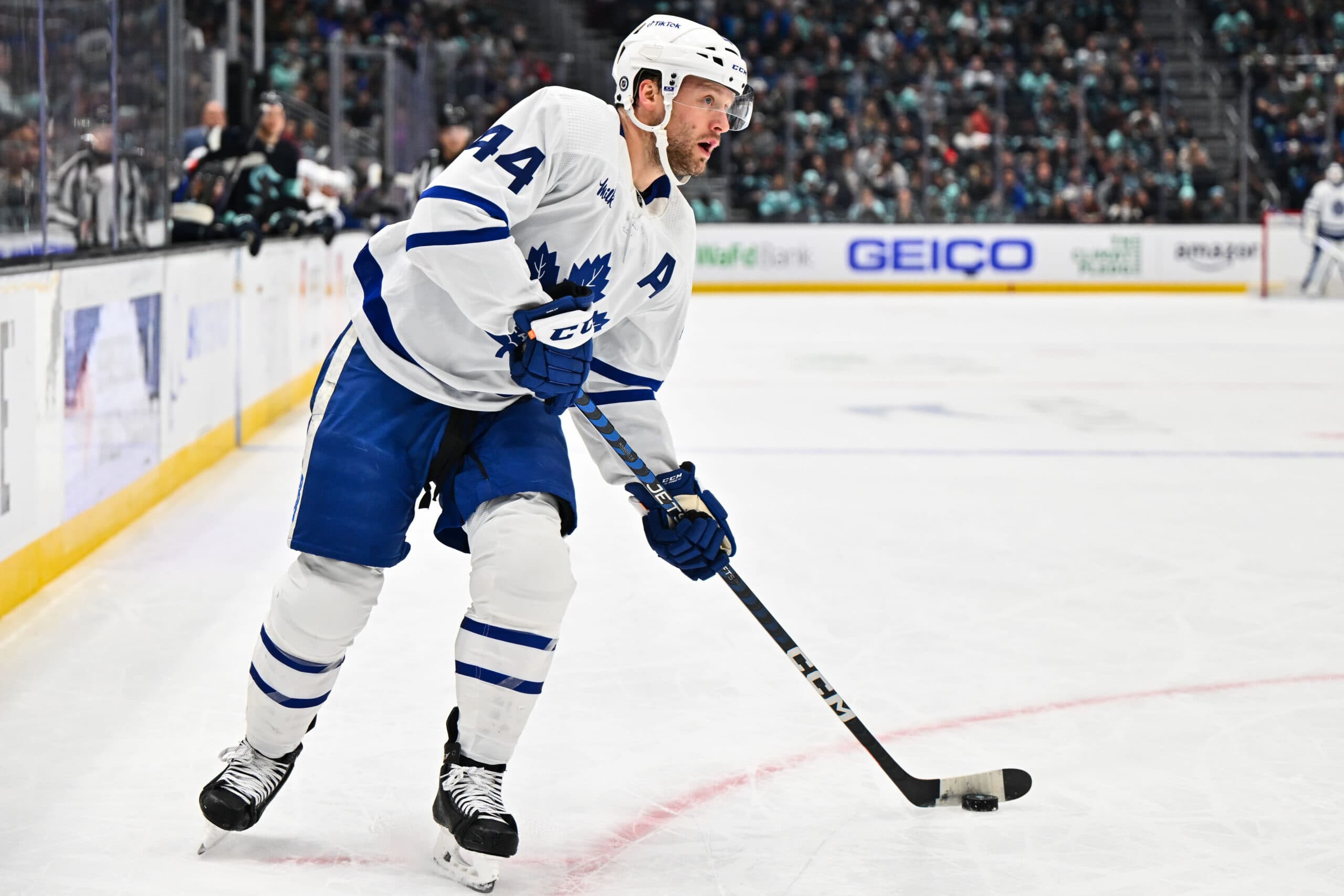 Photo credit:Steven Bisig-USA TODAY Sports
The 11 forward, seven defencemen format has been rolled out by Maple Leafs head coach Sheldon Keefe for a while now, and I don't think we've seen the last of it.
He and the team are returning to the regular 12F, 6D lineup on Saturday against Ottawa, but with the number of defenders available on any given night, I still believe Toronto will eventually go back to the unusual 11F, 7D.
It's been a fascinating experiment to say the least. The obvious positive coming from it is that seven of the Maple Leafs' eight defencemen will get a chance to play in each game, allowing them to stay fresh and ready when called upon.
But it's also given the new acquisitions an opportunity to get into games, and learn each other's tendencies within their new team — something that's needed down the stretch heading into the playoffs.
Toronto has used the 11 forward, seven defencemen lineup in six of their last seven games, with each matchup turning out be unique experience for the club. Posting a 3-2-1 record in that span makes it a tell-tale sign that there has been ups and downs to the lineup.
However, I believe there could be more ups in the future.
As the games get more important, so does who you're deploying on the ice at any given point in the game. On defence (with 7D), you'd have an extra player to give ice-time to, making it easier on some of the defenders who'll usually log big minutes.
Icing seven defenders also allows you the opportunity to only sit out only one of the extra defencemen, like Justin Holl on Friday night. Whereas if you rolled out the regular 12F, 6D lineup, there'd be two defencemen sitting out on a given night.
If it were me, I'd be more comfortable having nearly every player on the back-end in the lineup each game. It might run the risk of more of the defence to pick up bumps and bruises, but it's that time of year where it's inevitable anyways.
Another positive of having seven defencemen in the lineup is the increased opportunity for forwards, like Auston Matthews and Mitch Marner.
Each played over 26 minutes on Wednesday vs. Colorado in a best-on-best matchup and it was a pretty good showing to say the least. There could be moments like that in the first round against the Lightning, too, so icing 11 forwards would make sense.
It maximizes the work out of the forwards as well. What I mean by that is, no player will be getting a long rest period in between shifts, and that'll allow every forward to stay in the game mentally, as well as more in a rhythm.
Going with 12 forwards gives you four full lines and one of those lines might not see the ice for an extended period of time in a game. I think there's more positives to giving each player ample opportunity during the 60 minutes, until it is time to go continued shifts with the big four.
I believe this all still hangs in the balance, though.
With the loss of Noel Acciari on Friday, and no given timeline on when he might be back, it really throws a wrench into Toronto's plans. It'll be a plus to get Ryan O'Reilly back once his finger heals up and that'll restore their depth up front.
However, the Maple Leafs won't be able to get a full look of an optimized lineup — at 11F, 7D or 12F, 6D — with Acciari missing from the group.
If there was an optimized lineup for game one of the first round, and it was an 11 forward, seven defencemen lineup rollout, I believe this could be it.
Jarnkrok-Matthews-Marner
Bunting-Tavares-Nylander
Kerfoot-O'Reilly-Acciari (if healthy)
Kampf-Lafferty
Extra: Aston-Reese, Simmonds, Knies
Rielly-Brodie
McCabe-Holl
Giordano-Liljegren
Schenn/Gustafsson (one dresses, one sits)
Both options, whether it be 11F, 7D or 12F, 6D depends on the health of a number of players heading into the final 14 games of the regular season. It could be an experiment that fizzled out on Friday, or it could make its return once again after Saturday's game in Ottawa.
Either way, this final stretch of the season will be as fascinating as ever for the Maple Leafs.