Why the Leafs are bringing back Luke Schenn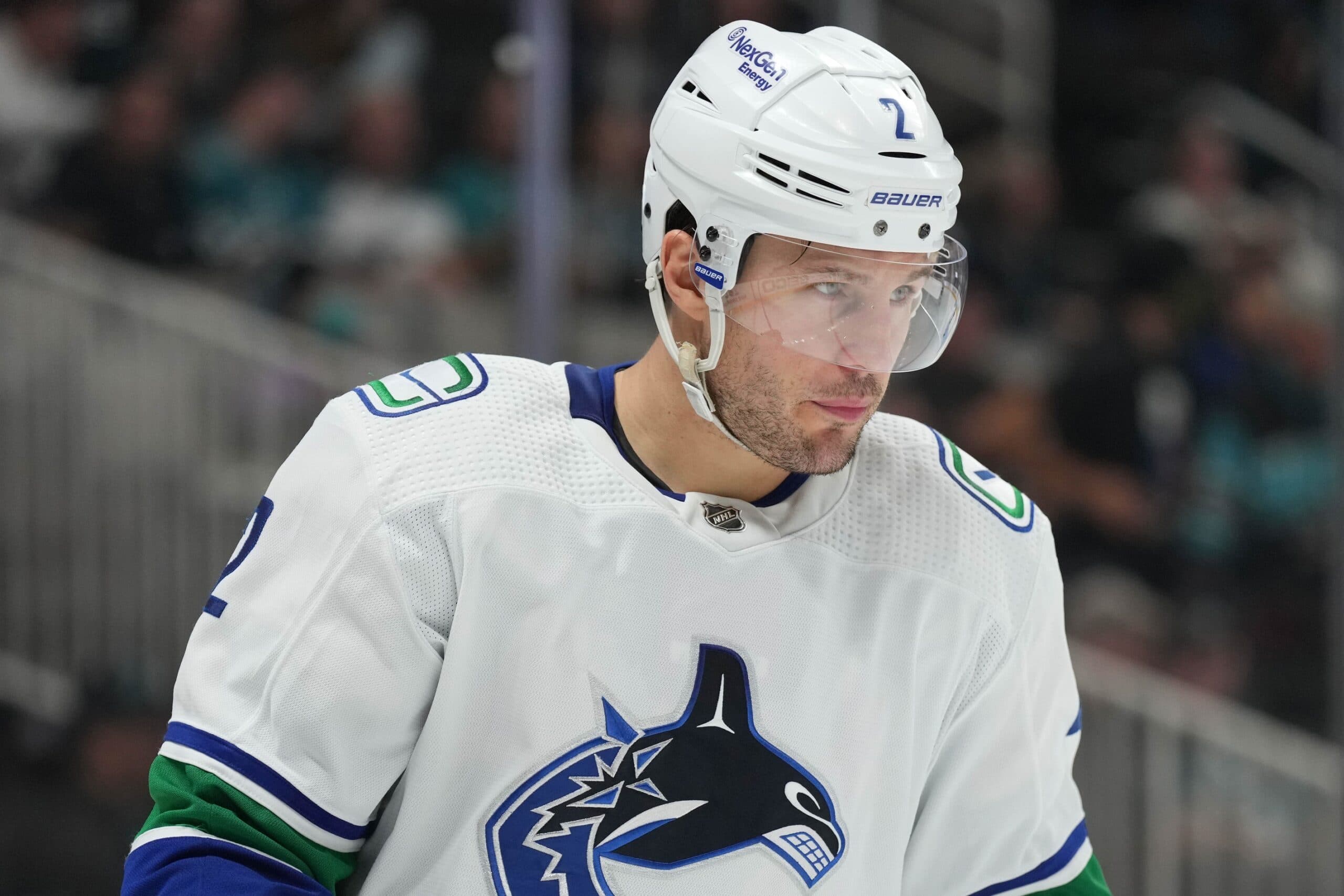 Photo credit:© Darren Yamashita-USA TODAY Sports
Amidst the flurry of trades that the Leafs made on Tuesday afternoon, a familiar face finds himself back in the Blue and White.
I have been harping on the Leafs
needing to bring back Luke Schenn
for some
physical snarl on the back end
over the past two years, and Kyle Dubas finally decided to make that a reality. The 2008 fifth-overall pick returns home after an 11-year tour around the league that included winning two Stanley Cups and will finally get his first taste of playoff action in Toronto this spring.
By no means is Schenn going to move the needle the way someone like Jakob Chychrun could, but his leadership and sandpaper playstyle should help solidify the Leafs' defensive depth. They have become even tougher to play against as a result and are better built for postseason hockey than ever before since the Matthews-Marner-Nylander era began.
In 55 games this season, Schenn has recorded 21 points (three goals and 18 assists), 81 blocks and a league-leading 258 hits, which has him 21 clear of second-place Matt Martin. Along with Noel Acciari's 184 hits, the Leafs now have two of the top 10 league leaders in that category and will have some physical bite up front and on the back end.
It is worth noting that his willingness to throw the body means he also gets penalized a lot, as his 71 penalty minutes already have him leading the Leafs for a rate of 1.29 PIM/G. Despite his frequent visits to the sin-bin, the Leafs clearly see that Schenn's physical snarl outweighs any number of penalties he will take down the stretch.
| | | | | | | | | | |
| --- | --- | --- | --- | --- | --- | --- | --- | --- | --- |
| SEASON | CF% | FF% | SF% | GF% | XGF% | SCF% | HDCF% | HDGF% | PDO |
| 2021-22 | 50.37 | 49.93 | 51.13 | 57.53 | 49.24 | 49.36 | 45.59 | 59.09 | 1.019 |
| 2022-23 | 45.61 | 44.89 | 45.66 | 51.76 | 44.96 | 45.91 | 44.74 | 53.70 | 1.025 |
As you might expect from a stay-at-home defenceman, the underlying metrics at 5v5 this season are below average for the 33-year-old. When compared to last season when the Canucks were in the midst of a playoff push, Schenn's numbers are much better all across the board. While both seasons have his PDO above 1, it is clear the Leafs are banking on him being the player he was last season while also not having to play heavy minutes when compared to his time in Vancouver.
So where does Schenn fit into the Leafs' crowded blueline?
I would imagine he takes up the role that Jordie Benn had by being their seventh defenceman who they can comfortably insert into the lineup when needed. The difference between the two is that Schenn is younger, more durable, and a natural right-shot defenceman, which should give him the edge over Benn. For the time being, the Leafs will now have four right-shot defenders on their roster and it gives Sheldon Keefe plenty of options for how he can assemble the pairings.
Schenn was most often paired with Quinn Hughes and the two had plenty of success over the past two seasons. The Canucks did this so that Hughes had free reign to move around the ice while Schenn could be the first man back, but the trade-off is his footspeed is not the greatest and likely resulted in some gaps for the opposition to exploit.
I would imagine that the Leafs try and slot him alongside Morgan Rielly to provide him more space to roam, similar to when they had Zach Bogosian and Ilya Lyubushkin. Schenn is realistically going to get the bulk of his minutes on the third pair and share the ice with a defender that can help offset his lacklustre speed. Don't be surprised if he gets to share the ice with the likes of Mark Giordano or TJ Brodie at some point.
His $850K cap hit should also help provide Toronto with more wiggle room in the event that they need to use their LTIR space again. With Matt Murray nearing a return, it was integral that the Leafs give themselves some flexibility on their salary cap to avoid going over. It's why the likes of Rasmus Sandin and Pierre Engvall were shipped out earlier and why they acquired Schenn and Erik Gustafsson.
His initial exit on the backs of the James van Riemsdyk trade in 2012 came
during a dark period for the franchise
. It is not often that a player gets a chance to return to his former club, but seeing the former fifth-overall pick get a second crack in Toronto is going to be exciting to watch all things considered. Not only does he come home with two Cup rings on his finger, but he will also bring some valuable insight to his new teammates regarding Toronto's likely opponent in the first round.
Simply put, the Leafs felt that they needed to add some more snarl on their backend and bring in a guy with more durability than Benn. Schenn fulfills that role while also having an absurd number of hits, all for the price of a third-round pick this year.
It is time to reach into the closet and dust off the old Schenn jerseys.
---
THE DAILY FACEOFF TRADE DEADLINE SHOW
Join us on March 3rd for the Daily Faceoff Live: Trade Deadline edition as Frank Seravalli and the panel break down all of the latest rumours, news, and rumblings from around the NHL. The show will be live on 
YouTube
, 
Facebook
, and 
Twitter
 from 12 PM – 4 PM ET to keep you up to date on all things trade deadline no matter where you're watching from.