The huge risk the Leafs take in shopping one of their defencemen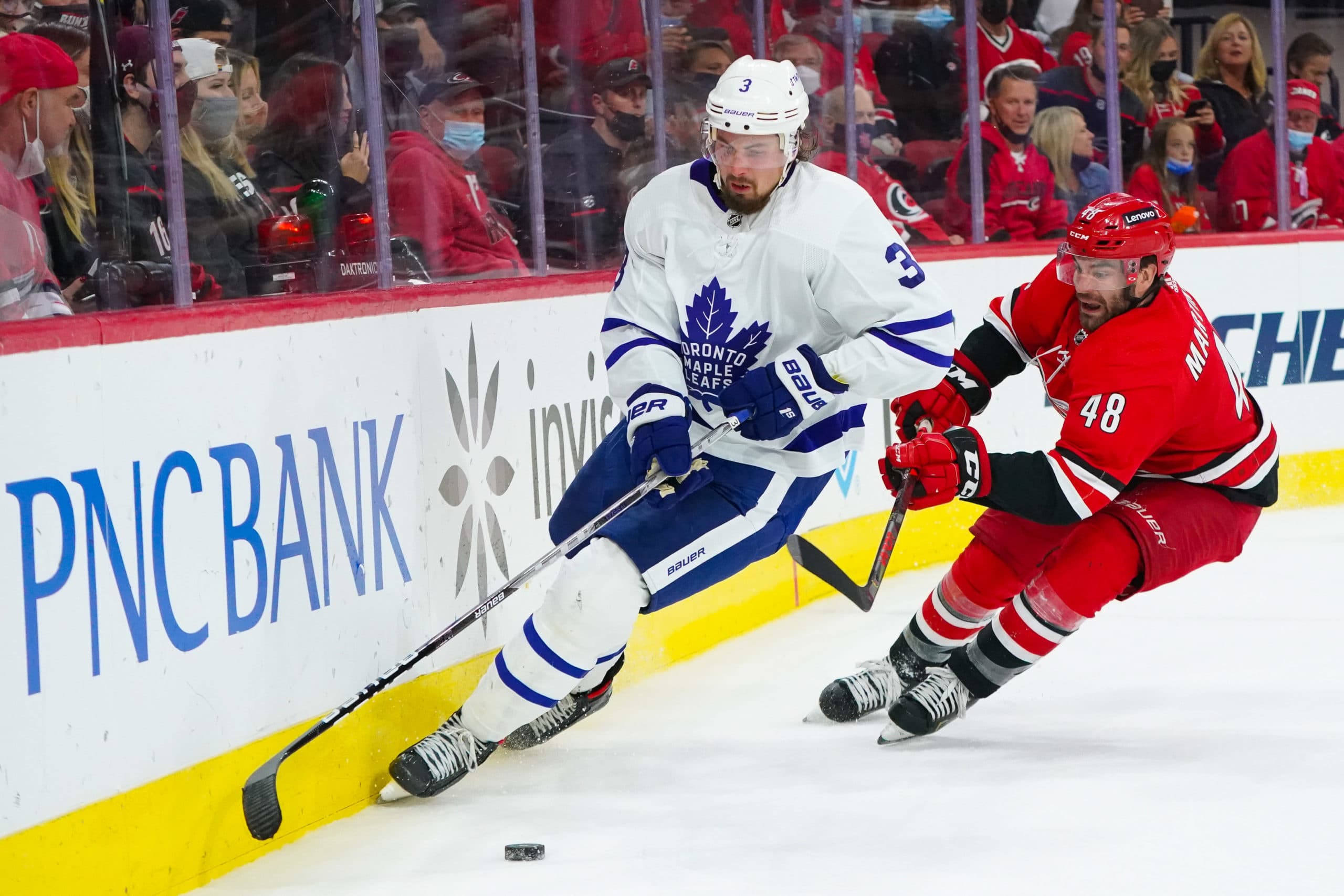 Photo credit:James Guillory-USA TODAY Sports
Being reported by multiple Leafs beat writers is that Toronto is shopping one of their defencemen.
Whether that be @Justin Holl, @Travis Dermott, or even both of them, I don't think it's a logical idea. One of the things the Leafs have echoed for years is why depth brings success. And if you trade one of Holl or Dermott, doesn't that defeat the purpose of depth?
If you trade either of those players, it leaves a hole. Not one within the lineup, but one if there's an injury.
I'm sometimes on the side of the player because it's tough being the odd man out. It's hard for hockey players to miss games, especially when they know they can be better. Holl is the most prominent example of that.
Eight months ago, the 29-year-old was the key to shutting down @Connor McDavid in three-straight games. It wasn't @Jake Muzzin.
I say that only because a lot of people see Holl and think his success is from Muzzin. If he didn't have the Stanley Cup Champion defender on his left side, Holl wouldn't be effective. At times I buy it, other times I don't.
I buy it when I see charts like this:
From looking at these two graphs, you notice that Holl hasn't been good. A lot of his play does likely fall on how good Muzzin is playing. Last season, Muzzin had a great season, which rubbed off on Holl too.
As we've seen this year, it's a different story.
The eye test clearly showed early on that both Muzzin and Holl aren't doing great. The two have looked slow, sluggish, and not themselves. That's been the reason why the 29-year-old has been sitting in the press box for the last three games.
I believe that it's only fair you give Holl a chance with a new partner, though. There's no problem with Sheldon Keefe trying him with TJ Brodie or @Morgan Rielly for a game. If Dermott is getting a try with new players, it's only fair you let Holl do the same.
But Dermott has been involved in the trade discussions as well.
---
I do have an issue understanding why the Leafs are shopping one of their defencemen, though.
One of the clear points so far this season is that @Timothy Liljegren belongs in the NHL. I've been shouting it from the rooftops since I began covering the Toronto Marlies. It's nice to see him finally getting this chance.
However, if you trade one of Holl or Dermott, what happens when there's an injury? You're missing a key player in one of those two guys.
At this point in a season, it's astonishingly hard to judge who's worthy of an NHL job. On Thursday, the Leafs recalled Kristiāns Rubīns because of Dermott's injury status. He then was sent back down when Dermott was ready to play.
I, personally, wouldn't want to enter the playoffs with Rubīns as my seventh defenceman. He's been great, and it looks like he's almost ready to take the next step, but from what we know, the Stanley Cup Playoffs are a different beast. If Dubas decides to acquire a defenceman at the trade deadline or in this potential trade, it makes sense. If he doesn't, I would be questioning his judgement.
It's worth pointing out that Dubas also might be looking at shopping Holl because of his contract. At $2-million for the rest of this season and the next one, it might not be worth it for the Leafs. @Jack Campbell's contract ends after this season, and I'm positive that Toronto wants to re-sign him.
Whether the case may be, it has its benefits but also its drawbacks.
You give up a player who's won in the AHL and also someone who knows what it's like to defend against the NHL's best player. But currently, he's also someone who's struggled mightily without Muzzin on his side.
Unless Dubas gets a return for one of Holl or Dermott, this isn't a wise decision.
(Graph used in this article is courtesy of Evolving-Hockey.com)