Why the Maple Leafs' new-look fourth line could have some short-term success together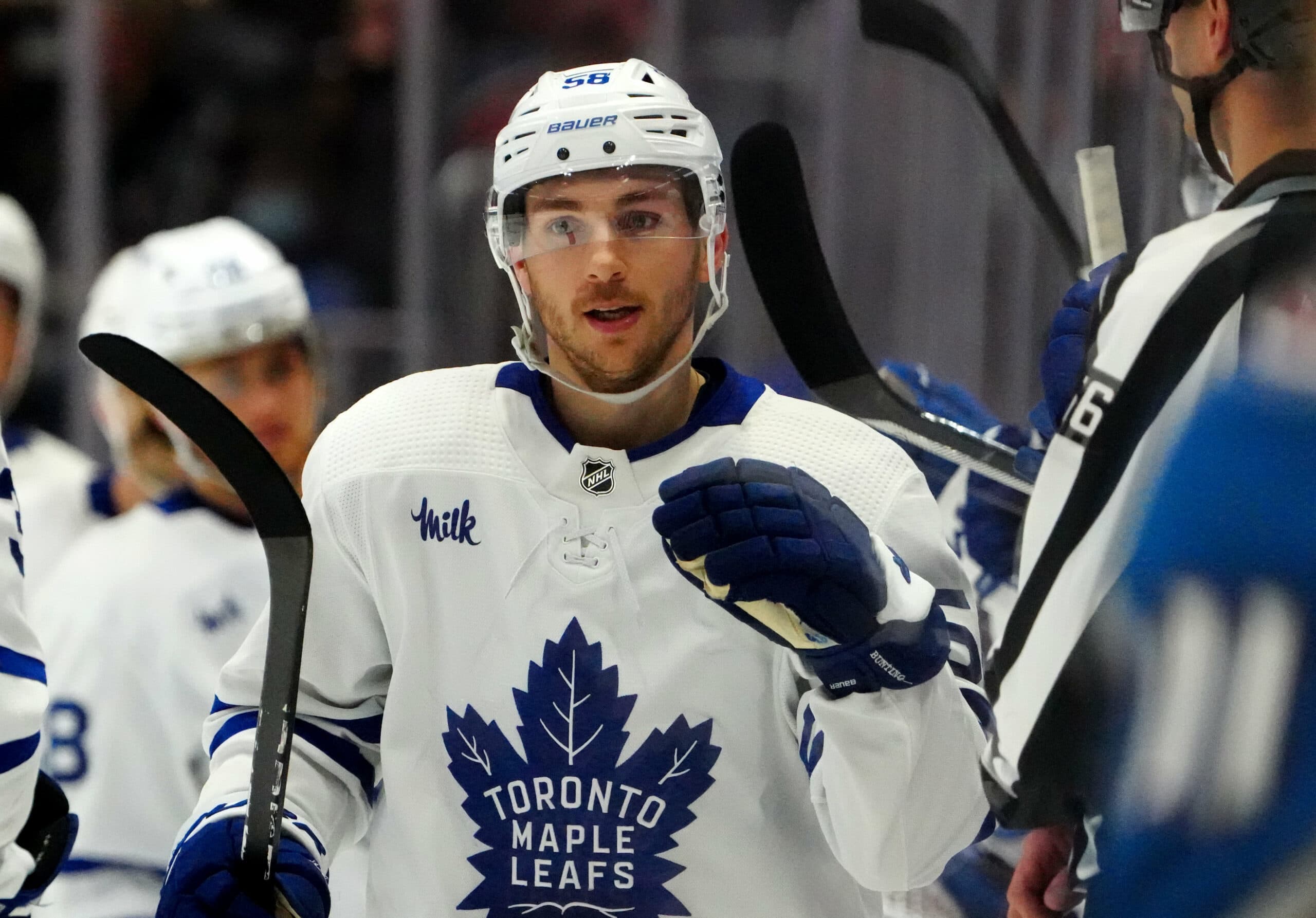 Photo credit:Ron Chenoy-USA TODAY Sports
Toronto head coach Sheldon Keefe rolled out some fascinating line combinations, just a day before their matchup against the Devils. The one that stuck out most? Michael Bunting, Pontus Holmberg, and Alex Steeves together as a trio.
As we all know, Bunting has spent most of his time as a Maple Leaf on the top line with Auston Matthews. Very little has he ever moved from the 25-year-old goal-scorers' wing. But this move, in fact, could be a good change of scenery for the second-year full-time NHLer.
The 27-year-old seems to be on pace to have a similar year to his last in terms of points, but as of late has struggled. Bunting, in his last seven games, has only tallied three points — a near 35-point pace through an 82-game season.
"I don't know, it is what it is,"
Bunting said to reporters on Monday
when asked where his game is at right now. "Hopefully I get it back here and play my game, get to the net, and work those areas that I have strengths at."
Bunting joins a unique line alongside both Holmberg and Steeves — one that I believe could have some success in the short-term.
Holmberg, both with the Marlies and Maple Leafs, has been an incredible story this season. The 23-year-old stepped into North American hockey and was immediately reliable at both ends of the rink, strong on the puck, and a good skater.
He could be very dangerous if he begins to find the back of the net at the NHL level, something he's done as of late with the Marlies scoring in each of his last three games.
With Steeves, you're getting a player who's quick with and without the puck. He's refined his game since last season, all the way to the point where the 23-year-old is throwing a hit at almost every player he approaches on the ice.
As much as he is tabbed a goal-scorer, Steeves has found other ways to contribute, too, such as being a playmaker. His 27 assists this season in the AHL is five more than he had last year (his rookie year), in five less games.
But the 23-year-old is mostly a player who can find the back of the net — something that this fourth line will need to have success.
What I really like about this line of Bunting-Holmberg-Steeves is how tough it'll be for opposing teams. The 'All Hands on Deck' style that'll likely come from the trio is why I believe there'll be some success right off the hop come Tuesday night in New Jersey.
All three players have an edge to their game, and each of them likely feel like they have something to prove down the stretch before the playoffs.
This could be a line that sticks around for one game, with John Tavares out on Tuesday, or it might last a bit longer if they show some signs of early chemistry.
Either way, it'll be fascinating to see how each of the three perform, together, and as individual players.