Why the time was right for the Leafs to cash out on Rasmus Sandin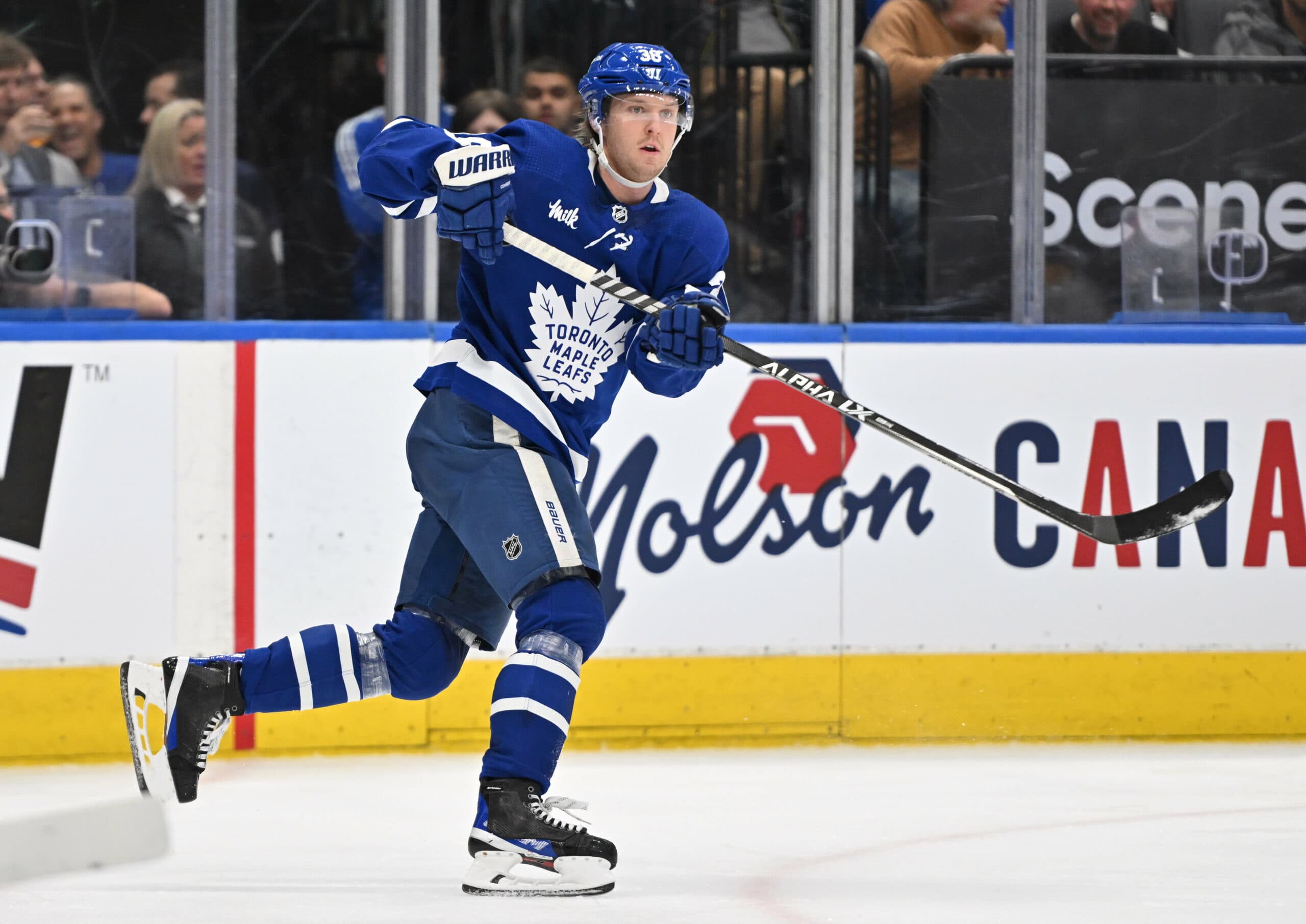 Photo credit:© Dan Hamilton-USA TODAY Sports
Kyle Dubas has been the busiest man in hockey over the last couple of weeks as he works to reshape the Leafs' roster for the most crucial playoff run of his tenure as general manager.
After swinging trades to bring in Ryan O'Reilly and Noel Acciari from St. Louis, along with Jake McCabe and Sam Lafferty from Chicago, the Leafs announced a trio of deals on Tuesday that brought more changes to their lineup, but the move to send 22-year-old defenseman Rasmus Sandin out the door to Washington has created the most polarizing reaction among the Leafs' faithful.
Morgan Rielly is in the first year of an eight-year contract extension and entrenched as a core piece of the Leafs' roster for years to come. The newly acquired McCabe brings an element that has been in short supply on Toronto's back end, and he is under contract for two seasons after this one on a great cap hit. Mark Giordano has been a rock on the Leafs' blue line this season, and he's set to return as a steadying veteran presence while counting for just $800k against the salary cap again next season.
Suddenly, there was no clear path to regular playing time for Sandin, who had already shown frustration in the past regarding his role with the team. Going back to last summer's drawn-out contract negotiations between him and the Leafs, the biggest point of contention was reportedly Sandin's uncertainty over where he fit in and his lack of opportunity to secure a larger role moving forward. There were rumblings that the young Swede was already displeased with his place on the team, and being relegated to the press box as the seventh defenseman would only serve to exasperate that displeasure while hampering his development in the process.
It's tough to blame Dubas and the Leafs for exhausting all options to upgrade their defensive core, but it's also difficult to blame Sandin for being unhappy with how things have unfolded for him. Drafted in the first round back in 2018, he was fast-tracked to the NHL after impressing early on with the Marlies, and it looked like he was going to be an important piece of the Leafs' future. A slew of injuries over the last couple of seasons has impacted his trajectory, however, with questions regarding his skating and ability to handle bigger, stronger forwards in the defensive end leading to concerns about his ultimate upside as an NHLer.
Seeing a young homegrown player with untapped potential who once looked like a building block for the franchise shipped out in a trade is always a tough pill to swallow, but recouping valuable assets for a player who no longer had a place in the lineup was shrewd business by Dubas.
The timing of the Sandin trade was key as he and the Leafs were nearing a tipping point. Sandin is still young enough and has shown enough potential to still be viewed as a valuable piece for a rebuilding or retooling team, but how much longer would he have held that value as a rotational piece for the Leafs? We don't have to look back very far to find a comparable situation.
Former Leaf Travis Dermott was drafted around the same range that Sandin was and began his NHL career with similar promise, putting up impressive results in sheltered minutes almost instantly. Unfortunately, he was never able to replicate that success in a more prominent role, and by the time the Leafs decided to cut bait, his value around the league had diminished to the point where they had to trade him for a third-round draft pick. Dubas wasn't going to watch that same scene unfold again and instead made the decision to move off of Sandin while he still held legitimate value on the trade market.
A split could wind up being mutually beneficial for the Leafs and Sandin, with the young defenseman likely feeling a sense of relief as he heads to a team that can provide more upward mobility for him in their lineup. Prior to yesterday's acquisition of Sandin and re-signing of Nick Jensen, John Carlson was the only defenseman on the Capitals roster with a contract for next season. Washington should be able to provide Sandin with a better opportunity to grow into the player he believes he can be, and though it would be difficult to watch him blossom into a quality top-four defenseman for another club, that was unlikely to happen for him in Toronto, and the Leafs are obviously comfortable with the risk involved.
He was never really afforded much more than third-pair minutes in Toronto, but Sandin does a lot of things well. When provided with ample time and space, he is a high-end puck mover who sees the ice very well, allowing him to jump into the play and help create offense. He is also more than willing to engage physically and delivered his share of big hits during his time with the Leafs. For all his strengths, however, Sandin isn't without his warts. He is an average skater at best, and despite his aggressive style of play, his small stature betrayed him too often on puck retrievals or battling for space in front of his own net. You can be slow, or you can be small, but there just aren't a lot of top-four NHL defensemen who are both. That's not to say he won't improve or that Washington overpaid for someone who will never be more than a high-end bottom-pairing defender, but his odds of developing into a top-four defenseman aren't as high as they once appeared to be.
As for what the Leafs got back in return, Erik Gustafsson more than replaces the offense that Sandin has brought to this point, and he immediately becomes Toronto's leading scorer from the back end with seven goals and 31 assists in 61 games this season. Leaf fans may recall Gustafsson netting a hat-trick against the Blue and White earlier this season. The soon-to-be 31-year-old isn't likely to receive the same kind of playing time with the Leafs as he did with the Capitals, but at worst, he provides Toronto with some offensive depth on the blue line and another option as a proven powerplay quarterback – all for a cap hit of just $800k, meaning the Leafs actually freed up a bit of cap space in the deal.
While Gustafsson is a nice depth piece for a contending team, the primary part of the return in the Sandin trade was Boston's first-round pick in the upcoming draft, which the Capitals acquired when they dealt Dmitry Orlov and Garnet Hathaway to the Bruins last week. The Leafs shipped out a lot of draft capital in their prior trades with St. Louis and Chicago but managed to recoup a valuable pick for a player who was drafted at the back part of the first round himself.
The biggest question on everyone's mind now is whether the Leafs will hang onto that pick or use it as another trade chip to make one final addition to their roster before Friday's trade deadline. It feels like there is more to come, with nine NHL defensemen and just 12 forwards on the roster, and the only viable waivers candidate being Zach Aston-Reese.
Despite being near the salary cap limit following Tuesday's flurry of moves, Dubas still has options. Justin Holl was a healthy scratch for the first time this season when the Leafs played Chicago back on February 15th, and with the additions of McCabe, Gustafsson, and Luke Schenn, he could be the next defender on the outside looking in. The Leafs clearly value what Holl brings, especially on the penalty kill, but moving him would free up an additional $2 million in cap space that could be used to acquire a forward.
Up front, Alex Kerfoot is counting for $3.5 million against the salary cap, and while he has looked good playing alongside Noel Acciari on the fourth line, he is a luxury in that spot for that money. He is still a valuable piece who can give you solid minutes wherever you need to slot him in, he's a useful penalty killer, and he is beloved in the Leafs' locker room, so they would like to hang onto him if they don't need to re-allocate his salary to a legitimate upgrade, but the option is there.
Dubas is still working feverishly to continue upgrading the Leafs' roster for what will hopefully be a long playoff run, and cashing out on Sandin for a valuable return when he wasn't going to be a regular part of their lineup in the foreseeable future was good, proactive asset management.
As it stands, the Sandin trade looks like a good one, and it will only look better if it ends up being the deal that sets the table for one final upgrade before Friday's trade deadline.
(Statistics from Elite-Prospects.com & Evolving-Hockey.com
Contract details from CapFriendly.com)
THE DAILY FACEOFF TRADE DEADLINE SHOW
Join us on March 3rd for the Daily Faceoff Live: Trade Deadline edition as Frank Seravalli and the panel break down all of the latest rumours, news, and rumblings from around the NHL. The show will be live on 
YouTube
, 
Facebook
, and 
Twitter
 from 12 PM – 4 PM ET to keep you up to date on all things trade deadline no matter where you're watching from.