William Nylander could reach new heights if he started playing like a power forward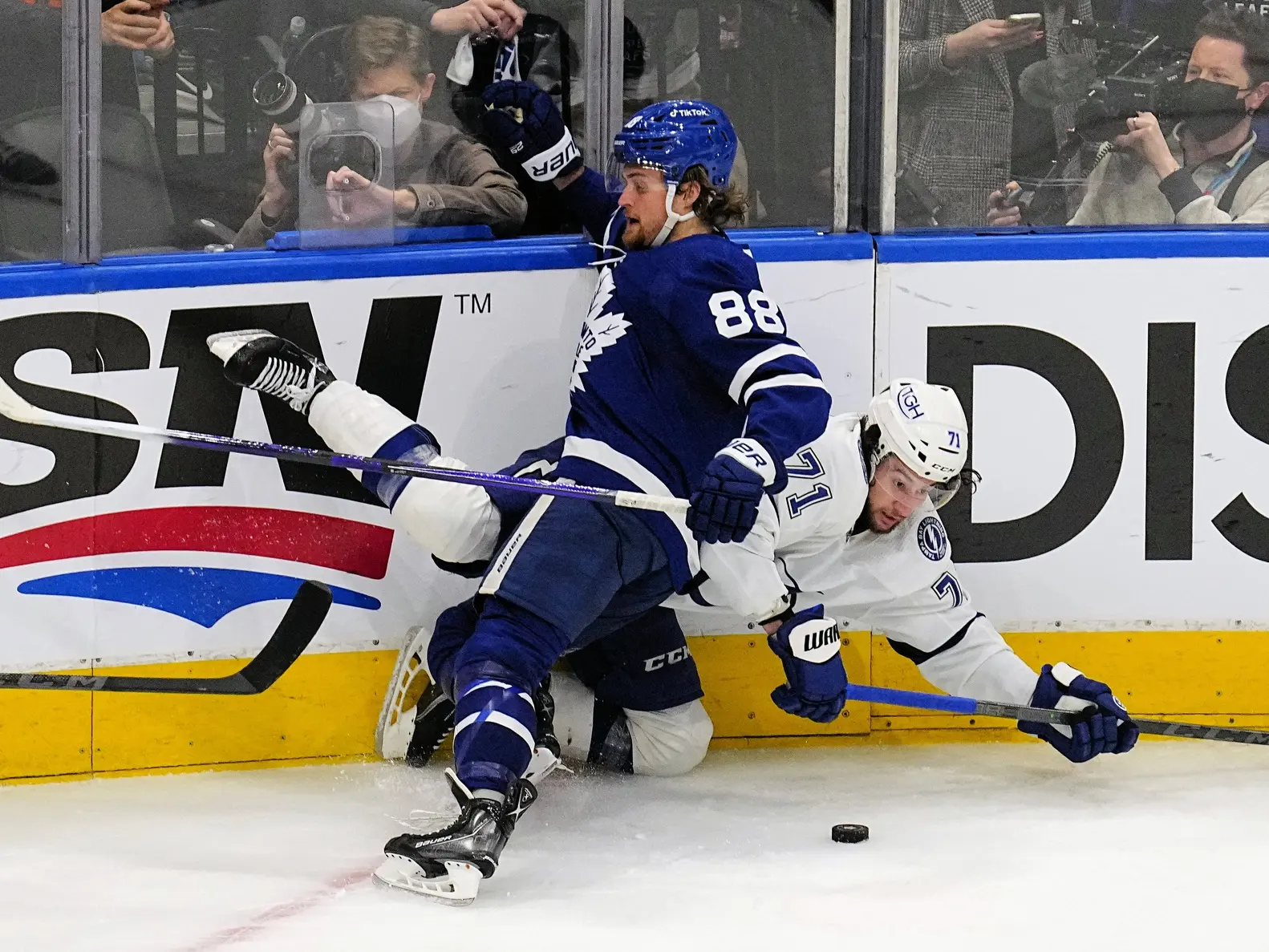 Photo credit:© John E. Sokolowski-USA TODAY Sports
No matter how the Leafs are doing, the one constant is that @William Nylander will get mixed responses from the fanbase in terms of how he is doing.
There will be those who stand by the eighth overall pick of the 2014 Draft and give him praise for his skillset and smooth skating, while there are others who cannot stand him and are hoping to ship him off every single offseason for a defenceman. It's easy to see why given that his salary is the most movable of the big four, the stench surrounding his contract negotiations not going away, and his seemingly lackadaisical effort on occasion.
Regardless of how you feel about him,
the Leafs are a better team
when Nylander is on his game and oozing with confidence. After all, he is coming off a career year where he finished third on the Leafs in scoring during the regular season (80) and playoffs (seven). But one of the big talking points apart from his sluggish start through the first four games of their series against Tampa Bay was
this one incident where he seemingly avoided a collision
in the corner with @Erik Cernak that sent the hockey world into a frenzy. It was that moment where the aforementioned group of Leafs fans who hated his guts screamed louder than ever to have Nylander traded away.
After Toronto inevitably got eliminated in seven games, it was announced that Nylander would represent Sweden at the World Hockey Championships (WHC). In just his second game of the tournament, he showcased that he indeed had it in him to go into the corners and play physically.
Some could look at that footage of him dishing out four hits and be irate as to why he was not playing like this over a week prior. But it's clear from this 23-second clip that Nylander does have it him to play with a physical edge and him playing like a power forward could do a lot of good for the Leafs. Not only would it make things easier for their offseason plans, but the simple change in playstyle from the 26-year-old could help make the team even tougher to play against.
It is worth noting that
Nylander was suffering from an apparent injury
during the playoffs and had to wait on an MRI before getting the clearance to join his countrymen in Finland. But once he was given the green light to play and made his way over to the tournament, he told the Swedish media that he was going to channel his frustrations over the playoff loss into this tournament.
"It was as it was. Everyone is annoyed that we lost and wants to take the next step,"
he said via translation
. "But now you are here to continue playing and try to win and finish in a good way."
"I'm hungry for revenge after what happened in the playoffs."
With five points in three games played,
including the game-winner
in Tuesday's game against Latvia, he has done exactly what he set out to do and is capping off his season on a high note. Perhaps this could be the turning point of his career where he unlocks his full potential and returns to Toronto for next season with a different mentality. He has even shown signs of an improved mindset when asked about why he decided to play in the WHC this year.
"It is very special, that is why I said yes," he said. "I hope in the future that Toronto is still in the playoffs at this time when the World Cup is played, but I wanted to take advantage of the chance now that it appeared."
That right there is the kind of player that more Leafs fans will fall in love with and have fewer reasons to be agitated by him. Nylander will always remain a skilled player who is blessed with a strong hockey IQ and impressive skating abilities to get past his defenders, but he could reach new heights when those preexisting strengths are combined with a sandpaper playstyle and the confidence to match. It would certainly make his contract look more and more like a steal.
To boot, he is blessed with good size already and has
gotten more jacked over the years
. Even though his weight and height are smaller than that of a typical power forward (6'0″ and 202 pounds), he can make up for it by sheer effort and drive like what was shown in the video from earlier.
After six straight years of the Leafs failing to advance past the first round of the playoffs, Nylander quickly became the scapegoat for the team's failures and fans are once again making him the centrepiece of hypothetical trades for a shakeup. But if his play at the WHC has proven anything, it's that it would be a knee-jerk reaction to let get rid of him because he is starting to show signs that he is evolving his game for the better. And even though he just recently took a costly tripping penalty in OT that sunk his team against Canada, that motivation to prove a point will grow even stronger.
Instead of losing valuable assets to try and acquire a player like JT Miller or @Tom Wilson, the Leafs could instead make Nylander add some snarl into his repertoire and spend their capital on other areas of need like goaltending. With so much of the future for this team hinging on how they do in the playoffs next spring, part of the concerns can be rectified if players like Nylander adjust their mentality and play with more of an edge.
Whatever Sheldon Keefe and the coaching staff told Nylander during the locker room clearout seems to have been clicking because he is demonstrating that he has had it in him to be a physical force on the ice. Changing his playstyle to become more like a power forward could help him and the Leafs reach new heights.
POINTSBET IS LIVE IN ONTARIO
PointsBet Canada has officially launched in Ontario! Get a $25 free bet just for 
signing up right here!