William Nylander doesn't need to change to have success with Maple Leafs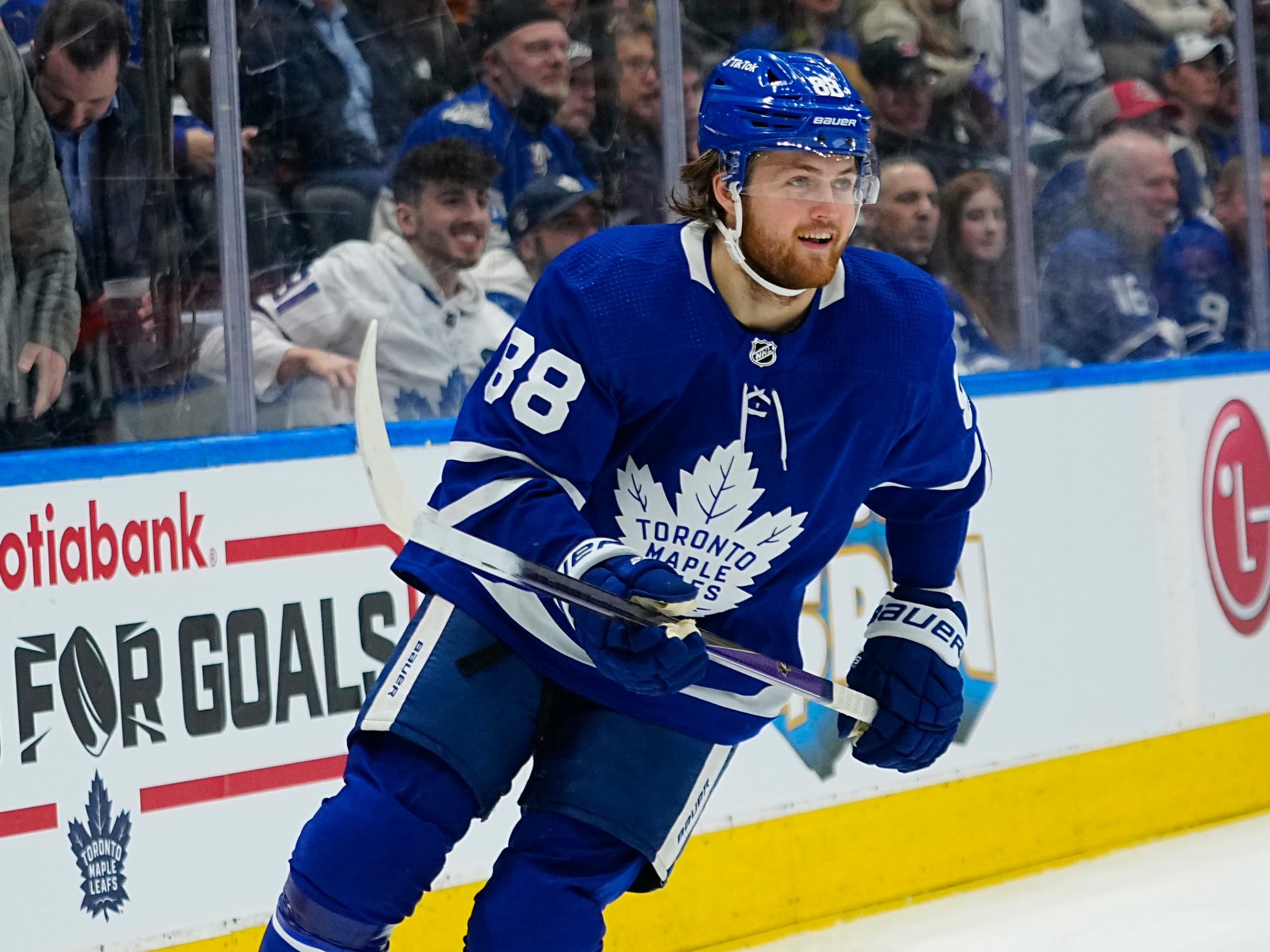 Photo credit:John E. Sokolowski-USA TODAY Sports
We've all seen the clip of Maple Leafs forward William Nylander going into the corner with Lightning defenceman Erik Cernak and not going in for a hit.
And if you haven't, well, here it is.
Many were upset about this because a few weeks later he was
throwing his body around with Sweden
at the World Championships. Why didn't Nylander do it in the playoffs? Why did he only throw big hits for his home country?
First things first, the 26-year-old is throwing his body around against Team Latvia — a team with two NHLers (one being Elvis Merzlikins) and two AHL players, including Kristians Rubins.
There's a clear-cut difference between going into the corner with a back-to-back Stanley Cup defenceman, who by the way is six-foot-three and weighs 230 pounds vs. a non-NHL player on Latvia. Obviously, Nylander still should've thrown his body at Cernak, but I believe I know why he didn't.
If you go back and watch the clip, you'll be able to see that the puck rolls off the 26-year-old's stick just before he reaches the centre-ice line. It's likely that he believes this was going to be called back for icing, which is why he didn't put maximum effort into getting the puck.
Many players do this. They think it's going to be icing, so they slow down, when in reality there's no call. You then have to get going again to try and get the puck. He does that at the end of the clip.
A lot of this judgement between that situation and throwing his body around at the World Championships is just because his name is William Nylander. If this was Auston Matthews, but he still had nine points in seven games, would fans be this upset? No, I don't think so.
Some fans and media want him to be something he will never be — a power forward.
The 26-year-old had seven points in seven games against the Lightning and almost averaged a point-per-game in the regular season. Nylander did that all while on a contract with an AAV of $6.962 million. That's a hell of a steal for the Maple Leafs.
There aren't many players who are doing what he is while getting paid the amount he is. And the few that are close to averaging a point-per-game are either on expiring deals or surprising everyone this season.
What more do you want from Nylander? Do you want his contract to be cheaper? It won't be. Do you want him to get more points? I mean, it's always possible he has another career year next season.
One part of the Maple Leafs' fan base always seems to have a hatred for the 26-year-old and I just don't understand it. He's good just the way he is and you should appreciate that.
I'll agree that, yes, Nylander should throw his body around more often, but it doesn't need to be an every shift occurrence.
At the end of every season, the 26-year-old enters the summer being asked about how he'll deal with the trade rumours. To be honest, there hasn't been a concrete piece of evidence that states the Maple Leafs have ever wanted to trade Nylander since he joined the team.
After his lengthy contract negotiation in 2018, Nylander said that Dubas told him "multiple times" that as long as he's the GM, the forward won't be traded. No one, especially someone at the head of the table, would say that and then take their word back a few years later.
That would look bad on Dubas from the outside looking in and it wouldn't look good from inside the Maple Leafs' dressing room.
The bottom line is Nylander doesn't need to alter his game at all for Toronto to have success in the playoffs. It's not a one-man show and him throwing a few more hits isn't going to change the fact that the Maple Leafs still gave the Lightning one of the toughest series' of the last two years.
He's perfect the way he is — a point-per-game player in the regular season and playoffs. And if you don't want that on the team you cheer for, well, I don't know what to tell you. Any other team would be lucky to have him.
POINTSBET IS LIVE IN ONTARIO
PointsBet Canada has officially launched in Ontario! Get a $25 free bet just for 
signing up right here!