William Nylander is truly perfect for the Toronto market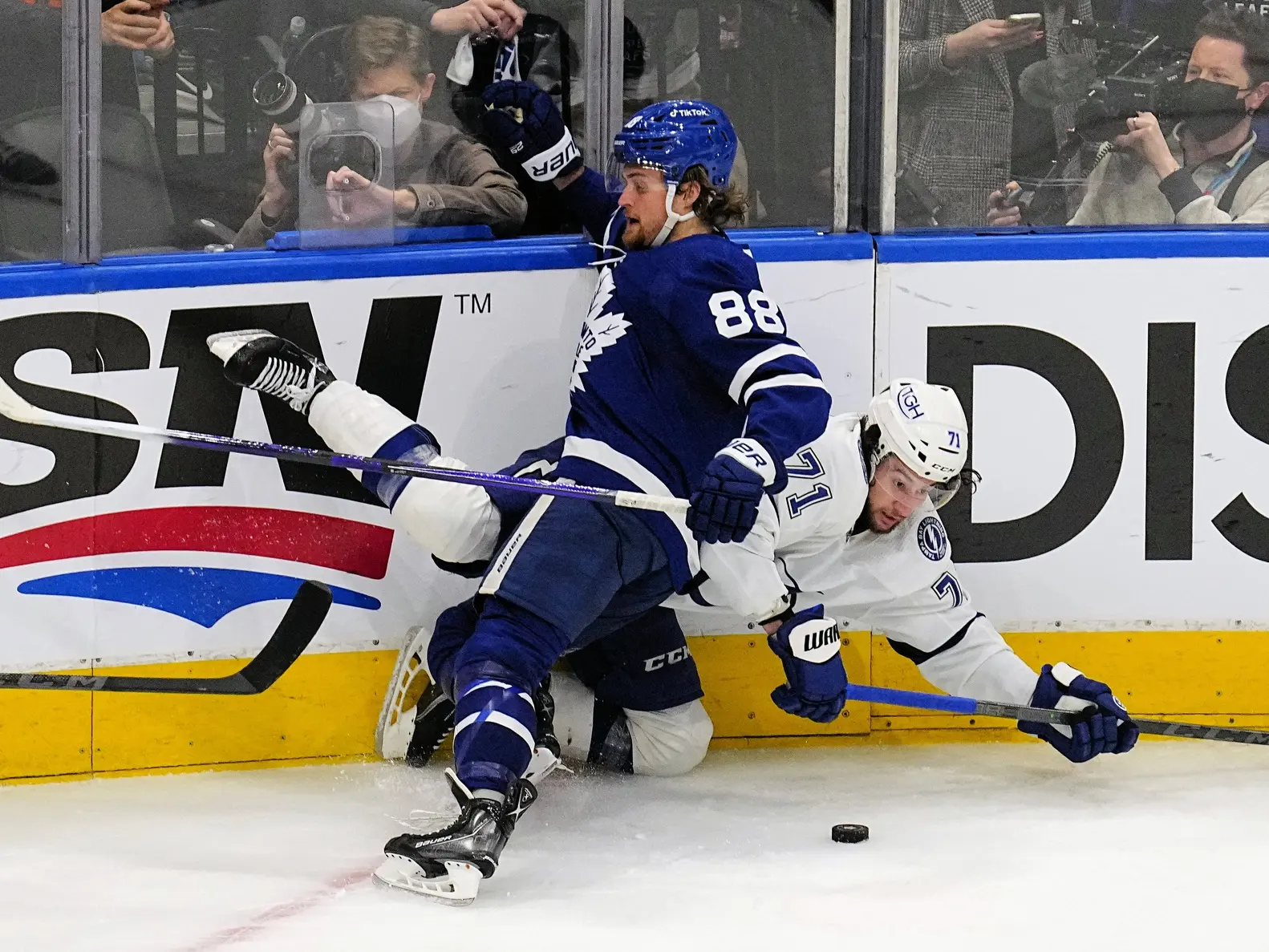 Photo credit:© John E. Sokolowski-USA TODAY Sports
When the Leafs drafted William Nylander in the summer of 2014 his Twitter bio simply said "give me the puck ;-)". Nine years later it says the exact same thing except with the sloppy addition of "Toronto Maple Leafs" to that line under his handle.
And I think that's all I need to know about Nylander: He is on the Toronto Maple Leafs, and he wants the puck. The perfect player really.
Nylander has gotten a rough ride in Toronto for much of his time there, mainly for the heavily-bought-in perception that he doesn't give a shit…about, well, anything. Media there are waiting for any instance to grab a clip of him dipping on finishing a hit, or not skating hard enough to the bench on a change. He gets put under the microscope for a variety of reasons, but I think most of us know it's mainly because there's still a hangover in Canadian hockey media that "Nordic" players need to be held to a different standard of caring, and also because, truthfully, Nylander probably doesn't give a shit. And I mean this in the best way possible.
I don't remember Nylander ever being rattled by Steve Simmons' vitriol. As far as I know,
Dave Feschuk has never visited his parents' house
. He seems to have avoided controversy for nearly a decade in a market that is probably out to get him more than any other player on the roster. It's because he's a) on the Toronto Maple Leafs and b) wants the puck, and that is about as much as he publicly worries about. It's an insanely effective formula for dealing with what often comes with Toronto, something that really burned out players like Kessel and Phaneuf in the era prior to this one.
And I think it folds back into better play from Nylander, especially in high stakes moments. The Leafs are (somewhat rightly) crucified for their recent lack of playoff success, but outside a few flashes from Matthews and some surprise showings from players like Kerfoot and Spezza in the last few years, it's tough to argue against Nylander being their best playoff performer. He is, at minimum, their most consistently strong player in the postseason over the last three years or so. In that time he's been a point-per-game player (19 in 19) and has scored at what would be a 43-goals-per-82 game pace, a rate the same as this career year he's having.
And don't get me wrong. I don't think Nylander is aloof or disinterested in what it means to be a Leaf, or the importance of winning games and (hopefully) championships. By all accounts he is forthcoming with fan outreach and all the things that matter with giving back to the community he plays in. His work ethic is fully there, and he might be the best-conditioned player on the whole team. He just, evidently, doesn't seem to care about bullshit. And there's plenty of that to go around in Toronto.
Players handle those Toronto pressures (good and bad) differently. I think John Tavares probably recognizes it and leans into it most as the captain, but is able to elevate above it. Matthews can get rattled by it sometimes, especially in media scrums, but I don't think his play suffers much from outside noise. That probably goes for Rielly too. Marner, the Toronto lifer, seems to be the most effected by it both with his playoff performances and some odd public happenings (like the Keefe thing earlier this season).
I think, in all, Nylander might handle it best.
For all the knives that are constantly out for him, and the constant running him out of town in trade rumours, there's probably a lot the rest of the team could take from his approach and perhaps we underestimate his value as a quiet leader on the team.
It might seem odd to many, but when this slog of a regular season winds down and the inevitable playoff series with Tampa gets underway, the player I will be least concerned about on the whole club is William Nylander. Even with his extremely impressive numbers aside, that has to count for something.