William Nylander's long road to dominance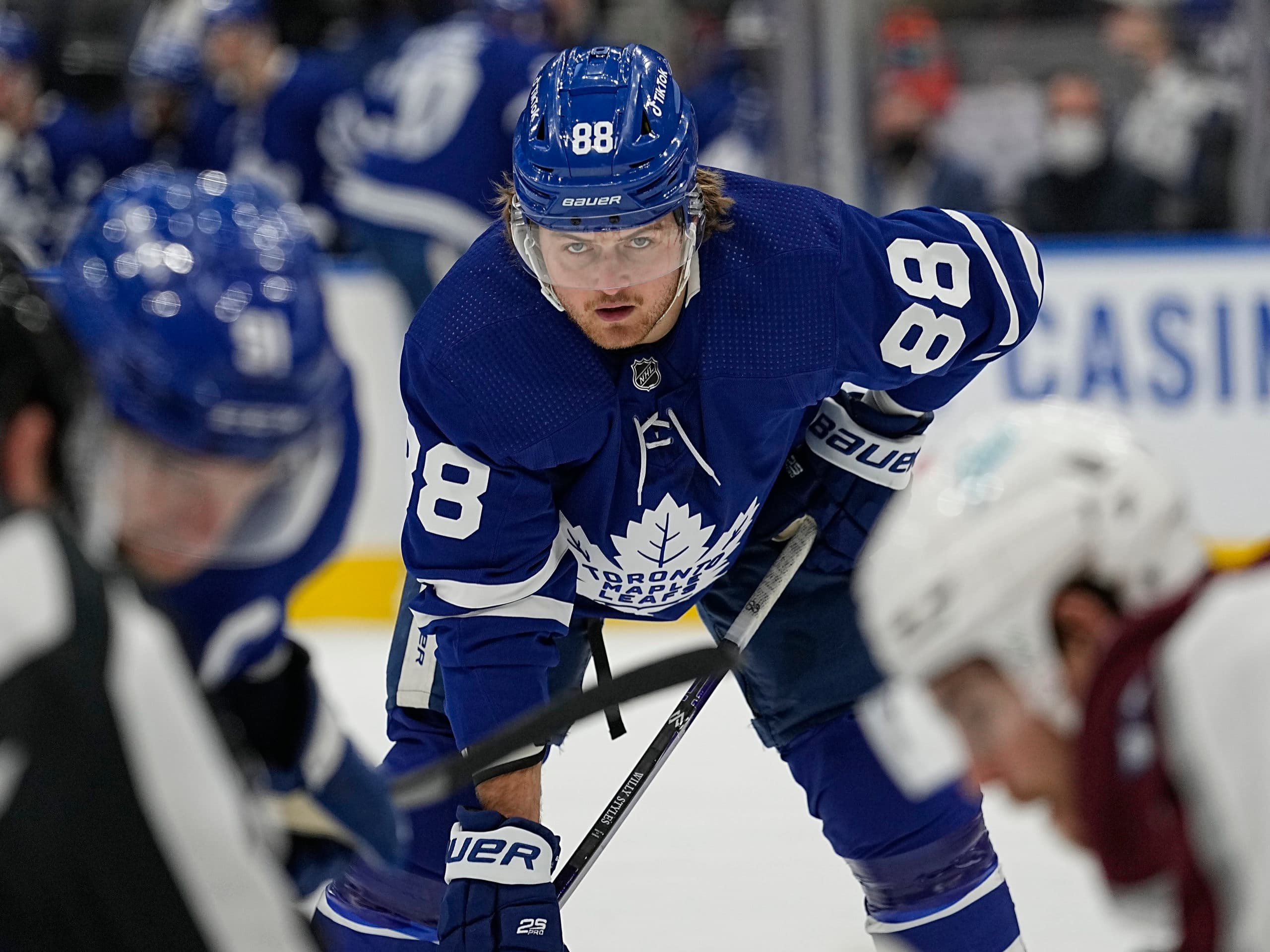 Photo credit:© John E. Sokolowski-USA TODAY Sports
"I look forward to dominating."
Those were just a few of the words @William Nylander had for the media ahead of Leafs training camp in 2019, following a disappointing season that was derailed by a contentious contract negotiation that lasted right up until the signing deadline on December 1st. He would end up missing the first two months of the 2018-19 season before coming to terms on a six-year deal with the Leafs and never really found his footing while playing catch-up with the rest of the league. Perhaps feeling the pressure of his new contract, Nylander managed just seven goals and 20 assists over 54 games that year – the lowest points per game mark of his career.
Even in the most difficult season of his career, there were signs that things would eventually turn for Nylander. He led the team with a 55.64 xGF% and put up an identical individual expected goals per 60 rate as the previous season when he scored 20 goals in 82 games, but he suffered from some poor shooting luck and just wasn't as sharp with the puck on his stick in scoring situations.
To say that Nylander has had his share of doubters, both in the media and among the fanbase, would be an understatement. The fact that he had such a public contract standoff and struggled to produce upon his return only added fuel to the fire, but the dynamic winger has slowly and surely proved his doubters wrong.
Nylander set a career-high with 31 goals in 68 games during the 2019-20 season, and likely would have pushed for 40 if the season hadn't been shut down. He finished the season tied for 15th in goal-scoring and his .86 points per game were also the highest of his career but it wasn't just the raw production that was notable, it was the way he was producing. Often criticized for spending too much time playing on the perimeter in the past, Nylander made a concerted effort to get into the dirty areas more frequently and was one of the league's most effective scorers from in close.
Just take a look at where he scored his goals from that season:
William Nylander 2019-20 goal map via InStat Hockey
Nylander had always done well to generate shots from dangerous areas and saw a slight uptick from 2.4 shot attempts in the home plate area in 2018-19 to 2.7 per game in 2019-20. Breaking it down further, however, reveals one of the biggest factors in Nylander's 31 goal breakout season. In 2018-19, he managed just .87 shot attempts per game from in and around the crease but that number ballooned to 1.3 attempts per game the following season.
William Nylander 2018-19 shot map via InStat Hockey
William Nylander 2019-20 shot map via InStat Hockey
Getting into higher-percentage shooting areas helped to make Nylander's goal production more sustainable while limiting the cold stretches that plagued him on occasion earlier in his career. There had never been any doubt regarding Nylander's skill and ability to execute plays under pressure, and he put those skills to use in more advantageous situations than he had been known for during his first few seasons.
2019-20 was a big rebound year and he followed it up with similar production last season before exploding as the Leafs' best player in the playoffs against Montreal. We all know how that series ultimately ended but that was no fault of Nylander's as he tallied five goals and three assists over the seven games to lead Toronto in postseason scoring. It was a stark contrast to the narratives of previous years, with @Auston Matthews and @Mitch Marner shouldering most of the blame for another playoff failure, and Nylander being lauded as the team's best player when the games counted the most.
Fast forward to this season and Nylander has picked up where he left off against the Habs. He has arguably been the Leafs' most consistent, if not best player outside of @Jack Campbell, and is producing at the highest rate of his career. Currently sitting in a tie for 16th in NHL scoring and on pace for 84 points, Nylander has firmly established himself as a star in the league.
Nylander isn't simply riding a shooting percentage binge either – he is driving offense at an elite rate and generating the exact same number of shot attempts per game in and around the crease as he did during his 31 goal season. His on-ice mark of 3.35 xGF/60 at 5v5 puts him in a tie with @Sebastian Aho for 14th best among NHL forwards who have played at least 150 minutes, just behind the likes of Auston Matthews, @Sidney Crosby, and @Timo Meier. In fact, the Leafs are scoring slightly below their expected goal rate at 5v5 with Nylander on the ice so far this season.
Nylander has also been a big part of turning around a dormant Leafs' powerplay, sitting second on the team with 14 points on the man advantage. His lack of involvement on a putrid number one unit was a topic of discussion for much of last season and into the summer but he has been a mainstay with the top group so far this season, helping propel the league's third-ranked powerplay unit. Nylander is a versatile powerplay threat who can beat teams in a variety of ways; opposing penalty killers have to respect his shot and ability to score from the outside, he can quickly alter a shot into a cross-seam pass when a lane opens up, his hands around the net are among the best in the league, and his mobility helps to maintain possessions while keeping defenders on their heels.
Head coach Sheldon Keefe has taken note of the improvements in Nylander's game and has entrusted him with more responsibility this season. For the first time in his career, he is playing semi-regularly on the penalty kill and has filled in admirably – especially when the Leafs have been missing some of their top penalty-killing forwards like Mitch Marner, @Ilya Mikheyev, and @Ondrej Kase. The added responsibility on both special teams units, as well as an uptick in ice time at even strength, has done wonders for Nylander's confidence.
"Will has been a very good player in the league throughout his time in the NHL. We want him to be at the point where he is impacting the game in more ways than just offense and doing it consistently. We think he has done that this season more than in the past. We think he can continue to get better in the second half," Keefe said after practice this past Sunday.
Nylander always had the ability to be a dominant player in the NHL and after navigating some ups and downs early in his career, he has finally started to come into his own and realize the star potential that equally as many people believed, and doubted, he had. Most importantly, Nylander always believed that he could reach this level and it is that confidence that will help him to reach even greater heights in the coming years.
Speaking ahead of the 2019-20 season, Nylander said, "I look back at that season and there were little ups and downs. Learning through that time period has helped me and given me experience and stuff to use for whenever that happens again. Now I'm ready to dominate."
It has been a long road but with the lessons he has learned and the growth he has shown in his six NHL seasons, Nylander is doing just that.
(Statistics from Evolving-Hockey.com, Hockey-Reference.com, and InStat Hockey)