William Villeneuve shows offensive prowl in third day of Maple Leafs development camp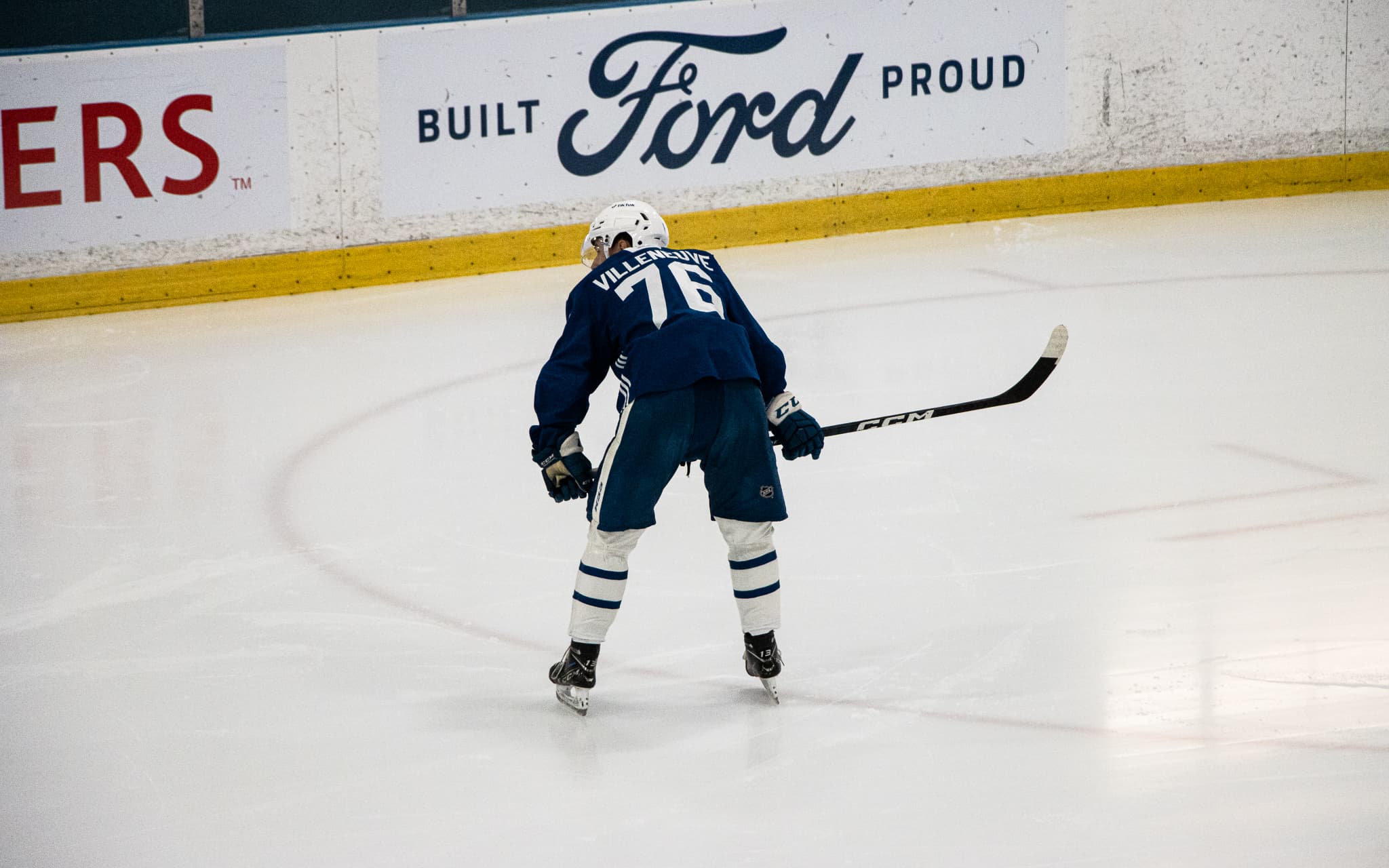 Photo credit:Nick Barden
A quick day three was on the books for Tuesday as Team White took on Team Blue for the first of two scrimmages this week at Maple Leafs development camp.
The first faceoff had the top forwards from each team lining up — Matthew Knies, Fraser Minten, and Max Ellis wearing Blue — Brandon Lisowsky, Nick Moldenhauer, and Ryan Tverberg sporting White.
A scrimmage halfway through development camp will allow the Maple Leafs' brass to get a more firm look at who's distancing themselves further from others.
Period one started with goaltenders Dennis Hildeby in Team Blue's net and Keith Petruzzelli in net for Team White. The game began with a lot of pace and physicality and players weren't afraid of leaning into hits or going into corners.
Rayan Bettahar was one player who didn't seem afraid to throw big hits throughout Tuesday's scrimmage.
A few minutes into the first period, Michael Renwick, who spent last season with the Windsor Spitfires, slid into the boards pretty hard. The 20-year-old looked to be in some considerable pain and was clearly frustrated that he had to leave the game. He didn't return.
The line of Knies, Minten, and Ellis looked very good early, but seemed to taper off in the back-half of the scrimmage. The first period saw no goals, in part from there being not many strong chances, but also because of the strong play from Petruzzelli and Hildeby.
Each period saw different goaltenders coming into the net, so the second started with Luke Cavallin in the crease for Team White and Rastislav Elias in net for Team Blue.
Just about halfway through the period, Marshall Rifai took a big slap shot, which Cavallin stopped, but the rebound popped out to Mathieu De St. Phalle who put the puck into the net.
Similar to what I said in Monday's article, De St. Phalle has looked very good in the first few days of Leafs development camp. He spent time with Knies on the first and second days, so it could be in part playing with him, but I thought he's had a great showing individually.
Team Blue had incredibly good goaltending throughout this scrimmage, with all three netminders making big stops. Elias made a few early on in the second period and wasn't afraid to show off his athleticism with the left leg during a two-on-one from Team White.
Team Blue spent a lot of time in the offensive zone and it eventually paid off once again in the second period. Ty Jackson makes a nifty pass from behind the net right to Pano Fimis (best name at the camp), who makes no mistake and pots his first goal at Leafs development camp.
Fimis, who spent last season with the Niagara IceDogs and had 44 points in 54 games, has looked good against a number of older players. Especially only having played two seasons in the OHL so far in his minor career.
The second period finished off with a nice rush from Team Blue. Axel Rindell with some great smarts to join the rush and then makes a nice pass to Dylan Jackson for his first of the scrimmage. (If you're thinking "Oh there's two players with the last name Jackson", Ty and Dylan are twins.)
Coming in for the third period for Team White was Marco Costantini, and for Team Blue it was T.J. Semptimphelter. Again, Team Blue carried a lot of the pressure, but Team White was slowly finding their momentum too.
Marcus Nguyen was sprung on a breakaway early in the period but he couldn't beat Semptimphelter. The 20-year-old netminder made not one, but two saves on Nguyen, who was set up nicely by Sam Alfano.
Team Blue kept coming, though, as Noel Hoefenmayer's point shot was tipped in by Dylan Jackson for his second of the game. Every Team White netminder allowed a goal except for Petruzzelli.
Later, after we saw Rindell join the rush in the second period, two defencemen from Team White wanted to do the same. Tyler Duke brought the puck into the zone and made a very clean pass over to William Villeneuve for his first of the scrimmage. Some great offensive poise from the two of them.
Villeneuve, in particular, has looked very good throughout the first few days of camp, and this goal didn't surprise me. The 20-year-old is great at using his six-foot-two frame to his advantage against smaller competition and can bring speed at times like this as well.
It'll be interesting to see how he fares in his first AHL season with the Marlies this fall. Count Marshall Rifai in that conversation as well, he's looked good in camp too.
"It feels pretty special to be here," Villeneuve said after Tuesday's scrimmage. "I go by a quote; 'I always want to get better' and I think it's a great place (Leafs organization) with a lot of resources and all of that. So, I'm excited and getting ready for my season."
After that goal, though, the fun came to an end with Team Blue defeating Team White 4-1. Blue clearly had the better game of the two teams, but not from their biggest threat in Knies. While he did have some good chances, there were also points of the game where the 19-year-old had trouble handling the puck, and at times looked visibly frustrated.
I'd expect him to have plenty of more chances on Friday during the second and final scrimmage at Leafs development camp.
"Knies, a really big guy, super powerful, really strong." Said Minten of his line mate after the scrimmage. "He's got a great shot and is able to release it really quick."
There'll be two more development days before the final scrimmage on Friday. There've been a number of players that have stood out so far, but the expectation is for others to stand out in the coming days as well.