With Matt Murray out, the pressure's on for Leafs goaltenders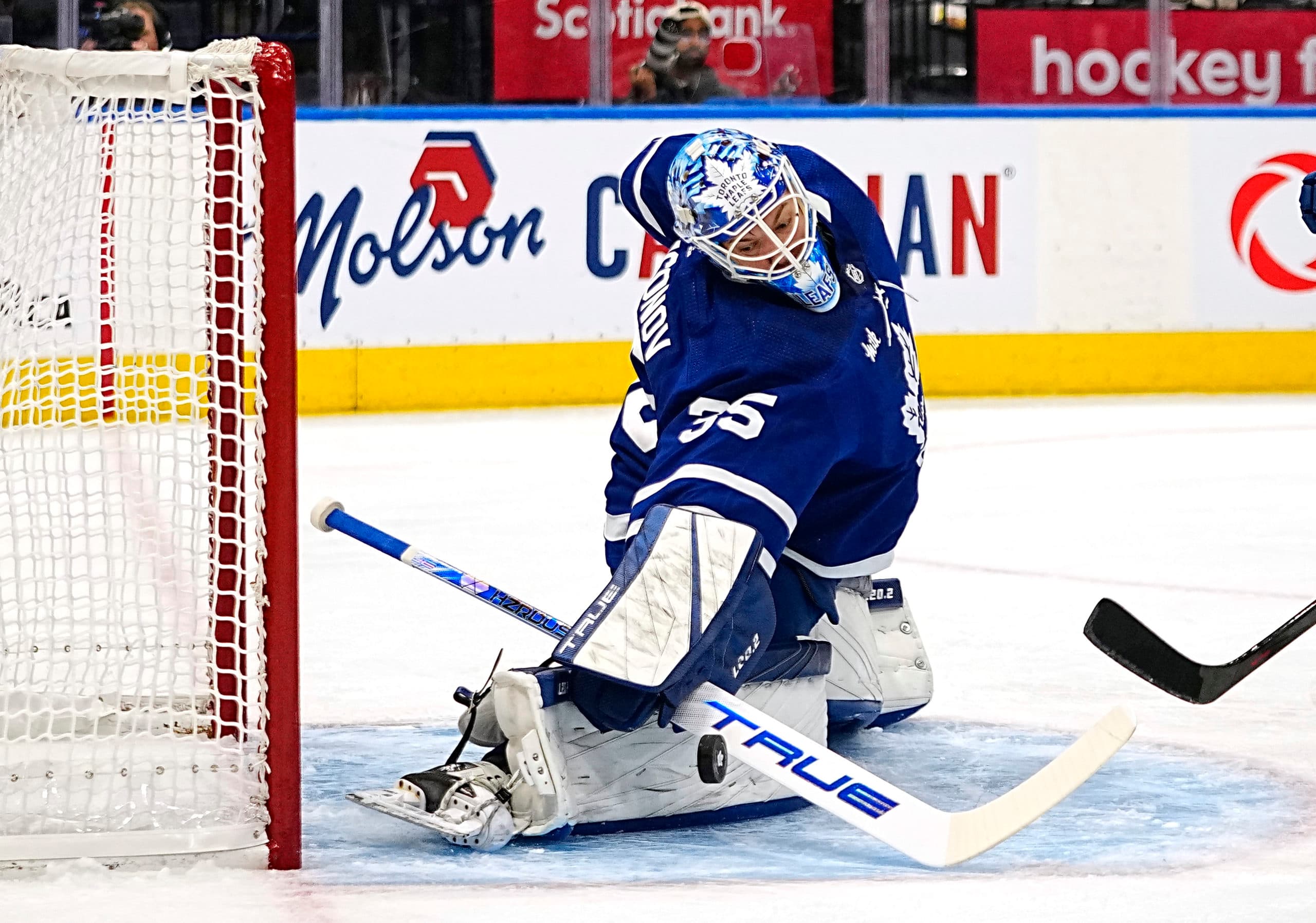 Photo credit:John E. Sokolowski-USA TODAY Sports
Well, that was quick.
The Matt Murray era is already on pause after just one game, with the 28-year-old placed on long-term injured reserve after suffering a groin injury on Saturday. Murray was scheduled to start his second game of the season but left practice in discomfort early.
The next few hours were absolute chaos in Leafland, wondering what Murray's status would be. If he was out day-to-day, they were going to be forced to use University of Toronto goaltender, Jett Alexander, as an emergency backup. It wasn't until later in the day that Erik Kallgren was cleared to backup after suffering his own injury on Friday in an AHL game.
So with Murray on the shelf until at least Nov. 8, Toronto is already in a goaltending flux less than a week into the season. Ilya Samsonov's season debut started a bit shaky against the Caps, but he made a handful of quality saves and helped the Leafs won their first of the campaign. And after allowing the game's first goal against Shane Pinto, Samsonov was lights out to close out Saturday's game against Ottawa, too.
Then there's Erik Kallgren, who had some solid moments in spot duty for the Leafs last season. Kallgren was set to be the Marlies starter, but he'll be forced into backup duty for close to a month. He has proven he's capable of it, but this duo does leave a lot to be desired right now.
For starters, Samsonov struggled to keep the net in Washington last year and was left unqualified by the club heading into free agency. So he has a lot to prove himself right now before the fanbase can feel truly comfortable with him in the crease. And while Kallgren had some bright moments last year, his .901 save percentage at 5-on-5 was 61st of 68 goalies
with at least 14 games played
, the amount Kallgren played. His minus-4.10 goals-saved above average was ugly too. Not all of that was his fault – he was thrust into duty he wouldn't have had to face had Jack Campbell and Petr Mrazek stayed healthy. But it's not exactly confidence-inducing, either.
Sep 28, 2022; Toronto, Ontario, CAN; Toronto Maple Leafs goalies Erik Kallgren (50) and Matt Murray (30) celebrate a win over the Montreal Canadiens at Scotiabank Arena. Mandatory Credit: Dan Hamilton-USA TODAY Sports
The one hopeful thing for Leaf fans this year was with no true No. 1 goaltender, the club had a couple guys looking to truly prove themselves. We're three games into the season, so we're nowhere near the point of knowing exactly what the team has in net. But this extended absence for Murray will be huge for Samsonov and Kallgren – Samsonov in particular.
In Samsonov's case, it's too early to judge his overall impact, and it's tough to directly compare where he is now to where he was a year ago. Toronto's defense is deeper, and the Leafs are a stronger team right now. In theory, he should have much more goal support, something he didn't always have with Washington. Right now, it's all about staying consistent, but he has already learned how to bounce back from tough goals on two occasions this year. By all accounts, he's been a huge positive for the club.
Hopefully for the Leafs, Kallgren will also be ready to handle some of the load. Now that he's gotten a handful of games under his belt from last season, he'll have a chance to relax and play his game.
So, buckle up, Leaf fans. It's about to get interesting.