Woll stars again in Leafs' 3-2 win against Rangers in game 82: Game Highlights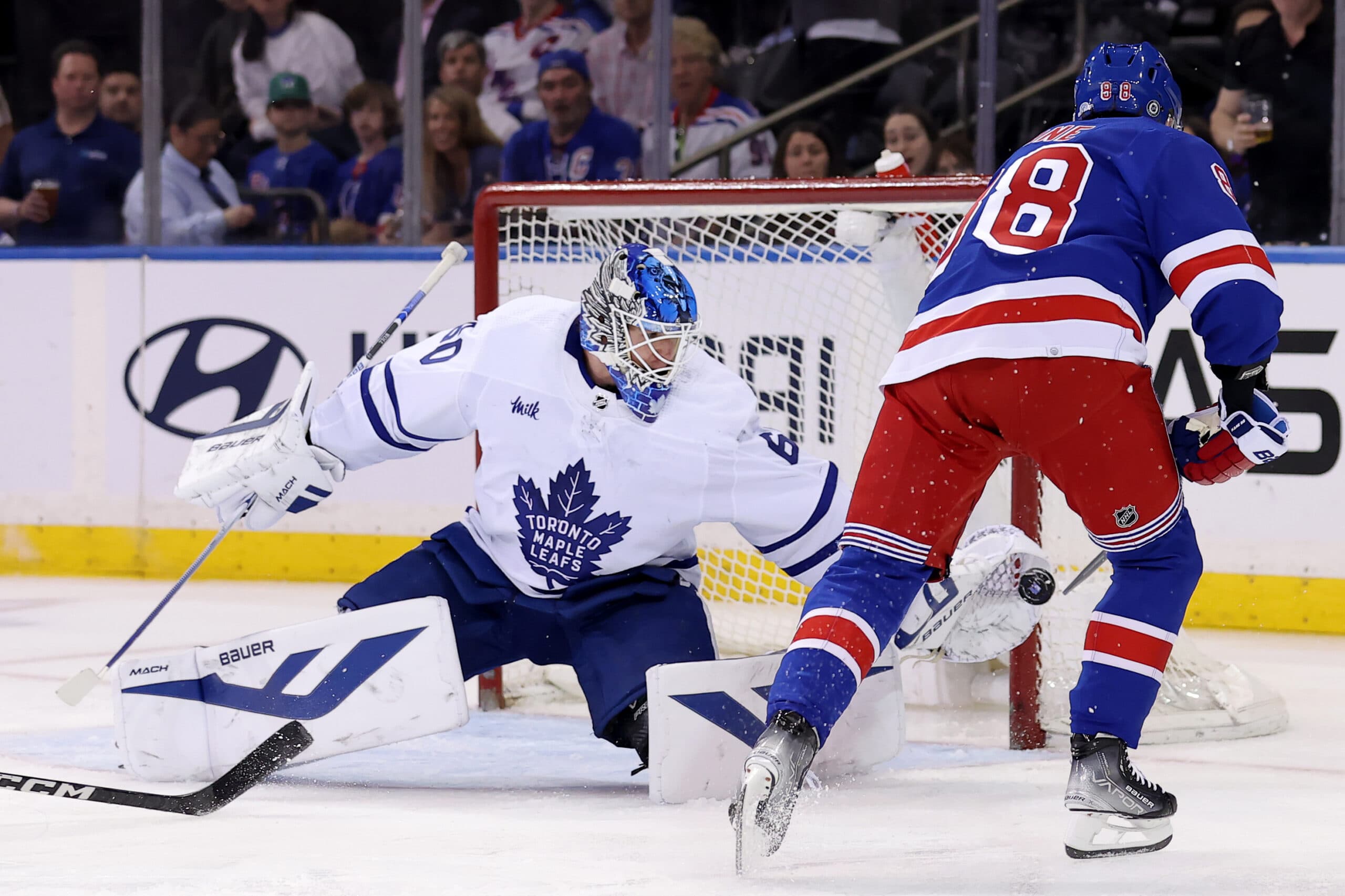 Photo credit:Brad Penner-USA TODAY Sports
Toronto closed out the regular season in style with a 3-2 win at New York. Joseph Woll improved to 6-1 on the year and William Nylander scored 40 for the first time in his career. Below are the highlights from the game.
Nylander had the best early chance for the Leafs in the first period. Igor Shesterkin stopped him on the breakaway…
Late in the frame Matthew Knies nearly scored his first career goal. He broke Braeden Schneider's ankles on the wall, then drove the net but Shesterkin denied him in tight…
The Rangers broke the deadlock at the start of the second period. Kappo Kakko faked out Justin Holl and TJ Brodie to open up space and scoop at backhand past Woll…
Toronto kept pressing for the tying goal throughout the middle frame. Mitch Marner and Auston Matthews connected for this chance. Again, Shesterkin came out on top…
Ryan O'Reilly showed off his hand eye later in the period. He batted the puck over the net to himself and set up Luke Schenn…
New York almost doubled their lead before the period ended. Woll made two huge saves instead…
After all the quality scoring chances the Leafs had, it was a weak shot from the outside that solved Shesterkin. Timothy Liljegren's wrister tipped off Niko Mikkola's stick and into the net to tie it 1-1…
Adam Fox and Artemi Panarin hit the highlight reel with the go-ahead goal. Fox made a spinning dish to Panarin on the powerplay and he rocketed the one timer home…
Not to be outdone, Nylander showed off his hands in front and deposited his 40th goal of the year to even it up again…
A few minutes later the Leafs took their first lead of the night. Noel Acciari followed his own shot and poked in the rebound to make it 3-2…
The Leafs had several chances at the empty net but couldn't net the insurance goal. Eventually the Rangers came down and looked to tie it up in the last second but after review the goal was called back because of a kicking motion. 3-2 Leafs final.