World Juniors: Bedard, Wright score but Canada lose to Czechia in Boxing Day stunner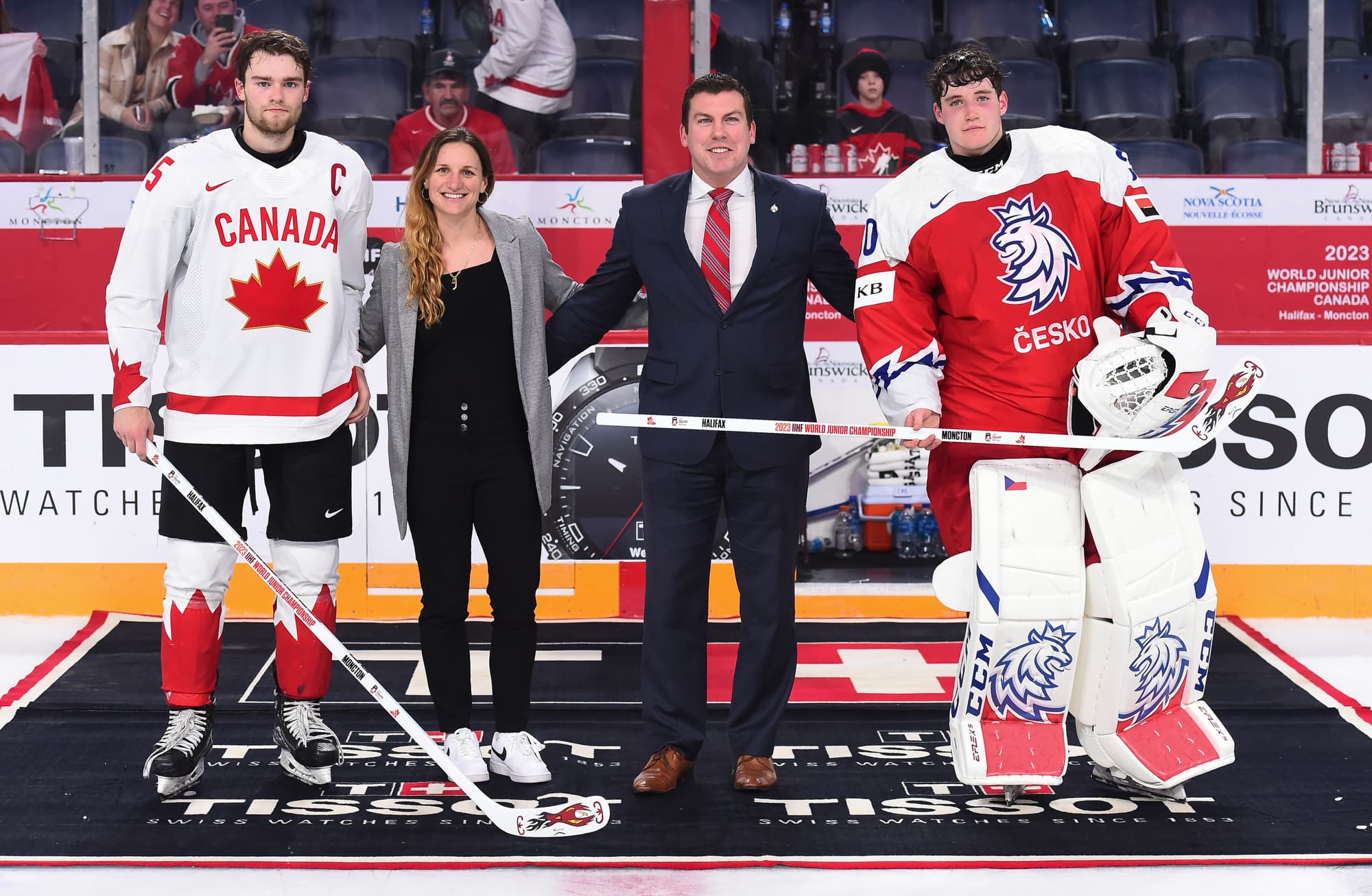 Photo credit:Matt Zambonin/IIHF
Team Canada entered Monday's action as heavy favourites to win the 2023 IIHF World Junior Championship, but, ultimately, it was Team Czechia that came away with the Boxing Day TKO.
The Czechs defeated Canada by a 5–2 score on Day 1 of the 2023 World Juniors. Despite the best efforts of Connor Bedard and Shane Wright, the latter of whom was recognized as Canada's top player, the hosts fell behind 2–1 in the first period and never recovered.
Bedard and Adam Fantilli both tried to score on "The Michigan" move in the first period of the game but couldn't get the puck past Czech goaltender Tomas Suchanek, who made 36 saves in the victory.
At the other end, Canadian starter Benjamin Gaudreau allowed five goals on 17 shots before being replaced by Thomas Milic, who stopped all 10 he faced the rest of the way.
Wright opened the scoring for Team Canada at the 10:33 mark of the first period, deflecting a long-range shot by Anaheim Ducks defence prospect Olen Zellweger between Suchanek's legs for a goal on Canada's first power-play opportunity.
But a pair of Czech defenders named David — Spacek and Moravec — responded in kind before the end of the first period to give the visitors a 2–1 lead, and Stanislav Svozil made it 3–1 for Czechia less than a minute into the second period.
The Czechs' two-goal lead lasted exactly 45 seconds before Bedard beat Suchanek on a partial breakaway for his first goal of the tournament. After peppering the goaltender with terrifying wristers in the first period, Bedard almost fanned on the shot on which he ultimately scored.
Wright and Kevin Korchinski picked up the assists on Bedard's goal.
But the Canadians couldn't find a game-tying goal after Bedard's marker. Sensing an opportunity to pull away, the Czechs scored two goals 33 seconds apart eight minutes into the middle frame to take a commanding 5–2 lead.
Czechia managed to play both consistent and opportunistic hockey on Monday, posting comparable shot totals to Canada in all three periods (CAN led 12–9, 12–9, and 14–9) but also managing to find goals at exactly the right times. Expect Milic to start in goal when Canada returns to action against Germany on Wednesday.
Other scores on Monday: Switzerland stunned Finland 3–2 in overtime; Sweden demolished Switzerland by an 11–0 score; the United States pulled away in the third period against Latvia for a 5–2 win.