Zach Hyman is a core piece that needs to be prioritized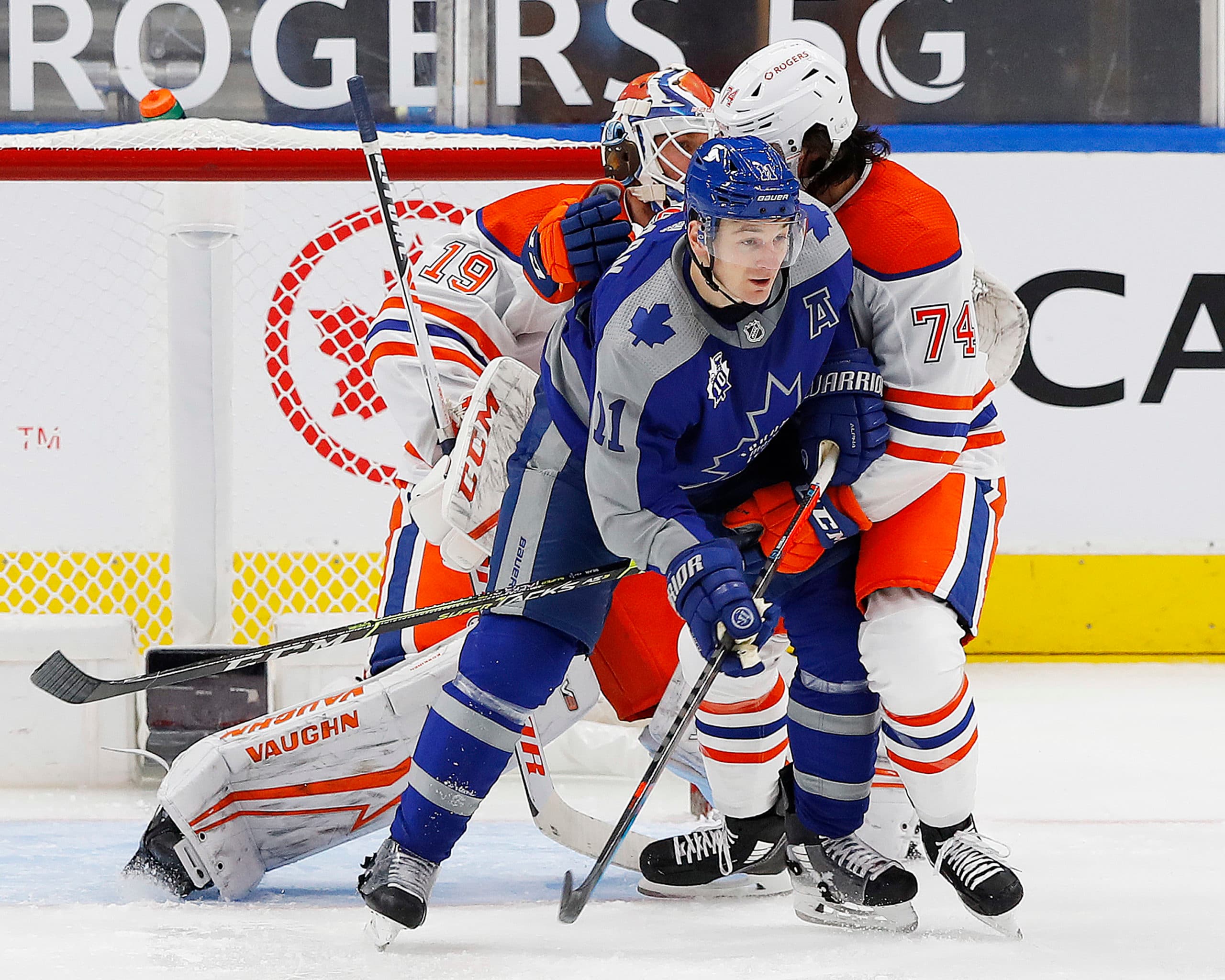 Photo credit:Perry Nelson-USA TODAY Sports
The Toronto Maple Leafs have been somewhat of an enigma to start their 2021 campaign. They've seemingly come out of the gate blazing hot, capturing 15 out of a possible 20 points, and are sitting comfortably in a playoff spot, albeit in a weak division. Under the hood, however, some less than stellar numbers remain a sore spot for fans, most notably their 20th ranked expected goal share per Evolving Hockey's metric. The team has already had its share of adversity, largely as the result of injuries to important contributors such as Joe Thornton, who was excellent while healthy, and Nick Robertson, who lasted all of one shift before taking a bad hit that has him out long term. To put it mildly, the wing depth is being tested, and players have had to step up in the interim. 
The results have been a mixed bag for the team since then. Jimmy Vesey and Ilya Mikheyev are two players that Sheldon Keefe and Kyle Dubas certainly would have hoped they could get more out of, especially given the fact that both have had the chance to play beside the dynamic duo of John Tavares and William Nylander. One winger that has taken a step amidst mounting injuries, however, is none other than everyone's favourite puck retrieval hound, Zach Hyman.
Hyman had a career year in a lot of respects last season. Despite only playing 51 games, Hyman tied his career high of 21 goals, good for an over 30 goal pace over an 82 game season. He was as tenacious as ever, spending much of his time in the top six, beside Auston Matthews and Mitch Marner, and acting as an extremely effective third wheel for the two best pals on the club. From spending his early years with the Maple Leafs as a player most fans considered to be over relied upon, Zach Hyman had clearly turned some type of corner, and looked like he was in the process of taking the next steps in his game. 
Of course, Hyman wasn't without his detractors, and the skeptics had a point. His shooting percentage spiked in his shortened season, finishing at 19%, the highest amongst regulars on the club. Not even Auston Matthews, for all his generational shooting, could imagine sustainably keeping that up, and sure enough, neither could Zach Hyman. Through 10 games this season, Hyman's shooting percentage has predictably taken a nosedive down to 7%.  In some ways, however, Hyman is only further strengthening his case that last season was for real. It is abundantly clear that Zach Hyman is a core piece to this team's success and that extending the pending free agent must be a priority for Kyle Dubas as the season progresses.
A look at the numbers 
As mentioned, the Maple Leafs have been adequate at best in a lot of ways to start the year. The attack has been extremely top heavy, and several pieces the team needs to perform simply haven't done so as of yet. For Zach Hyman, however, the opposite could not be more true. After starting the year in the bottom six, Hyman's promotion back to the top line, alongside Auston Matthews and Mitch Marner, is more than merely a move necessitated by injuries. Despite scoring just two goals in the Leafs first 10 games, neither at even strength, Hyman's start has all the makings of an unlucky player that has contributed their fair share. Hyman ranks 2nd among all Maple Leafs forwards in xGF% share when he is on the ice at 5v5, behind only Matthews, and is 3rd in individual expected 5v5 goals (2nd in all situations). This isn't a case of Hyman getting carried either, as even while playing with his second most common linemates, Ilya Mikheyev and Alex Kerfoot, the line's xGF% sits at 53.69%, higher than the team wide 51.52% share on the season. Hyman is legit, and while the box score numbers have not come as of yet, they surely will if he continues to play as he has in the Maple Leafs first 10 games.
His Role
Zach Hyman's place on this hockey team is extraordinarily unique, as the 28-year old has served as a swiss army knife like few others in his time with the club. Beyond his spectacular puck retrieval abilities that have been well documented in the past, Hyman's role as a player that can contribute both on the powerplay and penalty kill is an asset that very few Maple Leafs can boast. While his start to the year at 4v5 hasn't been as hot as his start at evens (he ranks dead last amongst regular Maple Leafs penalty killers in shots allowed per 60, as well as dead last in expected goals against per 60 early on), his prior success in a role the Leafs have struggled to fill still make him a signature on the unit. Hyman's recent emergence as an option on the powerplay as well should also not be overlooked. His netfront presence has been a significant part of the team maintaining the top powerplay unit in the entire National Hockey League. Hyman truly can do it all, and has even shown to be a significant leader for the Maple Leafs by donning an A on his jersey for their reverse retro games. Clearly, Hyman's significance in all aspects of the game cannot be overstated.
How are you going to pay him?
Even with Zach Hyman's "slow start" of only four points in ten games, his impact is undeniable, and an extension is going to need to be a priority for the Maple Leafs sooner than later. As with most non-big 4 players, however, the question remains the same: How can you pay Zach Hyman? The Maple Leafs are right up against a stagnant cap that shows little sign of moving any time soon. Additionally, players other than Hyman will be headed to unrestricted free agency, most notably of those of course being #1 goalie Frederik Andersen.
Upon closer inspections things don't look nearly as concerning as they appear. A deeper dive into the Maple Leafs cap situation reveals that they will have nearly 14 million in cap space coming off the books next season with their core forwards and top four defencemen all under contract. Assuming that Jack Campbell is a guy that the Maple Leafs trust, and that they don't intend to splurge on finding a Frederik Andersen replacement, fitting in a new Zach Hyman contract seems more than plausible. Term could be an issue, but based on some of his closest comparables, including names like David Perron, Tyler Toffoli, and Darren Helm, it seems fair to expect a deal could get done in the $4 million AAV range. Combined with a prospect pool that has only continued to strengthen over the past 24 months, and the team's proven ability to lure role players for cheap, a new deal for Zach Hyman should absolutely be item number one on Kyle Dubas' to-do list.  It's clear that for what Zach Hyman brings to the ice the Maple Leafs should be more than happy to oblige on that contract. To the Maple Leafs, Hyman brings a blend of tenacity, skill, and leadership. He truly is one of a kind for the Toronto Maple Leafs.
All Stats Via Evolving Wild. All Contract Information Via Puckpedia.