Midway through his first full AHL campaign, we're starting to see Pierre Engvall live up to his potential.
After showing flashes of his potential through the tail-end of last years regular season (where he recorded eight points in nine games) and the teams Calder Cup run (eight points in 20 games), the 22-year-old forward has taken his game to new heights during the 2018-2019 season.
In fact, the 6'5 winger has earned himself a promotion as of late, skating on the teams first line with Chris Mueller and Jeremy Bracco for the last three games.
"He's playing with more confidence," said Marlies head coach Sheldon Keefe after the team's 5-1 loss to the Rochester Americans on Saturday. "He's a guy can really score and can really shoot."
Engvall has complimented the Marlies two best playmakers well, with two goals to show for it.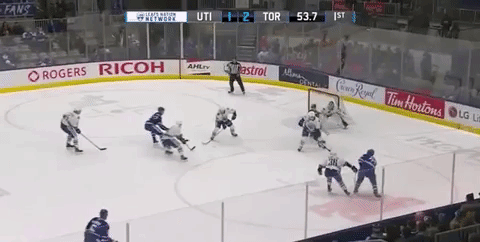 "He can create space for me and [Bracco]," veteran forward Chris Mueller said. "Hopefully me and [Bracco] can get him the puck—he can shoot the puck, so he'll put it in."
Sure, Engvall's skillset is one of the most unique in the Leafs system–with a combination of a cannon of a shot, power forward size and blazing straight-line speed that is hard to find–but he's also one of the most raw prospects in the organization.
So how did Engvall earn this prime opportunity?
"Part of it was just patience," Keefe admitted.
Patience, that is, in regards to the challenge being thrown at him by the Marlies coaching staff, who wanted him to fine-tune the parts of his game that'll be key to him making it to the next level. Such as being able to play in a bottom six role, where he'd inevitably start out if he were to earn a spot with the Leafs in the near future.
So for those 13 games, he may have not scored, but he surely progressed. The team had him playing, primarily, on the teams fourth line with Colin Greening. Playing with Greening was going to help him play a more aggressive, and less perimeter, style of game on the offensive side of things.
The coaching staff also upped his penalty kill usage, for two reasons. First, the obvious one, and that is that you likely can't crack this Leafs team unless you can kill penalties. Secondly, though, was so the team could place the 22-year-old forward in situations where he had to rely on his defensive awareness.
"With all the depth they have, he's going to be in that bottom six role [to start]," said player agent Claude Lemieux of 4Sports & Entertainment Inc., whom represents Engvall. "The Leafs have done a great job preparing him for that."
While Engvall may have been producing just fine offensively to start out the year (0.667 points per game through 12 games), there were quirks in his game that needed to be ironed out. So the team took a step back with Engvall and were pro-active in developing his weaknesses before he could further his strengths.
The primary focus of the Marlies, obviously, is to produce future Leafs.
We saw it in the development of Kasperi Kapanen, that the organization is in no-rush to bring up prospects that they don't believe are undisputedly ready for the big leagues. They're all-about maximizing potential and improving on weaknesses.
And if you buy in and you show progress, you'll get rewarded.
Like we're seeing with Pierre Engvall right now.
Marlies and Senators Swap Struggling Forwards
The Marlies, and collectively the Toronto Maple Leafs, aren't afraid to take a gamble on a player.
With the infinite amount of resources they have allocated to the development of their players, the organization has the plenty of tools, and time, to spend revitalizing a struggling player.
Hence, the acquisition of Gabriel Gagne from the Belleville Senators, in exchange for forward Morgan Klimchuk.
One year removed from recording 20 goals and making an appearance at the AHL all-star game, things went south for Gabriel Gagne this season. The 6'5 winger–who has a fantastic shot and spent plenty of time on Belleville's power play last season– fell out of favour with the Senators new coach, Troy Mann.
"He doesn't win enough one-on-one battles for a big man," Mann told Quinte Hockey Headquarters on December 11th, during a span of healthy scratches for Gagne. "He's not very good defensively and if you're not scoring, when you add those three things up, it's not good."
Gagne's agent, Allain Roy of CMG Sports, told The Leafs Nation that he discussed a change of scenery with Ottawa Senators general manager Pierre Dorion.
"I think both sides we're kind of feeling it. Pierre was nice enough to accommodate us," Roy told The Leafs Nation. 
Roy is optimistic that Toronto could be the right fit for Gagne.
"They have the right players to play with him there," Roy said. "He has a lot of success with guys who can distribute the puck."
The deal made sense to Toronto for a handful of reasons. First off, they have a plethora of left handed wingers (making Klimchuk expandable). Secondly, Klimchuk was struggling with the Marlies, too. After a promising start with the club, Klimchuk started to fall out of favour with Keefe and the Calgary Flames 2012 first round pick started to see his opportunities decrease.
It'll be interesting to see what Toronto can muster out of Gagne.
Hutchinson Loaned to Marlies 
The Toronto Maple Leafs announced Monday afternoon that the club was assigning Michael Hutchinson to the AHL.
Hutchinson had an impressive five game stint with the Leafs (.914 SV%, 2.64 GAA), but with both Frederik Andersen and Garret Sparks cleared to return, he's heading to the Marlies.
Something that is worth monitoring is that Hutchinson has played nine NHL games this season (the other four being with Florida) and if he were to hit the 10-game threshold, he'll need to clear waivers before being sent back down to the AHL.
If Hutchinson is called upon to play another game this season, the Marlies could be back to square one with their goaltending dilemma if the 28-year-old goaltender were to be scooped off waivers.
News and Notes
Dmytro Timashov has three assists in his last three games. Through that span, Keefe has put Timashov on the fourth line with Colin Greening and Michael Carcone. "We wanted to get a little more offensive production from that line," Keefe told reporters on Saturday night.
Jeremy Bracco's 29 assists ties him for the league lead.
The Toronto Marlies are currently third in the North Division.