10 observations from the Toronto Maple Leafs' 2022-23 season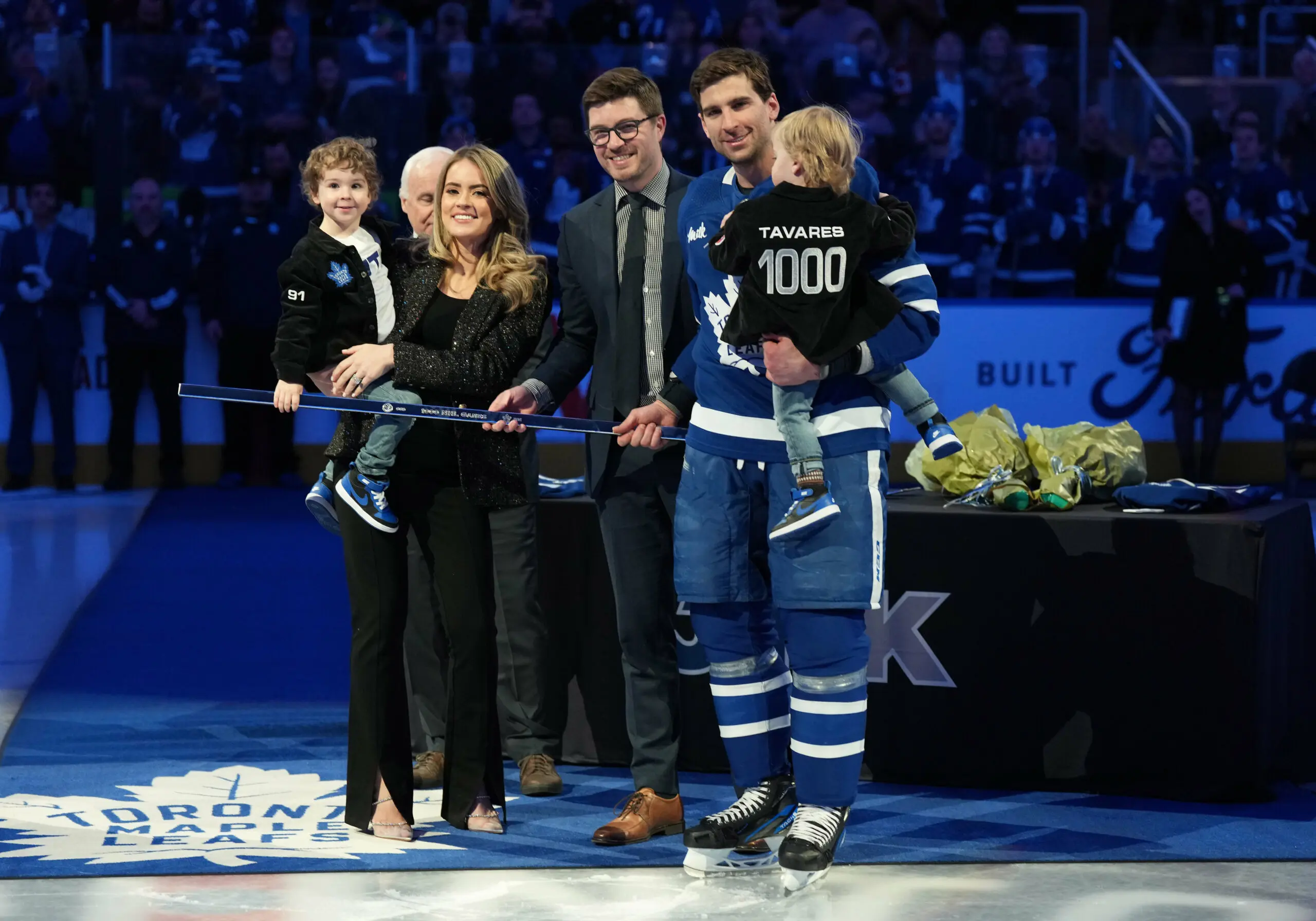 Photo credit:Nick Turchiaro-USA TODAY Sports
With the excruciatingly low 82 game season behind us and the games that matter about to begin, it seems only right to look back and see what we can take away from this marathon back to the place we were in at exactly this time last season. Waiting to see if the Leafs can defeat the most recently dominant playoff team in the league in the first round of the playoffs.
The Leafs ran a lot of it back this year but to say that the changes to the Leafs as well as the changes to the Lightning won't have an impact in the next few days won't matter is a lie. I mean the Leafs have all-new goaltending, a legitimate third line center option, and six new players from the trade deadline alone. They are very much the same but also different. Here are ten observations from the Leafs season and how they could be impactful in the playoffs.
1. Sheldon Keefe is less set in his ways
To say that Sheldon Keefe is quick to adapt and doesn't have his set plan that he will go back to on a regular basis is a lie, but he has become a lot more willing to try new things for the sake of trying new things and will mix things up in game more frequently.
Last year it seemed like he was running crash tests on a vehicle constantly sending his forwards into the brick wall that was Tampa's defense in games six and seven and I'm very pleased to see that now when the opposition locks down the slot, Keefe has his forwards moving to other areas of the offensive zone that will create some holes and less conventional opportunities that lead to opening up space. To some extent, this is using Matthews as a decoy and trusting that the players good enough to be on the ice with Matthews can pick up the offensive slack. They often do and Matthews gets rewarded with more space as a result.
We've also seen more interesting line combinations and defensive pairings than we did in the entirety of last season. A lot of that might come from injuries requiring it, or trades forcing experimentation, but Bunting-Matthews-Marner not being glued together is a positive, same with exploring options for a struggling Rielly with partners other than TJ Brodie.
I wouldn't doubt that the Leafs having a roster of players prepared to play with anyone throughout the playoffs will serve them better than adjusting to new situations come playoff time.
2. Whatever it takes
I'll spare you the link to the cheesy Captain America speech, but what we've seen from the Leafs core is a group that is doing a lot more in all areas of the ice than ever before. Matthews leads all forwards in the NHL in shot blocks, Tavares is hitting more than ever before, Nylander is playing like a power forward and hasn't looked out of place on the penalty kill, and Marner, after a slow start to the year, has become somewhat of a Doug Gilmour clone minus some of the agitation, but he has Bunting to pick up the slack there.
The core four look ready to do what is required of them in the playoffs and that playoff readiness is the most important takeaway of the season. Who cares about 60 goal or 100 point seasons if you are wrapping things up by the first week of May?
3. They are aware
It's no secret that this has been a down year for Morgan Rielly. The defensive play is never really there. The offensive play took a big step back this year too, and it seemed like every night there was a play that warranted some finger pointing in his direction. I'm not ready to write off Morgan Rielly because people were ready to write off John Tavares and he showed he was capable of turning things around, Morgan can too and as much as a $7.5M AAV contract looks like an albatross when times are bad, it's too early to say they'll stay this way forever.
Now onto the awareness. Both the Maple Leafs and Morgan Rielly seem to be well aware that he hasn't played at the level they need him to be at. That's a big reason why we see Jake McCabe paired with TJ Brodie on what will likely be the Leafs top pairing, and Morgan Rielly has been paired with Luke Schenn in a group that screams "shelter us." Morgan will still get his moments to be impactful, but without the heightened responsibility and that is something encouraging to see from the Leafs instead of trying to get their number one defenseman in name to magically be their number one defenseman on the ice as well.
4. Goaltenders who look ready to go for the playoffs
We've seen Leafs goaltenders on heaters before. Both Andersen and Campbell had early season heaters that were good enough to get them into the All-Star game but by the end of the year we'd be begging to see absolutely anyone else in net.
This year the Leafs have received remarkable consistency from Ilya Samsonov in the 42 games he's played and he had a 67.5% quality start rate, a number that exceeds Andrei Vasilevskiy's best season.
Samsonov might not be a workhorse, but he's been well above average when called upon. Couple that with Joseph Woll who has brought rookie energy to the position and is riding a small sample heater of his own to the net, the Leafs have their goaltending in a good place for round one.
5. Team defense is as good as ever
I feel like this observation absolutely needs to follow up the goaltending one because I don't think the Leafs goaltenders got there entirely on their own. The Leafs might not have the most electrifying top pairing, but all season long they've been able to roll three pairings that you don't mind having on the ice no matter who is coming over the boards for the opposition.
I'm trying to limit my comparisons to the 93 or 94 Leafs in this post, but the blueline seems to have vibes similar to the units from those teams, but arguably better. The team defense has its best players buying into the all zone philosophy that players like Clark and Gilmour bought into and the bottom size is deep with Berg, Zezel, and Osborne types that have an uncanny ability to make a difference in a seven game series if they find their right matchup.
6. This team can beat any team in the league, it's just a matter of beating them four times out of seven
*numbers prior to game 82 against the Rangers
The Leafs have a pretty good track record against playoff teams. There is one notable elephant in the room in Boston and if Toronto finds itself in the Stanley Cup Finals and facing Vegas we'll talk more about that too, but generally, the Leafs are a team that holds up very well against playoff bound teams. It was getting the Leafs to show up against their lesser opponents that was a challenge.
That point about lesser opponents is one that I think is important and when you look at the 15 teams above they are teams that would feel comfortable and confident enough in their own game to come out and play it because it has been working for them all year. The lottery bound teams of the NHL were going to approach the Leafs differently and be more focused on shutting down what the Leafs do well and that is my concern. When a team commits to shutting down the Leafs, are they still effective? I'd say they are generally better this year, but it hasn't been tested against an opponent settling in to play them in a seven game series and can commit to a stretch in the video room to learn what they need to do.
7. I didn't expect to miss Ilya Mikheyev this much
Mikheyev provided a lot of speed and secondary scoring to the Leafs bottom six that was never adequately replaced. I mean, O'Reilly certainly replaced the scoring but definitely not the speed. Mikheyev's departure watered down the second unit powerplay, the penalty kill, and David Kampf. He was always going to be too expensive to bring back and while Jarnkrok has also filled a lot of the needs in Mikheyev's absence, the speed is greatly missed.
The bizarre shuffling at the trade deadline that saw the departure of Pierre Engvall without bringing in someone who could replace him seems like the Leafs have taken a couple of steps backward when it comes to their bottom six and I think in both cases there was some potential to keep them at the cost of moving on from Kerfoot last summer before Alex made it incredibly hard to market himself in season.
Maybe it's not so much the absence of Mikheyev that impacted the Leafs but the drop off of Kerfoot, but the secondary scoring in the bottom six is an issue to keep an eye on through the playoffs.
8. The future looks affordable
Between Knies, Robertson, Timmins, Holmberg, Lafferty, Woll, McMann, and possibly Niemela, the Leafs have a lot of good cheap options cued up to go along with the criminally great bargains they have in Jake McCabe, Timothy Liljegren, Mark Giordano, and Calle Jarnkrok. You can also include Ilya Samsonov's arbitration rights being a favourable situation for the Leafs to consider this offseason. Toronto can go with an arbitration ruling that will likely keep his value artificially low for one more year and the Leafs will get to test to see if the goaltender is in fact for real and not a Jack Campbell one and done type story.
None of this has any impact on the playoffs, but it's a nice little thing to consider as the Leafs inch towards the offseason as well. There are a number of good young and good affordable players that combined with their core make up about 66% of their roster with money to burn on bringing back the players they want and exploring the market for others. No matter what happens there shouldn't be a sky is falling narrative in Toronto.
9. Simming through the year would have robbed us of a few nice moments…
Coming into this season there was definitely a feeling of "screw the regular season" Let's just jump straight to the playoffs. For the most part, it is easy to stand by that philosophy whether it was ever possible or not.
Nevertheless, there were a few moments that stand out to me as worth experiencing this season, starting with the Leafs warm welcome for Rodion Amirov at the beginning of the season. There were career bests set by William Nylander and Mitch Marner, both from a season points perspective but also from a per game perspective. John Tavares hit 1000 games and 400 goals. Joseph Woll established himself as a potential goaltender of the future. Conor Timmins undid half a decade of doubt about his playing career in ten games. The Leafs gave Borje Salming the tribute he deserved and icing an entire Swedish starting lineup for him was a great acknowledgment of his legacy. We've had EBUGs, the arrival of Matthew Knies, the Ryan O'Reilly hat trick against Buffalo, and it seemed like for a while every other night a Marlies player making their NHL debut. Marner and Matthews hit 500 points, Nylander hit 400, Giordano became the all-time* shot blocks leader.
I have a memory like a sieve so I know I'm forgetting about a half dozen other worthwhile events that peppered this exhaustingly long season, but thankfully these moments happened because it does show that this was an overwhelmingly positive season for the Leafs no matter what comes next. I'm saying this now because I might have a hard time remembering this in a couple of weeks (or hopefully several weeks) time.
10. Dubas has earned his next contract
Finally, this isn't likely the last you'll hear from me on this topic, but Kyle Dubas has once again stood out as one of the best GM's in hockey, and moving on from him would be an absolute misfire by the Leafs.
Dubas has built and rebuilt the Leafs as a competitive team numerous times. Digging himself out from cap trouble, somehow maintaining a strong prospect pool while frequently having to dip into the Leafs' draft picks as a means to instantly improve the team, and has remained steadfast in having highly skilled team that controls the puck as what he wants the Leafs to be, but has been willing to test what works best along the edges of the roster.
I'm not going to turn this section into a 2000 word case for keeping Kyle Dubas around, that will come later at some point, instead I'll just highlight that when you look at this roster now and consider that people have called for more leadership and the Leafs have a roster with Wayne Simmonds and Mark Giordano on it. People wanted more Stanley Cup experience and they now have a roster with Matt Murray and Ryan O'Reilly on it. People have called for a more physical lineup and the Leafs have Jake McCabe, Zach Aston-Reese, Noel Acciari, Michael Bunting, and Luke Schenn to show for it. Kyle Dubas has checked a lot of the intangible boxes while retaining skill in a flat cap.
There have been misfires along the way (Kerfoot, McCann, and Marchment) but the Leafs have always moved in the right direction every year in spite of it. I don't think you can say that for any other Leafs GM in my lifetime. Even Quinn and Fletcher when they hit their roadblocks they didn't come back from it like Dubas.
Anyways, I've been far too optimistic here for my liking. Maybe the playoffs need to start so I can return to being my usual manic mess.