2023 NHL Draft: Top 5 first-round American targets for the Toronto Maple Leafs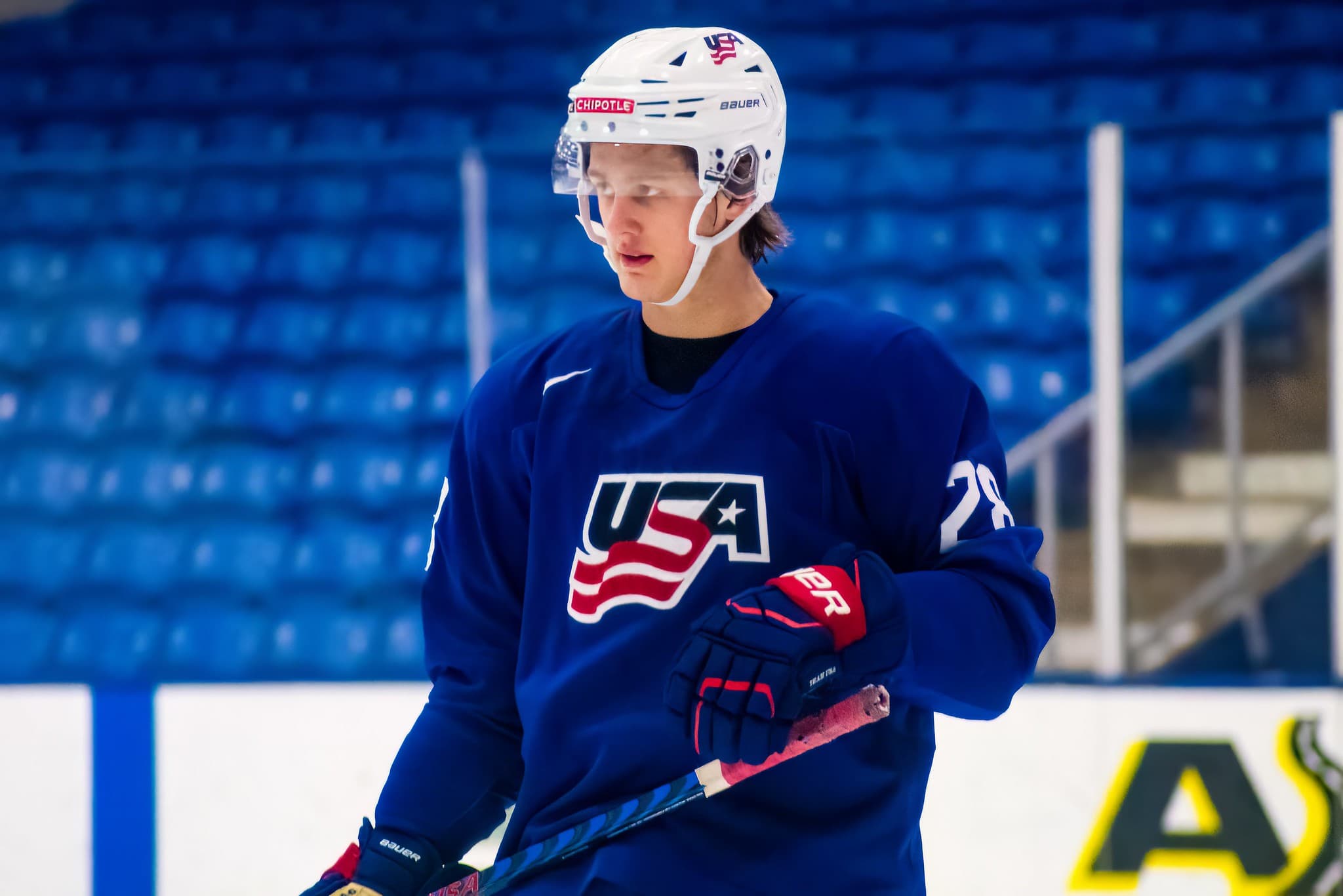 Photo credit:Steven Ellis/Daily Faceoff
We've looked at a range of different first-round targets already for the Toronto Maple Leafs ahead of the 2023 NHL Draft. Whether it be
CHLers
,
Europeans
or
world junior participants
, the Leafs have plenty of suitable options between the 25-32 spot.
Granted, the team could end up moving the first-round pick to bring in a valuable asset ahead of the NHL trade deadline. But if not, this is one heck of a draft to land a quality prospect.
You know the drill. Here's a look at five American players playing in either the NCAA or the USHL – the top American junior league – that could be available to the Leafs late in the first round:
Charlie Stramel, C (University of Wisconsin, NCAA)
Stramel is the type of player that I feel Leafs fans will come to adore. He's huge, hits like a truck and can score, too. Stramel doesn't have a ton of points with Wisconsin, but he's the youngest player on the roster and the focus here will be more about causing havoc and playing a strong, middle-six role than being a points producer. Even with just three assists at the world juniors, he showed tons of positive signs and really stuck to his role well. He can get himself into trouble more than I'd like to see, but I think Stramel should have no issue succeeding in the NHL thanks to the way he can overpower opponents and is willing to protect his teammates while having the skill to still be effective in other assets.
Gavin Brindley, RW (University of Michigan, NCAA)
On the flip side, there's Brindley, at 5-foot-9, but still brings a nice physical edge. He's up to 25 points in 30 games, which is impressive as a freshman that isn't just planted beside Adam Fantilli all game. Brindley has been excellent recently with 15 points in his past nine games, closing the gap toward being a point-per-game winger for Michigan. He's a fiesty forward that works his butt off to win every puck battle and, despite being on the smaller side, he can throw some big hits. He has a good future as a middle-six scoring winger.
Aram Minnetian, D (USNTDP)
Minnetian is one of my favorite defensive prospects in the draft, and one that I feel confident will develop into a solid option down the line. He's not a big kid, and there are not a ton of standout qualities, but I think he has enough to build upon to become a decent second-pairing option that can quarterback a power play. His play since the U-18 Five Nations in November has been especially impressive, and I'm excited to see what type of role he makes for himself at Boston College.
Jayden Perron, RW (Chicago, USHL)
From a pure skill perspective, it's hard to deny Perron's skill. He's a point-per-game player with the USHL's Chicago Steel, a team with no shortage of high-profile prospects for the next few drafts. He's an excellent skater that attacks every shift at speed and scouts consider him as one of the most effective passers in the draft class. But they also point to the elephant in the room: he's 5-foot-8. I'm not sure his shot and pure offensive skill are enough to offset the size concerns yet. The big test will be seeing how he adjusts to the much tighter NCAA next season. For now, Perron is a point-per-game player, which is excellent.
Gabe Perreault, LW (USNTDP)
I'm probably one of the lowest on Perreault, publicly, but I still think he'd be a decent fit for the Leafs. He's the USNTDP's leading scorer, but I feel like he relies on his linemates – Will Smith and Ryan Leonard – more often than he should. But there's no denying the results, with Perreault – the son of former Leaf Yanic – sitting at 87 points, good to tie Jack Eichel's number in 2013-14. He should crack 100 points, something only Auston Matthews, Jack Hughes, Clayton Keller and Cole Caufield have managed to do on the U-18 squad. Give him the right players to work with and he can finish, no question about it.