21 Takes on the first quarter of the Leafs season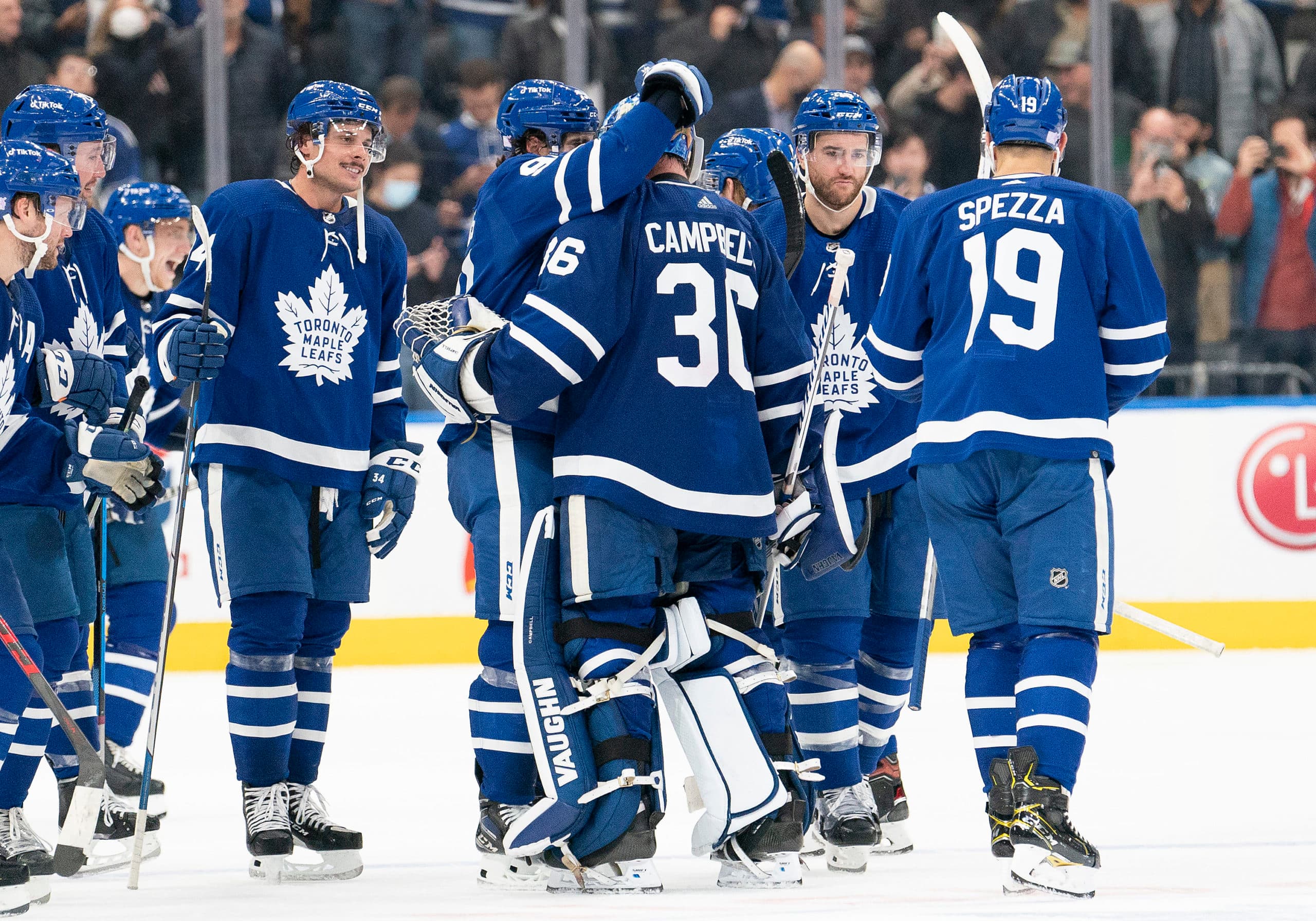 Photo credit:Nick Turchiaro-USA TODAY Sports
It's the quarter mark of the season. Or technically half a game past the quarter mark. Sometime between Tavares' 9th goal of the season and Auston Matthews' 8th of the year, we hit the quarter mark, and after a sluggish start to the year, the Leafs have easily been one of the hottest teams in the league. And before getting into the takes for real, I'll drop one for you here. The Leafs were never as bad as their start, but we shouldn't be buying into them as the 12-2 darlings they've been since either. Sorry if that take is too hot. Here's a healthy mix of hot and cold takes on the start of the year for the Leafs.
In hindsight, signing Campbell in the offseason could have saved the Leafs a ton of money and given them the option to maintain a very deep crease. Assuming Toronto could have locked Campbell in at the rate they gave Petr Mrazek, Toronto would have dodged the bullet that now seems to have the Leafs paying at an absolute minimum, $5M/yr going forward.If they can get that rate still, I think you take it and laugh, but it seems with each passing day the price goes up. The Leafs should have a sense of urgency, but I guess it is safe to say that Campbell's camp isn't in a rush.
There are a lot of possible reasons for why Auston Matthews isn't setting the net on fire this year, but I choose to go with the optimistic one. To me it looks like Matthews has truly tried to round out his game, and be a more complete player in the early days of the season.You could see it against Los Angeles as Matthews was much more comfortable carrying defenders around the offensive zone, and using his size and strength to protect the puck and establish a cycle rather than go straight for the shot. You could also see stronger back checks, which the ridiculous boarding call on him emphasized. It looks like Matthews is no longer interested in pursuing the Lady Byng, and if that also comes at the price of chasing the Maurice Richard award, the trade off seems to be worth it as Auston is playing a stronger team game.
 I wasn't prepared for how much I'd love Ondrej Kase, and but still hold my breath after every time he comes in contact with a player or puck. Ever since TLN contributor Mark Norman put the Mikhail Grabovski comparison in my head, I feel like I've found a new level of appreciation for Kase, and he did an excellent job of showing what a versatile player he was after adapting to Kampf being out for most of the game against LA.
Having a set line was holding Alex Kerfoot back. Kerfoot seems to excel as being a fixer, bouncing around the second and third lines filling in roles as needed. If the Leafs want to get Spezza out there against tougher competition, Kerfoot has been a good player to have ride shotgun for him in those situations as well. He's been a winger, he's been a center, and most importantly he's added offense back into his game after relying on low event play as his calling card throughout last season. I am happy to eat my words on Kerfoot, who has been very valuable from the Montreal series onward.
 Pierre Engvall is forward Martin Marincin. There are things to like about Pierre Engvall. His numbers are good. He's versatile being able to line up at any position. He generally tries hard out there, and his contract fits the Leafs budget. All of that being said, there seems to be a lack of high end talent in any area that justifies using him in the top nine, and with the upcoming return of Ilya Mikheyev, and the arrival of Kyle Clifford, it feels like it's time to push Pierre out the door.
Speaking of push him out the door, we've come to my Nick Ritchie take. I really want Ritchie to work in Toronto, but there is now a frustrating amount of evidence saying that he is in fact not a fit. What Ritchie was supposed to bring to the table is now being provided by Wayne Simmonds. In addition what was expected of Wayne Simmonds can be provided by Kyle Clifford. At a $2.5M price tag, giving Ritchie time to figure it out isn't ideal for the Leafs, and perhaps there is a team somewhere in the league who wants to help him figure it out if the Leafs take on a similar figure it out player from that team. Usually when I'm talking in this manner I'm speaking about Dylan Strome. (With the acknowledgement Ritchie for Strome isn't something that happens 1 for 1.)
The biggest issue that still remains with the Leafs roster for me is that there is no real middle ground player that the Leafs can lean on if there is a significant injury to one of their top four forwards. Losing John Tavares last year really hit home the fatal flaw in going all in the core of the roster, and at that time there were still strong bit players like Hyman and Foligno floating around. I'm curious to see if and how the Leafs address this.
 Mitch Marner is an incredibly talented player who makes the Leafs better, but I fully admit I'll never be a fan of his. I've realized how wrong I am not to be a fan of his whenever I watch him when the Leafs don't have the puck and see the effort he puts into getting into lanes, and trying to get the puck back, but when he has the puck I've come to think of his decisions as too predictable for when you're matching up against an opponent who is spending a lot of time looking at video of the Leafs.
In contrast, I will always love William Nylander, and the early games of the season and the Montreal series last May were some of the most inspired hockey I've ever seen him play. Right now he seems to be slipping back into the regular season blues, and is a bit more inconsistent in effort, but knowing that he can still get by on talent, and that he has that next gear waiting for when it's needed is encouraging.
I would try Wayne Simmonds on the top line. Given that he's playing beyond what Nick Ritchie has done, and the thought was that the Matthews-Marner line could use a power forward, I'd give Simmonds an audition. Of course the problem with that idea is that Michael Bunting has been a fit as well, and if Bunting truly is a permanent fit, there's no need to reinvent the line. I'd just keep Simmonds in mind as the next in line for a shot.
Michael Bunting is the player that many of us said he would be back before free agency opened. He's the rat the Leafs have missed. He's replaced Kadri's abilities to draw penalties, and he's a complimentary offensive player. Perhaps the best part of Bunting is that he keeps such a cool head about his shit disturbing, and he's not one to be suckered into ill-advised penalties, and his calm presence seems to only agitate the opposition more.
The biggest worry for me on the Leafs, even beyond Ritchie, is Jake Muzzin. As much as I hate the term "washed" it seems like it could apply to Muzzin this year as he's not only been a step behind skating wise, but a step behind decision making wise. If he's going to make up for the skating he needs to be sharper when it comes to reading the play.Being paired with Holl hasn't helped Muzzin, but when you look at Muzzin and Holl they look more like a third pairing at this point, and price wise you can accept Holl in that situation, but not Muzzin. He has to be better.
I still don't know why the Leafs would want to trade Dermott and roll the dice on their defensive depth, but I can understand it a bit more with Holl. If there is a team out there that wants one of them, I feel like the best course of action for the Leafs is to see if they can package one of them with Nick Ritchie.
Seemingly there isn't a fit at the moment for Josh Ho-Sang, and I can appreciate the benefit of giving him his time, but one of the things that usually gives teams a playoff edge is an X-factor type player. The Leafs owe it to themselves, and to Ho-Sang to see if he can be the X-factor for them, and it's probably not fair to wait until the last minute to see what he can do in the NHL.
While John Tavares is very guarded about not showing too much personality, and I don't doubt that he's one of the quieter guys in the locker room too, it's becoming very apparent that he is greatly respected by his teammates and is the leader we'd hope him to be.
In addition to Tavares as a leader, Morgan Rielly is absolutely that guy, and bringing him back is a good thing. I've got a number of Morgan Rielly takes, but I'm going to roll them all into one here.

Rielly's new contract is great for the Leafs. It might go a little longer than some would like at that price, but in the next few years we should absolutely appreciate it especially with the rise in other defensive contracts, and the decline in Jake Muzzin's play.
Rielly is a great offensive player 5v5, but he doesn't necessarily need to be a lock for the powerplay. He has value there too, but you absolutely need to look back to his games in Moose Jaw when it was well established he should not be shooting from the point and his best move is to sneak in from the point.
I honestly believe his defensive play has improved this year, but that could also be that Brodie is just that good and Jack Campbell has been standing on his head.

Given the concerns about Muzzin and Holl, it would be great to see Sandin and Liljegren slowly evolve into the second pairing over the course of the year. The Leafs have the time and talent to fall back on that they could very well explore this, and that certainly gives Toronto an edge later on. The idea of the Leafs not having to match defensive pairings with their competition because they trust them all equally, and if there's something positive to say about the Blackhawks Cup teams lately, it's that they found comfort in rolling their pairings, and the same was true of the Kings too.
When Mrazek is back, it's still in the Leafs best interest to split the net as much as possible, even if Campbell looks like a true starter.It's very likely that the Leafs will be looking to sell Mrazek in the offseason (before seems a tad crazy) and if Mrazek can show that he is a capable platoon goaltender or can take a run at being a 1A guy on some teams, his cap hit isn't too troublesome for a lot of teams, especially if sorted out before free agency. As usual it looks like the number of teams looking for goaltending will outnumber the free agent goaltenders. And of course, there's idiotic to think about trading Mrazek until the ink is dry on Campbell's contract.
As good as the Leafs roster is, they still need to go into the trade deadline looking to add and given the quality of the 2022 draft, I'd consider shopping top prospects ahead of their first round pick.The idea of trading Nick Robertson or Rodion Amirov isn't one that should sit easy with anyone, but I'm going to float the idea anyway, and with a healthy dose of recency bias intact, I'd say that at the moment Topi Niemela might be the only true untouchable prospect, as it is definitely worth the Leafs time to see what they have there.
I've always liked Woll, and I'm definitely excited about what we've seen from him so far. I'm also very aware that Campbell/Mrazek has the potential to be a very expensive tandem next season. That said, I don't know if I can comprehend any situation where Woll goes into camp next year with the intention of being the Leafs backup goaltender. I feel like this is a lesson that needs to be remembered from the Sparks experiment, and while Mrazek might be too expensive to keep, there's probably going to be a cheap backup option available. Plan to take advantage of Woll's waiver exempt status for as long as possible.
My last take is that this team does seem to be built different. Kase, Bunting, and Kampf are giving the Leafs a lot of what they were missing last year. Matthews, Tavares, Rielly, and Nylander are playing like they have something to prove. Campbell is the real deal. Sandin and Liljegren are the kind of affordable defensive upgrade you dream of. I think I'm about 75% of the way back to letting this team hurt me in the playoffs again.