5 games that will define the Maple Leafs' identity this season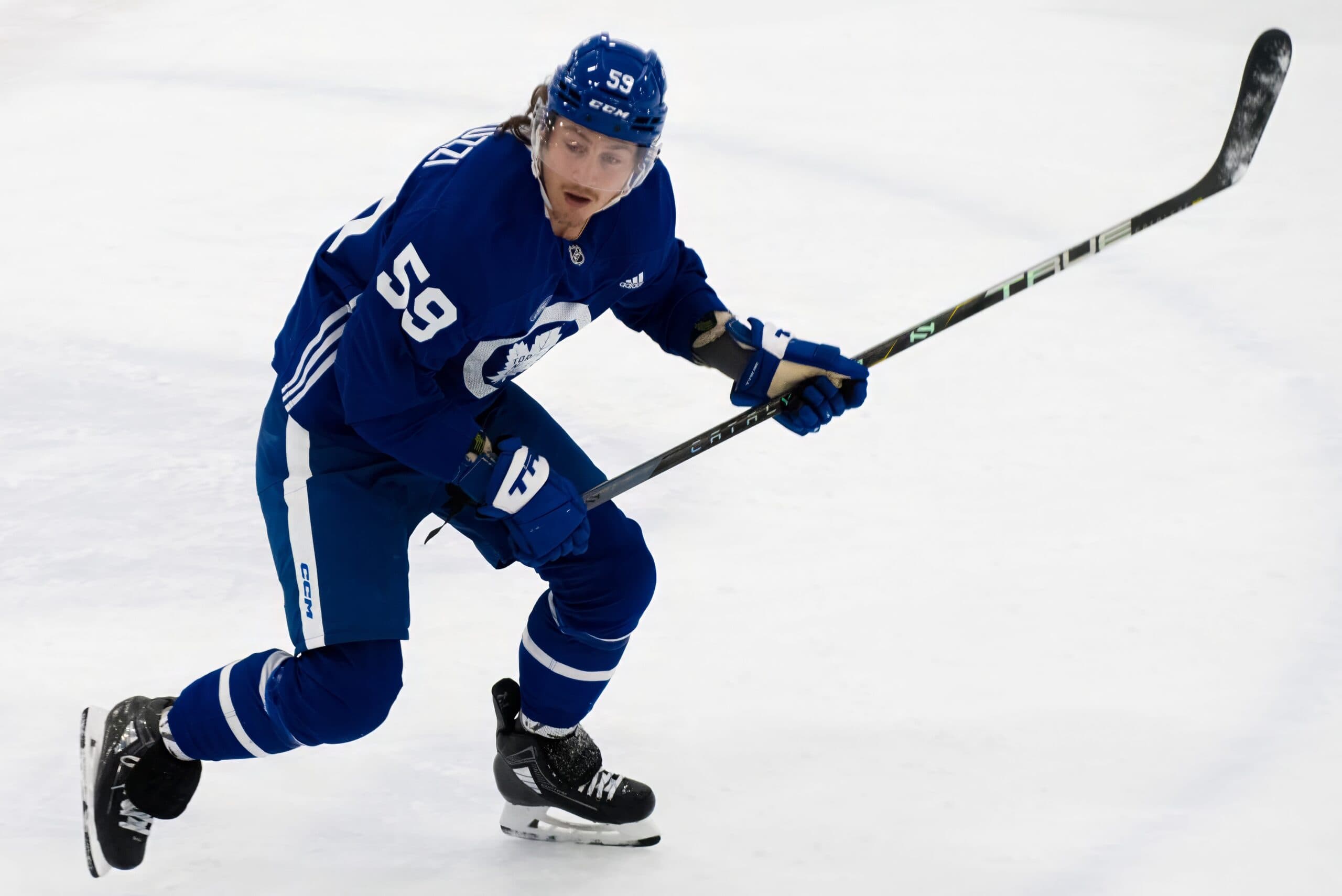 Photo credit:(Photo from Steven Ellis/Daily Faceoff)
It doesn't take a long look at the Maple Leafs roster to see that new General Manager Brad Treliving has prioritized a revitalization project on the team's identity. For years, Toronto has been labeled soft and easy to play against, which makes the acquisition of free agents Ryan Reaves, Tyler Bertuzzi, and Max Domi a clear and obvious attempt to redefine that narrative.
However, as any sports fan can tell you, a team isn't defined by the way they look on paper, but instead what they do during the games that matter most. Over an 82-game long season, there will be some games where the Maple Leafs look like a total goonsquad, and others where they get mercilessly bullied. That said, there are a handful of games across the season that will contribute more to determining whether the Leafs have successfully transitioned towards being the kind of team that other franchises hate playing against.
October 11th vs Montreal
The opening game of the season against the team's oldest rival, it doesn't get much more identify-defining than that. It's both an opportunity for the new guys to showcase what they bring to the team, and for the core players to silence the critics after another offseason of having to listen to analysts everywhere suggest that they're overpaid and don't have what it takes to win.
With Montreal projected by most to finish at the bottom of the Atlantic, it will be a chance for them to show up and force everyone to take notice if they can come out hot and dominate their rivals both physically and on the score sheet. Should Toronto gets complacent, as they've often been so prone to in the past, this could be a sour start to the season with their biggest haters proven right by the hard working Canadiens.
October 19th at Florida
A rematch of last year's second round, a five-game series where Toronto got absolutely bullied by the grind-em-out Panthers. If the Leafs want to go on any sort of deep playoff run, they'll likely need to go through at least two Atlantic-division rivals and the Panthers could very well once again be one of those teams.
Matthew Tkachuk is the sort of prototypical power forward that has been able to dominate the Maple Leafs due to their lack of any sort of counter before this season. Should a player such as Bertuzzi or Matthew Knies step into the role of being the big-bodied winger that can matchup with players like Tkachuk, then the Toronto Maple Leafs can look towards the playoffs with a bit more optimism in shutting down their opponents toughest stars.
January 3rd at Anaheim
This game is about putting fear into opponents and showcasing that the team now has a long memory and penchant for revenge. After the Maple Leafs were eliminated by the Panthers last season, cameras caught Radko Gudas shouting in goaltender Joseph Woll's face, with no response from the surrounding team.
In an interview earlier this year, new Leaf Ryan Reaves
had some words for Gudas
, challenging him to attempt something like that again. While neither were a part of their current teams when the incident occurred, Reaves vs Gudas will be labeled as the storyline to watch during this contest, though the real story may come from how the rest of the team responds when their new enforcer puts his body on the line for them.
January 16th at Edmonton
The Edmonton Oilers have been named the early Stanley Cup favourites by analysts, fans, and oddsmakers alike. If the Maple Leafs are serious about contending this season, they need to go into this matchup looking at it as a potential Stanley Cup finals preview and should be looking to dominate it as a result.
Whether it's the 2021 Jets or 2023 Golden Knights, the Edmonton Oilers have – much like the Leafs – typically been shut down by teams with size who play with a sharp edge to their game. The Maple Leafs will have a chance with this game to show the hockey world that they were wrong to rank Edmonton ahead of Toronto prior to the season's start and make McDavid and company hope that Toronto isn't the team that makes it out of the East.
April 17th at Tampa Bay
Why would the last game of the season, a game in which both teams are likely to rest many of their star players be an identity defining game? For the Maple Leafs, it will be a showcasing of depth, and that the team can still win without the skill and finesse of the big four.
Seeing as how Tampa Bay could once again be Toronto's first round opponent, this matchup could be a statement game as much as it's a playoff preview. The Maple Leafs roster has a chance to show Tampa Bay that even if they manage to shutdown Matthews, Marner, or Nylander that the roster has found alternative ways to win, namely by being the sort of pesky hard hitting chippy team who can score on you just as quick as they can beat you up like Tampa Bay was themselves during the peak of their dynasty.
While every game matters when it comes to points in the standings, it's clear that over an 82-game schedule, some games matter more than others. For the Maple Leafs, they'll need to show up to those games and prove that they're no longer the same squad that folds at the first sign of pressure.