5 key factors to watch in the Maple Leafs' series against the Tampa Bay Lightning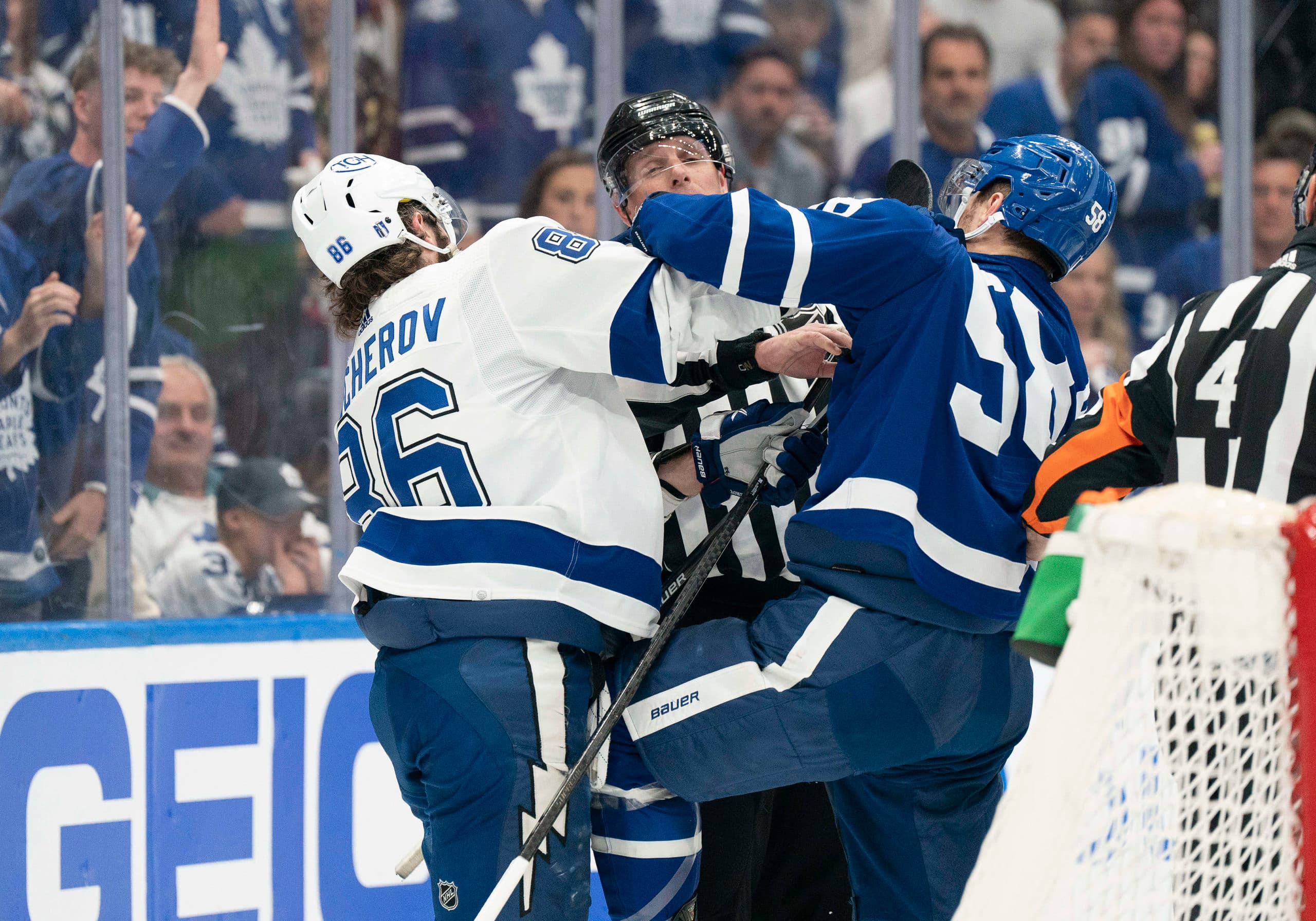 Photo credit:Nick Turchiaro-USA TODAY Sports
It's almost playoff time, I'm nervous enough that I could poop out a diamond but excited enough that my nipples are hard enough to cut a diamond as well. Rather than start the world's most disgusting jewelry business, I've opted to look at some of the important things to watch for against the Tampa Bay Lightning. A lot of this stuff you already know from last year, but a refresher course is good for some and there are a couple of new things to consider as well, so let's dive into it.
Vasilevskiy and Hedman
By the numbers Samsonov and Vasilevskiy is a pretty close comparison and not the matchup doesn't look like a lopsided one for the Lightning. You can certainly debate whether it is better to have a hot goaltender or a consistently good one in net during the playoffs and of course, the ideal answer is both. Fortunately for the Leafs, Vasilevskiy hasn't been too much to worry about of late. Samsonov has the better numbers albeit in fewer games, and in Vasilevskiy's last two games he had save percentages below .850, including one in a game against Toronto. That is cherry picking the data to ignore that Vasilevskiy also has two shutouts in his last five games and he was on a four game streak of having a save percentage above .940.
The real worry comes from playoff Vasilevskiy, who has been almost unbeatable in the past three seasons. Vasilevskiy has played 71 games in the past three postseasons and last year featured his worst save percentage of .922 over those 23 games. That can be a difference maker.
Hedman is another player that when at the top of their game the Leafs really don't have an answer to. Toronto benefits from the departure of McDonagh and from Hedman being another year older. The blueline matchup seems a little fairer for the Leafs but ignores that Hedman has been close a point per game player over the last three postseasons at a time when he can be their best shutdown defender as well. He's a 24 minute a night guy who will be stapled to Matthews.
When it comes to Hedman, he's still very good but he's looked human this year. His ice time is down slightly, his offensive production is nearly halved, and his Corsi Against is up. Past playoff runs have seen Hedman mirror strong regular seasons with strong postseasons, so this looks to be encouraging for the Leafs. If Hedman finds his old self at the right time though, the Leafs will have someone difficult to content with.
Super Pest Nikita Kucherov
There is no need to mention what Kucherov can do offensively (113 point season, but who's counting?), but in the past couple of seasons, it has become increasingly clear that Kucherov will play on the edge of the rules and frequently go beyond them, relying on the refs' unwillingness to penalize him. As much as Bunting is an enjoyable top line pest for the Leafs, having a top line pest who can score at twice the rate of Bunting and is still getting away with his antics is a huge advantage for the Lightning.
It will be interesting to see how much the officials are going to let go in series where both coaches will start complaining about two minutes into the first period of game one and Toronto fans are already prepared for Michael Bunting to be found guilty of all charges in the NHL's kangaroo court.
Special teams advantage doesn't mean don't watch out for special teams
When it comes to special teams the Leafs and Lightning are fairly close when it comes to the power play and Toronto has a slight advantage when it comes to penalty kill as well. Toronto looks like the stronger team and it would be something for the Lightning to take note of.
That doesn't necessarily mean the Leafs are off the hook for this being an area of concern as the big difference is the Lightning were given 280 power plays this season as opposed to the Leafs having 246. That's almost one extra power play opportunity every two games and in a tight series that can make a difference.
This season the Lightning averaged five power plays per game against the Leafs, but to Toronto's credit, they were just scored on twice and even got a shorthanded goal against the Lightning.
In contrast, Toronto had 4.33 power plays per game against the Lightning and a 30.8% success rate without giving up a shorthanded goal. All signs do point to the Toronto advantage, but Tampa can't be taken lightly here.
Mandatory acknowledgment of hits/physical play
Sigh. It's going to be mentioned frequently by networks, pundits, and your uncle so get used to the "Leafs are soft" narrative returning. The Lightning had the seventh most hits in the NHL this season and the Leafs were 23rd. You can ignore that Schenn, Lafferty, Acciari, and Knies arriving late in the year tips that balance, a lot, especially with Tanner Jeannot out, but this narrative will be beaten into a fine pulp until Toronto wins a Stanley Cup. That is one thing we can count on.
It's worth noting that the Lightning's hit count is the second best of the playoff bound teams and all but two of the top ten teams in the league in hits made the playoffs.
There is something to be said for experience
We might as well close on this one because it goes without saying that the Lightning know what they are doing in the playoffs. The past three years have seen them in the final and while they lost last year, it doesn't change that this team made it through three rounds of outmatching their opponents and were essentially the underdog in each matchup they were in last year. (By narrow margins, but the point remains.)
This year the gap is widened but the concern remains. Very close to the end of the season the Leafs and Lightning were within two points of each other. Things broke in a good way for the Leafs as they closed out their schedule and the same wasn't true for the Lightning who were 4-6-0 in their last 10 while the Leafs went 7-1-2.
Nothing about the Lightning shows that they are looking to take a Spring off, and with around $2M in cap space next season to address eight potential free agent vacancies, and few draft picks or prospects to rely on as cheap filler, the Lightning will never have a shot as good as the one they do this year at winning. That can be a dangerous thing for a team that already proven to have no problem finding success.
All things considered, the Leafs are still rightfully the favourite.