Undrafted and on a quest: Jeremy McKenna's first pro season with the Toronto Marlies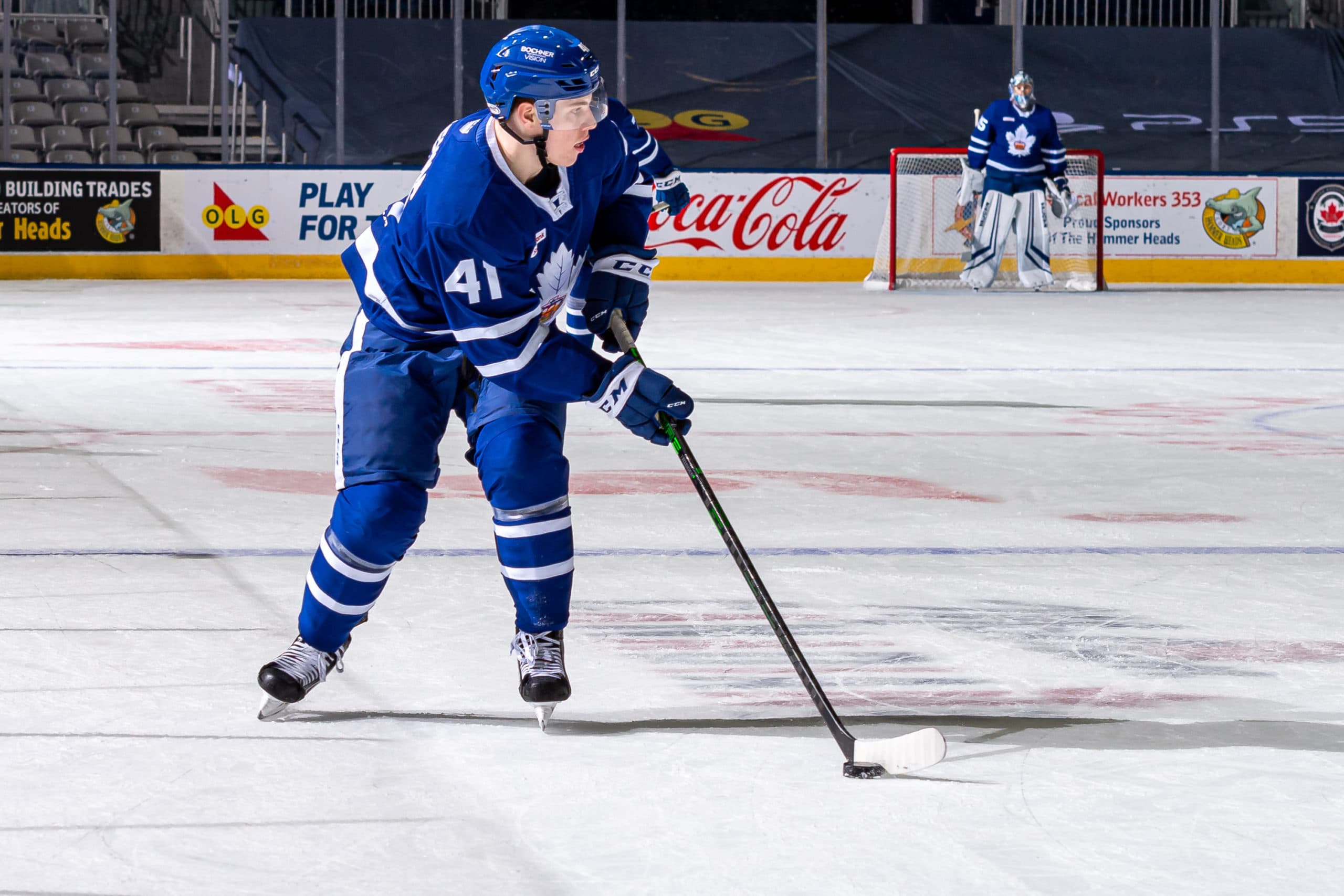 Photo credit:Christian Bonin/TSGphoto.com
Jeremy McKenna's career was right in front of him. Signing a one-year contract with the Stockton Heat in 2019 after not getting drafted, the then 20-year-old was ready to start his pro career.
But it wasn't everything he imagined.
Two days prior to the Heat's season starting, the team assigned McKenna to the Kansas City Mavericks, the Calgary Flames' ECHL affiliate. After being sent down, the 20-year-old decided it was best for him go back to the QMJHL and play his fourth and final year with the Moncton Wildcats.
Moncton had the second-best record in the league, and two of the top eight point-getters in the 2019-20 season. McKenna had finished his final season in Moncton leading the team in goals with 40, along with 42 assists in 57 games. He also spent three of his four seasons as an assistant captain of the Wildcats. Then, three days before the end of the QMHJL's regular season, the remainder of the season and playoffs was cancelled.
Everything went on pause. There was no hockey, and really, there was nothing.
That was the case, until a year later, when McKenna signed a two-year AHL contract with the Toronto Marlies. There was still no way of knowing when hockey would return, but there was a glimmer of hope for the Summerside, PEI native.
Eight months after signing a contract with Toronto, McKenna was loaned to the Wichita Thunder of the ECHL. His first game in the league was against the team he was assigned to while with on Stockton, the Kansas City Mavericks. McKenna finished the game with four shots on goal in a 3-1 win.
Then the 22-year-old recieved the news that the Marlies would be starting their season in February.
On February 5th, the Wichita Thunder were playing the Allen Americans in Texas. Wichita was down 3-1 heading into the second period. A goal by Jay Dickman cut the lead to one before McKenna flipped the puck to Matteo Gennaro who scored and tied the game at three. The Thunder went on to win the game in overtime.
Ahead of the team after that was a five-and-a-half hour bus ride back to Wichita.
A rowdy bus is normal after a big win — especially one in overtime. But what McKenna didn't know was that this would be his last bus ride with the team for a while. At some point during that five-and-a-half hour bus ride back to Wichita, McKenna was called to the front of the bus by Thunder head coach Bruce Ramsay.
"Y
ou're going to Calgary tomorrow at 7am to meet the Marlies in two weeks," he said. And a
s soon as they arrived in Wichita, McKenna grabbed his things and was headed to the airport for a flight, and then a two-week quarantine in a Calgary hotel.
"It's just awesome to see their expressions and the surprise," said Ramsay when asked about getting the opportunity to tell the players they're going pro. "You could tell he [McKenna] was super excited when the opportunity came."
When McKenna arrived in Calgary, he could only go one place, and that was the hotel. As he got there, he went to the hotel's gym and grabbed a bike, some weights, and a few other pieces of workout equipment. Then it was up into the room for 14 days, and if you wanted to go anywhere, or even take an elevator, you needed a key. You couldn't go anywhere.
So, he spent his time in the room. Watching TV, working out, and doing what anyone would do while locked in a hotel room.
Then came the 15th day, and McKenna was allowed to meet the team in person. It was an afternoon game against Stockton and the Marlies arrived in Calgary the day before — after four games in Manitoba.
McKenna took in a pre-game skate before playing that afternoon. 14 days in a hotel room and he played in his first AHL game the next day.
"
Wild horses couldn't have held him out from that dressing room playing that night." Said his father, Mark McKenna.
Toronto Marlies head coach, Greg Moore, offered McKenna night off because he had just spent 14 days in a hotel, but the 21-year-old declined. And in that game, McKenna assisted on a goal from Marlies captain, Rich Clune for his first AHL point.
Although the seed was planted while he was young, McKenna was finally getting the opportunity he deserved. Finally, he got to play for the biggest hockey market's AHL affiliate.
McKenna started off his AHL career with points in two-straight games.  He would be held off the scoresheet in his next five but then would score in three straight. Just another highlight at the beginning of his pro career.
It was a time during his playing days that McKenna could look back on. This was a series of games that reminded him of how he got to where he is today, and what his parents sacrificed for him to get here.
"I think they work so hard to provide for me and my sisters." Said McKenna after his third-straight game with a goal. "I'm just happy and to be sharing this with them and I'll get choked up but, I'm just so happy and I miss them, and this is definitely for them and all the sacrifices they've made for me."
Day after day, the 21-year-old continued to build and learn what it was like to play in the AHL.
The physicality, the speed — there are so many hurdles to jump through just from junior to the professional leagues. And he did it.
"He's [McKenna] been unbelievable." Said Marlies head coach, Greg Moore. "From day one, the first game that he played, it was really impressive how he had very little time to absorb all of our systems and details in that first game."
McKenna finished his first season in the AHL with five goals, eight assists, and a fight in 28 games.
"I think it's been a rollercoaster, which is the way I like it." Said McKenna. "I like that part of hockey and I think it's just been a great experience to be here in Toronto."
And now, after a season that was riddled with a Covid break and a summer back in his hometown of Summerside, PEI, the now 22-year-old returns to Toronto with a new goal in mind — eventually making the Toronto Maple Leafs. Wherever he may be this season — the ECHL or the AHL — McKenna is ready to prove the people who doubted him wrong.
"
He uses the naysayers words for fuel. And that's a great way to go through life." Said McKenna's father. "
That's all he thinks about other than being successful in Toronto, is 'how do I crack the lineup on the Toronto Maple Leafs?'"
With a team like the Toronto Maple Leafs, and Marlies for that matter, loaded with talent, it'll be a tough feat for McKenna. But as we know, he's not afraid of a challenge or anything else that comes along with it.