The Leafs Nation Power Rankings: Depth, Defence, and Dominance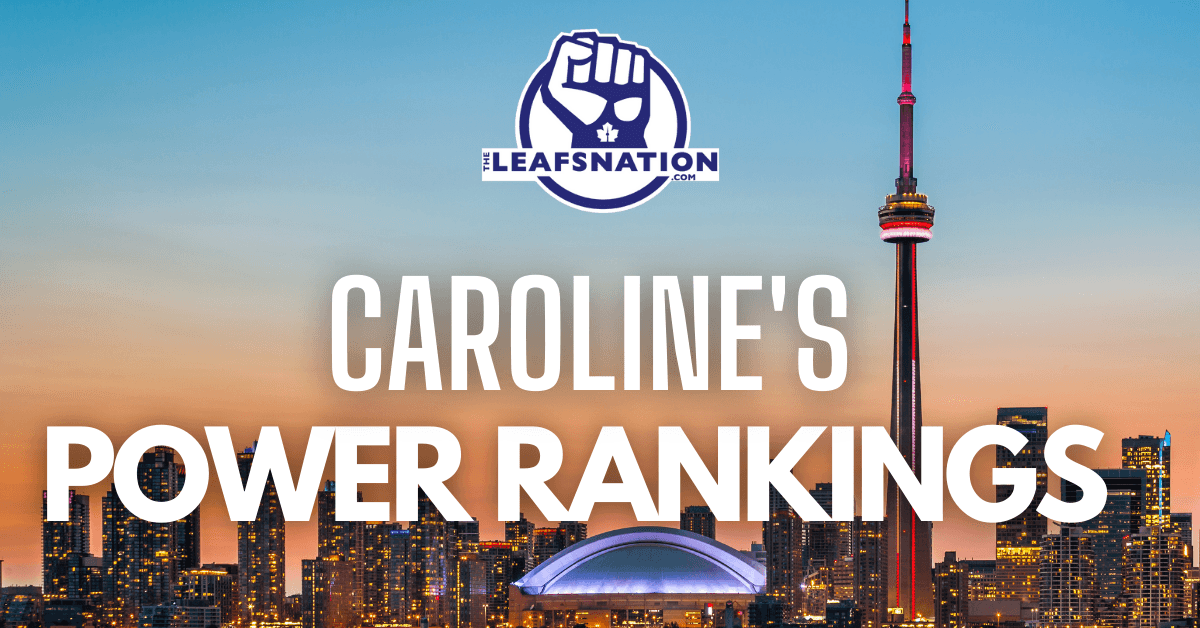 What's going on, Toronto? Welcome to my weekly Top 5 Power Rankings! Each week I'll be sharing my favourite moment of the week around the Maple Leafs. These moments could be hockey related, feel good moments, Twitter interactions, basically anything that stands out. Each new article will be released on Sunday's and be sure to let me know what moments YOU think should be added in my Top 5.
Got it? Good! Let's start.
5 – Canada Soccer 
Now I know that Canada Soccer has nothing to do with the NHL, the Maple Leafs or even Toronto but Canadian history was made this week and it needs to be talked about. 
Okay, onto the good stuff! Did you know that the last time the Canadian men's soccer team beat Mexico in a World Cup Qualifying match was in 1976? Well, that all changed on November 16, 2021 at Commonwealth Stadium also known as "Iceteca" when John Herdman and company smashed a 45 year old record.
As much as the storyline was about breaking records and World Cup qualification, mother nature also wanted in on the action. With a massive snowstorm hitting the night before, both teams woke up with a big match to play in a winter wonderland. If you didn't see what the pitch at Commonwealth Stadium looked like that day, here you go:
https://www.instagram.com/p/CWWXYBuhkrk/?utm_medium=copy_link
Long story short, it was freezing, like really, really cold. By halftime, I could not feel my hands, feet and parts of my face but trust me when I say, it was completely worth it. Give me all the frostbite in the world, to witness history being made in Canada. I also got to experience the game with my dad, who flew to Edmonton from Toronto the night before. He's my soccer guy. It was the perfect night!
In my opinion, this was one of the best games I have seen Canada play. They did their best to keep the ball on the ground, play quick one-two touch soccer, their defense had extremely bright moments and they dealt with a very good, technical and tactical Mexican team … in -14 weather. Cyle Larin got two goals on the night, Alphonso Davies enjoyed his return home to Edmonton, Canada remains undefeated at the top of the table in CONCACAF World Cup Qualifiers and I have a feeling more history will be made here shortly!
Fun fact: This was the coldest game on record that Mexico has ever played in. Do you think they'll ever want to come back to Canada?
https://www.instagram.com/p/CWdbAVILeFV/?utm_medium=copy_link
4- Dion Phaneuf 
Okay, back to hockey with some feel good content! NHL d-man Dion Phaneuf has officially retired after 14 seasons of hockey. 
It was a special Tuesday night in Toronto as the Maple Leafs honoured Phaneuf with a pre-game ceremony before their game against the Nashville Predators. 
As many Leafs fans know, Phaneuf was the captain of the Maple Leafs from 2010-2016 and whether you loved him or not, he will always be remembered in moments like this one:
I swear nothing gets a Toronto crowd going like a big hit, eh? If you want to continue going down memory lane, The Leafsnation's very own Michael Mazzei made a video compilation with all of Phaneuf's famous slapshots. 
Since Phaneuf hasn't played an NHL game since 2019, fans assumed that he quietly exited the game but as a Toronto fan, you never want to miss out on honouring a former Maple Leafs captain and his long 14 year career in the NHL. 
What Dion Phaneuf moment lives rent free in your mind? Talk to me in the comments!
Side note: When I was interviewing NHLers one summer, I approached Dion Phaneuf and told him how Elisha Cuthbert (his wife) was on this show called, "Popular Mechanics for Kids" and I watched it every single morning before school and she absolutely made my day, every day. He responded with such a big and genuine smile and thanked me for the kind words. In that moment, The Phaneuf's instantly became one of my favourite power couples. (I hope I didn't age myself with the PMK reference here!)
3 – In The Third Line, We Trust
There's no surprise that Leafs fans are always buzzing about the Big Four: Matthews, Marner, Tavares and Nylander. However, there's another conversation brewing in the air and I love it. 
There seems to be absolutely no trust issues surrounding the third line of Pierre Engvall (Nick Ritchie), David Kampf and Ondrej Kase as they have been nothing but a breath of fresh air in Toronto. 
Fans have been loving the depth, toughness and work ethic that this third line brings to the Maple Leafs.
Could this be Maple Leafs fans favourite part of the Sheldon Keefe era so far? Give me your take in the comments!
2 – Mmmm, Soup!
Fan favourite alert! Jack Campbell is THE guy that 
Torontonians and NHL fans across the league love and adore.
Campbell's game speaks for itself with a 1.66 GAA, .944 SV% and 3 shutouts, which puts him in second place in all three categories in the NHL this season. Teams across the league would be happy if their starting goaltender cracked the top three in any of these categories, which is why Jack Campbell's hot start has the Toronto Maple Leafs organization and its fans extremely excited! 
Personally, I really 
started to get behind this Maple Leafs goaltender when I saw his character and personality in the 'All or Nothing' docu-series that aired earlier this year. It's very clear that Campbell has so much heart, passion and determination towards his craft and team that it was admirable and inspiring to see. He has carried that same sentiment and emotion into this season which has not only elevated his game but also has continued to steal the heart of Leafs fans across the nation.
One of my favourite things about Jack Campbell, you ask? He's good, actually he's great and he's very humble. Is there a better combination than that? 
There's no surprise to hear that Team USA is taking a serious look at Campbell for the upcoming Olympic Games with the numbers and stats he's been putting up. They would be crazy not to. 
And then there's this tweet that I have to say, I totally agree with.
1- Josh  Ho-Sang
When will the Toronto Maple Leafs call up Josh Ho-Sang? Here's a great question that many fans have been talking about online. 
In 13 games for the Marlies, Ho-Sang has 8 goals, 4 assists and 12 points on the season. Ho-Sang's talent has never been a question since he was drafted in the first round by the Islanders in 2014. The guys is insanely talented. However, he had a lot of hard lessons to learn is his early professional career, which forced him in a different direction.
With that being said, we all know Ho-Sang's story. What I really want to focus on is how he's been thriving in a Toronto Marlies atmosphere, scoring goals that has everyone talking and most importantly, he is having fun!
Side note: One thing that I really respect and appreciate about Ho-Sang and his personal journey is how open he's been about certain struggles and obstacles. His authenticity and the power he can create through his own journey, voice and platform is truly admirable. The Leafsnation's Nick Barden does an incredible job covering the Toronto Marlies and exclusive stories on the organization and its players. Here's one on
Josh Ho-Sang being misunderstood
. This is a must-read!
Okay, let's check out a couple of goals that Ho-Sang scored in Week 6 of the NHL that Toronto fans went wild about:
Marlies fans seem to be happy with Ho-Sang and 
Ho-Sang appreciates the fans just as much in return. We love to see it.
You also gotta love the respect he's earned from the team, as well:
Overall, how could Ho-Sang not get the call up eventually? Is it only a matter of time? I'll see you in the comments. Talk to me!
Lastly, if you're looking for more Leafsnation content in your life, be sure to listen to the TLN Radio Podcast with new episodes airing every Monday evening! Available on Apple and Spotify.
Recent articles from Caroline Szwed