Trade Deadline Mailbag: Moving Mrazek, Interest in Giroux, where Giordano would fit on the Leafs and more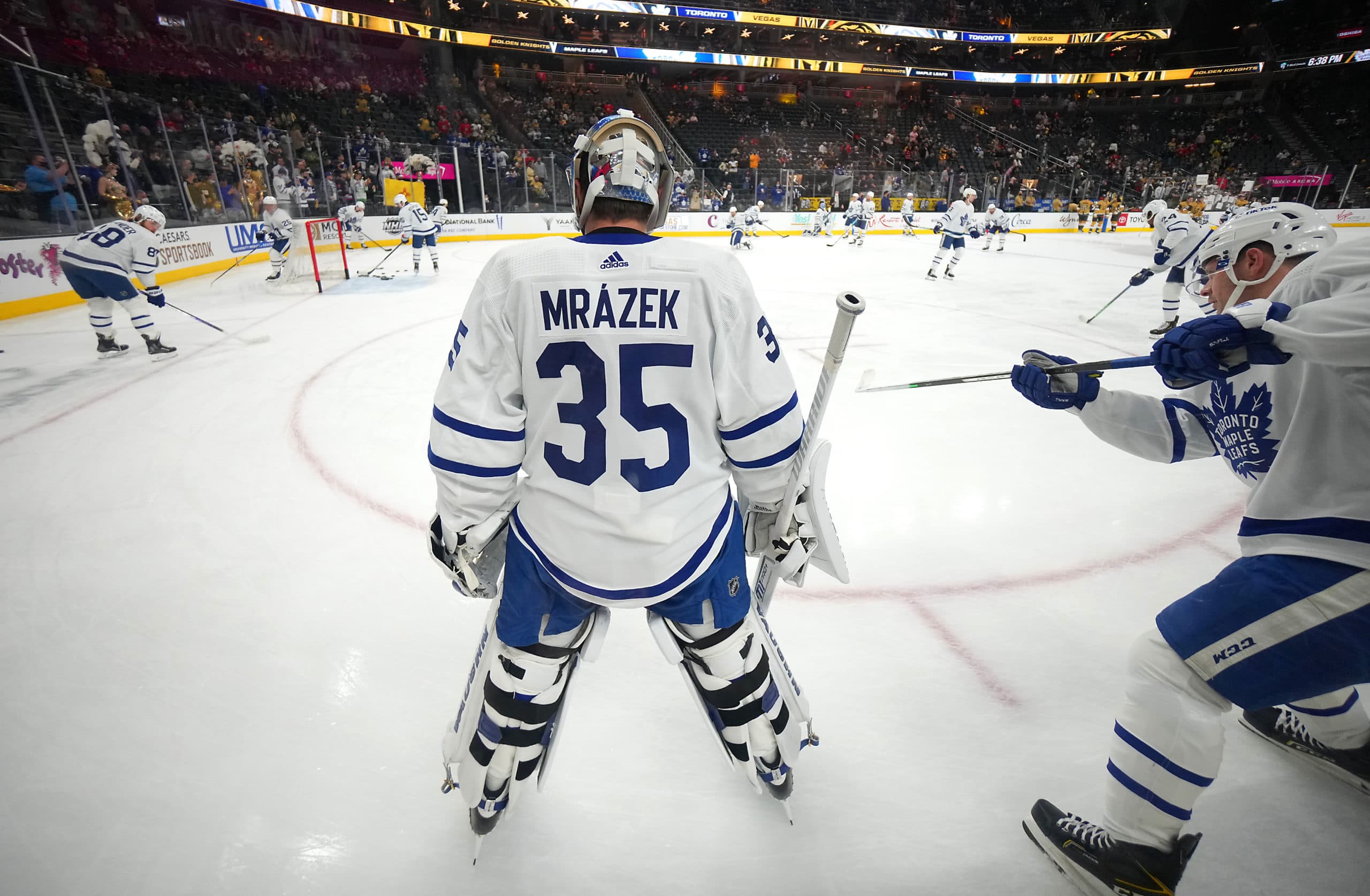 Photo credit:Stephen R. Sylvanie-USA TODAY Sports
It's NHL trade deadline time, and that seems like as good a time as any for a mailbag. While we've been trying to build up some excitement about the deadline on the site, I'd have to say that two truths are emerging.
#1. All of the moves happening in the NFL and MLB are infinitely more exciting than anything that will be done at the NHL trade deadline, and I say that as someone who has very little interest in the NFL.
#2. It's hard to be excited about the deadline when you are absolutely terrified of the trade deadline. I think the Nick Foligno trade broke me, and what was once a fun time of optimism is now two anxious weeks worried that Kyle Dubas will give up a first round pick for Ben Chiarot. Monday at 3pm can't come fast enough.
In the spirit of terrifying excitement, here are some questions from our readers…
Breaky asks: Is any team going to take Mrazek from the Leafs? I can't see it happening.
Dylan Murphy: I think there's a case to be made that Mrazek isn't a fit with the Leafs strictly because he can't deal with the pressure of a big market. He is a better goalie than he's shown for the Leafs, and his contract isn't horrible compared to, say, Carey Price or Sergei Bobrovsky, I don't think it'll be too hard to find a taker, and in fact, it may be a prerequisite of any move Dubas makes.
Mark Norman: I don't see the Leafs being able to offload one of the worst goaltenders in the league over the last two months, who is signed for two more years at $3.8M, without having to include a sweetener or take back a bad contract to make it happen. It would be one thing if Mrazek was only a rest-of-season consideration for the acquiring team… those two additional years will cost the Leafs one way or another.
Michael Mazzei: 
I think you have to do your due diligence and see what the market is like for Mrazek. It would be a disservice to not see because if there is a good offer on the table, Kyle Dubas should take a look. Having said that, the Leafs might not make a move for the goaltending when it's all said and done cause the success rate for 
trade
 deadline goalies making an impact isn't high. The Leafs will be better off trying to address improving the defence and tuning around the edges. Plus, they should see what they have in Kallgren while also waiting on Campbell's recovery since he is the defacto number one. So don't get your hopes up that Mrazek will be dealt, the likely outcome is he rides out the year.
Jon Steitzer: I'll be optimistic, and say that a team like Buffalo that doesn't have a goaltender for next season and will need to hit the cap floor might be willing to do something. I'm just not sure it will be a cheap transaction. The Leafs might have a bit better look in the summer, or they could entertain the idea of giving him one more year. The other thing to consider is that his buyout isn't too bad. I mention this not only for the fact the Leafs could buy him out, but a team like Seattle might be willing to buy him out for the Leafs. Again, I'd be worried about what that would cost.
There was talk that there were teams interested in Mrazek a while back and if that ship hasn't completely sailed we should never speak ill of the hockey gods again.
Happy Kampfers asks: Does Dubas make a

trade

like the Foligno

trade

last year or does he go back and

trade

for player(s) that aren't in any big rumors. If so who do you think it could be.
Dylan: There's growing chatter that Hampus Lindholm in Anaheim is one of Dubas' primary targets on defence. And I think if he can offload Mrazek's contract then it's not a stretch of the imagination to see him try to get their backup goalie Anthony Stolarz included in the deal, 21 games played this year with a career high .919 save percentage, and he's signed to under a million next year. If a big name on D isn't available, that's probably the move I'd look to make in KD's shoes.
Mark: I think Dubas might be a little gun-shy about adding another aging vet rental after the Foligno deal blew up last year. That's not a move you can keep making year-over-year from an asset management standpoint.
I think the Leafs would benefit from adding another top-6/9 LW to help mitigate against another offensive no-show in the playoffs. Tomas Hertl is now off the board, so Brandon Hagel or Andrew Copp would be fine consolation prizes.
I do wonder if Mikheyev's a guy that might go the other way, considering he's on borrowed time here with a looming raise we're unlikely to pay.
Just please no Ben Chiarot or Max Domi, please.
Michael: It all depends on the market and what the asking price is, because the Leafs don't have a lot of bullets in the chamber as Dubas said the other day. I think Chychrun would still be a home run add, Jacob Middleton would make a lot of sense, and so on. They may surprise us with a move for a different player but that guy addresses the need perfectly. All I can say is wait it out and see what transpires.
Jon: I think the nature of Leafs coverage means we've probably at some point talked about whatever player the Leafs are going to end up bringing in so if I'm truly going off the board with names, I'll go back to Arizona and suggest that the Leafs might look at someone like Christian Fischer as a potential bottom-six toughness, and Scott Wedgewood as a goaltender who is having an underrated season and could slot in along with Jack Campbell and Petr Mrazek down the stretch or replace one of them. When it comes to names that haven't been talked about much, I guess it's also worth considering that Kyle Dubas tends to make a good number of trades with the Columbus Blue Jackets, and we haven't talked about many of their players at all. Jack Roslovic is an intriguing option, and there was a time that the Leafs were considered to be big fans of Andrew Peeke as well.
Hockeyphreak asks: Giroux, Konecny on the Leafs, yes or no?
Mark: Konecny intrigues me because of his age, term, playing style, and currently-lowered value. If the Leafs were going to move one of their best future assets in a long-term play like this, I would be able to stomach it much more than using it on another 34-year-old rental like Claude Giroux, as effective as he still is.
Nick Barden: I'd say no to both. Neither of these players really fit the Maple Leafs plans at this point. As Jake Muzzin slowly returns from injury and with his cap not going to LTIR, it limits the amount of moves Toronto can make.They both would be solid adds that could help, but they're also right-wingers, which the Maple Leafs have a ton of. It's also the fact that Toronto's right-wingers are very good and it wouldn't make sense to add another, just to move Jason Spezza and Wayne Simmonds down the depth chart. Especially when the left side needs more work.
I would say that there's no chance this happens. But as always, you never know.
Jon: I'm also interested in Konecny, but also the small outside possibility that Chuck Fletcher would be crazy enough to make Sanheim or Provorov available. We'll focus on the ones you mentioned though. Konecny at his best answers a lot of the needs for the Leafs, but there is also the fact that he doesn't play with the consistency you'd hope to see from him. He's also got a cap hit to worry about and probably won't come as cheap as someone like Hagel. Giroux is just a straight-up no for me because I think there's no chance he's anything other than a rental, and the price is going to be too high, especially when you get around to third-party salary retention.
Shane B asks: Gio – what's it cost and how does the rest of the lineup look if acquired (barring outbound assets). Could he reunite with Brodie and is that the best fit? If so, what does the rest of our D look like? Can he play right side?
Mark: I'd imagine the Kraken will be hoping for a first for Giordano, but seeing what Josh Manson went for and considering Giordano's age, perhaps a 2nd + B-level prospect would be enough to get it done.
Pairing him with Brodie would be the obvious move due to their history, but I wonder what he could do to help stabilize Justin Holl, much like Jake Muzzin did for Holl last season.
I have a hard time getting super excited about acquiring Giordano since the left side of the Leafs defence does not need much attention, assuming Muzzin is able to return for the playoffs.
Nick B: For the Maple Leafs to get Mark Giordano, I think it'd cost them a second-round pick and some sort of pick or prospect. I think that he makes a lot of sense for Toronto. Putting him with former teammate TJ Brodie would mean it's come full circle, and it might give him another reason to play harder for this team. You also cannot forget about all the veteran leadership Giordano brings. If there was any place that Keefe was going to put him, I'd say it has to be beside Brodie.
I think if the Maple Leafs can do it, they should. Looking at the number of defencemen available ahead of the deadline, he might be the cheapest, but also the sleeper pick. I believe he could bring a lot of value to Toronto.
Jon: I think Mark and Nick nailed the price aspect with the exception of the Leafs might look for a third team to eat even more salary for them. That certainly helps on the contract front but adds a bit more to the purchase price, likely a 2023 4th or something of that nature.
When it comes to rentals, Giordano is probably the rental defenseman worth getting excited about, maybe even more than Hampus Lindholm if you want to believe in the power of intangibles.
I don't believe the Leafs would play him with Brodie (immediately) and instead would be relying on Giordano to prop up someone like Sandin the way that Brodie has propped up Holl.
With that, we close the TLN Trade Deadline Mailbag. It should be a fun couple of days (fun is relative), and tell us your deadline predictions in the comments below.