Actual picks, newfound cap space, and goalie woes headline day two of the draft for the Leafs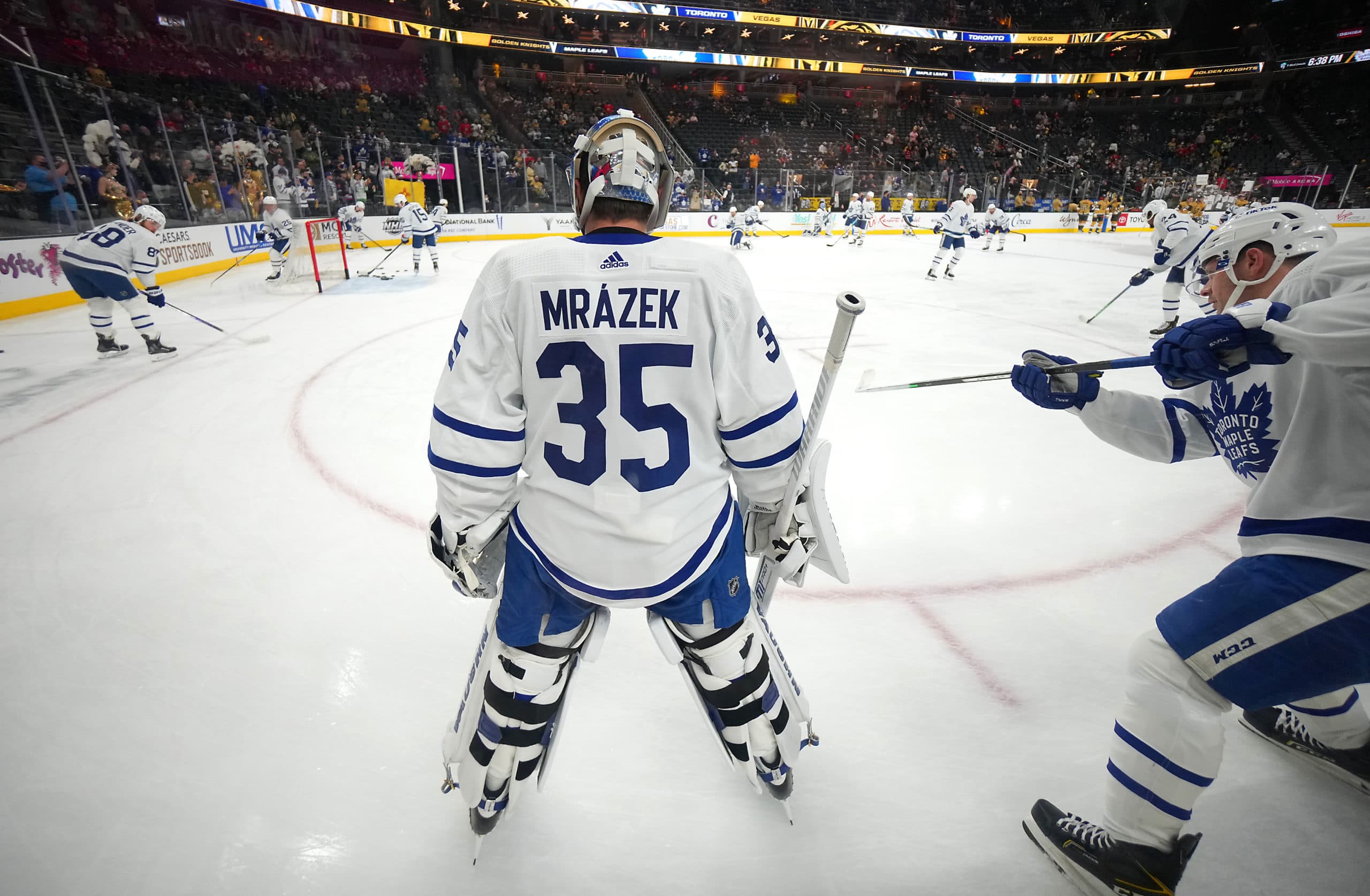 Photo credit:Stephen R. Sylvanie-USA TODAY Sports
First the bad news, the Leafs once again end the first day of the draft without making a selection. The good news is the Leafs did end the first day without Petr Mrazek and freed up $3.8M in cap space. They'll also still be picking 38th overall and have the opportunity to select a first round caliber player who just didn't quite make the cut. It's not a bad piece of business by Kyle Dubas and the Leafs, but the @Petr Mrazek situation still leaves a bitter taste in my mouth, but that could just be from wanting the immediate payoff of a first round pick last night. 
The Leafs cap situation is now revised to see the Leafs sitting with about $12.6M in space (we won't gift Kallgren, Abruzzese, or Clifford roster spots just yet) to fill 4-5 forward positions, including @Pierre Engvall, one defensive position (@Rasmus Sandin), and two NHL goaltenders. That is still pretty tight even if the Leafs primarily need bottom six forwards, a cheap backup, and two should be reasonably priced RFAs.
Despite that, the $5.5M of cap space represented by @Justin Holl and @Alex Kerfoot could be explored today. No specific mention of either player has come up in trade rumours at the draft, but there is a growing market for defensemen and Kerfoot is bound to have a suitor or two over the next week.
If the Leafs have $18M to prioritize a goaltender and rework the depth parts of their lineup and possibly even snag another worthwhile top of the roster player along the way it could be a strong summer.
As for the picks, the Leafs are up relatively early and some of the names that stand out are Luca Del Bel Belluz, Owen Beck, Jagger Firkus, and Gleb Trikozov. Not that there aren't other players available that are solid options, but the two Mississauga centers and arguably the two most talented wingers left would be my starting place for the Leafs.
There is also a lot of reason to be optimistic about the third round pick as there are more than enough solid players available to start the second day.
Related: 
The main story that is going to surround the Leafs today and likely into the coming week is the lack of NHL goaltenders under contract for next season. There seems to be a desire to panic about this and deal with it swiftly and the idea of revisiting @Jack Campbell has come up as well, although that seems like a commitment to an underwhelming 2022-23 season.
While the Leafs can't wait until the goaltending market dries up, they don't need to force themselves into continuing their relationship with Campbell or immediately overpay to check off that they added someone. There are options out there and the Leafs are a more attractive option than a lot of teams that are hunting for goaltenders. If Dubas can get his guy tomorrow he will, but I suspect the question will continue through the weekend on who will be occupying the crease for the Leafs.
As for other takeaways from day one that might carry into day two of the draft and beyond.
The Chicago Blackhawks impromptu decision to go full rebuild means that @Dylan Strome will be hitting the UFA market. This is a player that I (amongst others on the site) have been targeting as potential buy low candidate for the Leafs for a while and now seems like the time to act on it. Strome has a friendship with Mitch Marner, is from the Toronto area, and was recently spotted at a Blue Jays game. We'll pretend all of that means he's at least a little interested in playing in the city.
As for what Strome brings, he's an option to carry another capable center who can either line up on the wing or down the middle and enhance the depth at one of the most critical positions. He's no speed demon, so I see appreciate the comments about adding him to Tavares' line, but he should be someone capable of thriving with Nylander or give the Leafs an option to try Marner away from Matthews on occasion. Evolving Hockey's contract projections put him at about $4.6M AAV for 3 years, but it seems like with the Blackhawks walking away from Strome there is some potential to get him cheaper.
There are also some quotes from Dubas last night that warrants some dissection:
On the surface, this quote doesn't look ideal, but it's also fair to say that Kyle Dubas wants to motivate this duo to come to camp ready to push for NHL jobs, make the most of having a new goaltending coach and clean slate with Curtis Sanford, and there's no way Dubas is putting his cards on the table when teams like New Jersey, Edmonton, Washington, Detroit, and others are all actively searching for goaltenders.
Of course, if he does mean one of them is slated to be the backup, that's a scary thought and somehow even worse than the Garret Sparks experiment.
While Dubas has stated a willingness to double back around to Campbell, again it seems very clear that he's looking to new options. With Marc-Andre Fleury off the board, but a price that seemed a little too steep for where he's at in his career, and Georgiev on his way to Colorado, that pretty much means Husso and Kuemper are still the dominant names on the free agent market to consider, and Blackwood and Gibson stick out as potential trade options. There is also a lot in between. Jake Allen's name started coming up today. Cam Talbot might not want to share the crease with MAF, and the Wild might not be able to afford that tandem. There's still the possibility of an Oettinger offer sheet, and plenty of Holtby, Comrie, or the odd man out in Washington options available too. There isn't a rush. Yet.
Related:
What would a strong second day of the draft look like from the Leafs?
If the Leafs can avoid a head scratching pick at 38th overall, that is going to do wonders for this fanbase. I feel like I want my head scratching a little because I want to believe that Dubas and company have thoughts that go beyond simply the next name on our draft lists, but I in particular want a center and I'm interested in seeing who they've identified.
For the picks in the third and seventh round, pretty much more of the same, but it would be great to see the Leafs walk away with a center or two and if there is a goaltender that Curtis Sanford wants to work with, I think you try to find him one so he's got something to look forward to while Leafs Nation heaps insurmountable pressure on him as his fixes all of Toronto's goaltending problems.
I'd also hope that we see some additional cap space materialize in either an Alex Kerfoot or Justin Holl trade. A team to watch will be the Kraken as they now have a couple of promising young centers in their lineup, and hold 4 2nd round picks, as well as a third round pick. At times it seemed the Kraken would be interested in both of these players, and it is probably just a matter of getting them to waive their no trade clauses for discussions to begin. Maybe this is a little too matchmaker-y, but there is also a lot of cap space to work with in Seattle and it will be interesting to see how they use it.
Beyond those things it gets into wishlist territory. It seems like the second day of the draft is when teams really get talking and there was certainly a lot to digest from last night that teams will want to respond to. Dream big, but keeping expectations low seems like the best course of action.