A big debut weekend for Brittany Howard and the Toronto Six: PHF Weekend Roundup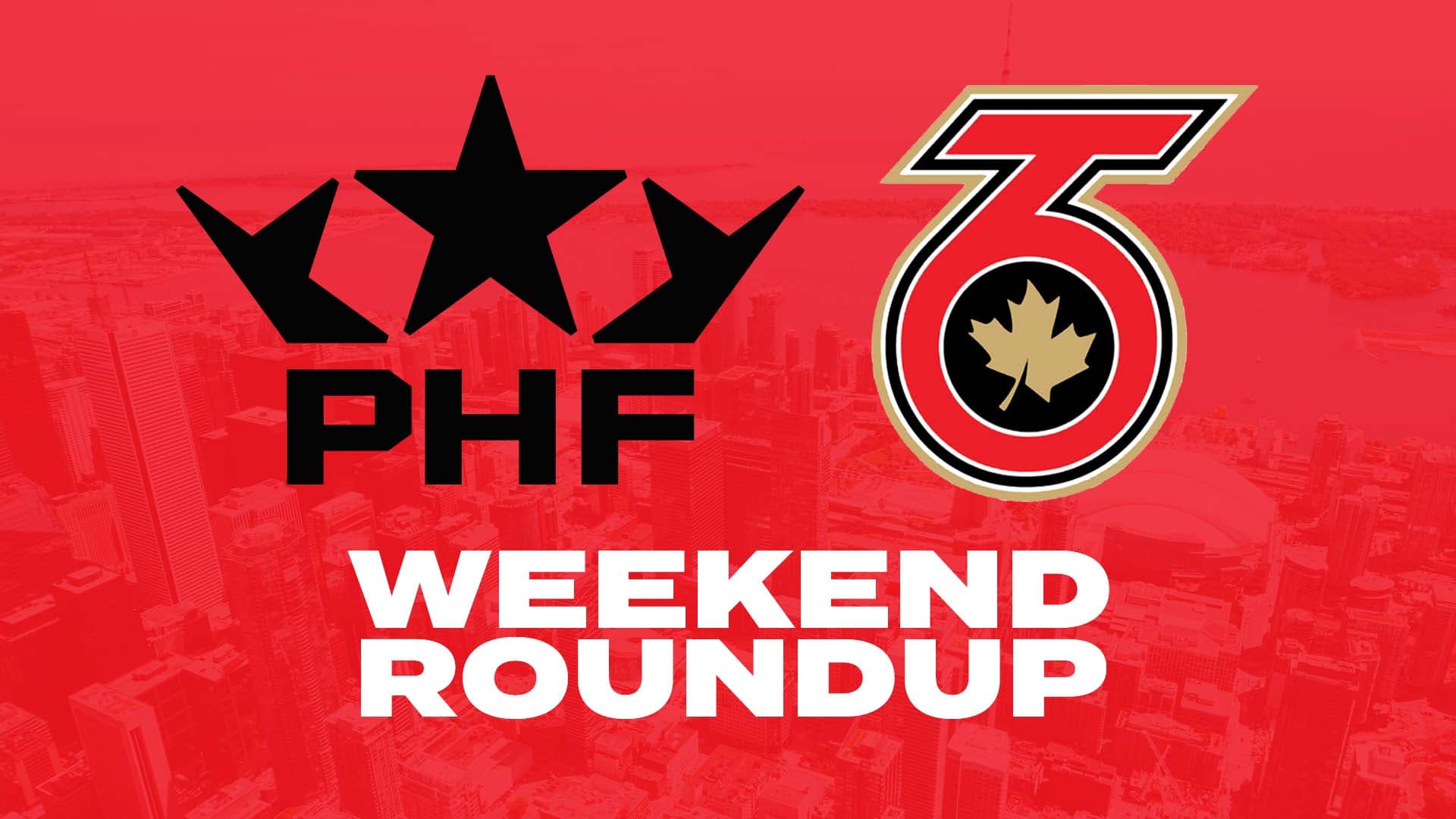 Photo credit:Nick Barden
In opening weekend of the Premier Hockey Federation's Season 8, the Toronto Six got off to a great start with a pair of wins against the Minnesota Whitecaps on this past Saturday and Sunday. This is the 3rd year of the franchise's existence, and the last two years gave them some great momentum to continue with. That clearly carried into the weekend, with the pair of W's for Toronto.
Starring in the show this weekend was
Brittany Howard
, who scored 3 goals and a primary assist over the two games. What an incredible way to debut with her new club, after she moved away from the PHWPA Toronto organization where she spent the last 3 years.
Saturday November 5th
Let's start things off with the review of the season opener, which was a sold out crowd, thanks in part to an Athleta promotion that made the game free to attend. Here's how the Six lined up for that contest:
Some interesting things to notice here. The first think I found interesting was
Dominika Laskova
, listed as a defender both on the Toronto Six's website and on Elite Prospects, is playing center on a line with fellow Olympian Leah Lum, and fellow Czechia teammate Teresa Vanisova. An interesting choice from head coach Geraldine Heaney.
Strange happenings aside, the Six played a really strong game against Minnesota in this one, and it was a hard fought contest. The game went into overtime at 2-2, when Howard finished the game off in OT with her second goal of the night.
For the full game highlights, the video below has you covered.

There weren't 3 stars named, but some key performances in this game include:
A goal and an assist for Minnesota's Natalie Snodgrass
2 goals and an assist for Toronto's Brittany Howard
A goal and an assist for Toronto's captain Shiann Darkangelo
25 saves on 27 shots (92.6%) for Toronto's Elaine Chuli
For a team with a lot of newcomers making their debuts, not to mention some delayed returnees in Greco and Cava, they look cohesive and ready to have another strong season.
Sunday November 6th
With their head coach unavailable for this game due to suspension, the Six had to make due with the staff they had available, and ensure not to make the same mistake of dressing 19 skaters instead of 18! They correctly managed to do that, with the following lineup for this contest:
Surprisingly, Taylor Davison, an all star for Toronto last season, sat out this contest, while the Six rolled the traditional 12F 6D lineup. One would have to imagine they'll find a way to (legally) get Davison into the lineup, either rotating in for one of those 6, or rolling 11F 7D.
This one was another close contest, led by another fantastic performance from Elaine Chuli. The highlight of the game for me was this great move at the net front by Leah Lum off of a sweet feed from Tereza Vanisova. The newcomer line of Lum-Laskova-Vanisova has clicked really well to start the season:
For full game highlights, the PHF has you covered:
As mentioned above, Chuli closed out the weekend with yet another game over 92% save percentage, to earn herself a 1st star in this one. She's well on her way to another Goalie of the Year award in this league.
Final Thoughts
Minnesota likely will not be the toughest opponent Toronto faces this season in the PHF, as they try to rebuild from the loss of star Allie Thunstrom to the Boston Pride. Their team is young and talented, led by the rookie Snodgrass, but there's still work to do there for GM Chi-Yin Tse.
For Toronto's effort though, they played spectacularly and the coaching staff did a splendid job pulling all these new faces together. The Six were no doubt facing an internal question of how they would feel this season with so many new people in new roles up and down the organization, but it all looks to be running smoothly so far.
Toronto is on a bye week next weekend so they won't play again until November 19th and 20th, against the Metropolitan Riveters in their new mall arena at American Dream in East Rutherford, New Jersey, the same complex that hosts the New York Giants and Jets of the NFL.
Their next home games will be December 10th and 11th, which I am planning to be in attendance for, so I hope that I'll see you there at Canlan Sports.
You can get your tickets here.