A brief case for moving on from Jack Campbell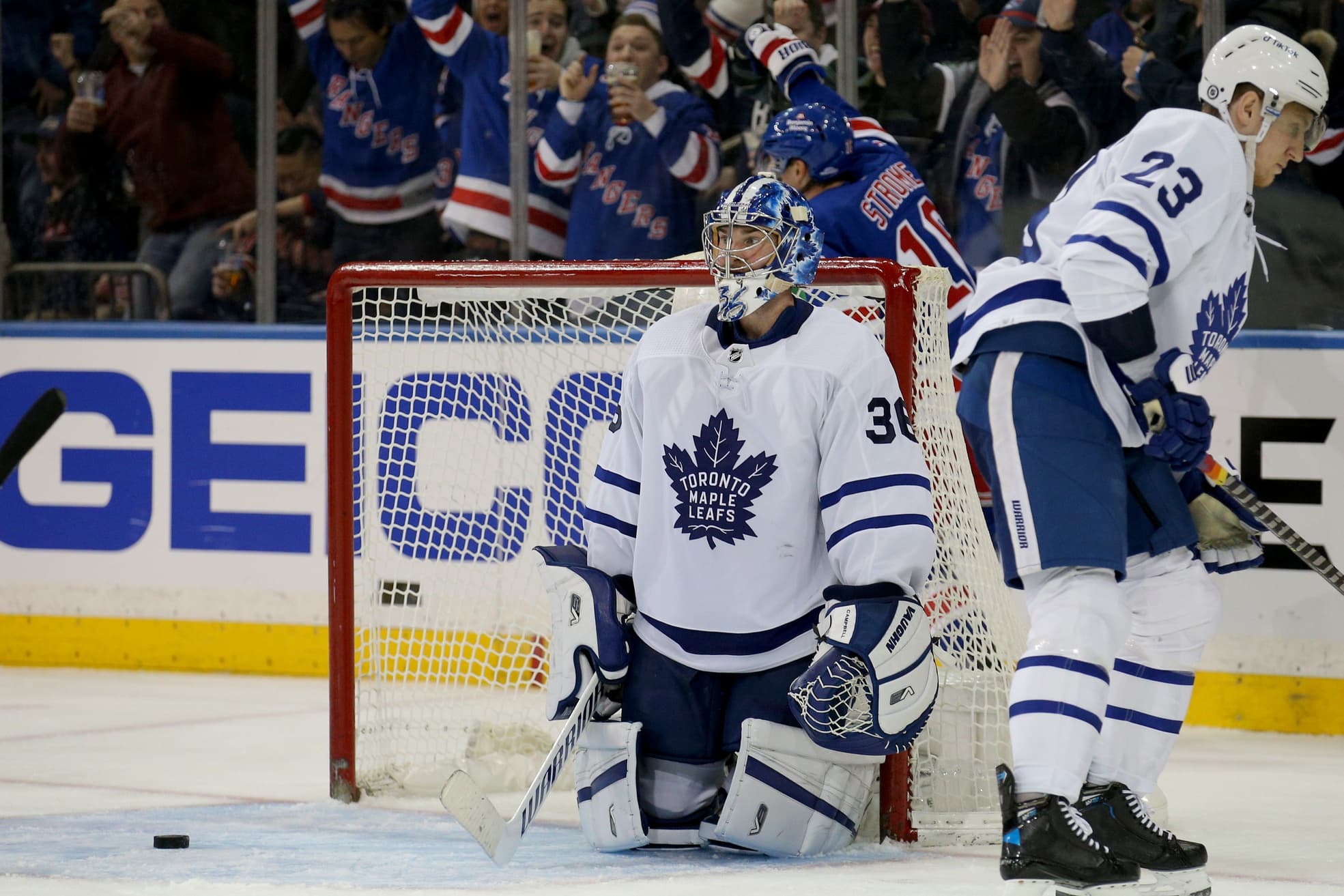 Photo credit:Brad Penner-USA TODAY Sports
There has been some panicking in the Toronto market as the draft took a number of goaltenders off the free agency and trade markets. Gone are Marc-Andre Fleury, Casey DeSmith, Ville Husso, and Alexandar Georgiev. The Devils as part of their move committed to Mackenzie Blackwood as part of their tandem, Braden Holtby seems to be leaning towards retirement or at least not playing in 2022-23, and even Montreal seems to be stubbornly clinging to Jake Allen as part of their goaltending duo. With the market shrinking and there being no shortage of teams, and teams with more cap space also looking for goaltenders there seems to be a growing sentiment that it is worth revisiting the idea of Jack Campbell in the Leafs net, that seems like a bad idea. Here's why.
First off, if Jack Campbell was going to be part of the picture it seems like it would have made sense for Steve Briere to have stuck around as well. If the Leafs were serious about maintaining the status quo, that would have probably involved using the coach already working with him. There's the potential that Curtis Sanford could see Campbell as the best option of who is left to work with, but he certainly didn't seem like the Dubas/Sanford priority a few days ago and it's unlikely that has changed.
There's also the fact that running back Campbell isn't as simple as running back Campbell. Campbell was a $1.65M AAV goaltender last season. As a $5M+ AAV goaltender and one that would likely require more term than the Leafs should want to give him, he is cutting into the depth of the rest of the organization with his contract. Is Jack Campbell with a lesser lineup something that excites anyone? Perhaps that is a tad overstated as the Leafs could potentially get Campbell for a little more than they were spending on Petr Mrazek and that might make the situation more palatable, but if the Leafs are going to pay for goaltending they probably want to pay for someone who will give them a higher level of performance than they can receive from Campbell.
Campbell is the devil we know, but the devil we know had a near the bottom of the league HDSV%, sub-zero GSAE, and while nudging him towards the workload of a starter the Leafs faced increased inconsistency and injury as the 49 regular season games plus the seven post season games were the second most games in a season Campbell played in his pro career behind his 58 games in 2016-17 played almost entirely with the Ontario Reign of the AHL. At 30 it's unlikely he'll be taking on a greater workload, though it's not completely out of the picture as goaltenders are a different breed.
There's something for trusting what the numbers show us on Campbell, and that was he had a strong start to last season, and as his workload increased he dropped from 32 games pre All-Star game last season to just 17 in the second half, and he dropped to a .894 save percentage in that second half. Campbell had three sub .900 months before rebounding in the final month after returning fully recovered and rested from his injury.
In summary, we know what the Leafs would have with Campbell, a goaltender who would function best as half a tandem, but one that is going to require term and contract that won't align with the direction the Leafs ultimately should be trying to go in net. It's not simply bringing Campbell back for another year when considering him as an option, it's committing to him for possibly four years or longer and arguably the Leafs will want to be improved in the position well before that. Accepting a bit of short term pain by even downgrading from Campbell to start the 2022-23 season is a move the Leafs have to lean towards for their best long term results.
The other piece there is the Leafs may only need to commit to starting the year with substandard goaltending. Depending on how the season shakes out there is the potential for decent goaltenders to be available as rentals approaching the trade deadline. Talbot, Quick, Jarry, Allen, Nedeljkovic, Varlamov, Andersen, Raanta, and Reimer are all headed to UFA status next summer and you'd hope some of them might be available.
It's not that Campbell is a bad goaltender, it's that he's a bad option for the Leafs. He doesn't meet the Leafs needs on workload, value, and term. And when it comes to results, they just aren't good enough to justify running him back.
Wherever Campbell's next stop is, I hope they have plenty of Red Lobsters in town.