A Look at a Leaf: William Nylander vs. the Canadiens (October 13)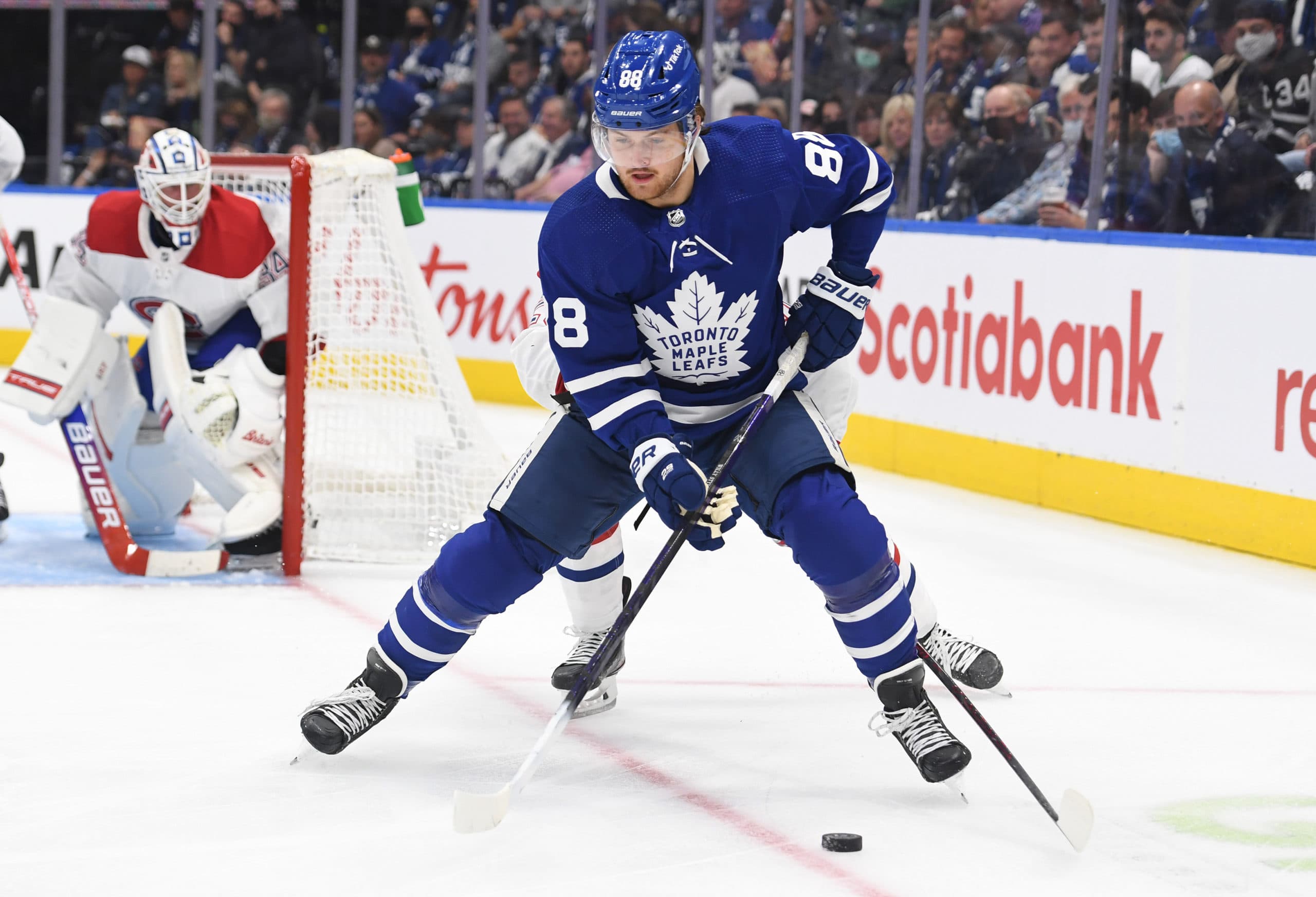 Photo credit:© Dan Hamilton-USA TODAY Sports
Well, here's to a new Toronto Maple Leafs season and a new series I had formulated in my head, in which I will focus on and breakdown one player's performance for (hopefully) a majority of Leafs games.
Some of these will be longer than others, some might not even be about a good performance, but I'm looking forward to it and to this upcoming season. Fans are back, we're getting an 82-game schedule as long as everything goes smoothly, so things are looking up this. The Leafs opened their season against the Montreal Canadiens on Wednesday with a 2-1 win and there was a good amount to breakdown. Specifically, who better to start this season with than William Nylander, who I think is poised to have yet another breakout season this year.
Nylander is always one of the most-talked Leafs and for good reason. He is coming into this season looking to build on a successful campaign last year that saw him net 42 points in 51 games. To be fair, the Leafs all faced a terrible, terrible fate in the playoffs at the hands of the Canadiens, but out of all the Maple Leafs in that series, Nylander was the one that performed best. Since netting five goals and eight points in seven games against the Habs, Nylander came out looking like he hasn't missed a beat since that series.
Nylander delivered in Wednesday night's season opener
win over the pesky Habs, picking up a goal (the game-winner) and generating a number of scoring chances. It may just be game one of the season, but it's already giving us a bit of a glimpse into what we might expect from Nylander this season. So let's take a quick look at Nylander's performance on Wednesday and just a few of the things that caught my eye.
Turning speed and opportunity into scoring chances
One thing I immediately noticed from Nylander on Wednesday was just how quick he is with the puck. We already knew this aspect of his game was strong, but he generated scoring chances several times, including a few really strong ones. Let's take for example the following play.
This one's really nice and honestly could have resulted in a goal. In the whole play, Nylander initiated the breakout and was just able to skate right into the offensive zone and in front of the net. It's a big slip up by the defenders leaving a high-calibre player open like that and it's excellent positioning by Nylander for a prime scoring chance. It's not the most complex play, but another reminder of his vision to see the wide open lane and take it. Nylander's been finding himself in the right place at the right times often and that's definitely something that has been contributing to his success.
In this next play, we see another example of him being quick on the puck, ready to pounce and finding openings.
The first thing I notice here is just how Nylander has no hesitation to get into it and create a strong scoring chance. He's strong on the puck, controls it well in the slot and is able to get the shot off. He also takes a quick moment, even in close, to recognize the screen in front of Jake Allen before taking his shot. That slight adjustment is something we see in the next play too.
He was the most dangerous Leaf on the ice during this game by far, with a CF% of 75 per cent and an XGF% of 86 per cent. When he was on the ice, the Leafs also held a 6-0 edge in high scoring chances. His ability to utilize his speed and catch defenders off guard was evidently used on his game-winning goal.
Coming off a line change, he was in the perfect position to receive a stretch pass, but he really turned on the jets to beat out the Montreal defenders. While driving to the net, he makes a small adjustment, like I mentioned before, faking out Jake Allen and catching him off guard. A nifty move showing off his skillset. It's his vision, mixed with his speed, that I noticed accelerating his play on Wednesday night.
Upping the physicality
Nylander has been criticized in the past for being a number of things along the lines of "soft", which I never truly understood. He has always been a chippy player to a certain degree, especially over the last few seasons, but I saw him really up that intensity on Wednesday night, taking another step in his game into becoming the type of player the Leafs need down low. Take a look at the following play.
His play on the forecheck was exceptional and I really liked his play in the defensive end. He's strong on the puck and he doesn't quit. It's a really nice play for something so small yet, so important. I'm really expecting a lot more of this type of play at this consistency.
Check out this other play, where he forces a turnover in the defensive end. Like I said, he has played this type of game before, but it's really nice to see in action time and time again. His play was pretty consistent for the night too, as he recorded a team-leading four takeaways on the night.
His leadership is showing
Finally, this is another thing I'm adding in because I think we all saw it. Nylander has been a polarizing figure on this team for quite some time, yet he has always shown up ready to compete and has led the charge on several occasions. Now, heading into his sixth full-time NHL season and seventh overall, he has definitely risen up the ranks and become one of the team's veteran players. He has the skill to lead and the upper edge on age over some of the team's other star players, like Auston Matthews and Mitch Marner. And while he doesn't have the 'A,' this is nice to see regardless of the expectancy of not being a part of the official leadership group, especially in the absence of Matthews (wrist).
Just look at him arguing the call in the clip below. Something so small and so routine in the game still says a lot. Going from a player finding his way in the core to now a player who has definitely picked up a lot of confidence over the last couple of seasons, I really think Nylander is poised to have another huge breakout season this time around. That is the confidence we like to see.
Even captain John Tavares took notice,
saying in an interview
, "He really wants to take on more of a leadership role and make that presence felt amongst the room…He just feels that responsibility. It's time for him to take ownership of some of those things and wanting to be involved in a lot more, whether it's off the ice or on the ice just with the consistency that's needed on a daily basis."
And when reflecting on himself, Nylander feels as though that's a role he can definitely step into this year.
"I wanted to become a little bit more of a leader on the team," Nylander said. "As I've gotten a little bit older, I've learned a few things and maybe thrown [myself] more into that role.
So Wednesday night was a success in more than one way for Nylander and the Leafs. We got a decent look at both a team and a player with a sizeable amount of expectations on their backs. There's still a lot to unpack moving forward, but for now, game one is in the books and another 80 games to see how Nylander and the Leafs excel–buckle up.