A number of Marlies may have played their final games in the Leafs organization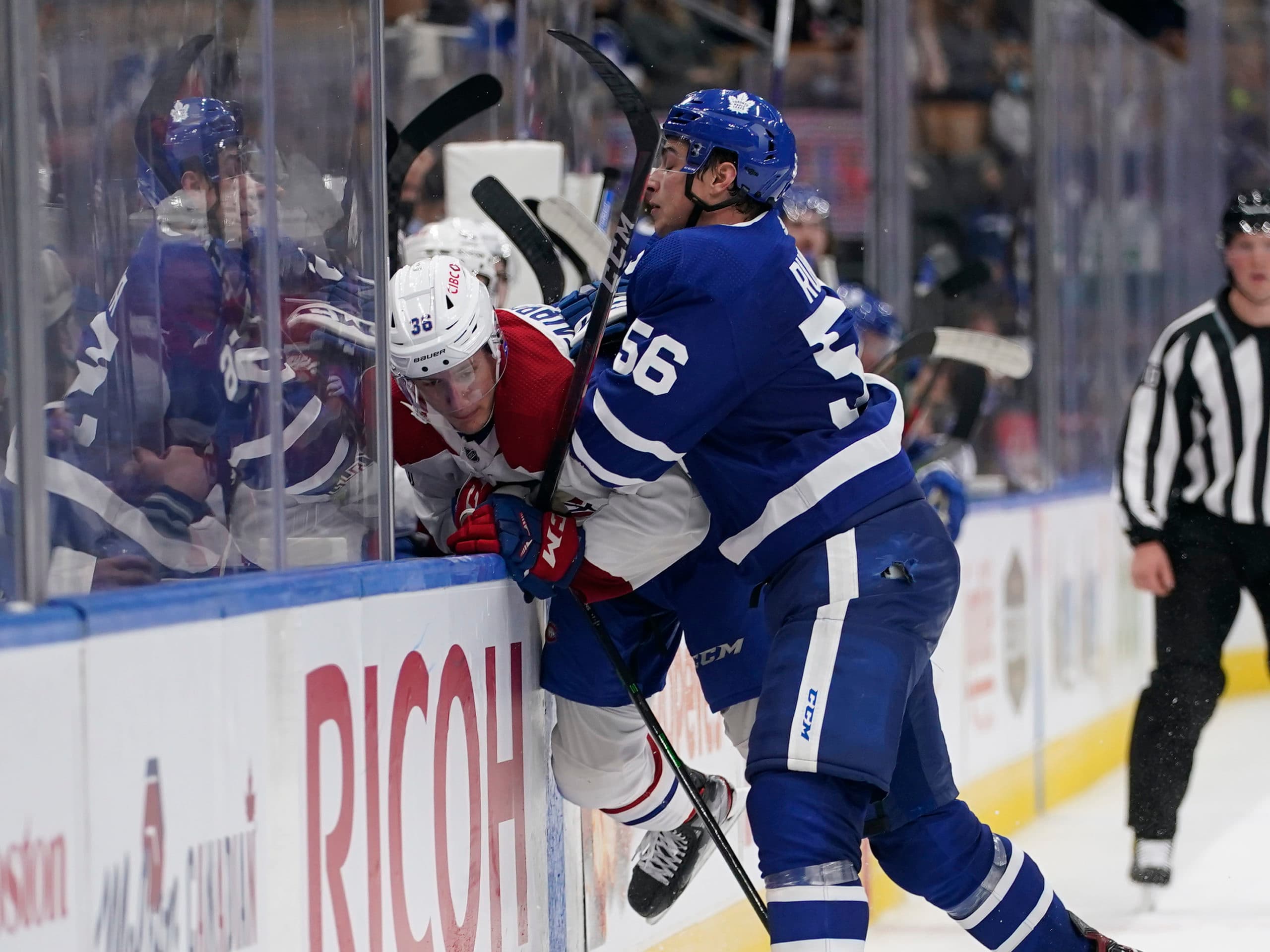 Photo credit:John E. Sokolowski-USA TODAY Sports
The Marlies' season came to an end last weekend. It's a bit disappointing following the number of years that Kyle Dubas and Sheldon Keefe, and even Dallas Eakins before them made the AHL team competitive on the strength of established veterans and a deep prospect pool. Ryan Hardy and Greg Moore have taken a decidedly different approach, and the Marlies have become a development first team and the priority seems to be given to making players ready for their time on the Leafs roster. Arguably this is the right approach, but you'd think a measure of success would still be the team qualifying for the playoffs. They didn't, but it's not the end of the world.
With the season coming to an end there is a need to look at the four unrestricted and four restricted free agents that may or may not be part of the Leafs' organization next season.
The most intriguing name of the group is probably Joseph Duszak. Duszak made the AHL second all-star team, put up 52 points in 61 games, and at 24 seems to be ready to take the next step. He's also a restricted free agent and easier to keep around. That said, he seems like he's going to be cut loose. As the Marlies fought for a playoff spot, Duszak was a healthy scratch and was primarily seeing time on the right wing down the stretch. He requested a trade before the trade deadline that never materialized, and Duszak wasn't added to the list of black aces for the Leafs in the playoffs. While there is some intriguing talent to talk about here, Duszak will also be 25 at the start of next season, and with both parties seemingly done with each other, it seems like a safe bet that we've seen the last of him. His TJ Brennan comparable numbers mean we'll probably hear a lot about this being a potential mistake and some worry that he might have success elsewhere, but organizationally he doesn't seem to be a fit.
Goaltending wise the Leafs have three goaltenders up for free agency. Carter Hutton is certainly not part of the Leafs' plans at all. Michael Hutchinson on the other hand is a player we can never rule out as a possibility to return. He's just not going to see a contract until other options have been exhausted over the summer. Perhaps it's time that he transitions to being an AHL contract guy.
The interesting goaltender is the often injured Ian Scott. He has barely been around the team during his contract, and now that it is expiring it might, unfortunately, be time to realize it's just not going to work out. For a player who put together an amazing DY+1 season in Prince Alberta and played his way onto the World Junior team, it's been a steep downhill ride since turning pro.
Teemu Kivihalme and Chad Krys are the other two Marlies free agent defenders who didn't receive the call to become Black Aces. Kivihalme always seemed like he was on the verge of being a potential seventh defenseman in the NHL and then had injury setbacks. Chad Krys was an interesting pickup for Kurtis Gabriel but didn't do enough to make himself an exciting option for the future, so this is likely the end of his road as well.
That brings us to the two Marlies free agents (along with Hutchinson) that made it to the Leafs Black Aces. Brett Seney and Kristians Rubins. Both probably still hold some level of intrigue for the organization, and in Rubins' case, as a restricted free agent, seems like a lock to be brought back.
Rubins has been an ECHL found wallet for the Leafs, and seems capable of being a future 7D option for the Leafs that can add some size to their roster. He received a couple of chances this year to get his feet wet, and next year it seems likely he'll be a more frequent callup.
Seney is a bit tougher to keep around. As a center who put up solid numbers in the AHL with 59 points in 62 games, and becoming a group six free agent, there will be options that Seney wants to explore. He brings a lot of energy, even if he is on the smaller size, and gets that he needs to show effort every time he's on the ice to have a shot at an NHL career. Teams appreciate that, and if there's a way to bring him back, he probably will be.
In many ways, the Leafs have already addressed the potential thinning of the roster. Max Ellis has been brought in at forward, and Pontus Holmberg will be over in North America next season too. Players like Axel Rindell and Mikko Kokkonen will get a shot on the Marlies as well, and potentially William Villeneuve will be brought into the fold rather than playing an overaged year in the QMJHL. Factor in the AHL signings, including Hobey Baker winner Dryden McKay, and it seems like the Marlies will have another very youthful, development-focused lineup next season. It's time to embrace the out with the old, in with the new model that likely helps the Leafs, but keeps the Marlies around the middle of the pack in the AHL.
POINTSBET IS LIVE IN ONTARIO
PointsBet Canada has officially launched in Ontario! Get a $25 free bet just for 
signing up right here!