Akhtyamov excelling in the KHL, Cowan scoring and scrapping: Leafs Prospect Roundup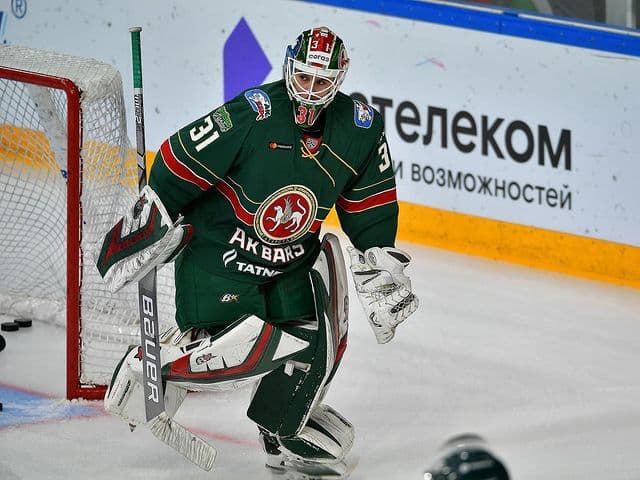 Photo credit:_akhtyamov_
There has been no shortage of prospect storylines for Leafs fans to follow through the early part of the season. There has been the continued progression of Matthew Knies, 18-year-old Easton Cowan turned heads with an impressive showing in his first NHL training camp, and 2022 second-rounder Fraser Minten forced his way onto the opening night roster when nobody expected him to even be in consideration so early in his career.
Those three have earned all the praise and notoriety they've received, but another Leafs prospect has had his spectacular start to the season fly under the radar a bit as he plies his trade away from the bright lights of Toronto.
Artur Akhtyamov established himself as one of the top young netminders in Russia a season ago, leading the VHL (Russia's second-tier professional league) with a .943 SV% and finishing with a 20-12-6 record in 39 games played. In many cases, those numbers would be enough to earn a look in the KHL, but Kazan's depth at the goaltending position meant that Akhtyamov was once again ticketed for the VHL to begin the 2023-24 campaign.
One player's misfortune, however, is often another player's opportunity, and it didn't take long before injuries opened the door to the KHL for Akhtyamov. He was recalled to serve in a backup role just a handful of games into the season, but after two games wearing a ball cap on the bench, another injury thrust Akhtyamov into action, and he hasn't looked back since.
The Leafs' 2020 fourth-rounder picked up his first KHL win back on October 1st, stopping 30 of the 31 shots he faced. He gave up three goals on 26 shots in a 4-1 loss his next time out, but he has gone 5-0-0 since. Akhtyamov followed up a 46-save performance last Sunday with another milestone in the rematch against Admiral on Tuesday, stopping 35 shots to earn his first KHL shutout.
With two more wins on Thursday and Saturday, Akhtyamov has brought his record to 6-3-0 to go along with a 2.10 GAA and a .937 SV% – good enough for the fourth-best save percentage in the KHL so far this season. Those numbers will be difficult to sustain over a larger sample size, and it's hard to say what will happen when Kazan has everybody healthy, but there is no doubt that Akhtyamov has taken advantage of his opportunity and proven capable of succeeding against high-level competition.
Akhtyamov is technically playing on loan after signing his entry-level contract with the Leafs in the summer, but a crowded depth chart in Toronto looks like it might have been a blessing in disguise. While fellow goaltending prospects Dennis Hildeby and Vyacheslav Peksa appear slated to battle for playing time in the AHL and ECHL, respectively, Akhtyamov is already gaining valuable experience and excelling with consistent reps in what is considered by many to be the second-best hockey league in the world.
Notes from the rest of the prospect pool:
Fraser Minten's NHL career officially began when he suited up for the Leafs' season opener against Montreal last Wednesday, but it didn't go quite as well as the preseason did for him, as he finished -1 with an xGF% of just 22.7% in 11:32 of ice-time. He looked much more comfortable in his second outing against Minnesota on Saturday, finishing +1 with a 63.1 xGF% while going 50% in the faceoff circle and playing 14 minutes. Minten has held his own in the early going, but it feels like he will have to do more than that in his next seven games to remain with the NHL club for the rest of the season. The Leafs likely won't want to rush Minten along, especially with a player like Pontus Holmberg waiting in the wings with the Marlies, but he has exceeded every expectation so far this season, and I wouldn't count him out just yet.
Speaking of waiting in the wings, Nick Robertson has started the AHL season looking rather impatient – but not in a bad way. He notched a pair of assists and fired six shots on goal in the Marlies' 6-5 overtime loss to start the season on Saturday and followed that up with a pair of snipes and another helper in a 5-2 win on Sunday. It's still very early, and staying healthy will be crucial, but Robertson looks like a player who doesn't plan on being in the AHL for much longer.
Easton Cowan has carried the momentum he generated through rookie camp and the NHL preseason back to the OHL. He made his season debut on Thursday and scored his first goal of the season while firing 10 shots on goal in an OT win against Peterborough. Cowan added a goal and an assist in a blowout win over Kingston on Friday and tallied two more assists in a losing effort against Sarnia on Saturday, giving him five points in his first three games. He also got into a spirited tilt late in Saturday's contest and handled himself quite well. Cowan and Flyers prospect Denver Barkey have formed a dangerous duo in the early going, both at even strength and on the penalty kill, and they look ready to lead the offensive charge for the Knights this season.
Pontus Holmberg was held off the scoresheet in the Marlies' opener but registered a goal and an assist in Sunday's 5-2 win. He lined up down the middle on the Marlies' top line, flanked by Robertson and Alex Steeves, and that trio played a big part in their club's first win of the season as they combined for seven points. As mentioned above, Holmberg could be ticketed for the NHL if and when Fraser Minten is sent back to Kamloops. He didn't hurt his standing over the weekend.
Michigan split a weekend set with UMass, and Nick Moldenhauer lined up at right wing on the third line. He picked up his first NCAA point with an assist on a scramble play in front of the UMass net. Moldenhauer started on the second line, but he is the type of player who is likely to be moved around the lineup throughout the season, not only because he is a freshman but because he is a versatile forward who can make plays and get after it on the forecheck.
Nikita Grebyonkin went quiet with no points for three straight games but he got back on the scoresheet in Metallurg's 4-3 OT victory on Sunday. His first point was a secondary assist after a nice zone entry on the powerplay, and he went on to score his seventh goal of the season to tie the game late in the second period. Grebyonkin has continued to impress, and is now up to 11 points in his first 19 games of the KHL season.
2020 seventh-rounder Ryan Tverberg lined up on the Marlies' fourth line with Joe Blandisi and Kyle Clifford and registered the first points of his pro career with a goal and an assist in Sunday's win over Utica. Tverberg is an intriguing player, not so much because of his offensive ceiling but because of his speed and tenacity. It is encouraging to see that translating to points early in his AHL career, however, and continued production will help him earn more opportunities to climb the depth chart.
Blueliner Noah Chadwick has continued his strong start to the season in Lethbridge, notching three points in four games last week. His first multi-point outing of the season came on Friday when he scored a goal and added an assist in a 4-3 loss to the Moose Jaw Warriors, and he is now up to seven points in just eight games so far this season. Chadwick is well on pace to surpass the 20 points he put up in 67 games a season ago, and the Leafs have to be pleased with what they've seen from the 6'4″ defender they drafted in the sixth round this past summer.
Rather than keeping him with the Marlies or perhaps the Growlers, the Leafs opted to send Braeden Kressler back to Flint for an overaged season in the OHL. An undrafted free agent signing, Kressler has missed significant time with various injuries in the last couple of years, so letting him go play a prominent role with the Firebirds proved preferable to having him battle for playing time at the pro level.
Statistics from EliteProspects.com & Evolving-Hockey.com