Alex Kerfoot is good, but sometimes you have to trade good players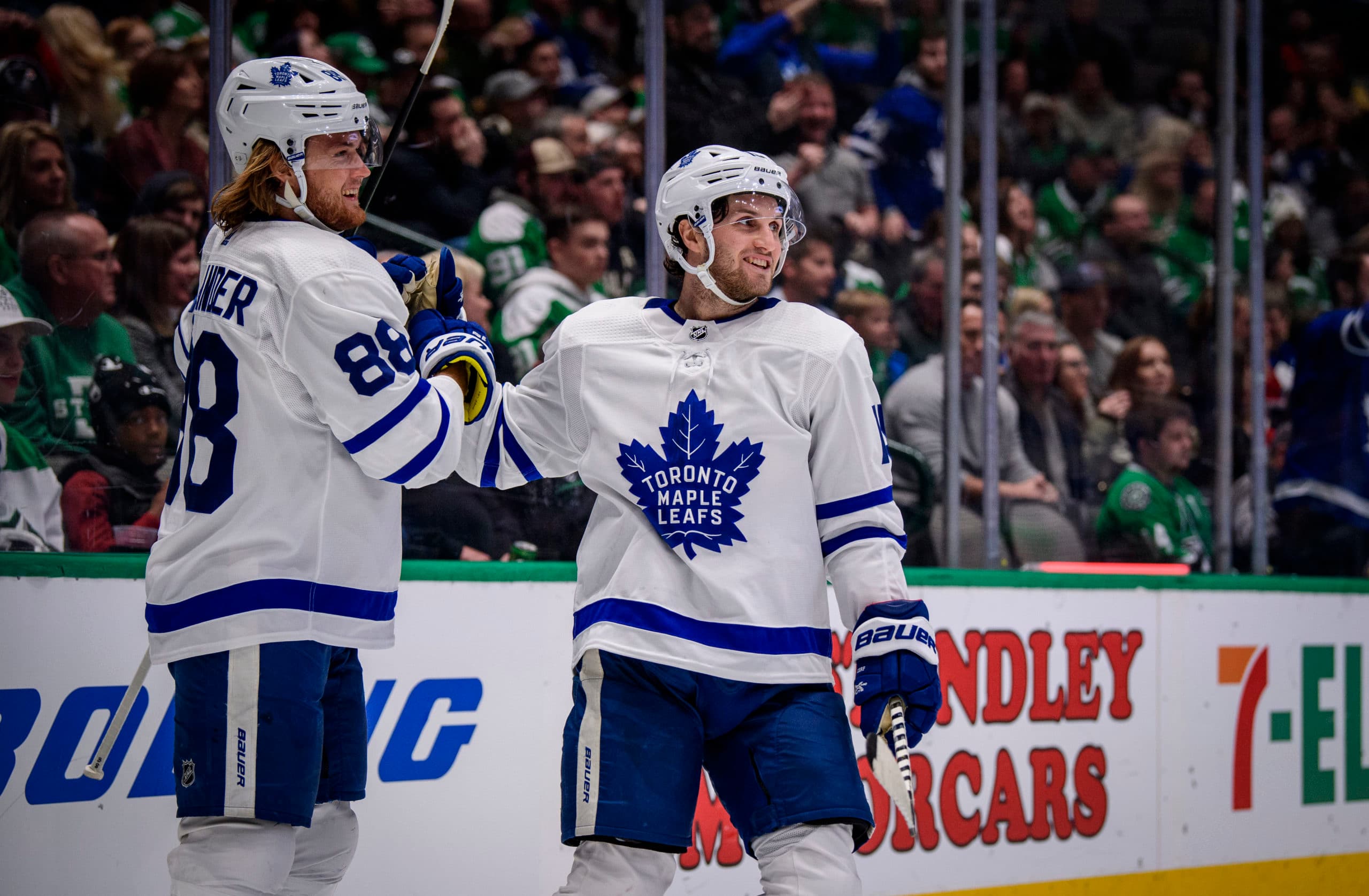 Photo credit:Jerome Miron-USA TODAY Sports
Alex Kerfoot had a career year last season. Good for him. After a couple of years of feeling the weight of expectations for not being Nazem Kadri, he had a year he could hang his hat on. Unfortunately, Nazem Kadri really had a season and Kerfoot still had to feel the weight of that trade, as unfair as that is.
Still, Kerfoot had a good productive season putting up 51 points while only averaging 15 minutes a night and only getting second unit power play time. For the Leafs he was a chameleon, never really having a set spot in the lineup, but constantly blending into his surroundings, either as Tavares' winger, or a part time center during Auston Matthews' injuries, and Kerfoot spent plenty of time in the bottom six as well, but managed to produce in those situations too. He fit into the power kill philosophy on the penalty kill, and was generally pretty good. At $3.5M he has value, at only $750k remaining to be paid on his contract, he's an absolute bargain.
It's pretty easy to see that Kerfoot brought a lot to the table last season and even in the years prior to that was a very serviceable middle six forward. Even if Kerfoot isn't living up to his career year he adds value to a team. For the Leafs though, it seems they need him to be at his career year levels. In fact, there seems to be a lot of banking on a career year or better for Leafs players this season and that's a tad frightening.
The Leafs have an apparent interest in keeping Alex Kerfoot, as discussed by Frank Seravalli earlier this week. There is interest in him around the league, but with a definite shortage of top six talent in the free agency market, the familiarity with Kerfoot makes the case for why he'd stay.
That said, it feels like the easy way out. It's also committing to once again losing an asset for nothing via free agency, and with Frank Seravalli already speculating that Kerfoot will be a $5M player on the free agent market next summer, and Evolving Hockey's model seeing him as a $3.91M AAV for four years, Kerfoot doesn't make a ton of sense in the long term.
There's also that chameleon thing about Kerfoot. Kerfoot was a good fallback option in any situation the Leafs needed him to be in. He made the Leafs feel like they had depth even when Toronto was pressed to the cap. That was good, but in many ways, the biggest need is a stable, strong presence on John Tavares' wing, not just the swiss army knife option. Moving on from Kerfoot allows the Leafs the opportunity to try to address that vacancy by freeing up $3.5M of cap space to do so.
Now, $3.5M does give the Leafs a lot to go out and find their answer either. And that's where I can appreciate the desire to stick with what the Leafs already know. Players like Danton Heinen, Sonny Milano, and Ryan Donato all have the potential for some savings, but haven't been as good as Kerfoot and don't really offer any upside beyond mild cap relief. Nino Niederreiter is the ideal target, but the Leafs would need to find additional cap space beyond Kerfoot to make that work, but is probably the last name left for the Leafs to consider that offers the Leafs a skillset they need and can be considered making a splash this summer. It's worth noting that Niederreiter's is Kerfootian, and was actually below Kerfoot's point total last season, but it's no secret the Leafs would like some size and heavy hockey in their top six.
It might be less about dumping Kerfoot and then shopping free agency as it might be finding a fit within the teams in worse cap situations than the Leafs. A flip of Kerfoot to Tampa for Killorn frees up cap space for them and gives Toronto an upgrade. The same could be said of Sam Bennett in Florida or Conor Garland in Vancouver. Do the Leafs pursue someone like Jonathan Marchessault? Seemingly there are options out there.
There also are teams like Calgary, New Jersey, and Dallas that all likely have more cap space than they'd prefer to. They will be looking to acquire, and if they are acquiring someone like Kerfoot, that frees the Leafs up to deal with those previously mentioned teams where they might be even more eager to deal when salary isn't coming back the other way.
I guess what I'm saying is there are options and options that seem better than banking on a career year and then letting him walk.
The actual options beyond my wild speculation can change things a lot. Frank Seravalli spoke about interest around the league in Kerfoot, but if that is 31 GMs trying to treat Kerfoot like a salary dump, that changes a lot. If these players aren't available, as they very well might be, we leave it me talking out of my ass and move on. What doesn't change is the fact that Kerfoot, like Holl and Muzzin, represents an opportunity for the Leafs to do something of significance this offseason, and while I can appreciate that there are people who don't believe that is necessary (quite possibly including Kyle Dubas) I don't agree.