Alex Kerfoot's contract is begging for him to be traded on July 1st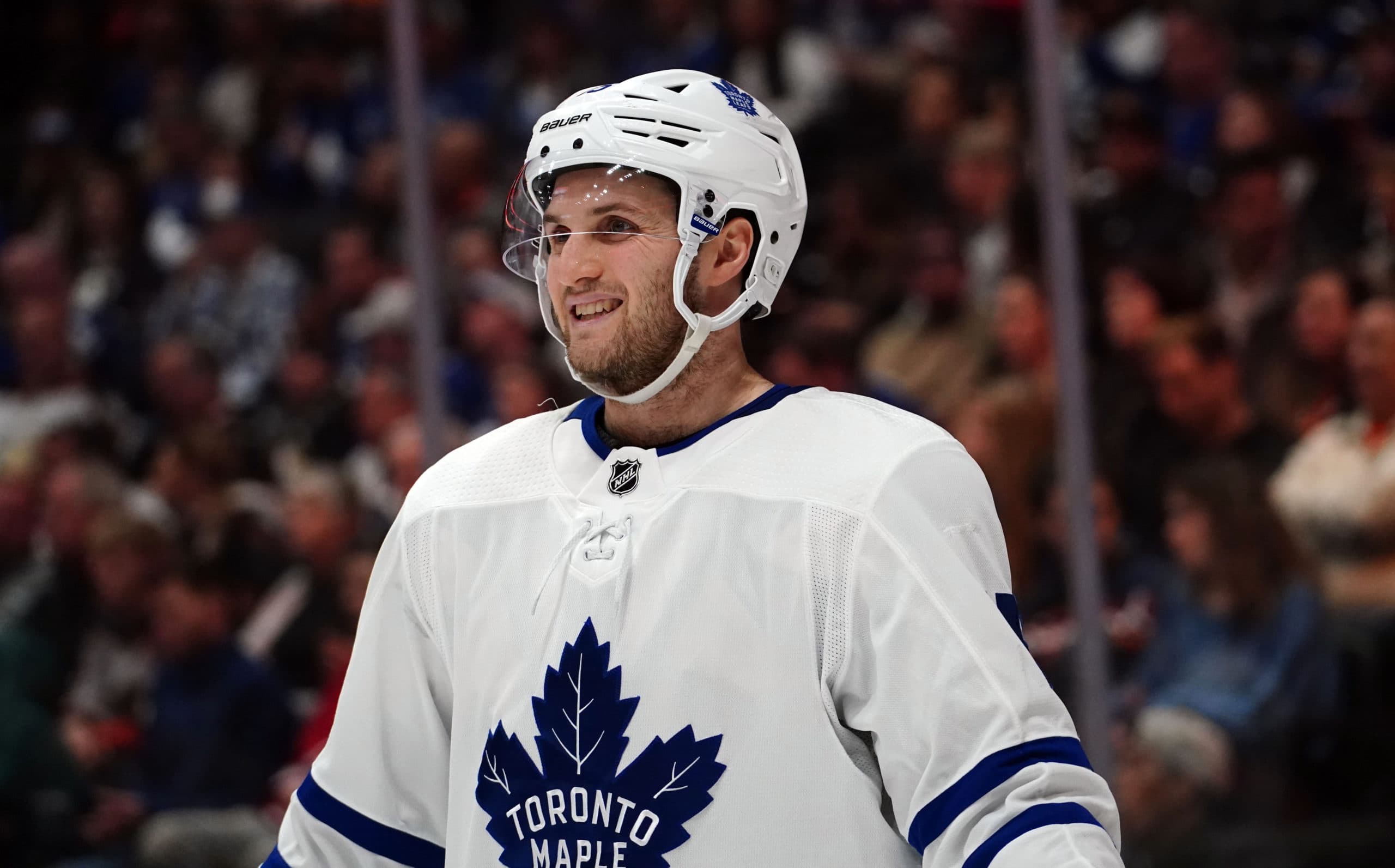 Photo credit:© Kirby Lee-USA TODAY Sports
This is my 1,560th post on this site. A number I just looked up in order to say, of the 1,560th posts I've written for this site, there is a good chance a quarter of them are in some way either saying Alex Kerfoot should be traded, Alex Kerfoot will be traded, or saying that Alex Kerfoot has better trade value than he gets credited for. This is a post touching on all three of those things, and while the subject of Kerfoot comes up in every article discussing the salary cap, I feel that Kerfy deserves a standalone post to his commitment to improving the Leafs salary cap situation next year and why he should potentially bring in a solid return for the Leafs in a trade. I feel a lot of this is stating the obvious so, we'll get right to it.
Alex Kerfoot's signing bonus is the reason for this post
If you haven't gone scrolling through the Leafs salary cap situation for next season yet, you might be the healthiest person of all of us. You'd also have missed out on how Alex Kerfoot's contract works for his last year.
| | |
| --- | --- |
|  Cap Hit | $3,500,000 |
|  AAV | $3,500,000 |
|  Performance Bonuses | $0 |
|  Base Salary | $750,000 |
|  Signing Bonuses | $1,950,000 |
|  Total Salary | $2,700,000 |
|  Minors Salary | $2,700,000 |
|  Clauses |  M-NTC (10 team no trade list) |
With $1,950,000M being paid to Alex Kerfoot on July 1st, that means any team that is acquiring Kerfoot is only paying him $750k next season. That's a hell of a bargain for the most cash tight teams, and the fact that he eats up $3,500,000 of cap space in the process would be a huge asset to teams like Ottawa, Arizona, Florida, and others. So at least in theory, this idea makes a ton of sense. There is however a significant catch to this, and that is Kerfoot's no trade clause. If Kerfoot wanted to, his ten team no trade list would be more than enough to keep himself from going to the teams that would put the greatest value on that trade-off. Presumably, this is what he'd do and as a result, his $3,500,00 cap hit starts becoming an issue again.
But wait, there's still a reason teams will want Kerfoot
Even at a $3,500,000 cap hit Alex Kerfoot is on a good deal. Of the players in the NHL who had between a $3M-$4M cap hit, Alex Kerfoot had the 6th highest point total. Roope Hintz had the best deal and when his contract expires he'll still be a restricted free agent, so it's safe to say he's not going to be someone Dallas parts with for a while. Bryan Rust, David Perron, and all slated for potential raises beyond their current cap hits. And Antony Duclair's contract is a steal and not likely to depart Florida this year as he has an extra year beyond what Kerfoot has. While there might be interest in the UFAs, Kerfoot is probably the best available cost-controlled option of the group that produced 50 points.
In theory, that's affordable production that every team can use, and the fact that Kerfoot has the potential to line up at center is something that is going to make him a commodity this offseason as well.
Couldn't the Leafs use a 52 point forward on a good contract?
Well yes, and the fact that Kerfoot has been able to fill in at center at times has been huge given the (rightful) lack of interest in moving David Kampf up into the top six. Kerfoot has been an excellent Plan B in many situations for the Leafs last season but never was the perfect fit anywhere. His ability to move throughout the lineup often meant he played with players that helped that point total, and ultimately while Kerfoot is a good player, taking Kerfoot's $3.5M of cap space and applying it either getting Sandin and Liljegren re-signed, or using it to bring back Ilya Mikheyev or Mark Giordano probably has more appeal than spending another year of trying to find a lineup fit for Kerfoot and letting him walk for nothing in free agency. In short, there are internal options that can be prioritized for the Leafs even before looking at free agency.
What would the return look like?
Honestly, the Leafs have a player who should clearly be valued at a 2nd round pick, and while the Leafs might want to make a hockey trade instead, a pick and $3.5M worth of useable cap space still has the most appeal. It's entirely possible that teams are going to try and look to the Leafs as needing to shed cap space and try to make low ball offers as a result, but if that's the case the Leafs would be wise to wait until free agency opens and let teams come to terms with what they'd be paying for a player similar to Kerfoot. (Honestly not a bad strategy if they want to trade Holl too.)
Looking at the totality of the situation it seems obvious this plays out with Alex Kerfoot having a new home. We've said this before and were even foolish enough to trust an outtake video from a fish market to believe it was happening. This time it feels like it has to happen, and even if teams like the Coyotes, Panthers, and Senators find their way onto Kerfoot's NTC list, there's bound to be one NHL team that has an owner that is encouraging their GM to save some money where they can while putting together a competitive team and that's going to mean interest.
The biggest hitch to moving on from Kerfoot is what it does to the Leafs top six center depth. Auston Matthews is obviously a staple, and if the Leafs intend to keep John Tavares at center, the top starting jobs are clearly spoken for. The challenge comes with injuries, and while David Kampf has shown himself to be a solid third line center, he certainly doesn't have the offensive attributes that the Leafs would want to use in the top six, and for that matter, the fourth line and depth center options are at best question marks as well. Messing with center means addressing center, and that could be a headache Kyle Dubas doesn't want, but probably has to accept as part of his summer.