All roads for the Leafs seem to lead to Mark Giordano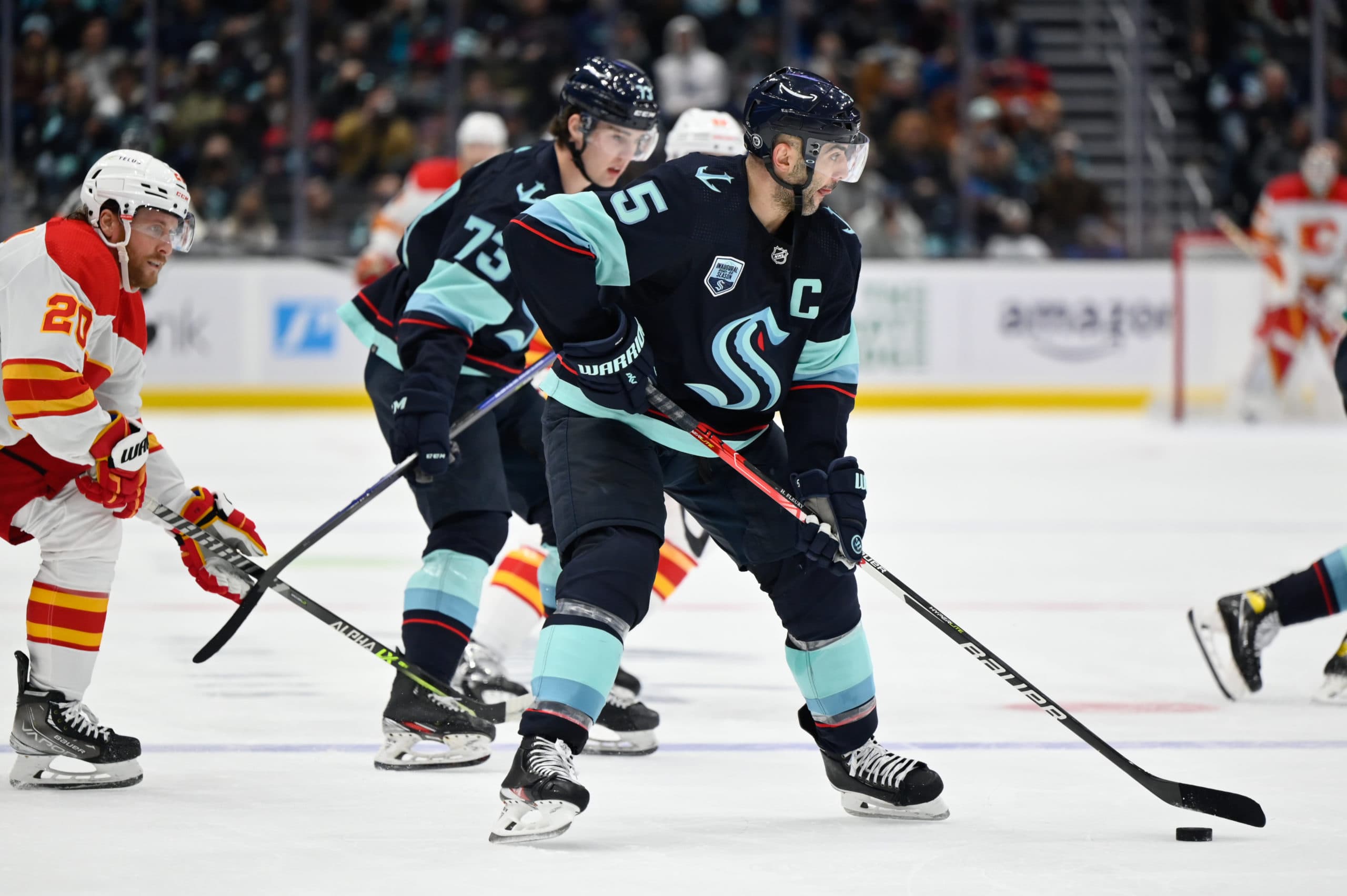 Photo credit:Steven Bisig-USA TODAY Sports
Leader. Local. Tough. Defense. These are the boxes that are being checked when we talk about Mark Giordano.
Surprisingly, as much as we've beaten trade deadline coverage into the ground, leaving nothing but a fine pulp of rumour and speculation behind, we haven't really taken the time to look at one of the most significant rentals out there.
For me, my blindspot to Giordano coverage comes from an unchecked bias towards rental players. I didn't always hate rentals, but with a flat salary cap it seems teams are backed too far into a corner to bring back the guy that they most definitely overpaid for at the trade deadline. There are few things that leave a sour taste in my mouth like the combination of a first round playoff exit, losing a first round pick, and watching a handful of Nick Foligno games. That said, you don't park every train over one train wreck, and the current state of the Leafs should put a lot of options on the table.
So let's look at the resume of Mark Giordano. He's three years removed from a Norris trophy, he's two years removed from the Messier Leadership award win. Despite being a UFA this season, Seattle thought so highly of Giordano they named him their first captain. He's played in three All-Star games, and if it wasn't for Martin St. Louis, he'd probably be regarded as the best undrafted player success story in league history. The biggest catch to Giordano is that he's 38 years old, but that doesn't matter a whole lot when he's a rental and playing at a high level of his game.
I guess when I say playing at a high level, I should qualify it with defensively…
Giordano's offense hasn't been there this year, but with the Kraken there really are limited opportunities to get that number up. When you look at the past three years of Giordano (a dangerous exercise on a 38 year old), his offensive numbers show a vast improvement as he moves to the 66th percentile, and his defensive numbers even improve to the 95th percentile, for an overall score putting him in the 86th percentile. That is not a bad player to pursue.
By the more conventional numbers, Giordano is still averaging over 21 minutes a night of ice time, down from a career average of 22:36. He's been good for 96 shot blocks, and 48 hits this year, but that hit total doesn't really account for the fact that Giordano is much more of a thorn in the side of the forwards he covers than we see with other Leafs defensemen not named Muzzin or Lyubushkin. He has 6 goals and 23 points this season, which is where his recent career numbers have settled in after his Norris career high total of 74 points, and Giordano has been a top unit power play quarterback as well as seeing the third highest average ice time of Seattle Kraken defensemen on the penalty kill.
Yeah, Mark Giordano is pretty good, and still pretty good. You really don't need me to tell you a lot about that. The sticking points are largely with his $6.75M cap hit, what it will cost to acquire him, and does he have a future with the Leafs beyond this season?
The first issue is somewhat resolved when you half the contract, as we'd expect Seattle to need to do. Giordano is really about acquiring someone with a $3.38M cap hit. The Leafs get to that number by demoting Sandin and Liljegren to the Marlies and sending Travis Dermott to the Kraken as part of the deal. I'm not saying that is what will happen, but it's how you get Giordano in your lineup that night (remembering that there would at least be a brief Jake Muzzin on the LTIR period before these demotions would become necessary.)
The next piece is trying to avoid Giordano being a pure rental. Given the talent that Giordano has and the fact that Toronto will have defensive needs beyond this season, is he worth continuing with despite his 35+ year old contract status. It's certainly a tricky thing with Giordano, but given that Toronto is home, TJ Brodie is here, and the Leafs have done right by other veteran players, maybe there is a fit that wouldn't cost the Leafs an excessive amount of money. That's assuming they want to keep him. Let's go into this hoping he does so well that's the case.
The only last issue that comes up is the desire for a right-shot defenseman over a left-shot. That seems like a small one as there are a number of Leafs that could line up on either side, and between Brodie, Lyubushkin, Sandin, Holl, Dermott, Liljegren, and possibly Rielly or Giordano. There are players that have at least shown the willingness to entertain the right side to give the Leafs the best six defenseman in the lineup they can put together.
There has definitely been a fair bit of Giordano talk, and while admittedly he wasn't one of the names I first thought of for the Leafs, he could be a strong fit and one of the few rental options that are worth exploring.