"Americans don't want to play for Canadian teams" and how that affects the Leafs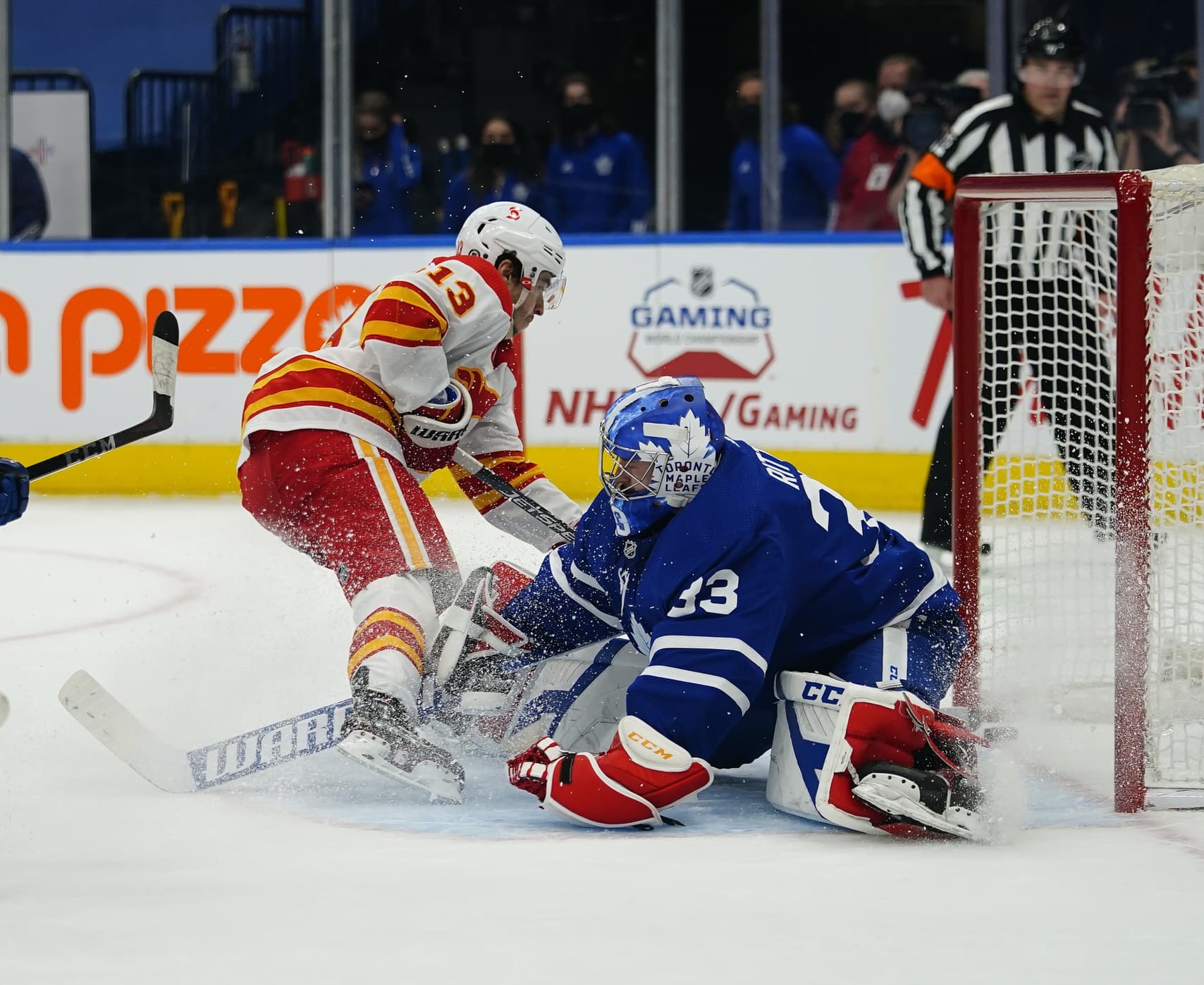 Photo credit:© John E. Sokolowski-USA TODAY Sports
Here's a topic that doesn't seem like it's going to go away anytime soon, and isn't really a new topic, just one that has been magnified by the departure of Johnny Gaudreau, and the possible departure of Matthew Tkachuk from Calgary, likely again to an American team.
Directly from Johnny Gaudreau in his Players' Tribune article today
, he left to be closer to his family. He's not going to be living on the same street as them, but that shorter flight, manageable drive, and schedule that will see him in the New York, New Jersey, and Philadelphia area a lot more often seems like he made a personal choice based on family. That's not him choosing America over Canada, that's him choosing his family over Canada.
In many ways, it seems to be the same story with Matthew Tkachuk. It has long been suspected that Tkachuk is finding the quickest path to free agency so he can return to play for his hometown St. Louis Blues. It just happens to be that St. Louis is in America, it's home. It's what he knows, and it's no different than Pierre-Luc Dubois trying to find his way out of Winnipeg so he can play in Montreal. It's not always fair to the teams experiencing these departures, but it's not exactly fair to players to be drafted and locked into restricted free agency for the next 8-9 years of their lives either. To some extent, I applaud that Tkachuk and Dubois are trying to take control of the situation sooner.
Of course, the situation isn't exactly a two way street, and for players of any nationality, there are benefits to playing in the United States. Quite simply, it's easier to be rich in America. The tax rates are favourable, things like out-of-pocket health care don't factor in, the housing market in most of the country isn't as ridiculous as it is in Canada, most of the country has preferable weather, and there is a greater possibility of having a private life than in Canada. Still, we know from Tavares, that it goes both ways. And worthwhile American free agents like Blake Coleman have recently chosen Calgary. At the end of the day, money and the chance to win still carry a lot of weight in the decision making process too, and Canada isn't screwed by borders.
So how does this affect the Leafs?
In the short term, I'd say it's enough of a reason to pump the brakes on your Matthew Tkachuk to the Leafs trade proposal. I'm sure it was a good one, and yes, I know that Tkachuk is buddies with Matthews and Marner, but I'm sure they have a meaningful group chat that negates the need to be in the same locker room.
In the longer term, well I hope you like the Auston Matthews wants to play in America narrative because it's not going anywhere and realistically it should be a very real concern for the Leafs. We are seeing a trend toward players making choices that are right for themselves, and what we know about Auston is he's very proud of where he's from and as arguably the greatest American hockey player ever (seems like it won't be arguable when his career is over) there is a real chance that Matthews wants to be the biggest hockey star in America. We've seen how much the NHL brands Patrick Kane in the US for years and Matthews would certainly have a chance to dominate in the same way, be the face of hockey on ESPN, and TNT, and be the face of any national brand that would dare invest in hockey. Those opportunities aren't here in Canada as brands like Canadian Tire, Tim Hortons, Scotiabank, and others prefer using Canadian athletes in their campaigns, and as big as they are, American brands are bigger and with deeper pockets. It's not necessarily Auston Matthews deciding he wants to go play in Arizona and hope they build a new arena, it's Auston potentially going somewhere in the LA, Anaheim, Vegas, San Jose area, or Matthews deciding he wants to be a star in a big American market like New York, Philadelphia, or even Chicago. He'll have options and doesn't need to find a contender. He's what makes the team he selects a contender.
That's not saying Auston Matthews is leaving, there is plenty of reasons for Matthews to stay with the Leafs as well. The first is Greg Wyshynski's favourite priority of "his stuff is here", but more seriously familiarity is a huge factor, as are the world class facilities and trainers that the Leafs provide. The fact that as a career Maple Leaf he has the opportunity to be the greatest Maple Leaf is one hell of a legacy to consider, and if he can bring a cup to Toronto he'd have a status that few athletes can achieve. That said, the Leafs have to be serious about giving him a chance to have that success. Money is likely going to be equal everywhere, but the Leafs are one of the few teams that will pay close to the entire thing in signing bonuses. There is a good chance the city has become home to him, but as with every other player in the league this will be a personal decision Auston will make.
So all that being said, the American factor is one to consider, but each player is different and is going to weigh their priorities differently and make a unique decision. From a Leafs perspective, it probably makes sense to consider what life will look like with or without Auston, because both seem entirely possible.