Another day, another chance to ask what Kyle Dubas will do next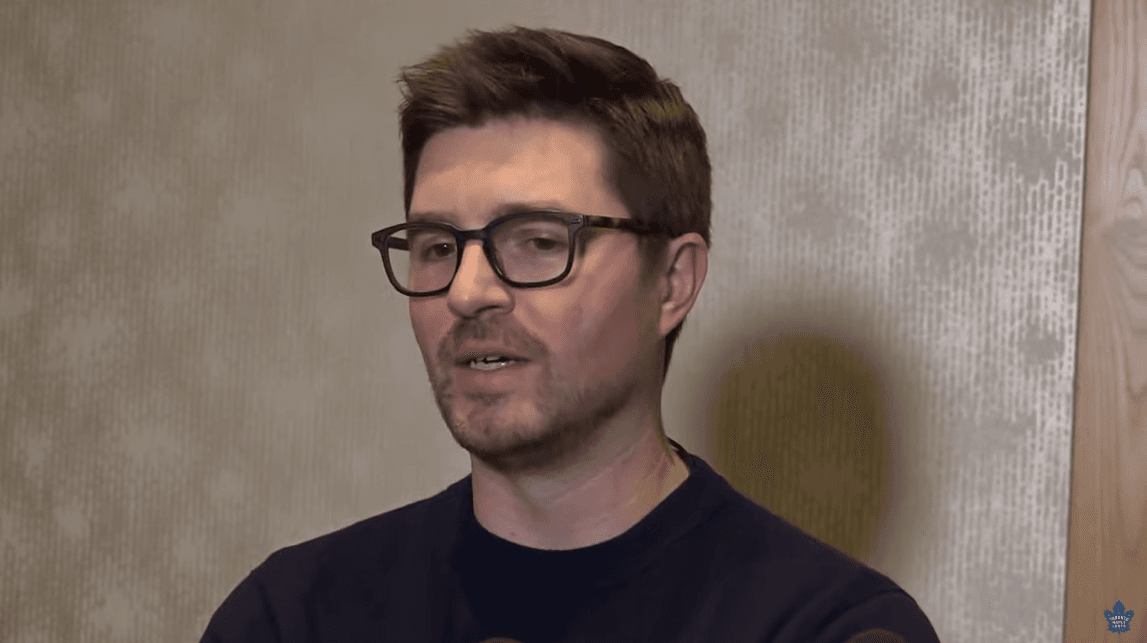 The Leafs need to get a top six forward who can also improve their center depth: ✅
The Leafs need a defenseman who can replace Jake Muzzin: ✅
The Leafs need players who play playoff brand hockey: ✅✅✅
Oh yeah, and here's Erik Gustafsson and a 1st too.
It's been a busy trade season for Kyle Dubas, and as I've mentioned before, he's creating a trade list that even the craziest armchair GM would worry that they've gone too far on. And honestly, there's no reason to believe he's completely done.
Why isn't Dubas completely done? I think most people will point to the nine NHL defensemen on the roster as the catalyst for another move. There's also the fact that the Leafs picked up another 2023 1st and that has to be burning a hole in Kyle's pocket, much to the chagrin of his amateur scouting staff. And of course, as long as Alex Kerfoot is a Leaf, there will be people believing that Alex Kerfoot is about to be traded. That seems like it could set the Leafs up for a busy Friday, assuming they are more focused on their games for the next couple of days.
The question now is what do the Leafs do?
I'm 100% here for the spirited debate about whether or not the Leafs need to do something about their goaltending. I am very much on board with Ilya Samsonov as the Leafs number one heading into the playoffs and I am comfortable with Joseph Woll throughout the regular season making sure that Samsonov isn't overworked. Any case that I have for the Leafs adding depth is likely rooted in Matt Murray, who may or may not be available, may or may not be at his best when he returns, and may or may not be able to take over the net for an extended period of time if Samsonov falters or is injured. It's entirely in that spirit an additional redundancy would be nice, but absolutely not required. Think more of a David Rittich situation than anything else, but if at all possible, avoid David Rittich this time around.
I'd suggest if they are cheap enough to acquire, Anthony Stolarz or Kevin Lankinen are potential fits, or if there is salary retention involved on players like Alex Nedeljkovic, who is already in the AHL, that could be an ideal option, again if you aren't burning through assets or cap space.
No one knows the Murray situation better than the Leafs do and they are understandably not wanting to divulge too much in this regard to the point of making it appear that Murray's return could be imminent despite reports from practice that he doesn't look 100%.
Again, a goaltender if necessary, but wouldn't it be great to not head down that route instead?
If they are going to do something that people want to see…
It seems like we're back to where we started at the beginning of the deadline season and we're talking about the Leafs being in the market for a scoring winger. The names may have changed but the idea is still the same although with the idea of the Leafs going three lines deep with scoring, but being capable of playing responsible team defense as well. I'm not sure the Leafs will be able to get their ideal physical player who gets the concept of team defense, and can produce offensively at the price they want to pay, but if they are looking more one-dimensionally and believe they have enough team defense and physical play already, they can certainly look at a number of options.
For me the list of who to consider is fairly short and based largely on who they can get that isn't going to cost them a lot either.
Conor Garland has to be one option worth considering. The Canucks were toying with the idea of buying him out and given that they haven't moved any of their term salary at the trade deadline yet, the Garland buyout could be a real thing. I wonder if the Canucks would simply eat enough of his contract that they can swap him out dollar in/dollar out for Alex Kerfoot knowing that Kerfoot's contract will be off the books soon enough and they'd be impacted by salary retention for a shorter period and with less money than how they'd be impacted by a buyout. The appeal here for the Leafs being that Garland has shown signs of being more and while not completely different than Kerfoot, he has a higher offensive aptitude.
Jakub Vrana is another player that a team is looking to unload, and the Wings couldn't give him away for free on waivers. Getting Vrana would be getting an offensive talent, but one that the Wings seem to be taking out a full page ad on to let the league know they don't like his work ethic. That might be a little too much of a challenge to unleash in a locker room that is poised for a playoff run, so it's understandable if Dubas looks beyond the numbers here.
Nick Schmaltz might be the best big target left and depending on how you look at it the fact that he has term is either a blessing or a curse. With the Coyotes apparently shooting themselves in the foot when it comes to the Chychrun trade, moving Schmaltz might be the best way of coming out of the trade deadline not looking like idiots. The price would likely start with the Leafs newly acquired first, but it might not go ridiculously higher than that.
To say that the market ends there is obviously not true. Players like James van Riemsdyk, Tyler Bertuzzi, Jonathan Drouin, Sean Monahan, etc. are all still very visible options for a team looking for offense, and it seems like with the playoff picture becoming clearer every day, some additional players might be sneaking into trade talks as well.
While I'm sure Kyle Dubas isn't ready to put away his phone just yet, I'll make the surely instantly proven wrong prediction that having a look at some of the new additions tonight and tomorrow will inform what we see on the final day of free agency.
THE DAILY FACEOFF TRADE DEADLINE SHOW
Join us on March 3rd for the Daily Faceoff Live: Trade Deadline edition as Frank Seravalli and the panel break down all of the latest rumours, news, and rumblings from around the NHL. The show will be live on 
YouTube
, 
Facebook
, and 
Twitter
 from 12 PM – 4 PM ET to keep you up to date on all things trade deadline no matter where you're watching from.