Are the Maple Leafs too OK with running it back next season?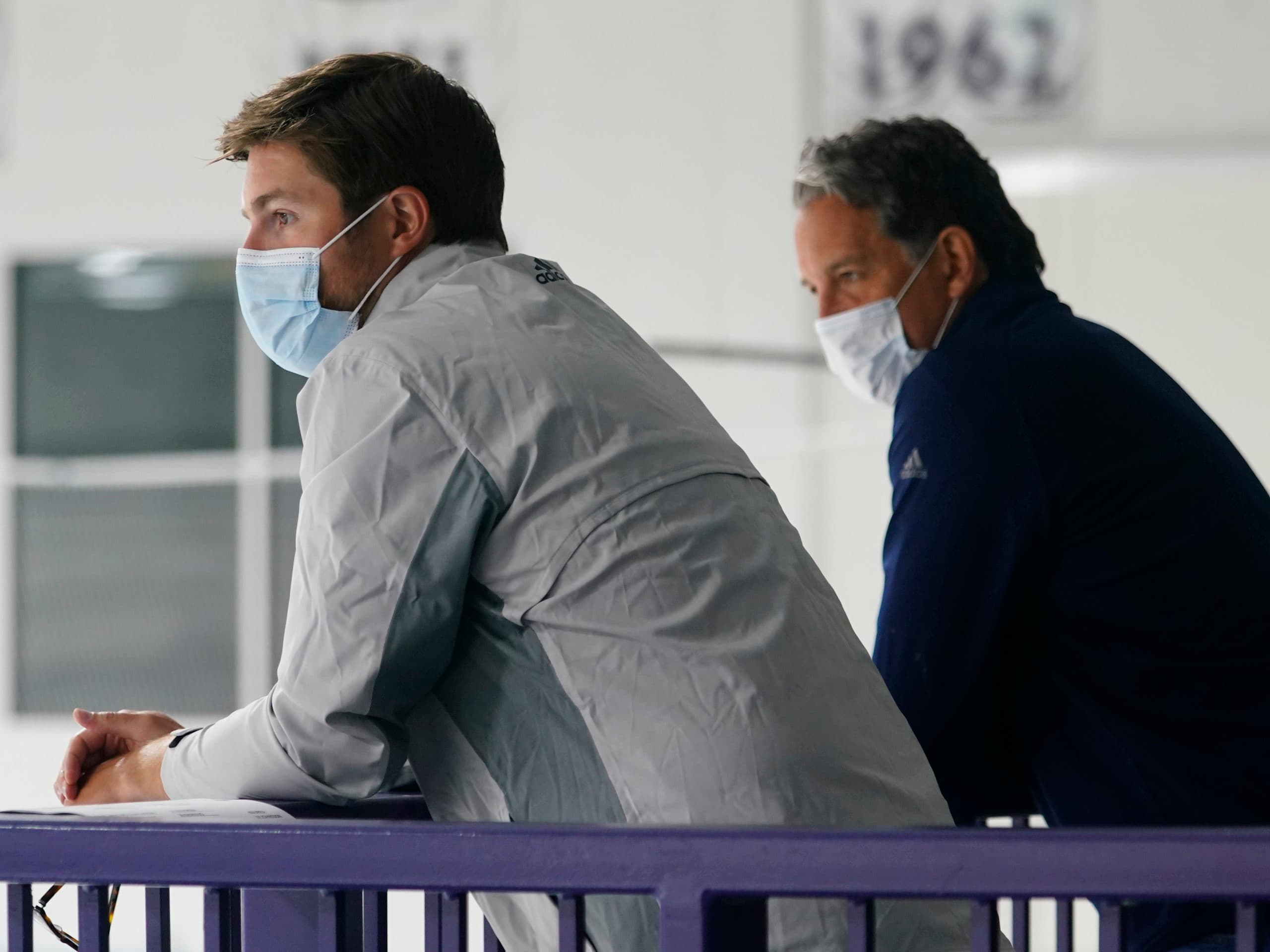 Photo credit:John E. Sokolowski-USA TODAY Sports
The Toronto Maple Leafs are keeping things more or less the same. And that's their choice to do so.
But following another opening-round exit, the team stressed confidence and belief in their group, even if that comes at the cost of hubris.
Following a bitter upset against the Montreal Canadiens in the first round of the 2021 Stanley Cup Playoffs, there was a strong sentiment among those who follow the club that anything less than getting past the first round was be deemed unacceptable and that changes would likely occur.
Well, it happened again, albeit with a better effort against the two-time defending Stanley Cup champion Tampa Bay Lightning.
But it still happened.
Maple Leafs President Brendan Shanahan stood on the stage for his season-ending media availability on Tuesday sitting alongside general manager Kyle Dubas. He quickly endorsed his GM, the man he first hired to be an assistant GM back in the summer of 2014, and head coach Sheldon Keefe.
"We're not going to make changes simply for the sake of making changes," Shanahan said.
He continued to express his disappointment for his team failing to win a round in the playoffs for the fifth consecutive year. While Dubas talked about the strides his team made in the regular season.
"We are proud of our progress that was made throughout the year," Dubas said. "However, we weren't able to take the key step, the most important step at this time of the year."
The Maple Leafs finished with a franchise record 54 wins and 115 points during the regular season and showed signs of visible improvement as a team. They overcame some early-season adversity when they fell to 2-4-1 to start the year. They earned the right to host their first-round playoff series with the Lightning and came one goal away from getting the job done in the overtime of Game 6.
But the team found themselves in the familiar spot of holding their end-of-year availability earlier than anticipated.
Yes, it felt like groundhog day. Although this year it was done in person and not over Zoom, thank goodness for that.
There seems to be one difference this time-around.
The Leafs seem to be open to changing up their core. It doesn't mean they'll actually do it, but they're open to it.
"If there is a way we can improve the team and become a better team, we'll do that," Dubas said.
This is a very different message to last year when Shanahan was steadfast in keeping the core-four players (Auston Matthews, Mitch Marner, John Tavares and William Nylander) with the club.
"We want to keep them here," Shanahan said back on June 2, "I think any team in the league would love to have any one of them, but we want them."
The obvious exception in those four players this time around is Auston Matthews, who was nominated for the Hart Trophy for the second consecutive season after scoring a franchise-record 60 goals.
One year removed from becoming eligible to sign an extension with the club, it's clear he's untouchable.
"We'd like to make him a Leaf forever," Shanahan said.
But apart from that, it's expected to be more of the same in Toronto.
Like last season, the Maple Leafs will have try and fill some holes. There are ten players that are free agents this summer.
Goaltender Jack Campbell, defencemen Mark Giordano and Ilya Lyubushkin, and forwards Ilya Mikheyev, Jason Spezza and Colin Blackwell are unrestricted free agents, while defencement Timothy Liljegren, Rasmus Sandin, and forwards Ondrej Kase and Pierre Engvall are restricted free agents.
Per Capfriendly.com, the Leafs have approximately $7.8 million in unused salary-cap space for 2022-23.
Barring any trades or buyouts, the Leafs are not going to have a lot of room or money. And while Dubas has done a tremendous job of finding value out of players like Michael Bunting (signed for another $950,000) and David Kampf ($1.5 million in 2022-23), he missed hard on goaltender Petr Mrazek. Signed to a three-year, $11.4 million contract last summer, the 30-year-old Czech injured his groin three times. When he was healthy, he posted an .888 save percentage in 20 games this season.
Now Dubas has two make sure he doesn't make the same mistake with Campbell. The 2022 All-Star is due for a raise over his $1.65 million salary-cap hit from last season. But is he worth the $5 million AAV he could command on the open market? That's the AVV the Los Angeles Kings signed goaltender Cal Peterson last summer. Same for the Boston Bruins signing of goaltender Linus Ullmark.
Although Campbell's overall numbers were adequate with a .914 save percentage this season, has he shown enough in 49 regular season games and seven playoff games for the Leafs to make a big financial commitment?
Not to suggest that signing Campbell to a high number is a mistake or not, but if running it back means making another making another miscalculation in goal, the Leafs could be in a lot of trouble next season.
Last year, the Leafs were insistent that they were going to keep going with their plan until they got the job done and ownership has evidently agreed by keeping the current staff in place.
There will be other decisions that need to be made.
Is Jason Spezza still a fit for this team? A healthy scratch for the first two games of the playoffs, the soon-to-be 39-year-old Mississauga native and management will have a discussion about his future in the coming week.
"This is the only place where I want to play," Spezza said.
Knowing his time in the NHL could soon be over and still in search of his first Stanley Cup, he seemed to be the most despondent of anyone in the organization about the early exit.
"To lose in the first round again, it's pretty jarring," he said.
Toronto-native Mark Giordano is likely to take far less money than the $6.75 million AAV he earned last season.
"I don't think it's a secret that I've enjoyed my time here," Giordano said.
The Leafs have chosen to stay the course following the fifth-consecutive year of playoff disappointment. But the fact of the matter is they didn't get the job done and there are many fans who seem to be ok with that.
That's a bit concerning.
With the exception of some bumps and bruises and some injuries that were played through, the Maple Leafs were fully healthy against the Lightning.
The Leafs did perform better and it's ok to stay the course. But some sort of change that improves the team is likely needed.
Running it back is ok. But how ok is it?
Right now, there doesn't seem to be a limit.