Are you still mad at the Leafs?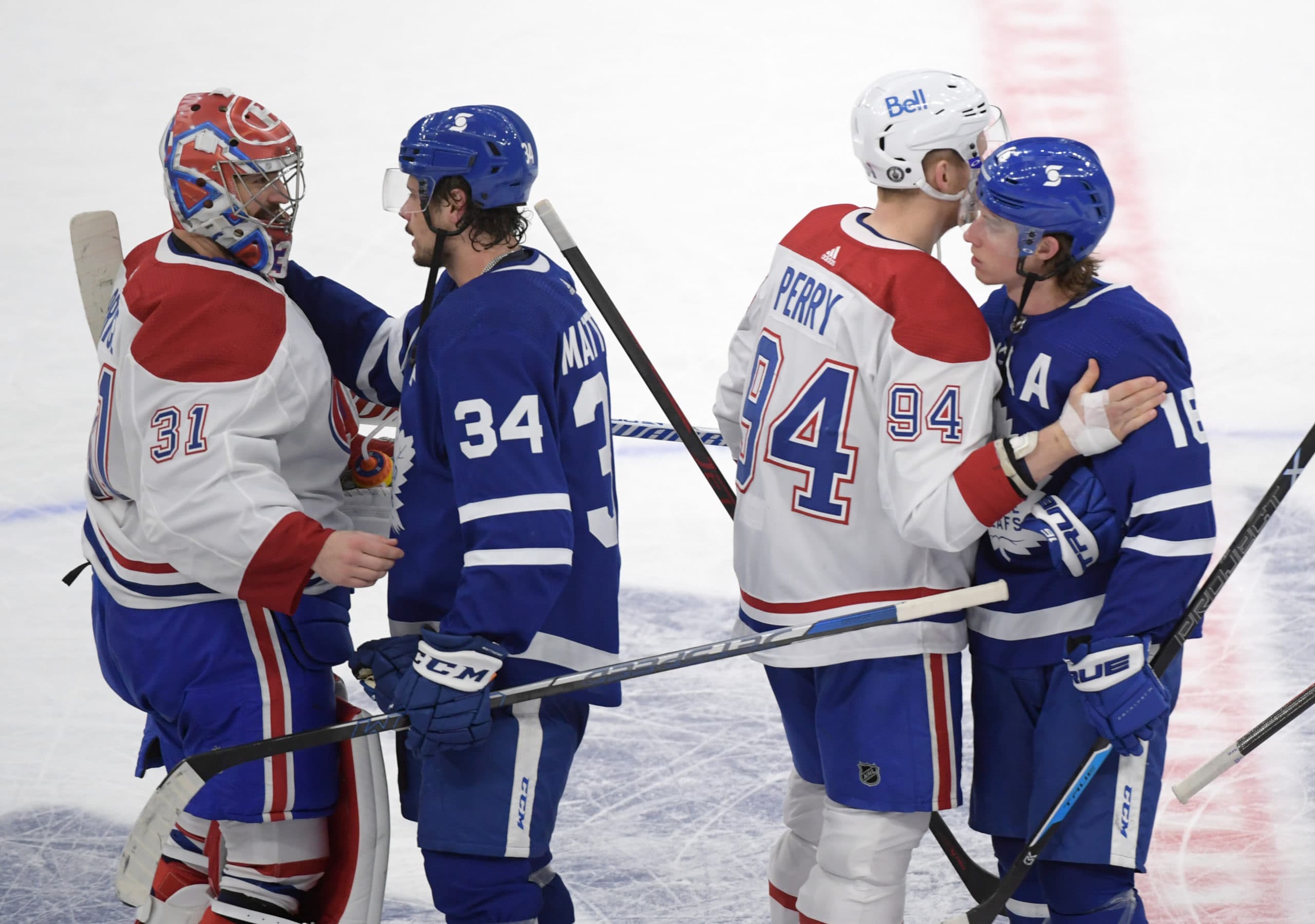 Photo credit:Dan Hamilton-USA TODAY Sports
It's been three months since the Leafs last game, their annual tradition of getting bounced in the first round, and they say time heals all wounds. They say that, but for pretty much every Leafs fan on the planet that wound has been open for the majority of their lives (I have to assume there is a 109 year old Leafs fan somewhere.)
So in the spirit of emotional health, this week I've asked the TLN Contributors the question, "Are you still mad at the Leafs and why?" For some of them the answer might be that they were never mad, and I've asked them to explain that too. The continued playoff failure and outright collapse against a historic rival were the breaking point for many, others will just land on the fact you can't lose a player like John Tavares in the playoffs and expect much. I envy those people who were able to move on so quickly. I'm a far angrier and irrational person.
Here is what the TLN crew had to say on the question:
Michael Mazzei
I come into this season with some mixed emotions about the Leafs. There's obviously the excitement of a new season and getting to see my favourite team return to the ice with the possible return of fans. But it's hard to shake the feeling of resentment towards the team because of how the previous season ended and how the playoffs unfolded. I guess it's my way of saying I'm not mad at them, but disappointed and not feeling completely pumped for another season of core that has yet to prove they can go on a deep playoff run. The only way I can ease the anger is if they change the narrative this postseason (assuming they make it) so I'll leave it at that.
Nick Barden
I was mad at them until they had locker clean out day. This past playoff lost may have been one of the hardest to swallow, but if you look back now, there was a lot of luck involved.
There's has to be a point where this team looks themselves in the mirror and says "enough is enough" and hopefully that was after they lost three-straight games to Montreal. If you're still mad at this team now, I bet once you watch 'All or Nothing', you'll be happy with them again.
Some of you are probably saying "I'm not going to watch All or Nothing." And to that I say: stop lying to yourselves.
Scott Maxwell
I wouldn't say I was ever mad at the Leafs so much as I've lost most of my faith and passion for them. That might change as the season gets closer, but at this point I have no desire to watch most of their regular season games, and honestly, they could go 82-0-0 and win every game 8-0 and I'll still expect them to lose in the first round. I'm very much at the point where they have to show me they can do it before I believe in it, because I'm done starting every season in the fetal position ready for them to kick me when I'm down.
Dylan Murphy
I think after a very long summer I'm finally ready to say that I'm ready to move on from the anger I've had at the Leafs since they blew Game 7. I'm still really disappointed, don't get me wrong, and I'm going to keep my expectations in check throughout the regular season but at the very least I'm ready to not allow my blood to turn to venom at the mere mention of the team or Mitch Marner's name (which is saying a lot considering I wrote a post-game 7 reaction article that said I never want to see Marner play another second as a Leaf). Life goes on and we are all consigned to our fate as Leafs fans. Go Leafs Go.
Mark Norman
The collapse to Montreal left me with such a bitter taste in my mouth. I still have these flashes of rage when I see "it was 3-1" tweets, but overall I think I'm just annoyed, disappointed, and out of patience.
It feels like we've blown all of our best chances, like in JT's first year when we still had AM and MM on entry level deals, or in summer 2020 when the playing field could not have been more level after a 4.5 month hiatus, or last season when our path to the conference finals for once didn't go through Boston or Tampa. We've lost so many good players to free agency for nothing, and ran out the time on valuable contracts with nothing to show for them. It's hard to feel optimistic when we're going to run it back with the same core and arguably worse offensive depth.
Like many, I'm going to have a hard time getting up for the regular season. I mean, I'll cheer when they score and root for them to win, but I'm definitely very gun shy about having any hope this year is going to be different. So win me back, Leafs.
Maybe I am still a little mad.
MerOutLoud
I'm not mad don't say I was mad I'm legit laughing or however the meme goes. But truly, I wasn't ever really mad. I wrote a whole post about my disillusionment with the team and league in general, and that's how I felt. Disappointed, obviously, but my level of caring seriously deflated. It was like a balloon popped and I just couldn't bring myself to care as deeply as I once had. I'm still there, more or less, but I'm hoping that with the season starting and my expectations being nonexistent, I can try to enjoy watching the game without the pressure of it all. Let's see how that goes.
Jori Negin-Shecter
Like a disappointed parent watching their child make avoidable mistakes over and over again, I gotta say that I'm not mad, I'm just disappointed. The Maple Leafs come into this season in worse shape than they were in last year, boasting less forward depth and a defence core that is another year older and another year more banged up. Even the goaltending, which was a definite strength last year and is deeper than last year, is something we shouldn't be banking on being above average given the position's volatility. More than ever before, this is the Core Four's team, and the team will go as far as that group takes them. For the first time since 2015-16, I truly could not care less about the regular season. Get it done when it matters this coming spring, that is, if they're even going to make it to dance this coming April.
Filipe Dimas
Absolutely.
Fool me once shame on you, fool me twice shame on me, fool me every single year by finding brilliant ways to set new lows, shame on all of us.This team has shown time and time again that any time it faces the smallest amount of adversity it completely gives up and stop trying, so it's hard to justify continuing to cheer for a team that can't cheer for themselves. We saw it when they lost the Zamboni driver game, we've seen it in countless late-game collapses, we saw it when the powerplay dried up for months at a time, and we see it every year in the playoffs.
This team is good on paper, they're exceptionally good on paper even, and everyone knows it. Because of that, they've developed this mindset that everything should come easy to them and when it doesn't they aren't willing to make it happen.
They are the bad guys in a children's movie where a team of children and a cartoon frog who can't even skate must win a hockey game to save their community centre. The moment things don't go exactly as planned they begin to fall over themselves in 60 minutes of what can only be described as "Three Stooges on Ice."
Every year this team says they're disappointed with the result and they'll come back better next year. We're tired of hearing the same excuse. Show us you mean it, show us you've learned from the past for once.
Jon Steitzer
For me there's a difference between real mad and sports mad. Sports mad is never going to impact my day, and I'm still capable of functioning in society when a team I cheer for loses. Real mad are the clowns who need to yell at Mitch Marner in his instagram engagement announcement. If you are one of those people, you need to find some perspective in life.
That said, I'm very much still sports mad at the Leafs. I have a hard time believing in this group the way Kyle Dubas does. I believe there are some very real personnel changes in the lineup that are warranted that haven't been addressed, and to me it honestly feels like the Leafs are going in all in on the law of averages saying this group can't lose in the first round every year, instead of taking an actual tough look at the decisions that have been made that have led them here. It feels thinks like saying Mitch Marner is a top 20 in the league talent is enough to justify his continued presence as a Leaf and there is no interest in considering that there is a fundamental flaw the commitment to four outstanding offensively driven players with large salary cap hits. Last offseason I felt a major change was required, and to go through another offseason without seeing that has certainly kept my sports mad feelings around.
That being said, while I don't believe in the Leafs as they are built today and I have no increased confidence in how their next playoff appearance will go, I still find myself hopelessly ready to cheer for the Leafs, and I'm anxious to eat my words. While the results for the Leafs will always leave us wanting, there is no questioning that they are an incredibly interesting team to follow and the lack of dull moments will always bring me back.
We'll end this post on an optimistic note, that's a link to Nick Barden's optimistic take on why he believes the Leafs will deliver more this season. I am envious of that optimism, but it's certainly not for me…
Now it's your turn. Tell us how you are feeling about the Leafs today and whether you are ready to be hurt again.