Around the NHL: Random questions with the Hockey Hall of Fame inductees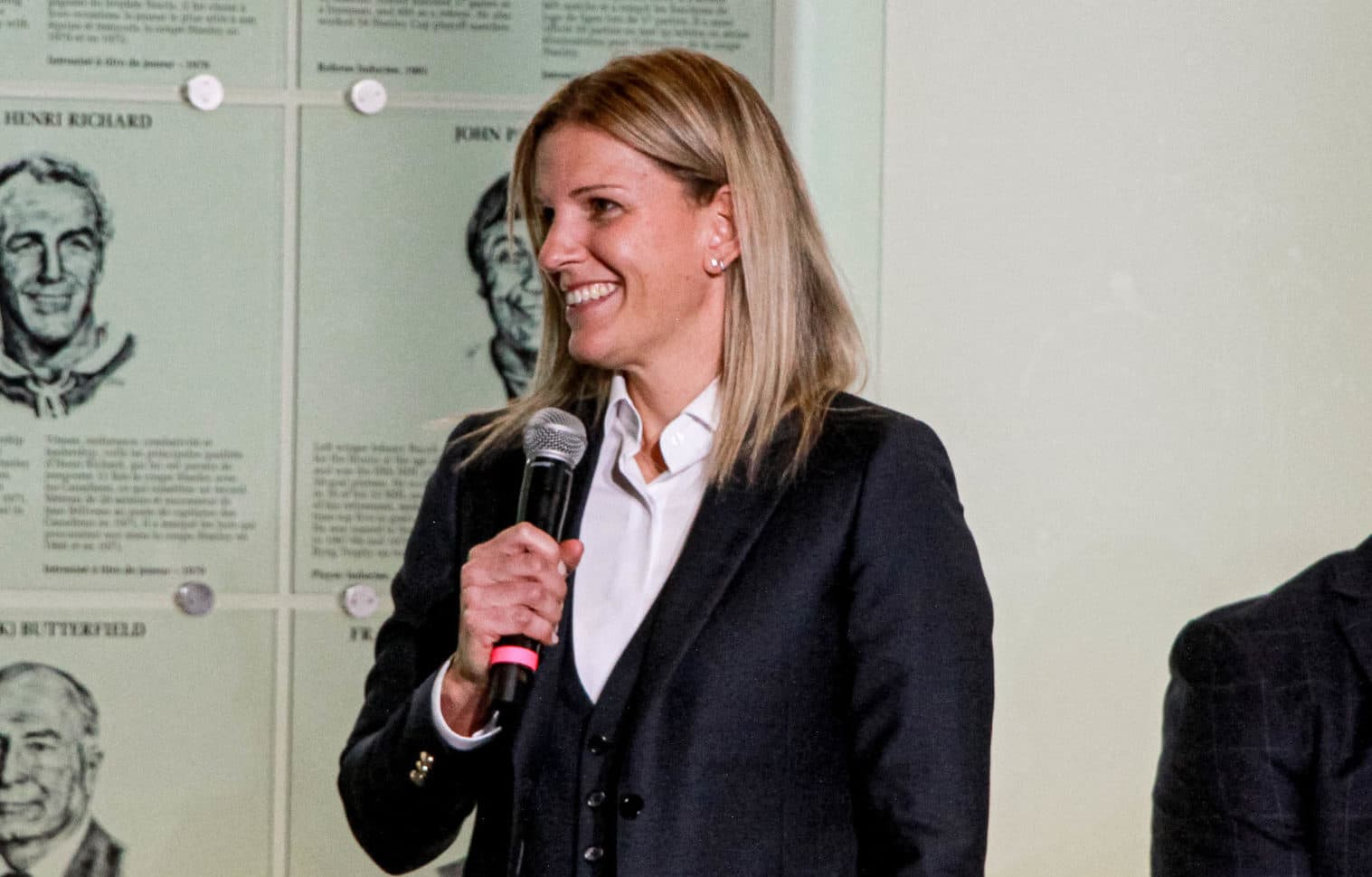 Photo credit:Nick Barden
This past weekend, fellow writer Nick Barden and myself had the opportunity to cover the Hockey Hall of Fame induction weekend, which included a media Q&A, the Legends game, and the actual induction ceremony.
Of course, this being my first time covering an event of this caliber, I had no idea how the Q&A process would be, figuring it would be more that all the writers stayed in their seats and asked questions, not so much an actual media scrum.
So, my prep for this event was thinking of questions that wouldn't be asked by other writers, and less story focused, so I don't exactly have enough content for a specific story (I know, I'm great at this whole journalism thing). But, I did have some interesting questions to ask some of the inductees, and I was genuinely surprised how many of them gave honest answers, as opposed to the usual hockey answers that beat around the bush to not offend anyone.
I couldn't let those answers go unheard, so here is just the conversations all thrown together.
Marian Hossa
"It's been a long time since Slovak hockey had some big glory. Last time the guys won was in the 2002 World Championships, and they had a couple medals after that. After that it's a big hole, but right now, at the U-17 and 18's, there's some potential. There's some star players that could have a great impact also in the NHL for their careers, and it looks like it's brighter for Slovak hockey."
I also touched on what impact he thought he made on it, being one of the most successful Slovak players in the game.
"Obviously I have nothing to do with the U-18 team, but if they took something out of my game, it would make me happy. I was always looking up to the older players, and I'm sure they do to."
Ken Holland
Holland has been around the league longer than I've been alive (he actually got the Red Wings GM gig two and half months after I was born), and has overseen some amazing players, both with his time with the Red Wings, and his last few years with the Oilers. But, who has been his favourite to watch. I was surprised that he actually picked one, but I wasn't really surprised who he picked.
"Well, they're all great, but obviously Connor. Getting to watch Connor McDavid every day, in my opinion, he's the greatest player of his generation, and he's 24, so he's still got another decade to play this game, if not longer, maybe he wants to play until he's 40, I don't know. But certainly the things he can do, like the other night when we beat New York [Rangers] and he had a 1-on-4 goal, and undressed two or three forwards and undressed the goalie, not many NHL players can do that, because NHL players can defend, so he can do things that I haven't seen many people do in 25 years, so certainly Connor's incredibly special. Leon's a great player too. As a builder, in order to be up here, you got to be around and have lots of great players, so I've been very very fortunate to be associated with a lot of great players on the ice."
And with all those amazing players that he's brought in, he's also had his fair share of good hockey teams to overlook as well so I asked him which ones he's proudest of.
"I was an assistant manager in '97, and winning the Stanley Cup and having your name on the Stanley Cup, as a kid growing up, you dream of being on the Stanley Cup. In '98, being the general manager, winning the Stanley Cup, '02 was like a Hall of Fame team, our owner gave us resources, and then I feel good that in '08, in the salary cap era, when we'd lost Federov and Shanahan and Yzerman and that generation of players were gone, our scouts found another generation of players for a decade in Datsyuk, Zetterberg, Kronwall, Filppula, Hudler, and we brought some players back to help us win the Cup in 2008. I feel proud that the Red Wings were the last team to miss the playoffs in the salary cap era, so I think that's a tribute to the job that our scouts did, pro and amateur, through the draft and free agency."
Doug Wilson
While Wilson was being inducted for his resume as a player, he's also had a very storied career as the GM of the San Jose Sharks, so I was kind of curious to see which experience he's enjoyed more.
"I think as a player, you always love to play the game, and you want to be a part of the game. You never want to think you can't play anymore, because you grow up as a kid playing the game, so definitely as a player."
I've also always wondered if Hall of Fame players often think they'll make it this far, so I also asked Wilson that.
"I've been very fortunate, I know that. You want to find something that you love, and you want to be able to that for as long as you can, and I've been able to do that. I know it's rare in this day and age, but I've been very fortunate to be able to do that."
And with the ongoing discussions of hockey culture, and his team's own current issues with Evander Kane, I also asked him for his thoughts on the rapidly changing culture.
"I think that every day is an opportunity to learn, so you listen and learn. I think with the things that are going on in society, to make sure that those voices get heard is crucial."
Kim St-Pierre
St-Pierre has had her fair share of obstacles in her life to get to where she did in hockey, so it only seems fitting that because of her contributions to the game, she's inspired more and more girls to play hockey and removing those same obstacles. Of course, hockey players are always humble, but I wanted to see what she would say about her impact on the sport for women.
"It's so great to be a part of history, but there's a lot of work still to be done, so to be a part of that as well is something that I value. I want to have the little girls dream about playing professional hockey. We need to make hockey available for everybody. For me, there were not a lot of options, it was the NHL, but now a little girl that is asking their parents, then she can play university hockey, the Olympics, world championships, and hopefully, a professional league at some point. It's all the opportunities that I didn't have that now at least are available, but we still need to work in the right direction to make it a professional sport."
---
Unfortunately, working on some of these other quotes made me miss out on talking to Iginla, and honestly I didn't really have anything interesting to ask Kevin Lowe, but there were still plenty of fun conversations to come out of a fun weekend with some legendary hockey players.
Looking to up your fantasy hockey game? DailyFaceoff has the tools you need for both daily and season-long fantasy leagues, including a lineup optimizer, daily projections, and a whole lot more. 
Sign up for the DailyFaceoff tools here.