Auston Matthews wants to stay a Maple Leaf, so what should his next deal look like?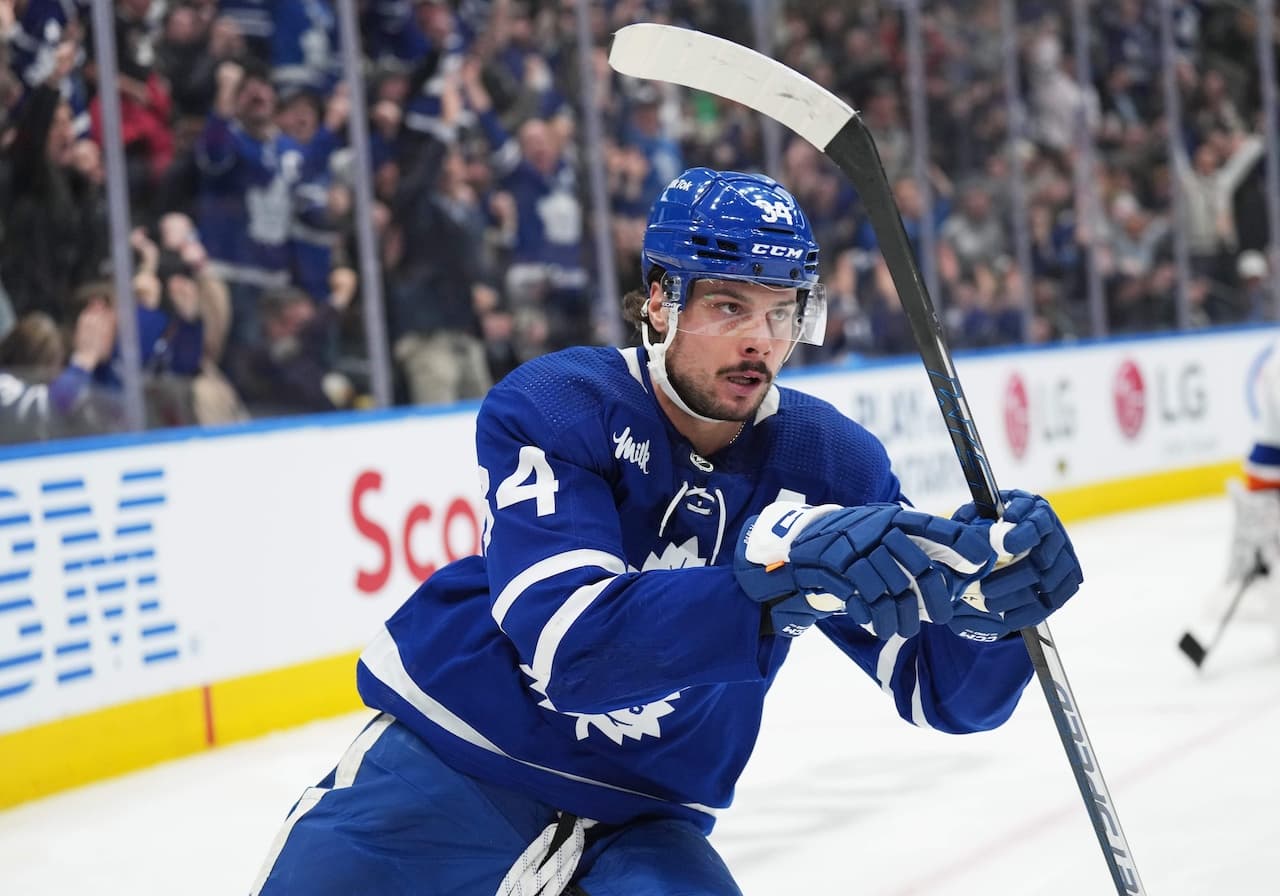 Photo credit:Nick Turchiaro-USA TODAY Sports
Good news! Auston says he wants to be back and stay in Toronto. Better news! He wants to get a deal done this summer.
All of that could be necessary platitudes that were given in order to start his summer instead of a shitstorm, but nothing about Auston Matthews to date should make us feel like he wouldn't have offered this up if he didn't truly mean it and that's encouraging for the Maple Leafs.
So Auston wants to be back. And it's a given that the Maple Leafs organization will want Auston back, it's just going to be a matter of figuring out the term and the price. That's the sticking part and with it being pretty much a lock that Auston will have the highest salary in the NHL when all is said and done, it's just a matter of sorting out the details.
Term
When it comes to term, Matthews was a bit of a renegade on his last deal. He didn't want to be maxed out, he wanted his salary revisited the second he hit his UFA status. That seems to have worked for him as he now has a Hart Trophy and 60 goal season on his resume and is primed to become the greatest offensive Leaf of all-time if he sticks around. That's not a bad place to be negotiating from and the salary cap not being locked in at a flat rate anymore is another sign that things are coming up Auston. It's entirely possible that Matthews might choose to go that route again and bet on himself. The only thing better than ringing the bell in free agency is ringing it twice, and another 5 year deal would give Auston a chance to potentially pick up a solid career closing deal while he's negotiating it closer to his prime than if he took an 8 year deal now and had his abilities viewed as declining.
The catch to going shorter again is that while Auston has shown he can be just that good and be at the top of the league, he has also been hurt, and injuries might lead him to chase the safer money of an eight year deal. Right now he'll be paid at the top of the league and it will be good for 8 years, but a shorter deal gives him the chance to hit free agency under a new CBA and potentially benefit from a salary cap that has only trended upward in non-COVID seasons.
I'd bet on a shorter term deal, maybe one that kicks off the new CBA or allows him to reassess things on the other side of the Marner contract.
Based on nothing but my precedent and a semi-rotten brain, I'd imagine we're talking about a 3 or 4 year term for Auston Matthews on the next contract.
Dollars
The AAV is what is going to matter to most people, and it is pretty much certain that Auston is going to come in at the top of the NHL in that regard. The current highest salary in the NHL is Nathan MacKinnon's $12.6M AAV, his cap hit accounts for 15.27% of the salary cap. Auston is going to beat that. In fact you can probably count on the $13M milestone being an important one, and you can bet that the $13.4M AAV vanity cap hit could factor in as well. That number would be 16% of the estimated $83.5M cap, so it wouldn't represent the highest percentage of cap ever committed to a player. Hitting that milestone might be something Auston and his agency push for as well.
The highest percentage of the cap when a contract was signed belongs to Connor McDavid, as it well should. That number was 16.7%. If beating that number is also important, it's worth noting that Matthews on a 17% of the cap number would equal $14.195M. The vanity contract near that would obviously be $14.34M. I'd argue that is the number.
The catch to the Auston Matthews ask is if he wants 17% based on what the cap is now or if it's based on what the cap will likely be at the start of his deal. With estimates as high as $86.5M, that could push the contract up to $14.7M if we still assume the 17% of the cap space as the means to predict his cap hit.
The extras
The stuff that matters a little less but still matters is that this go around there will be a no movement clause attached to Auston's deal in all likelihood. It's hard imagine Matthews wouldn't want complete control over where he could possibly be moved.
Auston's last deal was almost entirely paid in signing bonuses and he would make the league minimum in the season. That seems unlikely to change and from a Leafs perspective, it would make Matthews increasingly easy to trade in the final year of his deal if he didn't want to sign an extension at that point. The last deal was also front loaded and if the Leafs do that again, there would be flexibility if either party wanted it in the later part of the contract.
When should either side walk away?
From a Leafs perspective, I'd say there needs to be serious pause about breaking the $15M mark. And the $15M will be discussed. That number would put Matthews at nearly 18% of the Leafs cap space based on the $83.5M cap next year and assuming raises for Marner and Nylander as well with potentially larger slices of the pie for them too, that limits the Leafs ability to improve the lineup and be competitive. I don't doubt the sincerity of this core group that they want to compete, but I don't think anyone is wanting to leave money on the table either.
Considering that on Matthews' last contract he took up 14.64% of the cap when he signed, suggesting that he will push 17 or even 18 percent might be a bit of preparing for the worst anyway, but Matthews and the agency that represent him are also very aware of what he could get on the open market and anything that isn't precedent setting with Matthews will likely be their sticking point. If the number starts with $13M it probably gets the Matthews camp talking, otherwise it could be a long summer.
The other factors to watch for
It goes without saying that the departure of either or both of Kyle Dubas and Brandon Pridham have the potential to complicate things with an Auston Matthews negotiation. With Dubas being very much a player's GM and wanting to work with Matthews to do right by him, a new GM might have to establish some trust quickly, or the Leafs might end up having to close the trust gap with dollars. As for Pridham, he's been an important part of the negotiation process with all of the Leafs players and starting fresh with a new capologist/contract guru could slow things down as well.
Right now there isn't anything the Leafs can do officially until July 1st so rather than stress too much on this there is the opportunity to enjoy the fact that Auston Matthews has stated he wants to be a Leaf and wants his contract sorted out this summer. Those are both positives. There is also hope that Auston's RBC ads might pay him enough that it's worth not moving to out of Toronto and dropping that deal.