Best center prospects that could be available to the Leafs at the NHL draft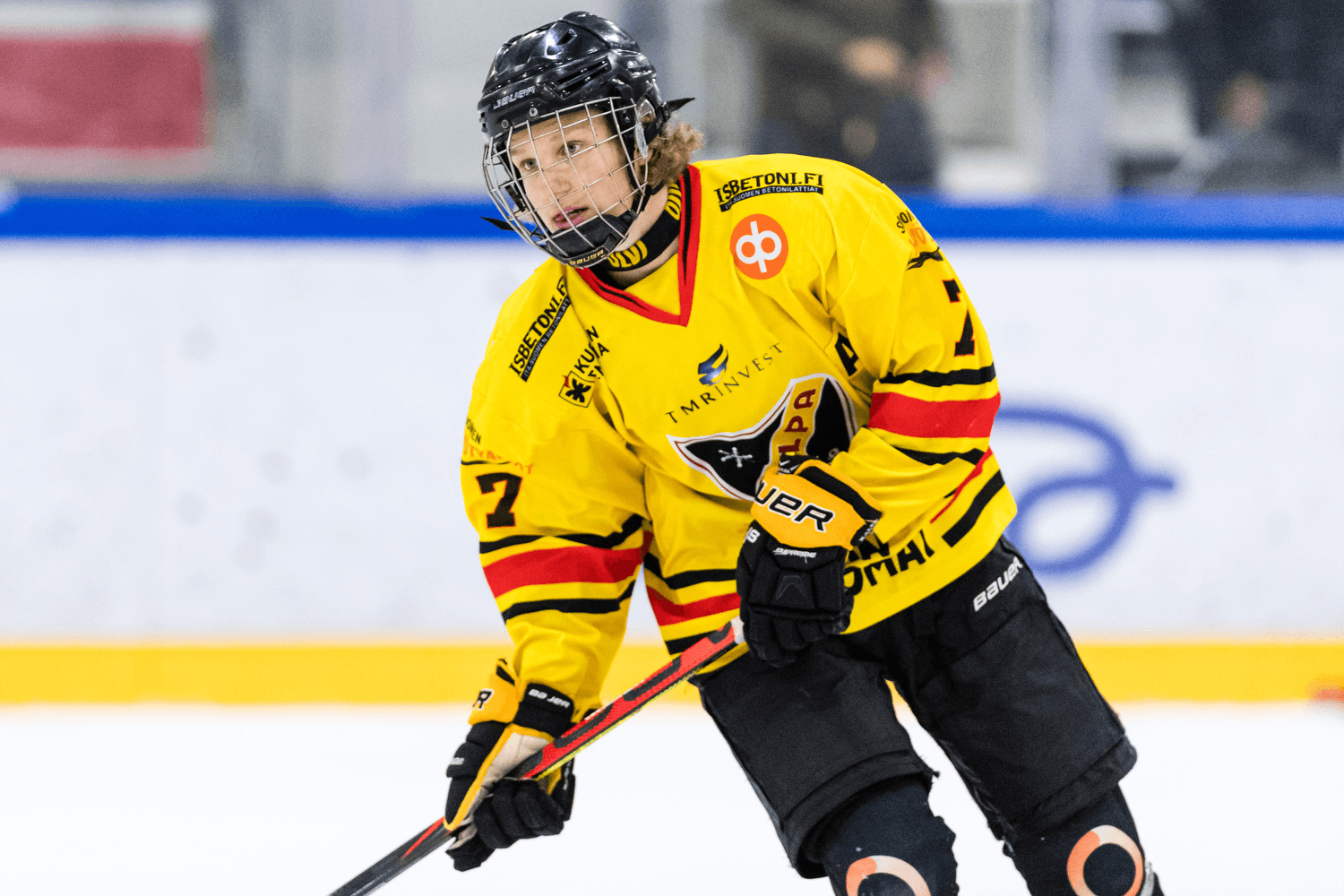 Photo credit:twitter.com/leijonat
Powered by InStat Hockey
---
The Leafs have steadily rebuilt their prospect pool in the last couple of years, injecting names like @Nicholas Robertson, @Rodion Amirov, and Topi Niemelä into the system. While they have compiled a number of solid prospects on the wings and on the blue line, the organizational depth chart at center is still a bit thin. Even Toronto's top center prospects such as @Mikhail Abramov, @Semyon Der-Arguchintsev, and Roni Hirvonen are far from sure bets to remain in the middle as they climb the ranks.
Kyle Dubas and his staff are heading into this weekend's draft with just a second, a fifth, and a sixth-round pick but this regime has shown in the past that they are more than capable of adding picks on the floor to maximize their draft capital. Last week, I identified 10 potential targets for the Leafs with their second-round pick and that list included five centers; Peter Reynolds, Samu Salminen, Ryder Korczak, Wyatt Johnston, and Victor Stjernborg.
It is almost always a bad idea to draft for positional need, especially beyond the first few picks, but position could end up being a deciding factor for teams that have multiple players ranked in the same range when their pick rolls around. With that in mind, here are a few more center options that could be available for the Leafs in the middle rounds if they are able to add an extra pick or two on the second day of the draft:
Brett Harrison
C | 6'2″ | 188 lbs | Oshawa (OHL)/KOOVEE (U20 SM-sarja)
Like many other prospects in this class, Harrison was forced to pack his bags and travel to another country in order to play meaningful hockey in his draft year. It is impossible to quantify just how difficult that adjustment might have been for a teenaged hockey player but despite tallying nine points in seven games with KOOVEE's U20 team, his stint in Finland did little to improve his draft stock.
Harrison is a talented shooter with a great release but his inconsistency and propensity for firing shots from low-danger areas can make him a frustrating player to watch. He often struggles to create opportunities for himself and can be too passive in his off-puck play in the offensive zone but he is an effective forechecker despite his below-average skating ability. A smart player who can put the puck in the net, Harrison could develop into a productive NHLer if he improves his quickness and finds some consistency in his engagement level.
Samuel Helenius
C | 6'6″ | 201 lbs | JYP (Liiga)
Helenius is a physically mature player with great size and the refined defensive game to match. He played 54 games at the Liiga level in 2020-21, recording seven goals and seven assists while playing limited minutes in a fourth-line role.
Helenius is an imposing figure on the ice, standing at 6'6″, and knows how to use his size to his advantage. He plays an aggressive game, bringing physicality on the forecheck and creating chaos down low around the net. He has decent top-end speed for a player with his frame, but he isn't overly agile and struggles to change directions quickly. Though he has a pretty good shot, most of Helenius' offensive contributions will come from in tight as he lacks high-end vision or puck skills. There might not be a ton of offense in his game at the next level, but the effort and intelligence he shows on the defensive side of the puck, combined with his willingness to throw his big body around, will make Helenius an enticing prospect in the middle part of the draft.
Cole Huckins
C | 6'3″ | 200 lbs | Acadie-Bathurst (QMJHL)
Huckins is a big, offensively skilled center who put up 14 goals and 18 assists in 33 games with the Acadie-Bathurst Titan of the QMJHL. He was unable to find the back of the net in nine playoff contests but he did add five assists during the postseason.
His package of size and offensive skill is enticing, but Huckins still hasn't learned how to properly utilize his large frame and his poor skating ability only compounds that. He is a very stiff skater with poor stride technique and that will be a major area of focus as he continues his development. Despite his flaws, Huckins' slick hands along with his ability to process the game and make intelligent offensive reads could see him drafted early on day two.
Andre Gasseau
C | 6'4″ | 205 lbs | U.S. U18 (USNTDP)
Gasseau got into 42 games with the USNTDP's U18 squad, finishing the season with 12 goals and 15 assists. His work ethic and intelligence made him one of my favorite players to watch through the course of the season and I am excited to see how he progresses at Boston College next year.
Unlike Huckins, Gasseau puts his big body to work down low and in the slot area where he has shown the ability to box out defenders and make himself available for a pass. He has a good shot that he is able to catch and release quickly, and he puts himself in good position to compete for contested pucks around the net. His transition game is a strength as he takes intelligent routes both offensively and defensively, but he needs to make quicker decisions when carrying the puck. Gasseau is a fine skater, especially for his size, but he needs to add some explosiveness to his first step in order to reach his ceiling as a two-way forward who features some power elements in his game.
Oliver Kapanen
C | 6'0″ | 166 lbs | KalPa (U20 SM-sarja)
The cousin of former Leaf @Kasperi Kapanen, Oliver Kapanen has been climbing draft boards all season. He spent the majority of his draft year playing for KalPa's U20 team, racking up an impressive 25 goals and 16 assists in 37 games.
Aside from their last name, Oliver and Kasperi don't have a whole lot in common as players. Where Kasperi was predominantly a rush threat because of his outstanding skating ability, Oliver does well to get into shooting areas at the right time to generate scoring chances. He has a great shot but lacks the speed and explosiveness that his older cousin has built an NHL career on. Oliver is a much more cerebral offensive player and has the ability to complete difficult passes when defenders work to eliminate his shot. His below-average skating ability is certainly a concern, but his well-rounded offensive toolkit and steady rise this season should make him an early day two selection.
Liam Dower Nilsson
C | 6'0″ | 172 lbs | Frölunda (J20 Nationell)
Dower Nilsson played throughout Frölunda's program this season, mostly in the J20 Nationell where he scored five goals and 12 assists in just 16 games. He was held scoreless in his five SHL games but tallied 14 points in 14 games with HanHals of HockeyEttan and captained the Swedish roster at the U18 World Championships.
Dower Nilsson is a pure playmaker who features outstanding vision and creative passing ability. He keeps his options open while deceiving defenders with quick moves and manipulates passing lanes before finding a teammate with a slick feed through layers. His intelligence shows up on the other side of the puck as well as he makes strong defensive reads in his own zone. He has a decent shot and if he can improve upon that while adding some more pace to his game, Dower Nilsson could grow into a solid middle-six forward that can run a powerplay unit.
James Malatesta
C | 5'9″ | 179 lbs | Québec (QMJHL)
Everyone has their favorites in any given draft class, and Malatesta is certainly one of mine this year. He plays the game at full speed all the time, for better or worse, and managed 23 points in 32 games with Québec in 2020-21.
Malatesta is one of those players that is destined to be a fan favorite for whatever team selects him if and when he makes the NHL. His fantastic skating ability is complemented by a motor that never stops running. He hunts down pucks on the forecheck, throws his short but sturdy frame around willingly, and burns by defenders through the neutral zone if he sees a lane. His shot can beat goaltenders cleanly and he generates chances off the rush, but he will need to learn to slow his game down a bit at the next level to become less one-dimensional. Malatesta may never produce big offensive numbers as a pro, but he fits the profile of a high-energy third line forward at the NHL level.
Jack O'Brien
C | 6'1″ | 170 lbs | Lincoln (USHL)
After a strong rookie season with Portland in the WHL, O'Brien struggled mightily after making the move to Lincoln of the USHL in 2020-21. He managed just a single goal to go along with six assists in 23 games but did put up four assists in six games after rejoining Portland late in the season.
There isn't really anything spectacular about O'Brien's game but he does offer a well-rounded skill set – or at least has the potential to. When he is on his game, he moves the puck efficiently and hunts for open space to make himself available for a return feed. When he isn't at his best, it often appears that he is a step behind everything. There are times where O'Brien looks like one of the smartest players on the ice but there are also times where he looks lost or disengaged. Whichever team makes the bet on his hockey sense will be banking on O'Brien returning to form in the WHL next season.
Honorable mentions: Justin Robidas, Jakub Brabenec, Linus Sjödin, Riley Kidney, Colton Dach, Lorenzo Canonica, Florian Elias, Manix Landry
(Statistics from EliteProspects.com)