Big contracts for defensemen complicate things with Morgan Rielly and the Leafs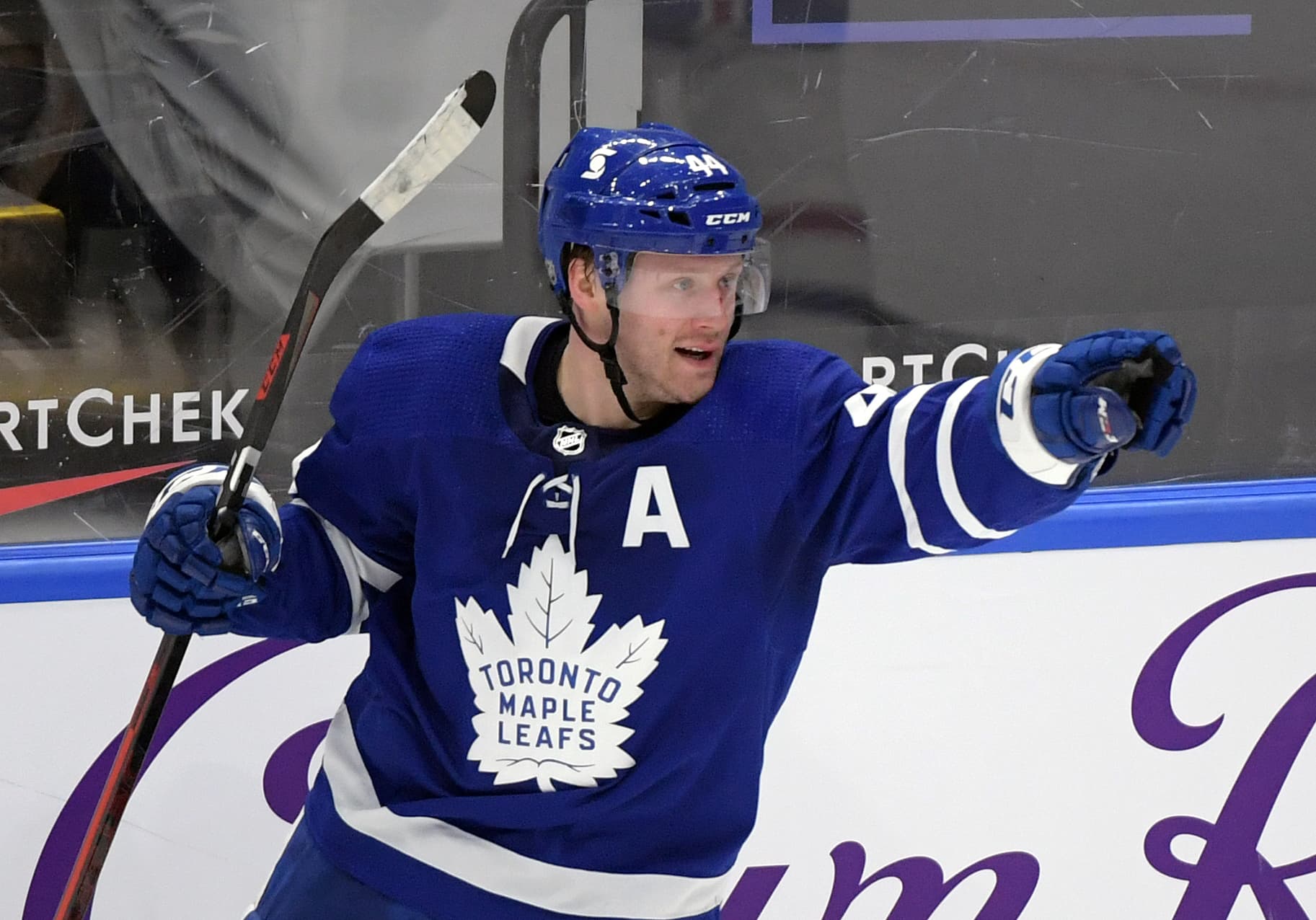 Photo credit:Dan Hamilton-USA TODAY Sports
When we last checked in @Morgan Rielly, both sides were saying all the things both sides typically say before real negotiations start. Kyle Dubas was touting the importance of Rielly to the team, both as a leader and as star offensive defenseman. And Morgan Rielly's camp was talking about Toronto is the only place that Morgan wants to play and how he'd be willing to take less money in Toronto to spend his career as a Leaf and win in Toronto. A lot of that was summed up in a couple of articles from The Athletic,
first from Pierre LeBrun…
Rielly loves being a Maple Leaf and would take a bit less to remain one. But the dollar figures have to make sense. He's earning $5 million a year. He's worth at least the $6.5 million AAV Torey Krug got in St. Louis last fall, if not more, depending on term.
If we simply take the average of these 11 comparables, he would be due roughly 8.86 percent of the salary cap — or $7.22 million per season.

That's a pretty fair "open market" valuation for the contract Rielly would receive as a UFA, one that would likely be for the maximum seven years (with a new team). Especially if you consider a UFA deal would be signed a year from now when Rielly's games played and point totals would be higher — and toward the top end of this group.
Of course, since these articles free agency has changed a lot of perceptions about what defensemen will be paid. The flat cap was supposedly going to mean that contracts weren't going to radically increase, that certainly wasn't the case last week. The two most worrisome from a Leafs perpspective probably should be the contracts for @Dougie Hamilton, and @Seth Jones, both who pushed their cap hits to $9M AAV or higher, and RFAs like @Cale Makar, @Zach Werenski, and @Miro Heiskanen also point to the blueline not being a bargain in the NHL going forward either.
Throw in the fact that players like Larsson and Goligoski received contracts similar to their previous cap hits, and players like Jake McCabe, Tyson Barrie, and Jamie Oleksiak all received significant raises, the price of defense is clearly going up and the hometown discount for Morgan Rielly might exist, but still might be too expensive to keep him a Leaf. That Krug $6.5M cap hit for Morgan Rielly was already seeming like the high end of what would have made sense for Toronto, but Kyle Dubas' delay in negotiating may have taken that off the table.
Do the Leafs want Morgan Rielly as a 28 year old offensive defenseman for $7.25M, like Jonas Siegel suggested could be his target price, and considering that it would likely be at least a six year deal, how do we feel about a 34 year old Morgan Rielly making that?
I think the best examples of how to feel about it are looking what has happened with the aging of @Erik Karlsson, or the aging of @Keith Yandle. Yandle might be the better bet for comparison because his $6.35M AAV contract was just bought out at the age of 34 with his offense holding steady, but with him no longer having enough all round game to live up to his deal. Throw out Rielly's career year and the two have very similar outputs.
If you look at the absolute disaster Karlsson has been at living up to his contract, and well, I guess Rielly shouldn't get $11.5M, but honestly, the point I'd hope to make with the Karlsson comparison is that with the offensive drop off there absolutely isn't enough to Karlsson's game to consider him a worthwhile asset at half that price. The Leafs would be taking a significant risk on Morgan Rielly, who while is a good offensive defenseman at even strength, is not particularly good (read: bad) defensively, doesn't have a point shot you want to see on the top power play unit, and has become somewhat predictable as a power play QB to the point that Rasmus Sandin was even getting reps on the top unit in the playoffs.
While that might sound overly critical of Morgan Rielly, it should be worth noting that his blueline offense at 5v5 would be impossible to replace. And for a defenseman to be good offensive outside of the powerplay is a gift, and talent the Leafs would surely miss. The question is whether or not that talent is worth it to the Leafs at $6.5M AAV, or more realistically $7.5M-$8M AAV, because while I don't doubt that Morgan Rielly and his agency are sincere about leaving money on the table to return to Toronto, the NHL has moved the bar in his favour on what leaving money on the table looks like.
In the article from Jonas Siegel mentioned above, there are projected Game Score Valuations that support Morgan Rielly living up to an $8.25M contract and that is something to consider, but it also comes down to if Morgan Rielly's style of play is the best use of $8.25M on the Leafs, or their biggest defensive area of concern. With Liljegren, or Sandin potentially able to serve as PP QB going forward on a discount at least for the next season, and in the longer term, if they remotely pan out at all they would be the signing priorities for the blueline over Rielly anyway, does it make sense to cut ties with defenseman that can adequately be replaced defensively by someone like Sandin or Dermott. Someone who on the powerplay was running the risk of being replaced by Sandin anyway, and can the Leafs generate 5v5 offense in other ways that make exploring the idea of moving on from Rielly worth considering? Who knows Brennan Menell might be the real deal.
The thing is, the Leafs could use that $5M cap space from trading Rielly in a lot of places. They could pursue a beefy top six forward, or a strong two way 3rd line center, or they could go the youth route, and get back on track with their futures, while using the money in free agency or patiently waiting for team looking to offload salary has to deal a player. The futures focus isn't one I'd expect from a front office that is feeling the heat coming out of last season, but it's also a front office that has a track record of letting quality players walk to unrestricted free agency without assets or playoff wins to show for it. To put it nicely, one way or another the Rielly situation needs to be resolved this summer, because Morgan playing out the final year of his deal without any certainty for the Leafs would be an unacceptable failure from Dubas and company.
Still, while the expectations for getting the Rielly situation resolved are high, it's not a simple task, and one that has become even more complicated in the past week. Considering Dubas has been a man of his word the entire time he's been in charge, he said he'd get down to business on re-signing Rielly in August, so while you can't help but thinking getting this done sooner would have been better, it's 100% the timeline Dubas told us he was going with.