Big test for the Leafs before they hit the beach: Leafs Tailgate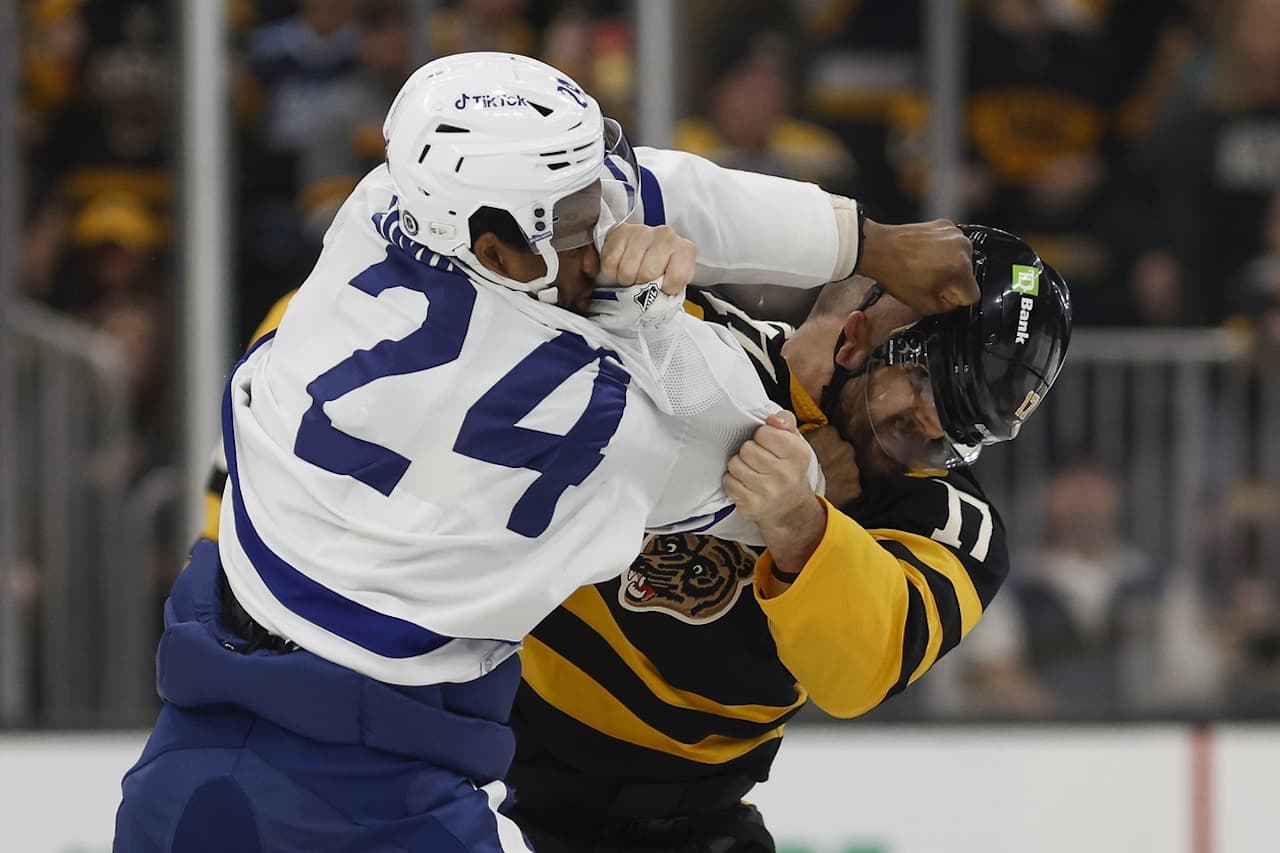 Photo credit:Winslow Townson-USA TODAY Sports
Before a well-deserved nine-day break, the Leafs (31-12-8) will finish off their five game homestand tonight when they host the rival Boston Bruins (38-7-5) to kick off the month of February.
Toronto, who's 1-1-0 against the B's so far this season, are coming off an impressive beatdown of the Washington Capitals on Sunday night. Meantime, dare I say Boston's slumping a bit? That's probably a stretch, but at any rate, the Bruins are coming into tonight's game on a season-high (ridiculous!) three-game winless skid. Again..it's February.
Meantime, Ilya Samsonov will make his seventh straight start for the Maple Leafs. The 25-year-old is 15-1-1 at Scotiabank Arena. He'll be opposed by Jeremy Swayman, who's won four of his past six decisions. This will be his first appearance against Toronto this season; Linus Ullmark started the first two.
TIME: 7 PM ET (Sportsnet)
STARTING GOALIES:
BOS Jeremy Swayman – LIKELY (12-3-4, 2.34, 0.914, 1 SO)
@
TOR Ilya Samsonov – CONFIRMED (17-5-2, 2.31, 0.917, 2 SO)
PROJECTED LINEUPS:
THREE STORYLINES:
NINE-DAY BREAK LOOMING
As mentioned, for the first time this season, the Bruins have hit a bit of a rough patch over the past week or so. Additionally, they've surrendered the first goal in three of their past four outings. Translation: I'd argue they're slightly vulnerable right now. Having said that, it's important for Toronto to stay focused. Just look at last night's games in the NHL, they were crazy. After tonight, the Leafs will enjoy a well-deserved nine-day break due to a combination between the All-Star Break and their Bye Week. Naturally, it would be easy and understandable for them to look past this divisional game straight to the beautiful and sunny beach ahead. I'm curious to see how they look/come out tonight. At least both teams are in the same scenario.
PATIENCE
Through two meetings, it's been a fascinating season series with the Bruins so far. In the first outing, despite losing Ilya Samsonov to a lower body injury following a Brad Marchand shootout attempt in the second period, Erik Kallgren came in to a solidify a 2-1 victory. Then, two weeks ago in Beantown, the Leafs deserved a better fate, but ultimately, turnovers did them in. If you recall, Matt Grzelcyk potted the game winner with less than two minutes to go in regulation. So, if we've learned anything, it's to expect a close game tonight. But again, all bets are off when you're this close to a long break. There's excitement. I'm just going to sit back, chill, and try my hardest not to overreact.
BIG TEST FOR THE KERFOOT LINE
Indisputably, early on, Alex Kerfoot has benefited the most from Auston Matthews' absence in the lineup. The pending UFA was elevated from the fourth line to the second line to skate with Calle Jarnkrok and William Nylander. And to be fair, so far, so good. That said, he's in for a big test tonight with the Bruins in town. Assuming the Tavares line – especially with the last change – goes head-to-head with the Marchand-Bergeron-Hall line, that leaves the Zacha-Krejci-Pastrnak trio for Kerfoot and company. On paper, the matchup doesn't look good, but let's see what happens. Toronto's depth players were fantastic in Sunday's win against Washington, they'll need to be just as good tonight.
BETTING:
(As of Noon EDT)
PROP PLAY:
Over 5.5 (-125)