Blueline spot is there for the taking, Bertuzzi's dream job, and slow starts: Leaflets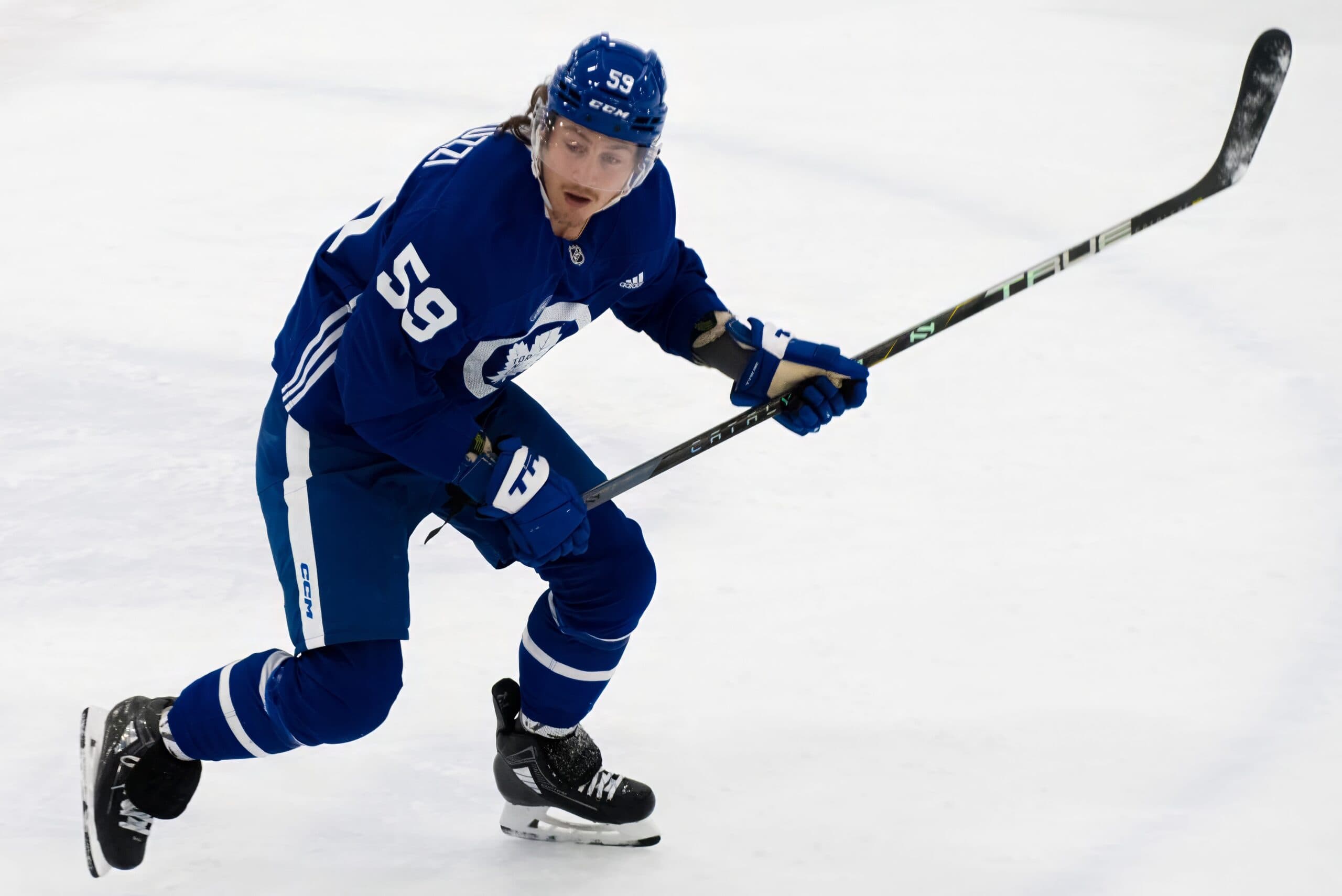 Photo credit:(Photo from Steven Ellis/Daily Faceoff)
Heading into training camp, it seemed that the Leafs' roster was pretty close to set. Not a lot of intriguing battles, waivers eligibility and salary cap compliance seemed to determine how things would play out even if there was someone making a push for a spot in the Leafs lineup. Of course, injuries make fools of us all and John Klingberg, Conor Timmins, and Dylan Gambrell have made it so that the large number of bubble players in the Leafs roster did indeed have a reason to push from day one and things will be getting interesting heading into the impending first round of cuts.
It should be noted that the first round of cuts is always the boring one. Gone are the AHL contract guys, holdovers from the rookie tournament, and even the departures of Fraser Minten and Easton Cowan who have been turning heads won't come as too much of a surprise. We've seen Kyle Dubas keep his camps big fairly deep into the preseason and I guess we'll learn if that is something that will continue, but now with a key lineup spot up for grabs, it will be interesting to see what happens regarding defencemen in the coming week.
The Klingberg Timmins Open Blueline spot
As someone who was never a fan of the John Klingberg signing (I don't think I'm alone on this one) seeing him depart camp due to injury still seemed like a step backwards. Getting Klingberg playing in the Leafs' structure was going to be critical to getting the most out of him and this injury could set him and the Leafs back significantly. Timmins stepping up looked like the best-case scenario for the Leafs and that was some short-lived relief.
Conor Timmins' history with injuries is well documented and unfortunate so it shouldn't come as too much of a surprise that a trade to Toronto didn't change everything that has plagued him throughout his career. Still, we now find the Leafs looking at another vacancy to fill and right now the obvious candidate seems to be William Lagesson.
Lagesson seemed to already be making a strong case for himself before the injuries and he showed a lot of promise during his time in Edmonton. Putting William in the lineup on opening night doesn't seem like a stretch even if the Leafs would likely prefer to go with the right shot instead.
Given that Max Lajoie is probably the next best option, the Leafs will likely be leaning toward an additional left-hand shot rather than going with Topi Niemela prematurely. Simon Benoit is another left-hand shot that could be in the conversation. If we want to reach on this we could also talk about Mikko Kokkonen who seems to be a favourite of Sheldon Keefe and is having himself a nice little September.
The fact that John Klingberg is day-to-day likely means that he'll be ready for the regular season anyway, but nevertheless, it's a great chance for the Leafs depth to make a push as it is becoming clear they will be needed this season.
Bertuzzi doesn't need to work on the first line to work
Much has been made about the spot in the lineup that Tyler Bertuzzi has been gifted. Gifted probably isn't the right word as he is legitimately a strong option to be a gritty, agitating, skill player on the top line. Still, we've seen what Auston Matthews and Mitch Marner were able to do with Michael Bunting and the expectations are higher for Bertuzzi.
The reality is that talent isn't necessarily going to fit perfectly with other talent and given that Matthews and Marner can potentially try to bring someone else along instead (Knies worked well there last season) it is worth exploring where else in the lineup Bertuzzi can add some value. I'd suggest it would be entertaining to see Bertuzzi alongside William Nylander, who mirrors some traits of Bertuzzi's former linemates Dylan Larkin and Lucas Raymond. A left-wing rotation of Domi to the Tavares line, Knies to the Matthews line, and Bertuzzi to the Nylander line seems like it has the potential to benefit each line in some way, but even I realize it's too early to start second-guessing Keefe's decisions. I'll just note this as something I'd like to see somewhere down the line.
Preparing for a slow start
Last year the Leafs didn't exactly come flying out the gates at the start of the season and I'm prepared for the same this season. Right now there are a lot of things the Leafs think looked good on paper and have done some testing within the preseason. A lot of those things won't be concluded as successes or failures until the regular season starts and with a new GM, two new top six forwards, a star rookie, a top four defenceman, and a rookie goaltender in the lineup, not to mention a very new role for William Nylander and potentially a penalty killing Auston Matthews, there is a lot of things that the Leafs will be making adjustments on in season.
As much as I believed it would have been the right decision this summer to move on from Sheldon Keefe and ultimately think the Leafs will be coming to that decision at some point, there probably needs to be an extended grace period in October and November to see how this talented Leafs roster can be optimized.
Then if things start aren't going well in December that's when we can start having the conversation about how a new coach might be what this team needs to push them over the top.