Blues spoil Matthews' milestone night with shootout victory at Scotiabank Arena: Muzzy's Muzings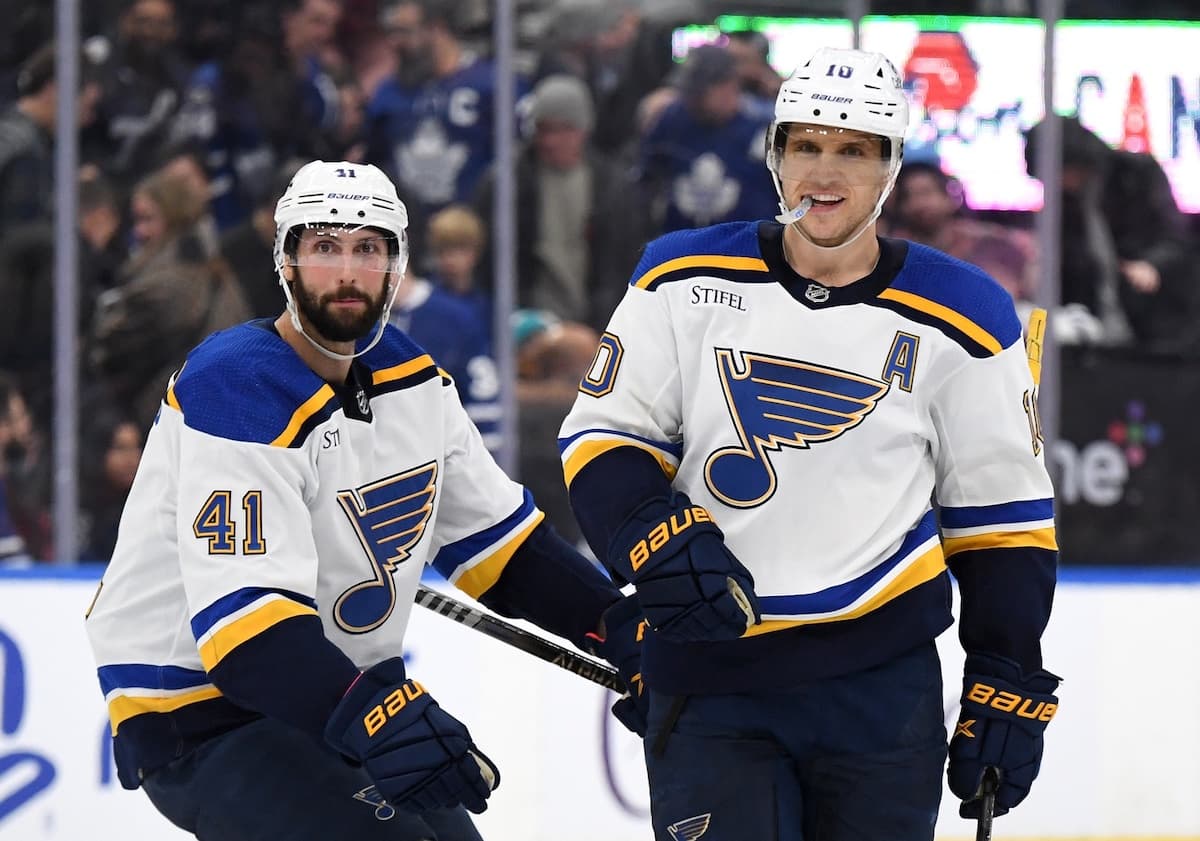 Photo credit:Dan Hamilton-USA TODAY Sports
Brayden Schenn potted the shootout winner as the Blues out-slugged the Leafs 6-5 to snap Toronto's six game win streak on home ice.
Not all was lost however, the Leafs, who fell to 23-8-7, did extend their home point streak to 11 games.
Unfortunately, it was a disappointing end to another milestone night for Auston Matthews. With his assist on William Nylander's 22nd of the season in the second period, the 25-year-old became the fastest player in Maple Leafs franchise history to 500 points (445 games). Additionally, the reigning Hart Trophy winner potted his 19th of the season in the loss; his 10th goal in the past 16 outings.
Meantime, Michael Bunting notched his second consecutive and sixth career two goal game, adding an assist for a tidy three-point night. Also, William Nylander tallied a goal and two helpers, he's now on pace for a career-high 47 goals.
Ilya Samsonov surrendered five goals on 32 shots dropping his first game at home this season (9-0-1) —albeit in the shootout. He still hasn't lost in regulation at Scotiabank Arena.
Toronto went 1-0-1 against St. Louis this season.
MUZZY'S MUZINGS:
SPECIAL TEAMS
Ultimately, any way you slice it, the game was decided in a skills competition. Having said that, from a special teams standpoint, Toronto struggled immensely in this one. As if surrendering a shorthanded goal wasn't enough, St. Louis went 2-for-2 on the power play as well. In the grand scheme of things, it's likely just a minor blip in a season full of many highs for this team. Furthermore, I thought the Blues played with urgency, hunger and desperation. Simply put, they played like a team that just lost their two best players. Across an 82 game slate, you'll get that from time to time from the opposition. Sometimes, you just tip your cap and move on. They got a point.
ANOTHER MILESTONE NIGHT FOR MATTHEWS
Almost sheepishly, Matthews isn't a big fan of talking about personal milestones. And I totally get it. Having said that, what this continues to do deserves to be talked about. With his assist on William Nylander's 22nd of the season, the 25-year-old became the fastest player in Maple Leafs franchise history to 500 points (445 games). Just think about that for a second. With legendary names like Sittler, Mahovlich, Salming, Kennedy, Keon, and others, he's No. 1 on the list. Just for good measure, his buddy Mitch Marner is now just two points away from becoming the second fastest to 500 points in Leafs history. We're witnessing greatness —plain and simple. I love it.
ANOTHER TOUGH OUTING FOR SAMSONOV
Personally, I can't go as far as to pin this one directly on the Leafs netminder. Yes, it's fair to state his play has fallen off substantially the last little while, but I don't think he's been the major root of the problem —if that makes sense. That said, it's tough to ignore the numbers. Dating back to his return to Washington on December 17th, the Russian has now surrendered 17 goals over his past four appearances. It could be time to run with Matt Murray for a bit. Additionally, without question, the Leafs have been leaking some big-time oil defensively lately. They're playing very loose, and that's not a good thing. It happens, I'm not overly concerned. It's a long season, there will be ups and there certainly will be downs. No need to panic just yet on Samsonov.
HIGHLIGHT OF THE NIGHT:
WHAT'S NEXT?
For game two of their three game home stand, the Leafs will host the Seattle Kraken on Thursday night. Toronto took both meetings with the Kraken in 2021-22, their inaugural season in the NHL.