Bobby McMann and Sam Lafferty could help push Maple Leafs' slumping William Nylander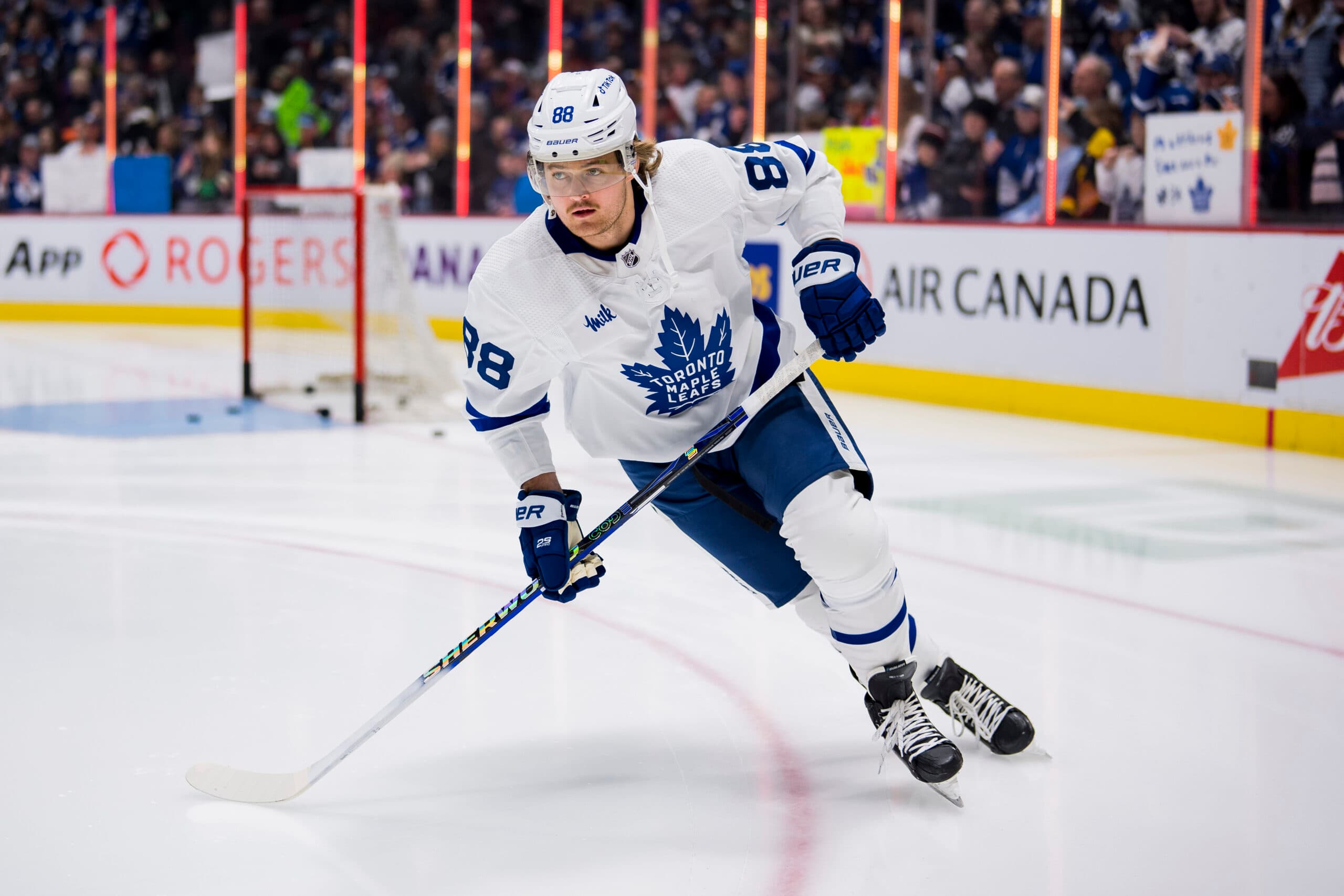 Photo credit:Bob Frid-USA TODAY Sports
William Nylander finds himself on the Maple Leafs' third line for yet another game, although that might not be such a bad thing.
The 26-year-old is having a career season, in both goals and assists. However, in the last few games, he's found himself in a bit of a dry spell.
Nylander hasn't registered a point in his last three games, which has only happened one other time this year (from January 5th to 8th). Is this something to be concerned about or could is it just one of those stints in a long season?
"He's not skating to the same degree he was early in the season where he was a dominant player for us," Maple Leafs head coach
Sheldon Keefe said to reporters on Monday
. "We need to get him back going that way."
Nylander, at practice on Monday,
skated again on a line
with Bobby McMann and Sam Lafferty. Those are two players with incredibly fast engines who can go north and south on the ice very quickly.
The goal for this line is to contribute to getting Nylander back on track, making him one of Toronto's most dominant players again.
"I just find when the puck is hitting his stick, his feet aren't moving to the same degree, he's not attacking." Keefe told reporters Monday. "I want him to hang onto it, I want him to challenge, I want him to be on the attack, I want to see lots of pace from him. That's when he's at his best."
Having a player like Nylander on that line can really push each of Lafferty and McMann. Each of these three players arguably have a lot to prove with this Maple Leafs team in the short term.
Nylander should want to prove Keefe right, that he can bounce back from this. Lafferty can prove that he's able to be a very reliable option in the bottom-six once the playoffs roll around in a few weeks. McMann just needs to score, and once that happens, I believe the rest will come to him.
This line has the potential to not only spark Nylander's game, but provide a jolt to the rest of the trio, too.
Together as a line, they only played 5:40 at five-on-five during Saturday night's game in Ottawa,
according to NaturalStatTrick
. And during those near six minutes of play, the trio had a not so good 40.00 CF% and a 31.68 xGF%.
It could be a lot better.
This line could work perfectly, if all three mesh together well. Nylander could be the finisher, while both Lafferty and McMann can provide grit and determination to find the 26-year-old up ice. Keefe could have the perfect third line (when needed) if it all works out.
So, with an important game on Tuesday against the New York Islanders, each player can prove something. With all three on the line having something to show for, it could ignite a spark.
The expectation, from Keefe and the rest of the Maple Leafs, is for that spark to lead to a full combustion in the near future. For Nylander, and for the rest of that trio.