Bobby McMann is ready for his NHL debut with the Toronto Maple Leafs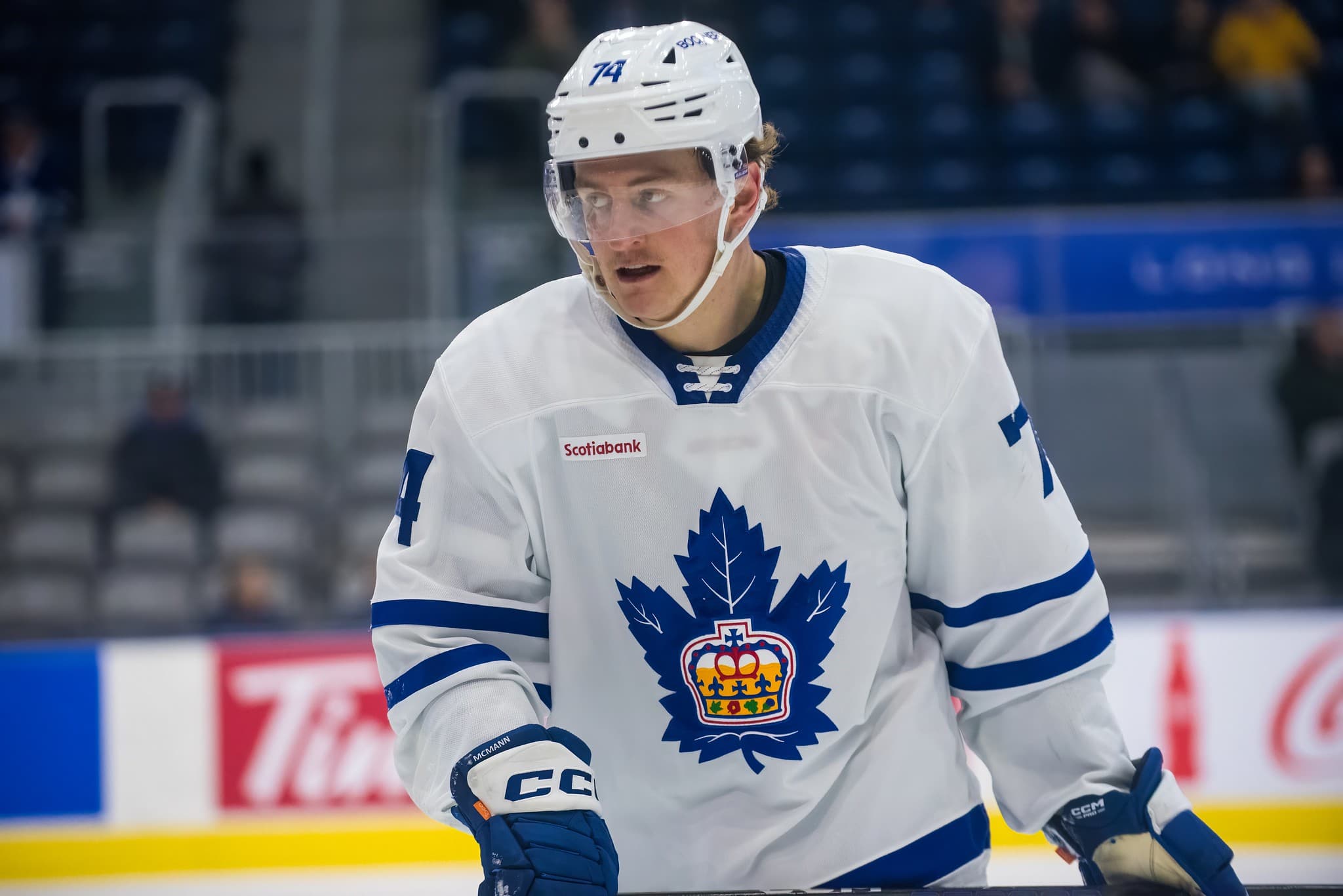 Photo credit:Steven Ellis/The Leafs Nation
Call it the road less traveled.
Just over two years ago – two years and a day, to be exact – Bobby McMann was starting to find his groove with the AHL's Wichita Thunder. He had just turned pro a few months prior after a four-year run with Colgate University, which, by all accounts, wasn't anything special. He never hit a point per game. His output actually dropped year-to-year after his sophomore season. He didn't play his first pro game until after Christmas in 2020 with COVID-19 causing issues. It was easy to overlook him. And then a four-point night against Kansas City on Jan. 10, 2021 really seemed to spark some new life. He had just come off a rough two-game stretch where he failed to record a point against KC.
But on the 10th, his sixth game in 10 days, he was starting to look comfortable. He wasn't used to schedules like that after playing mainly on weekends only at Colgate. The Toronto Marlies finally called him up late February, where he went 12 games without a point. He'd eventually return to the ECHL to finish the year and moved over to Newfoundland to kick off 2021-22.
Ever since, McMann's impact has been undeniable. And after a first half that saw him become one of the Marlies' most important players, he's set to make his NHL debut at the age of 26.
As detailed by
TLN's Nick Barden,
McMann was a long shot from the get-go. But he'll slot into Toronto's lineup with Auston Matthews out of the lineup on Wednesday against Nashville, becoming the third Leaf to make their NHL debut this season after Mac Hollowell and Pontus Holmberg did the same earlier on. McMann is expected to start on the third line along with Alex Kerfoot and David Kampf, adding speed and skill to the bottom six.
If you care, McMann will wear No. 74 against the Predators, making him the first Leaf to ever wear the number.
McMann has been an integral piece of the Marlies' top six – a team that started with Holmberg and Robertson, but had to adjust to changes up front on the fly. McMann has been one of the most consistent players with eight goals and 15 points in 17 games and is coming off a two-point night against Laval on Sunday.
Bobby McMann (Steven Ellis/Daily Faceoff)
"We've
had
a
lot
of
success
as
a
team," McMann said.
"
Just
kind
of
sticking
to
my
habits,
which
are
playing
fast
and
shooting
the
puck
well,
and
then
trying
to
be
physical. I t
hink
that's
played
a
really
big
role
for
me
and
made
me
the
player
that
I
am
right
now.
So
I'm
just
trying
to
stick
to
that
and
hopefully
bring
it
to
this
level."
He hasn't had much time to prepare for his debut. He was told by Marlies GM Ryan Hardy on Monday he was getting the call-up and was wearing a regular practice jersey by Tuesday. He wasn't sure he was even getting into the lineup come Wednesday.
"It's
short
notice, it'
s
good
and
bad,
I
guess," McMann said Wednesday morning.
"
You
want
to
prepare,
but
you
also
don't
want to
overthink
it
and
don't
wanna t
hink
too
much
and read
into
it
too
much."
McMann's parents will attend his debut, and then his father will stick around for Toronto's dad trip that commenced this week. McMann said his father had no idea it was happening, so it would be a nice surprise to not only see his son play, but get a full-blown trip out of it, too.
Comfort is the name of the game for McMann. Coach Sheldon Keefe said he doesn't want to overwhelm McMann, and while they're hoping he makes an immediate impact, they will be patient with him. McMann said joining Toronto for his first NHL training camp last fall helped him get to know the team better, allowing him to adjust in the short time he's been with the big club.
"A
ll
the
guys
here
are
great,
and
I
was
able
to
spend
some
time
with
them
the
summer
doing
the
training
program," McMann said. "It definitely makes it easier."
Staying relaxed while having an impact will be a challenge for McMann. who might not have much of a stint to begin with. Matthews might only be day-to-day, and Toronto doesn't play again until Saturday against Boston. But this is an excellent audition for someone who has battled through the trenches to get to this point in his career, making his NHL debut at an older age than most.
To McMann, it's just another game. But deep down, after watching him address the media on Wednesday, you can tell he's ready to embrace the chaos. Nothing is ever assured in the NHL, and nobody knows that more than the players who had to grind their way to the top.
So, if you need a player to cheer for on Wednesday, consider Bobby Mac.