Bobby McMann's strong push, Keith Petruzzelli's effort, and more: Marlies Weekly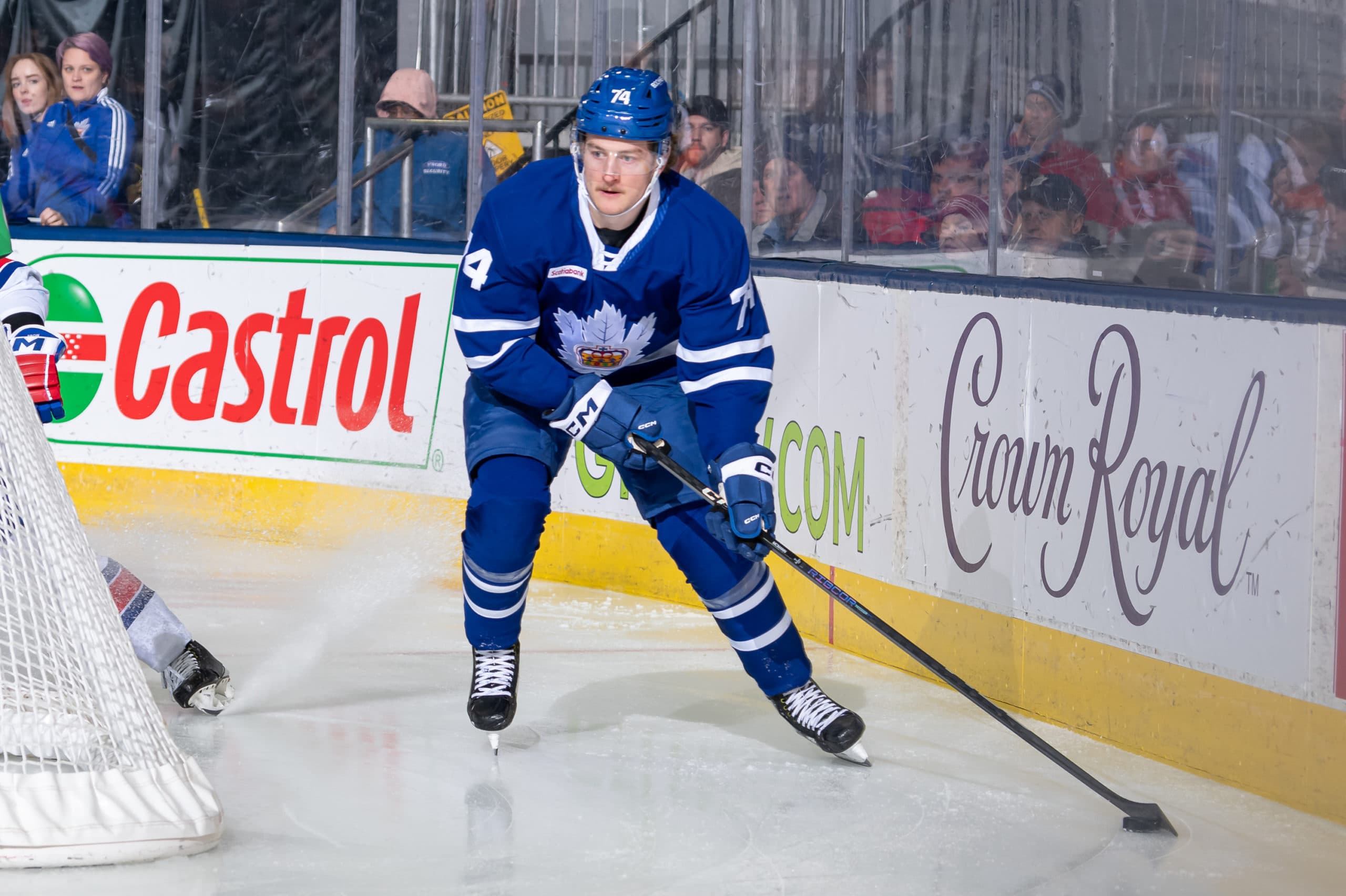 Photo credit:Christian Bonin/TSGphoto.com
The Toronto Marlies had their hands full this week with the finishing of a postponed game, a school-day (11 a.m.) game, and two regularly scheduled games.
Joseph Woll got the start in last Sunday's two periods of action against the Manitoba Moose. It was the continuation of a game that was postponed in early January due to a medical emergency involving a fan.
It was 1-1 at the end of the first period in that one, and Toronto was able to add three more goals on Sunday, winning the game 4-2.
Woll only allowed one goal on 22 shots for a stellar game as he continues to bungee up and down between the NHL and AHL.
The Marlies' next game came on Wednesday against the Utica Comets in what was the school-day game. This matchup had plenty of kids, and if I had to be honest, it was the loudest game I've ever been to at Coca-Cola Coliseum.
That game ended in a 2-1 win for Toronto. Bobby McMann and Dryden Hunt had the goals while Erik Kallgren stopped 45 of 46 shots in what was arguably his best game as a Marlie.
"It's nice to show what I can do." Said Kallgren on Wednesday. "I know that I can play at a high level, so it feels good to get to show it here."
After their game against Utica, the team had the rest of the day off before getting on a bus for a trip to Rochester on Thursday.
When the Marlies met the Amerks on Friday, they took on a team that was hungry for a winning result. And that's what Rochester got, defeating Toronto 6-2. Kallgren was in net for 37 minutes and in that time allowed five goals on 25 shots.
After Rochester scored their fifth goal, the 26-year-old came out of the net for Keith Petruzzelli. He stopped 11 of 12 shots and allowed the Marlies to gain some life, but they couldn't get through Rochester's defence.
McMann and Max Ellis had the two goals for Toronto in that one on Friday night.
"I thought we had a good start," Marlies head coach Greg Moore told Todd Crocker on Friday. "We kind of lost it as the game went on. We let too many things get us frustrated. You could tell the body language and the frustration on the bench was setting in.
"And usually when that happens, we lose our consistency and our focus in what our plan is."
It was a battle to the border after the game on Friday as both teams faced off in Toronto on Saturday afternoon.
Both teams arrived hungry and ready to win, though it is incredibly tough for any team to win back-to-back games against their opponent in the AHL.
Toronto came out strong and never really took their foot off the gas pedal. McMann had his first-career professional hat-trick and both Marc Johnstone and Kyle Clifford added goals to help give the Marlies a 5-1 win over Rochester.
The team remains atop the North Division with 71 points, 18 ahead of second place, which is Utica.
Bobby McMann's goal-scoring
The 26-year-old has been hot ever since returning from his stint with the Maple Leafs. And even before that, he was on fire.
In the seven games he's played with the Marlies since being back, McMann has scored eight goals, three of which came on Saturday afternoon against Rochester.
"He's finding different ways to score goals," said Moore on Saturday, "which is really important for him to keep working at building different layers to hopefully one day be a full-time NHL hockey player and this is a great platform for him to continue to experiment with different things.
"But he knows you just get to the net. I mean, the puck's got to go there to go in the net anyway, but he's a big strong guy, he can get really in position at the crease, and his hand-eye coordination has been great with getting tips."
McMann has scored 13 goals in his last 13 games and has also put up 18 points in his last 14 games with the Marlies.
If anything, this is a statement that the 26-year-old deserves a longer run at the NHL level. And hopefully soon, he can get that with the Maple Leafs.
Keith Petruzzelli's consistency in and out of the lineup
The 24-year-old has only played four games since Boxing Day. That might not be a lot, but every time Petruzzelli finds himself in the net, he plays incredibly well.
After Kallgren was pulled on Friday night, he came in for relief. Then, the 24-year-old started in goal on Saturday, against the same team. Petruzzelli only allowed one goal in the second game against Rochester, stopping 26 of 27 shots.
"I try to have a good day every day," Petruzzelli said about how he's able to immediately enter the lineup and make an impact. "I'm getting paid to play hockey, so no day is a bad day."
With Joseph Woll and Kallgren up with the Maple Leafs, it's always possible that Petruzzelli gets the Family Day game at Scotiabank Arena. If that's the case, it'll be the first time he's started in two-straight games since November 20th and 23rd.
The only other update surrounding the Marlies has to do with injuries. Semyon Der-Arguchintsev has been diagnosed with a concussion and Filip Kral has been cleared for full contact, but the team wants to get his conditioning back in check before he gets into a game.