Brad Treliving and the Maple Leafs will be in on everyone, including Carter Hart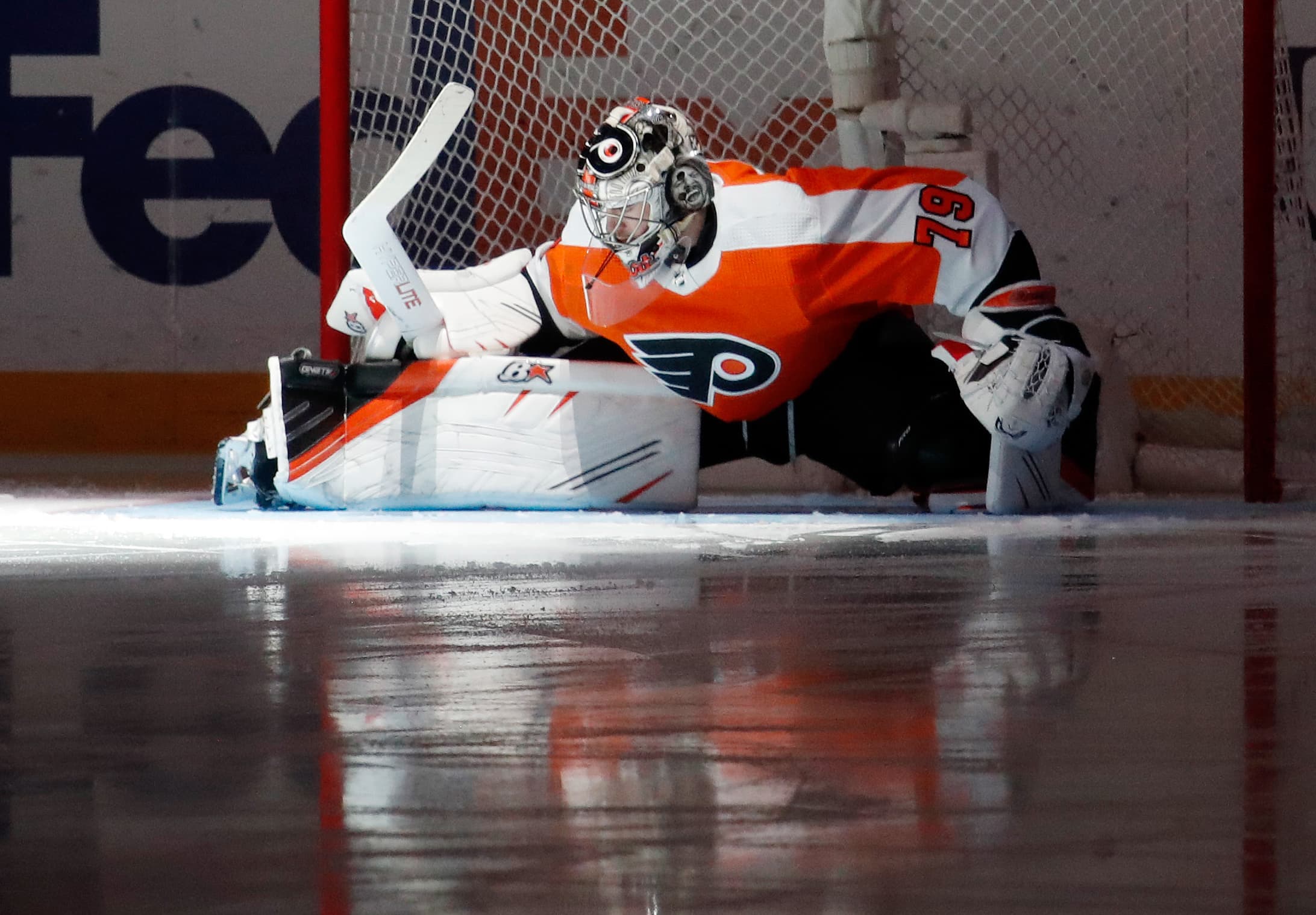 Photo credit:Charles LeClaire-USA TODAY Sports
This morning on the Jeff Marek show, Elliotte Friedman addressed some of the connections between Carter Hart and the Maple Leafs. The connection seems to be that if a name is out there you better believe that Brad Treliving is the type of GM that will kick some tires.
This is a bit of a change of direction from what was experienced during the Dubas era. Kyle's cone of silence really seemed to limit our knowledge on how many tires were kicked, but Kyle also seemed to be much more focused on specific players and seemingly screened out players that he didn't see as a fit.
Treliving might be more of an upgrading type of GM rather than staying locked into his guys, and that could be the change the Leafs need. If there is something to take away from the Vegas Golden Knights cup run it isn't that you don't need an elite goaltender, or that a team needs to be built the way they did it, but the lesson is that they never settled for who got them there the year before. There were constant upgrades. Bringing in Eichel, Stone, Pietrangelo, etc. were all significant moves made after they already had a successful roster. The being in on everyone approach seems like the best way of improving rather than limiting what you are looking for to improve your team.
So all of that said and preparing for a lot more incoming high profile Leafs rumours, let's address the Carter Hart one.
Elliotte Friedman talks about Carter Hart as a potential upgrade over Ilya Samsonov. The numbers from last season would certainly disagree with that sentiment, and in fact the last three seasons should give a little pause about whether Hart is better than Samsonov. It's also not like Carter Hart has been handling a much heavier workload than Samsonov. Hart would likely see his numbers improve on a better team, but there is also not much point in testing out a goaltender with potential when you have one that is already reaching some level of success with the goaltending coach and they can continue to improve him rather than starting from scratch.
The catch is the free agent status of Ilya Samsonov vs. the controlled cost of Hart at $3.979M for next season and restricted free agency to still follow. I'm not even sure that is much of an advantage when Samsonov's current RFA status and arbitration can put him in at a deal similar to Hart's and potentially with more term.
Going with Hart would likely mean the Leafs could pursue trade options for Samsonov as well and whatever was lost in acquiring Hart could potentially be recovered in trading Samsonov, but the goaltender carousel lacks appeal. Especially when we don't really know what the Flyers want for Hart, a 24 year old starting goaltender with a reasonable cap hit that has potential to go alongside his league average numbers. The windfall the Flyers got for Provorov probably sets the bar high for the return on Hart and I'd say that price is already too steep.
When it comes to Treliving another thing we do know about him is that he has a strong connection to Western Canadian hockey and as a result he might hold Carter Hart in high regard. That certainly doesn't mean that he'll rush out to replace Ilya Samsonov, only that Carter Hart might be one of the preferred options if he feels that Samsonov's next contract doesn't make sense for the Leafs.